The frontiline of a legendary generation of producers and musicians who stuffed the IDM slider by many nice and sometimes genial different intuitions is living a moment of upswing over the course of last twelve months, when there has been the resurface from the depths of more or less prolonged silence of notorious artists such Squarepusher ("Ufabulum & Enstrobia"), Autechre ("Exai"), Daft Punk ("Random Access Memories") and more recently Boards Of Canada, whose awaited new album "Tomorrow's Harvest" is upcoming on 10th June; the resurgence of Mike Paradinas' mu-ziq, which deeply influenced British techno scene, is undoubtedly one of the most popular relishes. Even if the nice cover artwork suggests that the oceans Mike dived are full of some bizarre colorants, I could surmise those dissolved pollutants must have some heady active principles and mutagens: there are many clasps to old musical troves on this appetizer, but I have the hunch that many of the above-mentioned musicians sipped from the same spring due to the fact that a certain fondness for 70ies-like pad-synth and some cosmic disco from 80ies has been featured, but together with old-fashioned sonorities, Mike seems to rediscover and evoke juvenile dream state and I could conjecture that the recent musical offspring with his wife Lara Rix-Martin could have foster such a rejuvenation. The dreamy daintiness of a piano which resembles some fluffy 70ies pop melodies, the uplifting arpeggiated funk on a freshet of splashing drums on the initial "XT" plunge into listener's eardrum, before he pour bucketfuls of proto-dance music by means of the lovely "Ritm"n and the gentle raid of cosmic-disco most valiant knights' sonorities on the plumly nostalgic "Pulsar". On the impressive "Monj2", Mister Paradinas let some percussive metallic spheres from his oldest synths collide and float into a vintage cloud of delighting pads, whereas the more clouded 2step of the final "New Bimple" focuses on that limbic haziness which those who loved his mu-zak could easily discern. Really mouthwatering stuff!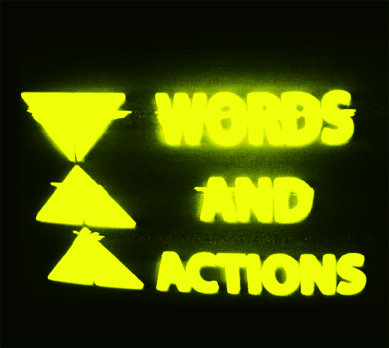 Artist:
Words And Actions
(@)
Title:
Time Can't Be Turned Back
Format:
CD
Label:
Final Muzik
(@)
Rated:
Coming from Alessandria, Italy, Words And Actions are a duo that in the last couple of years released two tapes (one album and a mini) and a video EP (you can check all the videos at their youtube channel http://www.youtube.com/user/cantfeelmyflesh). They recalled me some Italian bands I knew in the 80s (L.A.S.'s Crime that had a compilation of their stuff recently reissued and Thanatou Melos), a bit of DAF as well as nowadays bands that are influenced by those sounds (Martian Canterel, Staccato Du Mal, to name a few). "Time Can't Be Turned Back", issued by Final Muzik, is the first CD release by the duo and it gathers all the tracks from the two EPs ("Life Of Farewells" and "Imperfection") plus six out of ten from the album "Can't Feel". The tracks tend to mix few melodic elements (usually two or three catchy synth lines are alternated) with obsessive drumming and bass lines (they use long distorted synth lines) with the add of filtered cold vocals. Unfortunately I can't tell you more about the project, because also their website is kinda focused on few visual elements which remember me the solarization effect used on early 80s videos. Even if the sound and the visual are deeply linked to the 80s I can't tell that Words And Actions gave me the feeling to be mere revivalist. I think that their fascination isn't fake because if you check on their youtube channel the short video of a live they did at Ligera in Milan about a month ago, you can understand what I'm trying to say as they are able to create a dark atmosphere with few synth lines without sounding naive. It's like they are turning their influences into something new without being poseurs. Anyway, I enjoyed this compilation and it's worth your attention if you dig 80s cold wave.
Despite his recalcitrance in self-exposing on live stages and the mysterious veil on his identity, Tokyo-based electronic wizard Serph keeps on catching many listener's ears by means of this graceful brand new album, the fourth one of a hopefully big batch, which follows his acclaimed "Heartstrings" and renews and enhances all the distinctive features that justified the incredible sales of his past releases and recently fertilized the dry grounds of dance music by means of his new dance-oriented project Reliq. There's even a logical connection with his previous album , where he seems to describe an utopian world, as suggested by the title "El Esperanka" - a neologism, supposedly coming from the combination of "esperanca", Spanish word for "hope", and "ankh", the ancient Egyptian "key of life" -. Whatsoever blossom Serph is expecting to harvest, listeners will easily bask his musical efflorescences, which bud by means of gorgeous uplifting melodies which swing between jazzy tunes, childish roundelays, easier J-pop themes and springy overjoyed explosions (they could even surmise the hooking melodies of tv or radio jingles or pre-set songs of toy keyboards), breathtaking sparkling rhythm sections, twisting pinwheels and confetti of sonic slides (he reaches peaks of intriguing intricacy on tracks like "Vesta", "Wizardmix" or "Ankh"), refreshing whirlwind of popping splashes and chugs ("Shift", "Magicalpath", "Curve"), sudden chromatic and tonal permutations ("Felixz", "Rem") and the most amazing aspect lies in the fact that he blends so many elements with a built-in adroitness and a catchy vivaciousness which could be associated to nothing but a beating of wings by a butterfly or a fine-feathered bird. The reference to Ankh, the so-called key of life, could be a key for the access to the positive conceptual and "spiritual" (quixotic?) world, which Serph musically daubs, where a pell-mell dimension is no more a source for torment, which vexes a reasoning mind with the obsession for geometrical order, but a thrilling path to happiness!
Synth Pop / Electro Pop / Synth-Electronica
Edit (7579)
image not
available
anymore
Artist:
Nuvo West
Title:
Nuvo West
Format:
12"
Label:
Synthetic Shadows
(@)
Rated:
Nuevo West born from the ashes of a Phoenix band called The Red Squares which disbanded at the end of 1983. Their singer/guitar player Sonic Mike Stephens and the other guitarist/keyboard player Roger Lee Chavous, decided to form another band when they met the bass player Walter Charchuck. Together they had the crazy idea to mix synth punk and country music. The drummer Greg David combined his drumming with the rhythms of a drum machine and dressed like Arizona cowboys, they started playing at art galleries and other unconventional places. Finally, Nuvo West were born. Soon after, they took their four tracks Tascam recorder and started to record their first MLP "Scary". The record was containing six original tunes of which three instrumentals. "Accidents don't happen in my world", "Dogs have their days"and "Little yellow pills" were sounding modern and pop: a sort of Devo meet Wall Of Voodoo. Lyrics were talking about the neurosis of the modern world with an ironic twist. The three instrumental tracks "Androids love", "Shades" and "Theme for alienation", were sounding more adventurous compared to the previous three and even more experimental. Melody, spacey atmospheres or post punk upbeat tempos were the main elements of those cool tracks. The year after, the band went to the studio again and recorded their tape: "Twankin'". Containing six new tracks, the tape sold twice compared to the MLP. Country music was the biggest influence for those tracks: the main tune is a clear example of that, thanks to that classic way of playing guitar and those double snare beats, "Desertate 7" starts with an harmonica and has a massive use of cowbell, "Shades of yesterday" is a melancholic instrumental with a bit of space atmospheres, "Love made a fool of me" is a nice pop song and the closing "The town the winter forgot & The night is over" (they are really two different tracks mixed together), are a nice synth punk song and an upbeat country punk one. Personally I prefer "Scary" to the second release as to me it sounds more inspired and less linked to the American musical tradition. Probably on early 80s mixing synthetic sounds, punk and country was something innovative but I prefer alienation to tradition... Anyway this, by Synthetic Shadows, is a really good remastered reissue which gathers all the releases recorded by the band and it also contains an insert with history and the lyrics from "Scary".
Artist:
Solar Bears
(@)
Title:
Supermigration
Format:
CD
Label:
Planet Mu
(@)
Rated:
After the acclaimed debut "She Was Coloured In" in 2010, the epicurean stylish Irish duo of Solar Bears comes back on stages with an adorable album, which lacquers listener's earsdrums by means of fluoroscopic and somehow melancholic synth-pop tune as well as a certain dramatic hook and tastes sweet as honey thanks to the topping of ingredients which sound taken from an imaginary recipe book written by proper celebrity chefs of modern and contemporary music such as Boards Of Canada, Air, Stereolab, Vangelis, Death In Vegas, Giorgio Moroder and other knights of cosmic disco courtship, whose best insights seem to palpitate inside the artistic streak of many charming moments of this "Supermigration", a title inspired by Native American mystic culture and the legendary krautrock band Neu!. The lullaby-like piano introduction on "Stasis" resembles the beginning of late night old-fashioned radio-shows and precedes the amazing twist of "Cosmic Runner", where Solar Bears immediately hook listener's hearts and brains by means of an entrancing gyraton on electric guitar and gleaming synths and a tune which is very close to some similar stuff by Boards Of Canada. One of the best moment of the album has been reached on "Alpha People", a lovely synth-pop song sung by Sarah P, which could be described as an imaginary reinterpretation of Air sonorities by Love Spirals Downwards due to the similarities between Sarah P's voice and Suzanne Perry's one as well as the analogy with the style of the notorious French band, while the following "Love Is All", a sweet mixture of alluring synth-pop and electronic bossa nova, could resemble some moments of Stereolab. Its intimate coziness vanishes on the following angst-driven "The Girl that Played with Light", whose drilling guitar and progressive crescendo, which get embellished by absorbing reverbs, smooth melody and sonic preciosities, vaguely resembles above-mentioned Death In Vegas, whose masterpiece "Satan's Circus" crosses my mind on another synth-verdant track, "Komplex", even if under a more "angelical" guise. The opening intro "Statis" seems to be reprised on the deeply intimate jingle-like fathom interlude "You and Me (Subterranean Cycles)", while another substantial peak has been reached on the dazzling song "Our Future Is Underground", a subdued evocation of a shining memory, where present day magically irradiates the unforgotten luminosity by means of the mystical combination of guitar-driven lulling melody, joyful childish drumming and the voice of guest singer (and former Air collaborator) Beth Hirsch. The mindblowing cosmic ride of "A Sky Darkly" precedes the "bucolic" trot "Rising High", which get listeners ready to the engaging synth-disco of "Happiness is a Warm Spacestation", whose title summarize the bursts of sci-fi heat that are going to trigger emotional storms within nostalgic lovers of this kind of sonic juggernauts. The final bedroom rocker "Rainbow Collision" ends in style this psychedelic daydream, a proper musical trip which I cannot but recommend.