Artist:
Baptist
Title:
Love Is
Format:
Download Only (MP3 + Lossless)
Label:
Basserk
This new single on the Basserk label is an unusual step towards the pop charts. With slow, grandiose pop-ballad sounds, bold piano and lush pads over a simple slow-and-steady electronic beat, this is a radio-friendly production whose only real twist is the pitched-down vocal. It hints at a big euphoric chorus that never arrives, and that's probably the only ingredient it's missing from being an unusual piece of chart fodder, given the right publicity.

With an original mix, a radio edit that's marginally shorter but essentially the same, and an instrumental mix, a big-name remix might have also provided the tipping point into the mainstream as well.

Otherwise, a strong bit of luxury-thickness melancholic pop.
Artist:
Cesium_137
(@)
Title:
Rise To Conquer
Format:
CD
Label:
Metropolis
(@)
Rated:
The saddest thing of this seventh album by FuturePop band Cesium137 is the fact that this soufflé that didn't arise is a dedication to Matt Cargill, co-founder of the band together with Isaac Glendening when they were students at high school, who left it to pursue a military career (firstly in the Army and then in the Navy) before his death for natural causes at the age of 22, occurring on April 2017. The baffling aspect of this album is the combination of uplifting EBM/EDM sonorities (a way to cheer them up by themselves?), memory-loaded lyrics and clues of "eschatology" that are clear since the intro of the opening "Tempest" (sounding like the soundtrack for a Baptist funeral oration...), but sadly (as I said) there are too many (genuinely musical) aspects of this release, that make me feel really perplexed. Lyrics are quite poor from the literal viewpoint and the flat vocals (often out-of-tune) don't really help to make them up; forthermore the synth-driven choruses and the celestial artificial fanfares, that sometimes resurface in the tracks of this "Rise to Conquer" (someone couldn't really understand why flaunting a feeling of militancy while reminiscing a dead friend, even if he was a soldier...), don't counterbalance a certain lack of stylistical originality and a couple of good tracks ("Diver" and "Consequence") are not enough in my opinion. Maybe the worshippers of the band could find other reasons to buy and listen to it...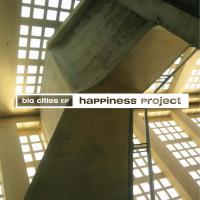 Artist:
Happiness Project
Title:
Big Cities EP
Format:
MCD (Mini CD)
Label:
Boredom Product
Rated:
Fred and Cyrille Tuyéras along with Christelle Fournioux, a.k.a. Happiness Project, are back with a new EP titled "Big Cities"; mini album which is anticipating their new album "Mutation", that will be released on September 2018. "Big Cities" contains four tracks on the digital edition and six on the limited edition MCD which is available now from Boredom Product, as usual for their records since 2012 on. It took five years to the guys to write new tracks but already from the first listening of the EP I have to say that it was worth the wait. I have the MCD, so I'll be able to talk about all the tracks and on this format you can find also "Our wish for more" and the remixed version of "Tell me more" which will be included in the album, along with different versions of "Big cities" and "Mutation". First of all, the opening track which you can find in the "video edit" and the seven minutes long version titled "Bigger cities", is an upbeat synths/guitar driven tune with Fred and Christelle dueting (but in this EP is Fred the main singer). Catchy melodies and cool production (JB Laccassagne of Dekad and Member U-0176 took care of the additional production) are the things that pop up immediately and if "Big cities" started the EP with a blast, with "Darkside baby doll" we have a mid tempo that somehow reminded me atmospheres a la Yazoo. "Our wish for more" is a really nice mid tempo which is in balance from a ballad and a dark synthpop song. "Mutation" is a particular one which could sound like an atmospheric kraftwerish tune. With "Tell me" we are back on hard beats like on "Big cities". On this one, Christelle is taking the lead singing a track which is kinda mysterious lyrics wise. This one would be perfect remixed by e.b.m. or industrial bands. The EP is closed by the longer version of "Big cities" I named before. While I was listening to the tracks I read the lyrics printed into the inner side of the packaging and it's nice to notice that they put their feelings and wishes into the songs as we can find: the wish of better cities and a slower approach to life ("Big cities") as well as a mockery of fashion driven people ("Darkside baby doll") or a wish for equity, liberty and integrity that often ends up in vanity ("Our wish for more") or the wish that the word "future" would be replaced by "mutation", because it includes also a feeling of hope. Nice one, guys...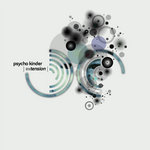 Artist:
Psycho Kinder
Title:
ExTension
Format:
CD
Label:
Alienated Records
(@)
Rated:
This new release from the project by Alessandro Camilletti is not the proper follow-up of the well received "The Psycho Kinder Tapes" but is a collection of remixes framed by two tracks based on spoken word by Valerio Zecchini and Andrea Chimenti upon the evocative background by Giovanni Leonardi. As almost all these kind of releases, it's a multifaceted release where the choices by the remixers makes the differences.
While the first remixes are roughly dance floor oriented and are a little addition to the framework of this project which, as based on new wave, is reasonably catchy even if it's sometimes experimental. However with the remix of "Oltre il tempo" by Deca there's at least a link to the frame of this release as it takes the voice in the framework upon a dark rhythmic pattern evolving in a final quiet part based on synth. Then two remixes raises the bar: the remix of "il tramonto dell'evidente" by Carnera which add a martial and noisy element to the music and has a audio spectrum of remarkable quality at the cost of almost erasing all the lyrics, and the remix of "Vivo e invisible" by Miro Snejdr which underline a layer of piano and a rhythmic structure to a track originally almost austere in his construction.
As it could be expected, this is essentially a release for fans and collectors and its best moments (Miro Snejder and Carnera) were already present in the previous release. Fans of this project will have some enjoyable track to listen and the others a simpler approach to Camilletti's music which has an uncommon depth, but the best moments are elsewhere.
Melissa Dyne and Khaela Maricich are The Blow, here serving up a compact 8-track album of lo-fi lightweight synth-punk. Vocally it's sometimes sung, part-rapped, part-spoken, with the lyrical message at the forefront.

Sonically it's a bold and distinctive sound, working modular synthesis and old samplers into something that traces the synthpop 'sounds influenced by Kraftwerk' standard all the way back to its root, with a stopover at Cabaret Voltaire and The Normal. Rough-edged analogue electronics that could be called weak-sounding- but paired up with poppier rhythms that, in a hard to justify way, make me think of Goldfrapp.

"The Woman You Want Her To Be" is a good example of the bitter, disturbingly passive-ironic lyrical threads that run through some of the lyrics, but you also get more familiar American-introspective-female-singer-songwriter song forms in tracks like "Think About Me", the sparse and dreamy "Greatest Love Of All" and slightly deceptive easy-listening opener "Peaceful Easy Feeling".

It's one of those albums where simplicity is strength, a sincere collection of heartfelt pop numbers set onto interesting, retro-analogue synth arrangements that aren't going to set the charts alight but which deserve a good chunk of respect.