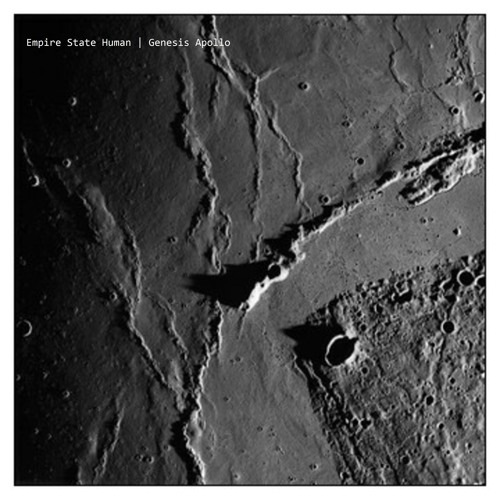 Artist:
Empire State Human
Title:
Genesis Apollo
Format:
Download Only (MP3 + Lossless)
Label:
House Of Analogue
Rated:
It was 2012 when Empire State Human recorded "Genesis Apollo". Then, it seemed lost until it resurfaced in 2019 into the files of an old hard disk, just in time for the celebrations of the 50th years from the moon landing. The mini album contains six tracks and the first one is the nine minutes long "1961", track which includes the whole JFK speech about the space program. This isn't the only atypical track of the lot, because "Genesis Apollo" has been composed as a sort of soundtrack: it has an unusual amount of vocal samples and no Aidan's voice, apart from the few parts on the opening track and on the extended version of "Apollo", track included in the 2002 album "Pop Robot". Empire State Human succeeded into making an ambient, space, synthpop album, thanks to the right balance of all the elements and without making it sound like an album made by a total different band and it wasn't that easy!
Artist:
Gross Net
Title:
Gross Net Means Gross Net
Format:
CD & Vinyl
Label:
Felte
Philip Quinn builds his dark electropop by starting with acoustic guitar songwriting sketches, then surrounding these with sharp electronica production and dark atmospheric synthesis to produce a collection of songs that sit somewhere between the more sinister side of synthpop, the lighter side of techno and the more accessible side of industrial. Perky and pure-sounding synth basses, cinematic synth-choir pads drawing out long minor chords, and sparing use of beats come together to form a grandiose-sounding affair.

With a title that's a play on ex-UK Prime Minister Theresa May's meaningless assurance that "Brexit means Brexit", lyrically this is politically charged and frustrated stuff, notably in tracks like "The Indignity Of Labour". However the vocal, as though lacking in confidence, is so heavily washed in reverb and echo that it's often difficult to make out what point is being made- "Shedding Skin" being an example of this.

Highlights include "Gentrification", which is a more overt and catchy throwback to 80's and 90's synthpop melded with curiously Tangerine Dream-esque meandering synth arps that works quite nicely, and final track "Social Nationalists" which plays a slow plaintive vocal against more driven and direct beats.

Overall though it does appear to be suffering from the general malaise affecting a lot of the UK at the moment, not just artists- a fatigue drawn from our political failures, backwards steps and the sense of inevitability behind the rise of right-wing views anathema to what we thought our country believed in. Tracks like "Of Late Capitalism" and "Dust To Dust" feel like they have given up, resigned to their fate, and they feel slightly languid and flat as a result, rather than a call to arms- though the latter redeems itself with an aggressive crescendo finale.

It's a musical expression of complex feeling that's quite engaging, but unfortunately there are too many patches that feel muddy or self-indulgent, making the result a little bit too alienating.
Artist:
Gudrun Gut
Title:
Moment Remixes
Format:
Download Only (MP3 + Lossless)
Label:
Monika Enterprise
Gudrun Gut's strong album "Moment", released last year, gets revisited here for a four-pack of relatively straightforward, danceable slices of electropop that's not nearly as dark as I was expecting. Chugging synth arps, acid squelches and lightly broken drum patterns are the bed for a respectful take on the four brooding original vocals.

Legendary German electro-techno producer T.Raumschmiere's take on "Lover" is relatively mild by previous standards, and the Pilocka Krach remix of Bowie cover "Boys Keep Swinging" is nothing short of synth-pop.

Dasha Rush's version of "Baby I Can Drive My Car" has a rolling, progressive-house-ish breakbeat and some lovely pads, but never quite manages to go anywhere, before the almost-ten-minute-long Paul Frick mix of "Musik" sets the breathy and understated vocal against an endearing slow rolling techno groove with a really enjoyable sense of purpose and some rather lush detailing, making it a standout.

No real standout reworks here unfortunately, but an enjoyable if surprisingly lightweight electropop supplement for fans of last year's album.
Artist:
Aidan Casserly
Title:
Black Eyes
Format:
Download Only (MP3 + Lossless)
Label:
House Of Analogue
Rated:
Aidan Casserly is always on the move and just after releasing his newest album as Empire State Human, he's already releasing a mini album of Dead Or Alive re-interpretations. For "Black Eyeas", he picked up five songs, all coming from albums and not as famous as other ones released as singles and re-imagined them acustically. Three out of five ("Then There Was You", "Special Star" and "Come Inside") are coming from "Mad, Bad And Dangerous To Know". The original ones have an Euro pop flavor (even more commercial than their most successfull album "Youthquake"), with a bit of orchestration while Aidan versions strip them to the bone and slow them down. Piano, sax, a bit of strings and an intimate atmosphere give to them a new light. "Far Too Hard", from their first album "Sophisticated Boom Boom" already had an orchestral opening and a bit of French dramatic touch, so it was just ready for such treatment. Aidan pushed harder the "drama" pedal and gave a really nice performance (maybe the best of the lot). "My Forbidden Lover" was the closing track of the 1989 album "Nude" and was a dance pop track and in the new version is sounding heartbreaking and with a nice distorted guitar on the backgroud that help building the atmosphere. Nice EP not only for Dead Or Alive fans.
Artist:
HIN
(@)
Title:
Warmer Weather (EP)
Format:
CD + Download
Label:
Sound In Silence Records
(@)
Rated:
Once again we delve into another offering from the small custom label, Sound in Silence Records, and a new project called HIN, which is comprised of London UK based artist Jerome Alexander (his main project being the ambient/folktronica Message To Bears) and transatlantic partner from Los Angeles, Justin Lee Radford (his current project being The Kids And The Cosmos). Jerome has had several previous releases both under his MTB moniker and his own name, while Justin has cultivated extensive collaborations with film makers, environmentalists, astronauts, activists, scientists and social activists, composing music for films, VR, commercials, art installations, and theatre. Apparently these two were school chums back in the day, and likely social media renewed their acquaintance.

'Warmer Weather' consists of five tracks between 2:24 and 5:48 in length and clocking in at about 20 minutes. When it comes right down to it, the SIS one-sheet provides a better description of the music on 'Warmer Weather' than what I could have dreamed up- "HIN's debut deals with feelings of isolation, environmentalism and friendship, and is a perfect mix of dreamy electronica, elegant dream pop and soothing ambient. Utilizing wistful guitars, warm pads, hazy synths, enchanting electric piano melodies, deep bass lines, gentle male and childlike female vocals, intricate beats and glitchy electronics, HIN create an EP full of emotive textures and sublime soundscapes." Yep, that pretty much sums it up. The music is very engaging in such an innocent, naive way, with no agenda or attempt to pull you in a particular direction. It's a pop-ambient hybrid that succumbs to neither convention nor experimentalism. Perfect but not flawless, sweet without being saccharine, ambitious but not epic, and esoteric yet accessible, this is the way 'Warmer Weather' comes across. If I had to describe it succinctly though, I'd call it mini-marvelous. For that certain void in your listening experience when it seems like nothing in particular will do, try 'Warmer Weather'. I think it will hit the spot. As usual with Sound in Silence releases, this is a limited (to 300), numbered edition in a hand-stamped cardboard envelope with a color image printed on polaroid style photo paper. (Also give you a download code.) Otherwise available as a digital download.