Artist:
Felix Lee
Title:
Inna Daze
Format:
CD & Vinyl
Label:
Planet Mu
Felix Lee's debut album treads an interesting line inbetween dark, faintly gothic male-vocalled synthwave and the more cerebral, slow and sub-bass atmospherics more commonly associated with Planet Mu.

It avoids any temptation towards retro sounds, with fresh and sharp production, and complex beat work. In terms of sound space, it often goes big, with tracks like "Void" with its thick chord pads going very dramatic, "Smoke" with its gutbusting subbass and kicks, and a really nice interplay between driving synth urgency and sparse beats on "Still Torn" and the attitude-and-distortion-laden end track "Slow Decay".

But it also retains a strong sense of introspection, mainly thanks to underplayed vocals, which can be heard in play in tracks like a slightly Infusion-ish "Headless", or thoroughly pessimistic opener "KOH". Slightly sparser instrumentals like "Unified" help out with this too.

Most of the tracks are vocal, around half of them with guests, and some connect with the sound better than others. In "Focused", a distinctly grime-centric rap from Yayoyanoh changes the flavour, reducing the music to a backing pattern, and while there's nothing wrong with it, it ends up being the least successful part of the album. On the flip side to that, Gaika's still low-energy but more melodic contribution to "Sangre" is a much better fusion of sounds, and is nicely emotive.
Artist:
Angelspit
Title:
Bang Operative
Format:
CD + Download
Label:
Black Pill Red Pill
After giving previous album "Black Dog Bite" a glowing review a couple of years ago (comparing it to acts like Blue Stahli and Celldweller), and being impressed with the Angelspit-produced Miss Ballistic album earlier this year as well, Angelspit's eight album was a welcome arrival, and I'm happy to report it continues in much the same vein as before. It's thick, angry, sharply produced electro-metal with muscle and vigour, littered with sharp percussive drops, heavy synth basses and distortion, all topped with frustrated anti-media, anti-celebrity, anti-quite-a-lot-of-things lyrics (exemplified in tracks like "No Guillotine, No Crown").

The vocals are still largely restrained to one-note or narrow melodic ranges, befitting of the genre but this is what holds it back from having a real standout vocal hook that could cross over into radio land. Highlights that come close include "Celebrity Disorder", or the on-the-nose but strangely satisfying "Jesus Disguise".

Some tracks wear a slightly more retro and synthwave vibe on their sleeve, like the curiously catchy "Fear Monger" with its slightly Vangelis-esque and sci-fi melody line, the properly 80's-esque final track "Promise Of Gold", or the nicely dramatic "Play Rough" with its more understated spoken-word approach. Broadly I think the tracks with an element of drama and change, such as "HexenjÄger" (based on a soundtrack piece Angelspit originally produced for a short film) bring a breadth and are maybe more successful than the relentless wall-of-sound numbers.

It's thirteen slices of roughly-four-minute-long angry anti-pop that deserves to find a wide audience, not just in the techno-emo area that it's initially targeting.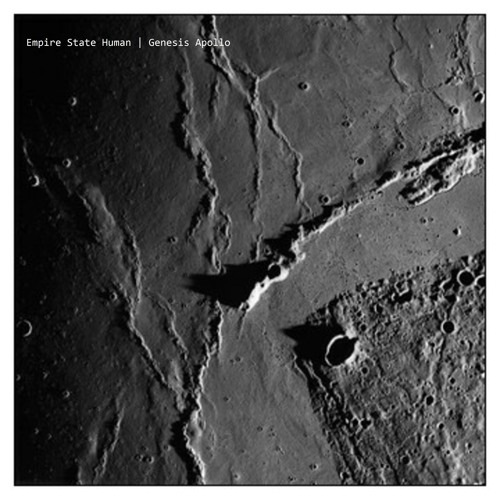 Artist:
Empire State Human
Title:
Genesis Apollo
Format:
Download Only (MP3 + Lossless)
Label:
House Of Analogue
Rated:
It was 2012 when Empire State Human recorded "Genesis Apollo". Then, it seemed lost until it resurfaced in 2019 into the files of an old hard disk, just in time for the celebrations of the 50th years from the moon landing. The mini album contains six tracks and the first one is the nine minutes long "1961", track which includes the whole JFK speech about the space program. This isn't the only atypical track of the lot, because "Genesis Apollo" has been composed as a sort of soundtrack: it has an unusual amount of vocal samples and no Aidan's voice, apart from the few parts on the opening track and on the extended version of "Apollo", track included in the 2002 album "Pop Robot". Empire State Human succeeded into making an ambient, space, synthpop album, thanks to the right balance of all the elements and without making it sound like an album made by a total different band and it wasn't that easy!
Artist:
Gross Net
Title:
Gross Net Means Gross Net
Format:
CD & Vinyl
Label:
Felte
Philip Quinn builds his dark electropop by starting with acoustic guitar songwriting sketches, then surrounding these with sharp electronica production and dark atmospheric synthesis to produce a collection of songs that sit somewhere between the more sinister side of synthpop, the lighter side of techno and the more accessible side of industrial. Perky and pure-sounding synth basses, cinematic synth-choir pads drawing out long minor chords, and sparing use of beats come together to form a grandiose-sounding affair.

With a title that's a play on ex-UK Prime Minister Theresa May's meaningless assurance that "Brexit means Brexit", lyrically this is politically charged and frustrated stuff, notably in tracks like "The Indignity Of Labour". However the vocal, as though lacking in confidence, is so heavily washed in reverb and echo that it's often difficult to make out what point is being made- "Shedding Skin" being an example of this.

Highlights include "Gentrification", which is a more overt and catchy throwback to 80's and 90's synthpop melded with curiously Tangerine Dream-esque meandering synth arps that works quite nicely, and final track "Social Nationalists" which plays a slow plaintive vocal against more driven and direct beats.

Overall though it does appear to be suffering from the general malaise affecting a lot of the UK at the moment, not just artists- a fatigue drawn from our political failures, backwards steps and the sense of inevitability behind the rise of right-wing views anathema to what we thought our country believed in. Tracks like "Of Late Capitalism" and "Dust To Dust" feel like they have given up, resigned to their fate, and they feel slightly languid and flat as a result, rather than a call to arms- though the latter redeems itself with an aggressive crescendo finale.

It's a musical expression of complex feeling that's quite engaging, but unfortunately there are too many patches that feel muddy or self-indulgent, making the result a little bit too alienating.
Artist:
Gudrun Gut
Title:
Moment Remixes
Format:
Download Only (MP3 + Lossless)
Label:
Monika Enterprise
Gudrun Gut's strong album "Moment", released last year, gets revisited here for a four-pack of relatively straightforward, danceable slices of electropop that's not nearly as dark as I was expecting. Chugging synth arps, acid squelches and lightly broken drum patterns are the bed for a respectful take on the four brooding original vocals.

Legendary German electro-techno producer T.Raumschmiere's take on "Lover" is relatively mild by previous standards, and the Pilocka Krach remix of Bowie cover "Boys Keep Swinging" is nothing short of synth-pop.

Dasha Rush's version of "Baby I Can Drive My Car" has a rolling, progressive-house-ish breakbeat and some lovely pads, but never quite manages to go anywhere, before the almost-ten-minute-long Paul Frick mix of "Musik" sets the breathy and understated vocal against an endearing slow rolling techno groove with a really enjoyable sense of purpose and some rather lush detailing, making it a standout.

No real standout reworks here unfortunately, but an enjoyable if surprisingly lightweight electropop supplement for fans of last year's album.