Synth Pop / Electro Pop / Synth-Electronica
Edit (8667)
From Berlin, Germany we have Mindstrip, a trio consisting of Marco Dames - vocals, electronica; Chris Kobilke - Guitar and vocals; Dirk Wisny - electronics, bass. 'Polymere' is their debut album released on the Echozone label, and the pseudo-scientific hype the label provides about the album (polymers being macromolecules composed of many repeating subunits...musical components reorganized within every new song resulting in polymerization, etc., etc,), as well as the strange futuristic CD cover of the band communing at some sort of alien roundtable, don't effectively describe what this is. What it is is more along the lines of romantic adult synthpop, more akin to latter day Depeche Mode and OMD than any kind of experimental futuristic electronic outfit. These guys are tunesmiths (songwriters) first, and electronic musicians second. Not to say the musicianship isn't good; it most certainly is for this style of music. The synth electronics employed are quite effective for the compositions, although not terribly innovative. Kobilke weaves his tasteful guitar throughout the songs, never obtrusively or even boldly. It's more of a soft rock approach that supports rather than dominates. It is also unusual on a debut album to have such an abundance of memorable hooks present as there are on Polymere'. Right from the get-go on "Anybody Out There" there is the heralding of a certain melodic sophistication. This comes
to fore early in "Lose You" where the hook is the first thing you hear. "Beautiful Liar" is a bit more subtle but even more engaging. By the time you get to "By the Way" they've got you hooked, and that hook is as good as it gets in pop music. "Black Swan" is a nice change
of pace with guest vocalist Melanie Ritter in a duet with Marco. (Other guests include Oliver Fulster - cymbalon on a few tracks, and Simone Dames - backing vocals on a few tracks.) Most of the best tracks come early on 'Polymere' though, with not much being as compelling as "By the Way" and "Beautiful Liar". One ballad, "On the Run" misses the mark
completely, in part due to a sophomoric arrangement, and a lack of enthralling melody. The rest of the songs aren't bad, but the album does run out of steam a bit thereafter. Vocally, Marco's voice is a sort of melange between Sopor Aeternus, Human Drama and Wolfsheim, not a bad thing at all, and he certainly succeeds in the emotiveness required for the material. Although Mindstrip is not presenting anything really groundbreaking on 'Polymere', it's a very enjoyable listen that should give them enough cred in the commercial market. I would have liked the band to have come up with a track or two that pumps it up a bit, but perhaps that's not there style. There seems to be a good chance though that the next one could be a killer.
Artist:
Gazelle Twin
(@)
Title:
Unflesh
Format:
CD
Label:
Anti-Ghost Moon Ray/Last Gang
(@)
Rated:
Elizabeth Bernholz - I thought her surname was Walling when I had a chat with this brilliant Brighton-based artist after her excellent debut, but linear notes highlighted this relevant pittance - came back as Gazelle Twin on late September (sorry for the delay, but you can vaguely imagine how many releases I daily receive on my exploding mail box...) by an album that differs a little bit from "The Entire City", but I'm pretty sure she didn't dash expectations. In spite of some slight changes of the style she explored - you could easily notice that Benge had a hand in the balanced mixtures between analogue electronics, Wiccan house sonorities, gothic nuances, electro-pop and Knife-like trip hop -, her vocal interpretations wisely dig into personal statements, signs of temporary possession, memories, fear and mindsets by means of a wise matching between lyrics and vocalizations that are going to render her states of mind in a vivid way. I personally prefers the moments where industrial vein as well as the musical flesh more clearly pulsate as it happens on great songs like "Still Life" and "Belly of the Beast", but the whole album is really stunning. Without any sycophancy, Gazelle Twin's last output is really unmissable...
Synth Pop / Electro Pop / Synth-Electronica
Edit (8640)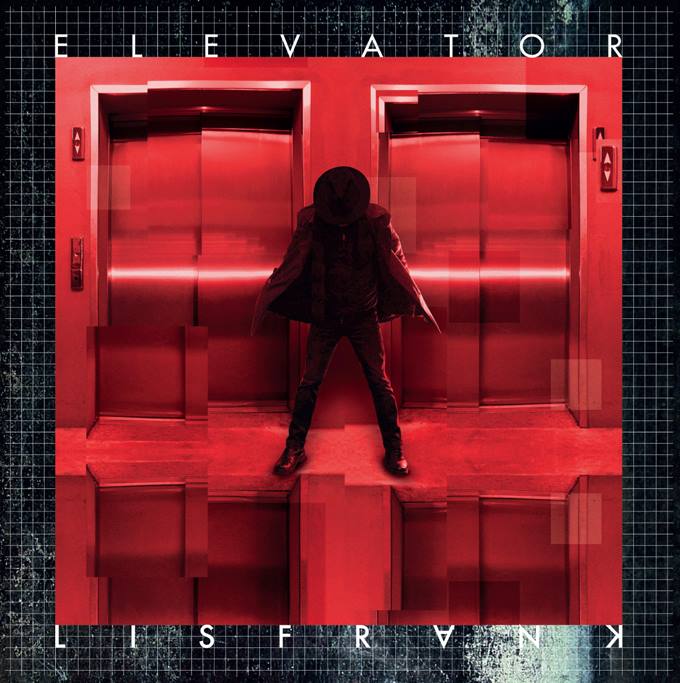 Artist:
Lisfrank
Title:
Elevator
Format:
12"
Label:
Final Muzik
(@)
Rated:
About five years ago I interviewed Fulvio Guidarelli about Lisfrank when Anna Logue released "Mask Rewind", a vinyl compilation of his 80s stuff. He told me that he was recording new tracks and finally we are able to give them a listen as "Elevator" is out now on Final Muzik as a limited red vinyl 180gm album. For this new album, Fulvio, used all his old analog gear and composed ten new tracks that have a classic 80s sound with a fresh flavour. I'll make some examples. "Anna O" sounds tense and dark but have also a danceable potential. I can picture the same people that dance to Alien Sex Fiend dancing to this one. "Joy's Room" is more intimate and melancholic but in a particular way, because there's always a certain beat... "Alternative Way" closes the A side with a sound that with a different production could recall the Ultravox of the "Vienna" era. The B side opens with the title track, a really nice dark instrumental that could be easily used as a soundtrack. "Resurrection" is another one that has a pop potential which with a different production could make me imagine Lisfrank on the cover of a Melody Maker magazine of the 80s. "Virtual Lovers" seems a mix of a Thomas Leer tune and one of The The as its melody isn't immediate but it's there, waiting to pop out on your mind whenever you aren't paying attention. With "Minimal People" we have that dancey attitude again but with a dark twist. "Light And Shade" closes the album and its kinda dilated and sounds like an early Bauhaus song played with electronic stuff. I hope that he won't wait other thirty years to record new stuff but for the moment enjoy "Elevator"! Fulvio has started playing live, so, if he's coming into your town don't miss him.
Artist:
Fred Bigot
(@)
Title:
La Voix de la Route
Format:
10"
Label:
Les Disques En Rotin Réunis/No School Today
(@)
Rated:
There has always been a nuance in the sound of his notorious moniker Electronicat which could evoke the myth of the journey without destination, the prosaic and somehow angsty euphoric emptiness of road movies as well as some shadows of Neu! and other krautrockers that sound dipped into a sour electro acid cream and "Bon Voyage", the opening track of this release, seems to revisit that sound, but the whole release, the fourth manifestation of a project that followed a two-month lasting road trip across the USA
granted by Instut Francais's research 'Hors-les-murs' and Gayte Lyrique in Paris which included an amazing online sound report, an installation and a performance with Werner Hirsch, who simulated noises of engines and road trips by means of his voice and lungs. The most interesting and somewhat original part of the release comes after "Roule", the short track that closes A side and seems to mirror the unhinging of thoughts after too much time behind the wheels, comes on B side, whose three tracks - "The Last Wav", "Lost America", "Sample Trip" - have been placed on three parallel grooves, according to a technique that was firstly used by Jimmy Rogers in 1930, so that you won't really know which one will play when the needle will drive on the vinyl carriageway, which almost renders the idea of dreamy hermitage that got evoked by some notorious words by Jack Kerouac or Harry Crews. The release features the immaculate packaging by Arnaud Maguet's label as well as personal notes, sketches and snapshots by Bigot and his companions over the trip... Don't turn the headlights off!
Synth Pop / Electro Pop / Synth-Electronica
Edit (8613)
Artist:
Post Industrial Noise
Title:
The Official Anthology
Format:
12"
Label:
Medical Records
(@)
The music sharing blog, as a format for unauthorised redistribution of digital music, has fallen out of fashion - we may suspect for practical, rather than aesthetic, reasons. It is largely succeeded by more concealed and somewhat less efficient adaptations, within an ongoing and disorganised struggle, with which we are all familiar, between the protection of 'intellectual property' and the unobstructed and free distribution of information.
It is probably because of this particular issue that a blog such as Crispy Nuggets persists to this day. Its eager specialisation in forgotten and altogether obscure 1980s synthwave music leaves it well outside the cruising range of most of the net's digital rights trawlers. A lot of the music exposed by the blog takes the form of solitary 7"s and EPs that alone constitute their creators' entire discographies. Among other blogs, I tracked Crispy Nuggets with enthusiasm as a university student but somewhere between 2010 and 2011, forgot about it. Now I learn that it not only still operates, but has lately worked in collaboration with Medical Records to reissue this anthology LP by Columbus, Ohio ensemble Post Industrial Noise (henceforth 'PIN'), a trio that consisted of Robert Cruise Jr., Gerald F. Nelson and Dana Riashi Ritchley. It's quite an upgrade too, from the original cassette to a 180g gold vinyl beauty.

Martin Bowes at the Cage Studios seems to have been careful not to overdo the remaster, which definitely retains an authenticity to the production. Though the album falls beneath the familiar minimal/synthwave category, the dynamics of the songs are populated by pretty artful and experimental bits and pieces. Primary contents are often accompanied by numerous textural productions and sound design that hint at devotion to detail. The opener, 'Sketch', is introduced by a discordant modular patch a little reminiscent of the BBC Radiophonic Workshop. The track proper comprises a rustling hat-based rhythm, with a flylike buzzing lead and what sound like tinny guitar plucks. The vocals assume that pretty dated, theatrical style characterising the genre in the eighties.
Much of the album enlists similar combinations of tinny rhythms and sibilant lead synth. 'Survivalists' also employs a dramatic and seductive artificial string backing for the beguilingly nasal voice of the band's male singer (I'm unsure whether it's Cruise Jr. or Nelson). The combination is effective. Things get funkier at 'COTA City Sala', but it isn't until the following number 'Think' that the delicious, italo-esque nonchalance really comes out. Around that excellent beat is an ominous minor-key space populated by wonderful drones, sophisticated effects play and an angular, rubber-band bassline. Meanwhile, on main vocals, Richley contemplates the listener's existential disenchantment.

Perhaps Post Industrial Boys, a dry-witted electronic project helmed by George Dzodzuashvili (also known as a member of the Goslab collective) was a reference to PIN, who formed in 1982 and first released this anthology the following year. Besides the pseudonymous similarity, the two artists share a song title, 'Think', although there appears to be no resemblance content-wise. Coincidence? In any case, this reissue was worth the effort. PIN were doing clever and creative things with this album.