Artist:
Edvard Graham Lewis
Title:
All Over
Format:
CD
Label:
Editions Mego
(@)
Rated:
The second album by brilliant Wire bassist Edvard Graham Lewis that got simultaneously released with the just introduced "All Under" is a collection of songs which has been composed over ten years (from 2003 to 2013) in Uppsala, the lively Swedish city where he lives at the moment. In spite of the song form and the deviant pop core, Mr.Lewis unleashed his willingnenss to experiment by awesome bastardization of that form by means of more or less melodic trips over dark, industrial, synth-pop and electronica territories and meaningful lyrics where Edvard, to paraphrase the lyrics of the song "We've Lost Your Mind", lubricated his flicking tongue and occasional entrancing loops by means of delayed pale blue songs like "It's Hard" or "Straight Into The Corner" where he got closer to John Foxx's style or some stylistical refinement on "Bluebird" (the Twitter's one?), whose melody could remind the bassline of Wire's "Being Sucked In Again", the molten post-industrial raving of "Quick Skin" or the dark-ambient drifting on "Prism Buzzard, the one which has more similarities with the style that Edvard explored on "All Under". Contributions by many different artists such as Jan Lundquist, Andreas Karperyd, Howardamb, Linda Dahl, Jim Ascoft, Fabrizio Clemenza, Giovanni Romano and P.T.Kirk, maybe gave a certain heterogeneity to the album without puckering the delightful mood which sounds like a bridge between the past and the present of this musician.
Synth Pop / Electro Pop / Synth-Electronica
Edit (8516)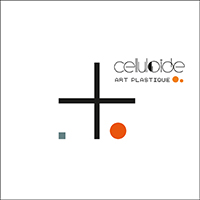 Artist:
Celluloide
(@)
Title:
Art Plastique
Format:
CD
Label:
Boredom Product
(@)
Rated:
Four years after "Hexagonal", Celluloide are back with a new fantastic album titled "Art Plastique". Always formed by Darkleti, Member U-0176 and Patryck Holdwem, Celluloide succeeded into making an album that works under different sides: it has really catchy melodies, sharp warm sounds, upbeat rhythms, rich sounds palette and more. The eight tracks of the album are able to catch immediately the attention of the listener and to involve him into a deeper listening which will bring him from the start to the end in a flash. Yesterday I wanted to start this review and I found myself listening to it three times in a row, without writing a single word. Instead, I was trying to understand the lyrics (that this time are only in French language), I was making attention to the bleeping sounds that were popping out from my studio monitors just to found myself tapping my foot on the e.b.m. hard rhythms of "Gris", wandering with my mind following the dreaming atmospheres of "La Guerre Des Cent Ans" or the mid tempo sensual of the single "L'Amour Est Claire". The album starts with a blast thanks to the complex bleeping rhythms of "Le Baiser Geometrique", song that mix e.b.m. intuitions, romantic atmospheres and synthpop catchiness. This for sure is a winner, but the band did an excellent work with all the tracks of the album and the warm detached vocal style of Darkleti find its counterpart into the complex instrumental side played by Member U-0176 and Patryck Holdwem. If you never tried them, I think that this is definitely the time to do so!
Synth Pop / Electro Pop / Synth-Electronica
Edit (8510)
image not
available
anymore
Artist:
Rona Geffen
(@)
Title:
Bilono
Format:
CDS (CD Single)
Label:
RGunlimited
Distributor:
Stars & Heroes
Rated:
'Bilono' is the controversial debut album from Israeli producer/ singer Rona Geffen and has been described by the artist as 'the sound of day and night life in Tel-Aviv ' from its harsh politics, bombs, fire, useless loss of lives to that constant dripping of the neighbour's air-conditioner.' Aside from this, Rona has also released an electronic opera called 'Strike- No sex in the TL Village' as well as writing 'Wetting Party' for a group of Berlin based Choreographers. The record is driven by a strong pulsating tone of heavily distorted drums, dark bass lines and industrial influenced synth leads hybridised with a heavy Middle Eastern influenced sound, often incorporating classical instruments such as a clarinet on 'Hol Ba'eynayim' and strings heavily featuring on the second half of the album. The overall sound of this album ranges from the mysterious on 'Bitches' to the more uplifting and epic on 'East West', to the cataclysmic, disgusting wall of noise and the solemn following it on 'Requiem'. Vocals are often emotional, raw and heavily distorted, lyrics often divulging in topics such as sexuality and relationships. Though to be frankly honest, the lyrics (those of which I understand as some tracks are sung entirely in Hebrew) aren't Rona Geffen's strong point, more amateurish than transcendent, I found her songs exploring female sexuality contrived and uncomfortable to listen, does she shock the listener? Yes. Are her lyrics and vocals original? Yes. But is it enjoyable to listen to? No, not at all. Half of the tracks on this album are entirely instrumental and I feel this is where Ms. Geffen's talents truly lie. Instrumental tracks showed far more promise than those containing vocals, her musical arrangement in the more hybridised tracks was exceptional and were thoroughly enjoyable. The entirely electro driven tracks were also promising but eventually became repetitive and lost momentum. My favourite track on the album would be 'Requiem part 2' after the noisey, implosion on part 1, this piece is so well crafted, so beautifully arranged and conveys an overwhelming sense solemn. Bilono is released on the 15th of December on RGunlimited.
Synth Pop / Electro Pop / Synth-Electronica
Edit (8509)
image not
available
anymore
Artist:
Aritape
(@)
Title:
Satellite Angel
Format:
CDS (CD Single)
Label:
self-released
Distributor:
Stars & Heroes
Rated:
''...Or meet me at the crossroads of my nightmares ' watch us trading things we used to share'.
Poignant words from a very poignant record. Aritape is a solo project from Berlin based German producer Arik Hayut and 'Satellite Angel' shall be his 2nd release under this pseudonym following his release earlier this year 'The Sun Is Gone'. Since then Hayut has continued to evolve his sound to include vibraphones, bass to field recordings, all of which have helped him cultivate a completely unique sound. The overall theme of the 3 track EP is quite a poignant one, with lyrics focusing more on melancholic, thought provoking topics, from the existential and lost on 'Birthday' and 'Satellite Angel' to the deeply personal found on 'So Long'. Production wise the album is crisp, within seconds it is easy to see that percussion is Aritape's forte with all tracks featuring infectious grooves (it is also interesting to note that the percussion instruments are entirely self-constructed) which are wonderfully complemented by quaint melodies and lush strings which forms a perfect, melancholic atmosphere which just flows through the often blunt, reality sung by Hayut, who's dry vocals and eerie choruses just add another impressive layer atop this emotive cake of a record. My favourite track on this release would have to be 'So Long' not only for the beautifully crafted atmosphere, but because of the deeply personal aspect. I was told that '10 years ago, Hayut went through a severe health crisis, which had implicated his life' and through listening, the story becomes much clearer. 'Cancer-time- God's Perfect Crime' a dark conclusion to a very dark, emotive record. Satellite Angel is released on the 15th of December and is not one to be missed.

Synth Pop / Electro Pop / Synth-Electronica
Edit (8489)
Artist:
Tourdeforce
Title:
Jedem Das Seine
Format:
CD
Label:
Space Race Records
Distributor:
Audioglobe
Rated:
I wrote about Tourdeforce four years ago, when I reviewed their debut album "Colours In Life". Since then, Christian Ryder released other two digital albums on the My Owl Music label. "Jedem Das Seine" is Tourdeforce latest album and it has been released by the Italian Space Race Records label. The album theme is controversial and dangerous too, because Christian took inspiration from the national socialist period to enhance the similitudes with nowadays society and you know that it's difficult to deal with such themes. Because of the title ("Jedem Das Seine" was a writing that was placed on Buchenwald gates and it means "to each his own") the album has already find some distribution issues in Germany but I don't want to be shortsighted and I'd like to check what's inside. The band clearly stated that their aren't revisionists and I think that they wanted to provoke and show to people that little has changed, only some way of making propaganda changed. Also lyrics (which are kinda short and give to the listener a description of a scenario useful to have the right feel) and titles refer to that kind of themes and we have: "John Lennon Was A Warmonger", "History Is Written By The Winners", "Adolf Hitler Platz", "Did Six Million Really Die" and, just to make people talk a little more, as hidden track, we have "Decrepitude" written by Varg Vikernes, a.k.a. Burzum. Musically "Jedem Das Seine" is inspired by 90s Nothern synthpop with also a little 90s e.b.m. sprinkles, guitar riffs here and there plus a bit of 80s synthpop (on some tracks I hear echoes of Pet Shop Boys melodies). Melody and energy are the strongest points of the album and make of it a good one which can be danced to or listened at home.
"I don't believe your truth, The Only accepted by the grey eminence"