Named after the tallest living tree on the planet, a coast redwood which keeps on growing in a secret place in Northern California, the 5th album by Serph, a really prodigious entity - he keeps on taking his real identity more secret than the ones of Daft Punk's masked guys - of Japanese electronic scene, whose first concert at Liquidroom in Tokyo in January recorded a so impressive sold-out that national Tv spoke of this rare event for an electronic musician, came out between last May and June and seems to testify his perennial musical growth. I didn't rated "El Esperanka", the previous album by this brilliant Tokyoite on Noble, by filling all the five stars of our rating meter by chance and the "greater heights" on "Hyperion Suites" that got reached by his sound, according to Noble's introduction, are clear since "Hymn", the opening track, where heavily chopped female vocal samples appear for the first time inside his masterfully crafted uplifting textures, where even the more melancholic or wistful nuances of some tracks (the lovely "Wireless", where a pensive piano melody got gradually rinsed by squared techey beats, puffing percussions and airy strings, the entrancing "Alcyone", which could surmise latest outputs by Bonobo, or other graceful moments like "Walkin" or "Sad Roboto") got translated into a so well-processed and naively chirpy electronic compositions that your soul will be delighted by this style-driven emotional softening anyhow! An uplifting windmill of styles, including neo-impressionist classical pianism, hip-hop, r'n'b, 600ies and 70ies jazz, drum'n'bass, tech-step keeps on twisting over Serph's highest branches, whose leaves could be imagined as polychromatic fluttering wings. Just admire and listen this new show to scrape the imaginative skies of Serph's mind. Whoever he is or might be...
Synth Pop / Electro Pop / Synth-Electronica
Edit (8961)
Artist:
Vogon Poetry
(@)
Title:
The Prefect Stories
Format:
CD
Label:
ScentAir Records
(@)
Rated:
Seems as though there's been a lot of synthpop coming out of Sweden lately, and that is just where Vogon Poetry is from - Gothenburg to be exact. According to Douglas Adams (Hitchhiker's Guide to the Galaxy), Vogon Poetry is the third worst in the galaxy. The second worst is that of the Azgoths of Kria. The very worst poetry of all perished along with its creator, Paula Nancy Millstone Jennings of Sussex (UK), in the destruction of planet Earth, or so goes the HGG mythology. Fortunately, this band does not live up to its name; after all, it's just a name. Vogon Poetry consists of Roger Tell - music & lyrics; Daniel Onnerby - music & lyrics; and John Andersson - vocals. They've been together since 2012 with one prior album release - 'Don't Panic'. Although I've only heard a little bit of that one, 'The Prefect Stories' is darker, and maybe less overtly commercial. While I wouldn't call it all dark per se, it does have a melancholic tone, perhaps along the lines of Tears For Fears' 'The Hurting', although in mood only, no similarity in the music and vocals. When I first heard 'The Prefect Stories' my first impression was minimal synth done up in the style of Erasure, and like Andy Bell, John Andersson has a great voice. He is likely well known in Sweden where he is a veteran of both Swedish TV versions of 'The X Factor' and 'The Voice', and how many singers in synthpop bands can boast that kind of cred?

Things get off to a good start on the album with "Ready Player One", a percolating melodic number that's catchy enough to get your attention, although kind of low key. Lyrics are somewhat serious but not overly intellectual and Andersson's soulful delivery packs emotional power. This becomes much more evident on the next song, "Never Too Late". Third track is a cover of IAMX's "Spit It Out", a ballsy move covering a fairly big hit by another well known synthpop band. Musically, it's a different arrangement of the song, although the vocal sounds quite similar. There is no percussion until halfway though (just pulsing bass) and when it comes in, it's just kick drum and hat ticks, the minimum to keep the beat. Not bad; you'll still probably like the original better but a credible version nevertheless. "Possibilities" (Bistromax remix) is a far busier number, and here the band shows what it's really capable of- synthpop that has maturity and depth. "Moments" is a sweet tune with a lot of commercial potential. I'm hearing a bit of Split Enz in the vocals and the arpeggiated sythnwork is quite effective and bubbly.

"Hyperspace Bypass" is a cute, bouncy number reminiscent of early Depeche Mode. One of the lesser tracks compared with the whole, but still entertaining. Things turn darker with "The Great Big Nothing", chugging into the void like a lonely Major Tom. And darker still on "Afraid," with Pinhead's dialogue samples from 'Hellraiser:Bloodline'. It's upbeat in rhythm (a good track for the dancefloor) but the darkest track on the album. Might go down well in goth clubs. "Virtues" is rather reflective and gives you something to think about in the outro. Maybe there is no megahit on 'The Prefect Stories,' but there is a lot of potential, and for synthpop fans, quite an enjoyable listen. It could easily grow on you too. I sense that the best work of this band is yet to come, so you'd better keep an eye and an ear on them for Vogon Poetry could go galactic after all.
Even if that flame on the cover artwork could look like the one by Massive Attack, Swedish musician Andreas Karperyd doesn't come Bristol, but he gave a likewise precious contribution to the experimental and electronic scene of his native country since late 80ies, when he used to be a leg of quite known ambient/industrial act Omala, but he kept on providing interesting stuff in Sweden together with his long-lasting friend Mattias Tegnér, such as the more dancefloor-oriented project Obconic and He Said Omala, the temporary fusion between Omala and Wire bassist Graham Lewis. This first solo album has many unavoidable similarities to the above-mentioned projects, but Karperyd's outputs on "Woodwork" sounds much less claustrophobic and gloomy than some stuff from Omala and manages to sounds somehow jazzy and improvised due to the fact that all the tracks got recorded on live stage before getting slightly edited in recording studio, which was a wooden cabin in the countryside - that's why the album was titled "Woodwork"! -: the foggy low tones by which he ignites the opening "Natural Nature" and the ecstatic female chant jut helps his sound to breach listeners' walls by means of a sonic strategy, which was widely used by trip-hop or downbeat makers before rhythmical engines got fully warmed up; the following "Public Transport", which sounds like the melting of melodic bubbles and noises he took from public transportations, and "Rejected and Awarded", a glitchy heartbeat-like agglomeration of abstract sonic entities, are maybe the most experimental moments of the whole album, which, after the gently lethargic "Winter Tone", opens up to more melodic moments on the title-track - my favourite moment of the whole release -, whose warming drone, laying upon a looped piano, electonic soft knocks and delicate buzzing noises, paved the emotional path towards the last part of the record, where the interplay of tenderly distorted guitars on "Correlation and Dependance", which could surmise some moments of stickly-sweet romanticism by many post-rock bands, as well as the dynamics of "Villovagar" and "Low Light Conditions" vaguely get closer to the sonorities of some abstractly melodic and sweetened electronics that featured the first half of last decade (Milosh, Dntel, Ammoncontact, Chessie, Methamatics, Plumbline, Metamatics and so on).
Artist:
Sylvain Chauveau & Ensemble Nocturne
(@)
Title:
Down To The Bone [An Acoustic Tribute to Depeche Mode]
Format:
CD
Label:
Ici d'ailleurs
Rated:
I'm not a lover of cover bands or cover projects, as they are often not so original or fitting to the mood of the original song, but this one by Sylvain Chauveau could be an exception and I'm not really sure that speaking of cover could be really pertaining to this collection of eleven really inspired reinterpretations of well-known songs by Depeche Mode that got released ten years ago by Les Disques du Soleil et de L'Acier and recently re-released (on vynil as well) by Ici d'ailleurs. Nothwithstanding the score, Sylvain and the Nocturne ensemble highlighted the melancholic nuance of songs like "Home", "Policy of Truth", "The Things You Said", "In Your Room" or "Never Let Me Down Again" by means of a somber acoustic and poignant suit, which delighted both more inveterated fans of Depeche Mode and the fans of more minimalist outputs by Chauveau, who recorded this profound and devotional declaration of love to these matinee idols by means of his likewise deeply emotional voice, even if I think that some songs ("Death's Door", "Freelove" or the above-mentioned "Policy Of Truth") were not so really suited to his kind of vocal timbre, but his rapture, a certain inventiveness - I particularly enjoyed the ones on the glitchy clots and the lo-fi experiments on "Enjoy The Silence" - and the elegance that got provided by Nocturnal ensemble often balance some supposed imperfections out, but I won't label them imperfections as the aim of Chauveau's reinterpretations - thank goodness! - is not emulative at all!
Synth Pop / Electro Pop / Synth-Electronica
Edit (8948)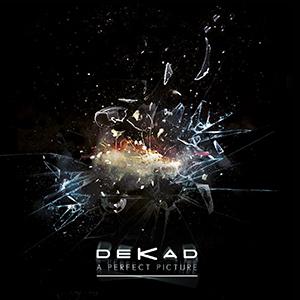 Artist:
Dekad
Title:
A Perfect Picture
Format:
CD
Label:
Boredom Product
(@)
Rated:
Four years after the release of the album "Monophonic" JB Lacassagne is back with his project Dekad with a new album titled "A Perfect Picture" and, to me, it is perfect indeed. Already with the previous album, always released by Boredom Product, JB started a redefinition of his sound since the band reduced the line-up from three to one and with "A Perfect Picture", I think that he found the right balance from melodic catchiness and cool electronic sounds. Helped out by Foretaste's members XY and Member U-0176 for production, plus XY and Celluloide's Darkleti on vocals on the single "Poladroid" and "Tied Up" respectively, the album's tracklist contains ten potential hits. Tracks like "Poladroid", "Tied Up", "Slowmotion" or "Beautiful Inside" with their upbeat rhythms or the intimate atmospheres of "Not Really There" and "Hate", to name a few, have the power to convince the listener immediately. If some of them make me think of the latest Depeche Mode B-sides (which are the tracks I prefer, by the way), others, just sound like perfect synthpop songs with great sounds and arrangements. Lyrics wise, JB deals with the love relationships under different sides but what is coming out is an overall feeling of uneasiness where extreme passions take a hold, in a negative or in a positive way. To check the whole album, just use Spotify or your preferred app and be sure to check also the video at https://www.youtube.com/watch?v=Ung2TCEDFCI