Synth Pop / Electro Pop / Synth-Electronica
Edit (6573)
Artist:
SILENCIO PERSONAL
Title:
Sand & Dust
Format:
CD
Label:
self-released
Rated:
Coming from Zaragoza, Spain, Silencio Personal is a synthpop duo formed by José Miguel Martinez (songwriting, synth programming, lyrics) and Daniel Lopez (drums, synth programming, arrangements). Playing since 2006, Silencio Personal are releasing this year their full length album titled SAND & DUST. The ten tracks of the album mix different stiles of electronic music: future pop/e.b.m. (VNV Nation or Apoptygma Berzerk are the main influences I can think of), synthpop (a bit of Depeche Mode of the early days influences are on as you can check on 'Say Goodbye') and ambient (just a bit, as when they use dreamy atmospheres and spacey sounds). Sounding now dance with powerful 4/4 hard beats (like on the opening 'These Walls', 'Slave' or 'The Same'), then dreamy and melancholic but always focusing on arpeggios and 4/4 mid tempos (like on 'We Are In This Together' and 'Death Is Just The Beginning') the duo, in my opinion, give their best on 'Space Traveller'. This track is a cool mid tempo with catchy melodies, a bit of melancholy, rich soundscapes and sensual atmospheres. The track takes advantage of the alternation of rhythmic stop and go and intimate vocals and it is also enriched by choruses and an overall dreamy atmosphere. This one is the most personal tune they composed and I enjoyed it a lot. The album contains also two nice remixes: a Silica Gel remix of 'Slave' (now sounding even more trance and dancey) and a Midnight Resistance remix of 'Whitered Life' (now it sounds faster with a mix of digital and bleepy synth sounds).
Synth Pop / Electro Pop / Synth-Electronica
Edit (6562)
Artist:
FLAMINGO DRIVE FEAT. KRISTINE
Title:
Strange World
Format:
Download Only (MP3 + Lossless)
Label:
Mullet Records
(@)
Rated:
Mullet Records is digging in the vaults of 80s synthpop music and found "Strange World", song used on the "The Breakfast Club" soundtrack. Flamingo Drive with Kristine on vocals, are giving their version and the lovers of the Sembello/ Moroder sound will die for this song which here is presented in two versions ("Radio version" and the "Full Length Maxi Mix") and two remixes. Someway the rhythms recalls me the mose famous track of the "Flashdance" soundtrack, but melodically "Strange World" is quite different. It has funky guitars a tight synth bass arpeggio, dreamy pads and nice leads with the charismatic Kristine vocals. This is a hit of the past that will please many fans of that sound which, like me, didn't know the track. The first of the two remixes is by FM Attack. They opted for a new wave approach and now the track sounds like a The Cure tune coming from "The Head On The Door" period. The second remix is by Estate and they gave to the track a retro electro flavor with nice drums, in levare bass lines and dreamy leads. Nice single!
Synth Pop / Electro Pop / Synth-Electronica
Edit (6557)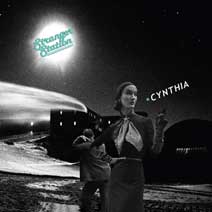 Artist:
TREELINE / POEME ELECTRONIQUE / STRANGER STATION
Title:
Too Hollow / She's an Image / Cynthia
Format:
7"
Label:
Attractive Co-ordinates
Distributor:
Anna Logue Records
Rated:
For years Steve Lippert is taking care of the Anna Logue Records' releases graphics. In 2008 he founded his own label which is a sort of Anna Logue Records sub label as Marc Schaffer is taking care of the distribution. I just received the new lot of Attractive Co-ordinates releases from Marc and I'll talk you about these new three 7"s. The first one is by Steve Lippert's own musical project Treeline. Treeline born in 1983 when Steve and Clive Weston bought some very cheap instruments - a Casio SK-1 and a Casio VL-Tone. They recorded ten tracks but they never released them. Seven years after, Steve, borrowed a Yamaha DX27 and recorded some more new stuff but always using cheap equipment (how does it sounds a mono tape recording to you?). Nothing new happened until the last year when the duo decided to put unto the first label's 7" compilation titled "Attractive! Too" their track "It's No Good Trying To Reason With Me". Now, it was the time to release something new and they picked up "Too Hollow" to be released as a 7". Originally recorded around 1986, the track is an experiment with tv and radio recordings mixed with few synth melodies. The result sounds quite dreamy and cause a feeling of anxiety too. I had the same feeling of when you see one of those old dolls on a bed pillow. The B side, has a "The Phone Mix" of A side. The track has the same feeling but it sounds even more hollow that the original one as some sounds have been removed and the vocals reversed. The second release is a new Poeme Electronique single. After the CD re-release of 'The Echoes Fade' we have the chance to check a new mix of "She's An Image" (Dave Hewson enriched the bass line and made of it a song which now sounds more dancey and upbeat) and a new song, "Rubber Dollies", which is coming from the band's vault of 80s unreleased tracks. It is a great dance tune with nice arpeggios, a tight bass line, upbeat rhythms and a great Sharon Abbott vocal performance. This is an appetizer of their forthcoming album "Fashion for all Sexes". Along with these old material, they are also preparing an album of new recordings. The third release of the bunch is a Stranger Station 7". Anna Logue Records released back in 2009 an album titled "Echoes In Infinity" (album that will be reissued soon on CD with bonus tracks) which contained their only 7" "Minutes To Silence" plus other eight unreleased tracks. Their characteristic was that they didn't use drums. Rhythms were on the bass lines. Anyway, this new 7" contains three unreleased tracks: "Cynthia", "Casey" and "Magic Carpet". The three tunes have three different singers Audrey, Pip and Corinne. All the tracks are based on melancholic synth melodies / vocal duets and they sound quite dreamy and they recalled me a minimal synth version of some 80s Robert Wyatt tracks (check "At Last I Am Free", for example).
image not
available
anymore
Active during the late 80s/early 90s, Nostalgie Eternelle were a German duo formed by Stefan Heinze (aka Inox Kapell) and Dieter Mauson from Delta-Sleep-Inducing-Peptide. During that span of time they released different tapes and participated to many tape compilations. As far as I know they never had nothing released on vinyl until now that EE Tapes decided to make their music revive in the form of a four track 7" EP. Gathering four 1988 compilation tracks, EP, let the lovers of minimal synth sounds get acquainted with Nostalgie Eternelle's style. The 7" opens with "Without You", a track originally released on "Suoni Distorti", a compilation released back then by the Italian label Stella Mars. It is a sort of love/despair song which musically sounds like an early The Fall track (mainly because of the vocals), based on a bass line, synth monophonic bleeps and a drum machine. "Too Late To Be Sad" is an instrumental track with only synth sounds and based on an obsessive drumming/synth line with analog synth noises. Later a post punk bass line is added. Its atmospheres are kinda melancholic. "Conquest" is a synth wave/post punk tune with theatrical vocal interpretation where despair is the main element. "Just Darkness" was originally released on "Decline Vol.1" by the Italian label Discipline Prod (label run by Gianfranco Santoro, guy who is releasing in these days for his Final Muzik label a Nostalgie Eternelle CD compilation) and it is a minimal experimental synth tunes with monophonic noises, simple melodic lines and dissonant parts. Nice release...
Synth Pop / Electro Pop / Synth-Electronica
Edit (6544)
Artist:
ELIJAH COLLINS & NIST
Title:
Love's Down
Format:
Download Only (MP3 + Lossless)
Label:
Mullet Records
(@)
Distributor:
Juno Download
Rated:
The latest Mullet Records release is a two track single by Elijah Collins & Nist. Jnr J aka Elijah Collins, presents here two funky tracks which have powerful bass lines, nice synth lead stabs and catchy soul vocal lines. If "Love's Down" could have been perfect for a Madonna's early single, "Shakedown" (here you can find the "Shake 'n bake edit), with its sexy rhythms and bouncy bass lines could have been a Apollonia 6 single. Both the tracks sound like 80s pop singles. They sound totally black thanks to their funky sound and they are ready to be downloaded and danced.