Synth Pop / Electro Pop / Synth-Electronica
Edit (1983)
I'm going to be frankly honest about this cd I review on after listening to FAQ (Frequently Asked Questions) new fourth release "Is Pornography Art?". This Swiss band teamed up with porn star Jenna Jameson. They got permission to used her pictures from her website for their cd cover. I find the band's music too simplistic for me to get into. They are known to be progressive electronic pop. I am a fan of synth/electronic pop, but I'm not that deep into it like I used to. Alot of bands now days are using the same samples, which turns me off. A couple of tracks by FAQ sounds too techno-ish for my taste that can be played at a rave club/party. The only tracks I like is "Minor", "Home (Revisited Mix)", "We Come In Pieces", which feature Stephan Groth from Apoptygma Berzerk as guest vocalist, and "Heartbreaker" that feature samples/interview of Jenna Jameson taken from the dvd "Hell on Wheels". There's another track that's dedicated to the porn queen called "How To Make Love Like", which is based on her best selling biography "How To Make Love Like A Pornstar." However, I think the whole album is to her totally. I'm not feeling the band, but it's very interesting how they manage to hook up with a porn star for their music project.
Synth Pop / Electro Pop / Synth-Electronica
Edit (1971)
Tammy's AMOR DE COMPUTADORA is a re-release of a E.P. released back in 2000 by the Independiente label. Tammy is the alter ego of Juan Auistín Nesta, an Argentinian producer/musician who worked also with Dj Hell. At the moment he's working with fellow Argentinian 'Gurtz'. The E.P. (which as each Sonic 360 release is only available for download at Napster/ITunes) contains five instrumental tracks (only "Lunares" contains few lines of vocoder) which ideally take inspiration from everything that can take place between Kraftwerk and New Order. The bleeping sounds paint a dark icey picture while the melody has got feelings of melancholy (see the marimba on the opening title track). The E.P. isn't of an immediate enjoyment because the tracks haven't got a "main part/refrain" structure but it slowly makes its space through your daily listenings. Light minimal electronic meet melodic tunes and their blending create five tracks to discover.
Synth Pop / Electro Pop / Synth-Electronica
Edit (1954)
As the years go by the importance of an electronic musician like Antonios Stratis comes into perspective. Although the role of Stratis in the 80's was obscure in commercial terms, the ambassadorial significance of his self owned label Temporary Music was vital in introducing Northern American artists to what has now grown into a flourishing German electro scene and vice versa. "Herzlos" is a 23 track self produced, manufactured, and distributed collection of the best of Stratis. The music here ranges from raw or "anti-tech techno" to an amalgamation of robotic synthpop and traditional progressive German electronic music from the Tangerine Dream school. Imagine a marriage of international or world music sensibility to analogue German electro. Yes, it is as cool as it sounds. Collectors of obscure electro will surely have to have a copy of this. But it is the new listener that is unfamiliar with this work that will simultaneously fall into something exciting and of historical weight. Which ever the case, the music of Stratis stands the test of time and "Herzlos" is the document that proves it.
Artist:
MIND.IN.A.BOX.
Title:
Certainty
Format:
CDS (CD Single)
Label:
Dependent
(@)
Distributor:
Alive!
Rated:
Only a very few months after the release of their successful debut "Lost Alone" this German duo presents a new single-CD which gives already an outlook to the soon to be released new full length album "Dreamweb". Consisting of Stefan Poiss (music) and Markus Hadwiger (lyrics) this project has received a never expected success and genre-bending recognition with their debut, so that the title "Newcomer of the year 2004" is surely well deserved. MIND.IN.A.BOX are outstanding for their strong ability to combine several music styles ranging from Electro, Synth Pop, Trance and Ambient-like elements to an innovative mixture which is above averages. You won't find any weak parts in their music when you try to figure out in which music style you would fill them in. Everything is well and majestic arranged - I would go so far to use a BIG word like "innovation" in a pure form. And this "Certainty" will be certainty enough to pick up a new and promising foretaste on the new album. 35 minutes placed on 6 tracks can be discovered here, the title track comes along in four different versions (Single Edit, MIAB Alien Mix and two remix works by SEIZE and THEE HYPHEN). While THEE HYPHEN filled in some additional analogue sounds to the original, the SEIZE remix is a bit more straight to hit the dancefloors. Excellent produced is also the b-side "Beyond the World (Original Version)", a marvelous track to convince a non-electronic music listener how full of emotion and brilliant this music can be! This single-CD was also one of three parts of the now totally sold-out "Dependent Club Invasion" box DCI2 which is a limited collectors-item with which you get the chance to get three different single-CD's for the price of a full-length album in advance before this singles will be released on a regular base. No matter if you have purchased "DCI 2" or this alone released single-CD – this is a must-have!
Synth Pop / Electro Pop / Synth-Electronica
Edit (1951)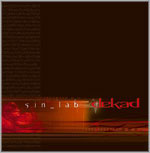 Artist:
DEKAD
(@)
Title:
Sin Lab
Format:
CD
Label:
Boredom Product
(@)
Rated:
After partecipating to a couple of compilations (Frenchviolation magazine CD and to the "Synthétique" CD compilation) the French trio called Dekad finally arrived to an important target: their first album. SIN LAB contains fourteen original tracks composed thank to the efforts of the whole band team. The tracks sound fresh and inspired and the band show confidence on their skills. For this reason the whole album is a surprise and the blend of synthpop, new wave (see the use of flangered/delayed guitar on some tracks) and e.b.m. can convince even the occasional listener since the first spin of the CD. Tracks like "Club devil" or "I want" are really powerful and the mix of dark atmospheres with melodical refrains is a winner one. The band sound is ready to compete with the one of bands of the like of Toy or Covenant even if Dekad are less pop. Give them a chance!