Synth Pop / Electro Pop / Synth-Electronica
Edit (9661)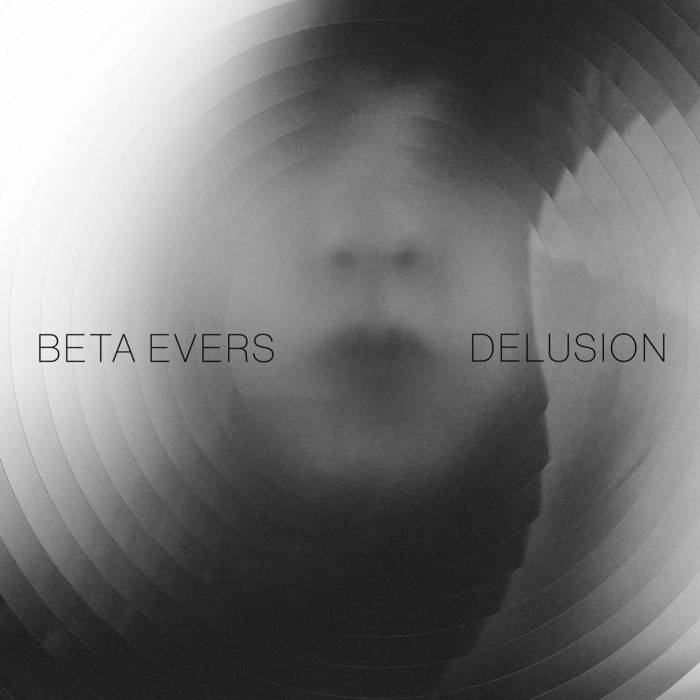 Artist:
Beta Evers
Title:
Delusion
Format:
LP
Label:
Bodyvolt
Rated:
Personally I knew Beta Evers, a.k.a. Brigitte Enzler, because of some tracks I listened on compilations or for her collaboration with Gerald Donald on the projects Gedankenexperiment and Zwischenwelt, basically because I own and like those one. He material wasn't really easy to get for me, so when Fulvio Guidarelli (a.k.a. Lisfrank) told me that she did her first album, I was quite curious. Even if this is her first album under the Beta Evers moniker, Brigitte since 90s has been active, first with a band (i didn't find its name) and with a small label, then after a hiatus, on the late 90s she started to organise parties and then in the early 00's she founded the Kommando 6 collective. After a while and until 2006, Kommando 6 became a label devoted to electro music. The following years see Brigitte busy with collaborations and Beta Evers 12"s releases. On late 00's she founded the label Bodyvolt and its sub-label Venus Noir (which is focused on producing electronic music female vocalists). Briefly this is her past and now I can talk about "Delusion". It has been released on vinyl by Bodyvolt and on CD by Daft Records (in this edition, as well as on the digital download, you can find two bonus trakcs: "Hit Me" and "Kalt"). Listening to the tracks of the album, the first thing that pops out to my attention is the detached style of Brigitte's vocals. Since we have titles like "Frozen Breath", "Sore Suspense", "Nothing But Art And Pain", "Torrid Illusions" or "Kalt", the impression I had is that she wanted to use the tracks like a personal journal where you find her emotions there, naked. For that reason they didn't have the need to be overexposed using vocal melodies or pathos. "On a day without light, you touched me...", she's saying opening the album and the cold atmosphere starting with "Velvet Leaves", will carry you through all the record length. Musically we pass from upbeat tempos like "Frozen Breath", "Stirring Dreams", "Torrid Illusion" and "Hit Me" to mid tempos like most of the remaining tracks, where electro wave and minimal synth are the main influences. For the synths timbre, analog is the way to go: you can hear the sawtooth and the square waves making their ways, like claws tearing a curtain, through the dry beats of the drum machine. "Delusion"'s even if it's containing songs it's not an easy listening album and it grows every time you listen to it. She will play live in Germany in 2017, keep an eye on the live events list!
Artist:
Frank Meyer
Title:
Spuren
Format:
CD
Label:
Frank Mark Arts
(@)
Rated:
I heard some of the stuff by Frank Meyer on some collaborative releases, coming from Frank Mark Arts (the very first time I saw its name was on the occasion of "Levitation", a good album he made together with Roman Leykam). This debut album better highlights his interesting sonic searching, focusing on a well-balanced mixture of ethereal music, krautrock, prog rock and an assortment of tricks often used by composers of music scores. Despite its internal homogeneity, you could hear some sparse resemblances in "Spuren". For instance, I'm pretty sure that many listeners of the wisely titled "Klischee Und Wirklichkeit" (German for "Cliche and reality") would match it to the notorious Yann Tiersen's soundtrack for the likewise famous movie Amelie (even if its well-forged electronic sounds could befit a possible futuristic version when the main character of this film would be 40 years older at least). Other ones will imagine that "Hinter geschlossenen Augen" (meaning "Behind closed eyes") could have been grabbed in the imaginary garden of Klaus Schultze while automatic nozzles were watering the Japanese hydrangea or tracks like "Ein seltsames Wort" (eng."A strange word") could let you think about a cover of some prog rock classic song by Boards Of Canada after a transplant of a robotic heart or that robots themselves can feel and translate into music something closer to human love-driven depression while listening to the graceful "Tiefenbohrung". Tracks like the lovely "Fuge für Hoffnungsvolle" (meaning "Fugue for hopeful") could let you imagine that the famous herdsman appearing in an old spot by Marlboro has a promising future or maybe is already active in one of the supposedly newly discovered Earth-like planets. Besides possible and more or less fictitious similarities, the sound that Frank forged in this album by means of an impressive set of instruments (including acoustic and electric guitars, an electric bass, a diddley bow, a plenty of software synths and samplers, a glorious Doepfer Dark Energy monophonic synthesizer, an ukulele, a flute, some boom whackers, some field recordings, some toys for cats and even a lemonade bottle!) is really good and could be considered as one of the most interesting stylistic direction that a particular branch of the so-called psychedelic music could take.
Synth Pop / Electro Pop / Synth-Electronica
Edit (9634)

Nevrosa is a 2 person synthpop/postpunk band from Karlstadt, Sweden consisting of Patrik Axelsson - vocals and synths, and Emma Friman Browne - synths. Also, on this recording, Anton "Arne" Olsson played bass synth on two tracks. Apparently Nevrosa (not to be confused with Brazilian all-female thrash metal band Nervosa) has been around since 2005 in one form or another, but you'd never know that from this three-song EP. This has all the hallmarks of a "first time out" recording. The recording quality is kind of shaky, the drums (drum machine I believe) and bass are way too loud in the mix, and synths and vocals are getting lost in the sauce. Maybe that's why they titled the first track "Lost," but it's not a bad song in and of itself. Patrik's vocals are good in their Scandinavian synthpop style - melodic and melancholic, although not what I'd call strong. The music is minimal synth and coldwave. The title track is the strongest one on this EP, and the other two - "I hate you, don't leave me" and "Worthless" don't offer enough diversity from the first one to sound much more than a continuation of the first track. For a project that's been around since 2005, I would have expected much more progress than it seems Nevrosa has made. A couple other things have clued me in to what seems like an amateur project - a handwritten note accompanying the CD (claimed they ran out of flyers) and no website/email contact info on the CD slipcase. Now I appreciate the personal touch of a handwritten note (yes, I do occasionally get them, usually with other promo material included) but handwriting important info such as your email address could lead to possible misinterpretation. As far as the CD I received goes, I have no idea whether its for sale or not, or they just pressed some promo copies. (The tracks are on the band's Bandcamp website, otherwise there would be no review.) So over all I would advise this band that if they wish to continue and get noticed, they need to up their recording/production quality, write songs with more memorable hooks and work on diversity in material.
Synth Pop / Electro Pop / Synth-Electronica
Edit (9633)
Artist:
Hyperbubble
(@)
Title:
Western Ware
Format:
CD
Label:
Fellowshipwreck
(@)
Rated:
Well, it had to happen sooner or later. San Antonio synthpop duo Jeff and Jess DeCuir have finally put out a Country Western album. Yep pardners, you heard me right- we got both kindsa music here- country AND western. YEE HA! It was recorded in Nashville but there ain't one geetar, banjo, mandoleen, or fiddle on the whole durn thing. But there are dozens of them thar sythysizers, drum machines and the like. Now I never thought I'd be reviewing a C&W album here, and this genre is right up there with rap and hip hop on my shit parade, but with enough beers, steers and queers, and a heapin' helpin' o' nitrous oxide, I guess I can keep an open mind (tongue planted firmly in cheek). After all, it is synthpop at its core.

The band sashays through 10 tunes on 'Western Ware' - mostly covers of country classics (sort of), from Arlie Dufff's "Y'All Come," to Dave Grusin's "The Electric Horseman." Okay, well the latter is more like country-disco than country-western, but what the hay. Hyperbubble fans are mostly used to Jess being the voice of band, but on this album Jeff cleans up rather nicely as lead vocalist on a good number of tracks. Remember Freddy Weller's "Bar Wars"? It was a #32 hit for him back in 1978, mostly due to the Star Wars craze but Jeff does this one proud. Not so sure about Leon Russell's "Queen of the Roller Derby" which lacks a bit of that Russell Texas barrelhouse funk, but the backing vocals by Aleah Metzger Hendricks are mighty fine. Then there's that Hoyt Axton chestnut, "Boney Fingers" where Jess and Jeff duet. Reminds me a bit of Spell (Rose McDowall and Boyd Rice) in a Lee Hazelwood/Nancy Sinatra sort of way. Speaking of Rose McDowall, Strawberry Switchblade is the only synthpop band I ever heard cover Dolly Parton's "Jolene," until now. Not sure which version I like better. They both have their charm. Jess may not the same country cred as Norma Jean, but she does turn out a credible version of "Truck Driving Woman." One song in this genre I've always hated is "Rhinestone Cowboy". Somehow Hyperbubble makes their uptempo version of it somewhat palatable. One fail though is the cover of Porter Wagoner's maudlin "The Rubber Room," a poor choice for a supposedly feel-good album like this. I can think of numerous other selections that might have been better, such as Johnny Cash's "Ring of Fire." Remember 80's synthpop band Our Daughter's Wedding? ("Lawnchairs," if you need a hint.) Well Hyperbubble cover their "Digital Cowboy" instrumental with Scott Simon from the band on lead synth. It's okay nostalgia but it won't make your heart sing or nothin' like that. Some of the choices of material on 'Western Ware' could have been better, then again, it could have been worse. I can live with what they's a givin' ya. I think overall, the album starts with a bang and kinda ends with a whimper. Some of these tracks just may make it onto (non-mainstream) radio playlists just for the novelty, and that ain't a bad thing a'tall. I just hope this is a one-off, and not the new direction of Hyperbubble.
Synth Pop / Electro Pop / Synth-Electronica
Edit (9566)
Fans of synthwave and attempts to recreate those halcyon synthesizer days of the early 80's must lap this up- a genuine and forgotten 1982 LP, the sole album by Monopol. This is the real deal- synthesizer pop music, close to the cutting edge for its time, revelling in the synth sounds and phrases that so many producers now try to recreate. Motorik drum rhythms, warm analogue basslines and whistling lead lines are a classic combination but this is a really good example of its kind.

Predictably Kraftwerk and Klaus Schulze are cited as influences on the press release, but the German-language pop sensibility is arguably more MOR than that, with melodies and structures more reminiscent of bands like OMD, Propaganda, and very early Depeche Mode. The mixture of male and female lead vocals keeps things interesting and each track is a radio-friendly length, with only one track, the slightly more indulgent "Weisses Haus", passing the four-minute mark.

From my UK point of view, if Monopol had had a single strongly-hooked English-language radio hit, or managed to get Trevor Horn's attention, I'm sure they would be a great deal more remembered than they are now. The standout tracks include "TV", the almost prototype acid house tones of "Elektrischer Stuhl", and "City-Nacht" which is just crying out to be used on a soundtrack. The track "Gib Liebe Her", the only track issued as a 7" single originally, is strangely 'oompah' and borderline cliché, an unrepresentative choice as a single.

A mint copy of the original LP will set you back the best part of €100 but it's now been remastered and reissued on vinyl by Medical Records. Seemingly it's still vinyl-only and limited edition, a bold but faithful move, but one which might unnecessarily limit its audience which is a shame as this LP is definitely ripe for a revival.