Synth Pop / Electro Pop / Synth-Electronica
Edit (9231)
Artist:
Spray
(@)
Title:
Enforced Fun
Format:
CD
Label:
Banoffeesound
(@)
Rated:
Synthpop bands seem to be popping up all over the place in such profusion as never before, but maybe I just never noticed and they've been here all along, hiding in the shadows, waiting for the right time to take over our bodies and brains with their infectious beats and melodies. Such is the case with the UK duo Spray (Jenny McLaren - vocals, & Ricardo Autobahn- synths & stuff + production), who have been around since 2001. With some notable previous releases, such as 'Living in Neon' (2002) and 'Children of a Laser God' (2006) one could hardly say they're novices. There has always been something big and clubby about Spray's sound, ultimately geared for the dancefloor, lyrically tongue planted firmly in cheek, and catchy but disposable as a Bic lighter pop melodies, and that hasn't changed on 'Enforced Fun', but what has is the production- polished to such a high gloss on 'Enforced Fun' that you can easily see your image reflected back at you in it. I suppose it's a kind of natural evolution, but one with potential drawbacks we'll get to it a bit later.

After an amusing Prologue delivered by actress Jane Badler (remember the sci-fi TV series 'V' ?) Spray launch into "Hit the Applause Light," a well-turned tune with a potent hook. If radio stations were still playing the kind of new music they used to play in the 80's, they'd certainly be playing this track. But so sad, all that's changed now... "Overdramatic" is nice melodic synthpop, but doesn't have the impact of the precious track. "You Show Me the Way" slows it down a bit, and is Enya-esque without going full-bore Celtic New Age. "Rotating the Square," as beatalicious as it is, may just be too obtuse for the geometrically challanged masses, but nerds will approve. The big hit (in my opinion) is "The Magic 8 Ball Lies," a song that has everything going for it. Great savvy lyrics, neat melody, and killer hook. What more could you ask for? "It's Not Enough" (with Kid Kasio) seems like typical danceclub fodder. "Diabolical Mastermind" seems to get lost in its own story drowning whatever memorable hook it could muster in too much plot. Although the lyrics are quite clever on "It's the Night of the Long Knives Charlie Brown" and the music has almost ska happy beat to it, it feels forced and artificial. (It was songs like this that seemed to herald the end of the halycon days of the 80's.) Although not one of the hottest tracks on 'Enforced Fun,' "Into a Tunnel" is wonderfully charming and thoughtful song, the likes of which you don't usually hear in the synthpop genre. Despite listing all the fave bands of the decade in the song "The 80's Never Died" (with Phil Fletcher & Don Quibeats) this paean to New Wave could have used a stronger hook, something as potent as the Buggles' "Video Killed the Radio Star." "Fake Controversy Coincidentally Moves Product" (with Barry Thumbs) is more satire than substance, but that's self-evident considering the title. Perhaps it would have been better as an instrumental with sampled dialogue rather than a song with lyrics. "The Biggest Pool in LA." works much better in the cynical/satirical vein. Gearing up for the big production number ending with some assistancve from Hyperbubble, Spray prove they're hipper-than-thou in "The Very Nerve Centre of Art/Video Cliche". I'm getting all sorts of vibes here, from Abba to Freezepop and much more. Every weak point on the album previously is forgiven and forgotten with this one. And if that isn't enough, "The Final Song" melds mellow Madonna with Enya and delivers a stellar hook to boot.

Now about that glossy production- it certainly moves the band into the big league, and could be instrumental in getting them noticed beyond the standard synthpop market. However, there is a homogeneity to it that may have some casual listeners thinking "oh, all the songs sound the same" over the course of the whole album. While that's not really true, Jenny McLaren's voice is remarkably consistent, and her harmonies constructed for maximum commercial impact, and Autobahn's synth arrangements and programming are as perfectly executed as possible. So what's so bad about that? Nothing really, but I think Spray has lost a little of its former exhuberence and impulsiveness. Maturity will do that to you. But they still make damn good synthpop music.

Synth Pop / Electro Pop / Synth-Electronica
Edit (9210)
Artist:
EmotiKon
(@)
Title:
Two of a Kind
Format:
CD
Label:
Timezone Records
(@)
Rated:
You may recall Dusseldorf-based synthpop band Emotikon from a while back when I reviewed their self-titled debut positively. Now they are back, albeit with some changes. At that time this duo consisted of Mine Voss - vocals, and Tom Tron- synths, programming. Mine left in 2014 for other pursuits and has been replaced by Natalie Malladi-Rao. While their sound isn't completely different, there is more of an accent on the POP aspect of their synthpop sound on 'Two of a Kind'. At first, they sound a lot their previous incarnation on the title track ("Two of a Kind"); a nice little melodic number orchestrated with simple sythnpop musical staples. Then, things get a bit more intense on "Die Alone," opening with a melancholy cello intro, then an amazingly sophisticated melody on the verse. The chorus is almost as good. The whole tone and temperament of this song could easily be used as the theme song for a James Bond movie. It's that good. (Certainly better than the theme song of the last Bond flick.) Upping the pop aspect of their repetoir, "Say Hey" just begs for a Bollywood style video with its crowd-rousing chorus. It's a mind-numbingly basic, but catchy as hell; a little bubble-gummy but so what? Over the next 8 tracks Emotikon present a variety of simple pop ditties, some better than others, and a couple just downright silly ("Do It Like the Birds," "Love Potion"), but nothing comes close to the impact of the first few tracks, inspite of being augmented by saxophone (Norbert Deuben) and flute (Silvie Ansorge) on a few songs. I get the impression Emotikon is striving to pull in a much younger audience with 'Two of a Kind' and Natalie can hold her own vocally with pop singers like Britney Spears and Katy Perry, but image, presence and production are what make pop singers pop divas, and there's a way to go on that account. There's little depth on 'Two of a Kind,' just good, light synthpop fun for the most part. If that's what they're striving for, they've succeeded.
Synth Pop / Electro Pop / Synth-Electronica
Edit (9197)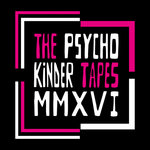 Artist:
Psycho Kinder
Title:
The Psycho Kinder Tapes
Format:
CD
Label:
Alienated Records / Fonetica Meccanica
(@)
Rated:
This release from Alessandro Camilletti, the mastermind behind this project, is the statement that synth pop is not a closed book even if there's some hint these days. The key characteristic of this release, from the codified code of the genre, is the focus on lyrics concerning the state of western civilization in times where people prefers to chat using social network rather to talk and try to change our society. For this project he collects a bunch of producers whose peculiarities doesn't break the stylistic unity of the record whose music is a support to the message.
The structure of "Stato Di Violenza" looks to the tradition of italian new wave without nostalgia. The melodic aperture of "Oltre Il Tempo" is the mirror to the experimentation of "Psycho Kinder" followed by the remix of "Vivo E Invisibile" made by Miro Snejdr who filters Camilletti's voice and so, for a moment, puts the message in the background in favor of the music. "Inviolabili E Sacri" blurs the border between art and life citing Leo (Giovanni Leonardi) in the text which is the author of the music. "With Usura" features a recording of Ezra Pound whose voice is present also at the beginning of the first track. "Viaggio Allucinato" is almost a break from the darkness of this musical journey with his upbeat. The Carnera's remix of "Il Tramonto Dell'Evidente", while being the finest at aural track, sounds sometimes too different from the rest of the release. "Essere" closes this release with an hypothesis of minimalism for the next record.
The constant level of songwriting is almost impressive and results in a release that could be enjoyed even by the casual listener if djs were more courageous than they are now. A coal turned into diamond.
Artist:
Moving Units
(@)
Title:
Damage With Care
Format:
CD
Label:
Metropolis Records
(@)
Rated:
One of the funniest item coming out from the recent baking in the oven of Metropolis Records is the new album by Los Angeles-based former trio Moving Units, which seems to have come through the dispute occurred in late 2012 related to the fact that their singer and guitarist Blake Miller performed some solo shows by using the name of the band without the approval of other members by the simplest way possible: he left the band, but this output seems to be coming from a sort of temporary armistice! Licensed by Mark Blumenthal's label Kitty Play, "Damage With Care" is nothing revolutionary from the stylistic viewpoint, but it's nice the way he overlaps and interlaces funky-disco rhythmical patterns, guitar riffs and that "glamouresque" lewdness evoked by slapped bass together with a nonchalant attitude. I wouldn't label disco-punk, as lyrics don't really sound belonging to a rebel yell, as the way by which Blake inject a certain irreverence looks like pink spots on a leopard-skin upholstery than a spit on a radiant marble floor of a luxury hotel, so that I would rather say it's close to a rejuvenating declension of electronic rock, but it doesn't mean it's so close to banality. The best moments are maybe the ones when the band coast along some surf sonorities such as it happens on "Teacher " or "Wishful Thinking" (really cheeky and somehow baffling the repetition of "I wanna be alone inside" in a disco-tinged song as well as the strange mutation of Miller's voice, which sounds like Miki Berenyi of Lovelife-era Lush) and the ones where frenzy guitar riffs seem to reprise the brightest moments of dark and synth-pop ("American Infantile" - including a sample of Duran Duran's "Girls on Film"? -, "I Don't Mind", "Fragile Magic"). I would introduce this record as a possible musical translation of the chemical process to turn excess fat and cellulite into soap.
Synth Pop / Electro Pop / Synth-Electronica
Edit (9165)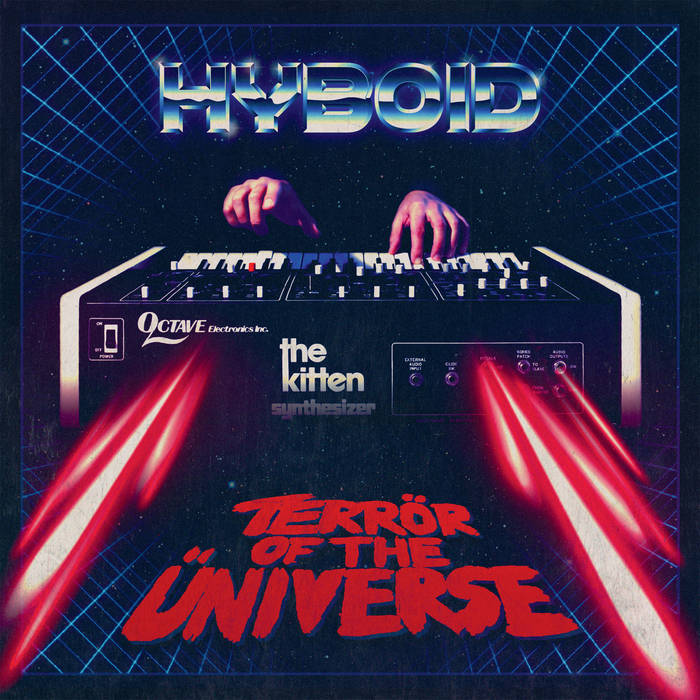 Artist:
Hyboid
Title:
Terrör Of The Üniverse
Format:
2 x 12" vinyl
Label:
Astro Chicken
Rated:
It's a while that Astro Chicken label and his main project Hyboid didn't release music but, luckily, the wait is over. Recorded entirely with vintage synthesizers and vintage effects, "Terrör Of The Üniverse" is the latest album by Sebastian Hubert a.k.a. Hyboid. Released as a luxurious double album containing twelve new tracks, "Terrör Of The Üniverse" show Sebastian's main passions: synthesizers and 70s/80s electronic music. If the old albums sounded like a space travel soundtrack, the new album is also showing a certain influence coming from old library music and soundtracks. Records that now labels like Private Records are reissuing: check Gerhard Heinz "Library Music", Sergio Ferraresi "Horizons Vol. 7 Galaxi" and Michael Bundt "Dreamdancer" releases. Playing around with fantasy and irony, Hyboid is teasing us convincing the listener to follow him through his journey where we can see "Toxic Avenger vs. Marshmallow Man", the "Leather Queen of the Amazons", the "Cosmo Speedrun", the "Kingdom of the Laser Dwarves" or the "High-Gloss Üniverse" while hearing the "Lament for My Eta Carinae". Even if we are called to feel "Terrör Of The Üniverse", this is an universe I gladly visited. The album is available as double vinyl set, black or violet with poster, you can purchase/check it here: https://hyboid.bandcamp.com/album/terr-r-of-the-niverse-2x12-limited-purple-vinyl-edition-a1-poster-mp3-download and if the next Friday you're in Berlin, you could check Hyboid live at an event organized by Janis Nowacki, boss of Private Records. Sebastian will open the night for 70s/80s Cosmic Disco legends Wunderwerke a.k.a. Supersempfft a.k.a. Roboterwerke and Schaltkreis Wassermann.