Synth Pop / Electro Pop / Synth-Electronica
Edit (9130)
Artist:
Big Hare
(@)
Title:
Hasyayoga
Format:
CD
Label:
Blowpipe Records
(@)
Rated:
Big Hare is the duo of Luuk Ottenhof and Tim Fraanje from Ultrecht, Netherlands. I reviewed their 'Evening Rites' EP a while back and found it interesting, but after listening to 'Hasyayoga' it appears as though they were only getting started. There are only 8 tracks on this short album, but it seems quite sufficient. Right out of the gate on "Tahiti" and "Yellow Eyes" they show a quirky, wry pop sensibility akin to the more experimental side of Goldley and Creme, albeit somewhat more whacked-out and lo-fi. "Black Tape" is electro-funky with a chiming guitar strum borrowed from Bowie's "Fame", along with some steel drum. "Fun Face" gets into an electro groove ala Yello as if produced by The
Residents. The Snakefinger-ish guitar on "An Amazon" would seem to indicate the boys of Big Hare spent a lot of time listening to Ralph Records artists. Nowhere does the Dadaist influence emerge more fully than on the recitation incorporated into "Scissor Dance". Beeheart and Pere Ubu wrapped in a Middle Eastern motif as if done by Barnes & Barnes. "Lend me your hands, I ain't go no hands, I've taken part in the Scissor Dance." The weakest track on the album may be "Treehouse" but at least it has some eerie oscillating synth. It all ends with the lengthiest track on the album, "Follow the Lines" which is kinda coldwave, kinda industrial, done almost like the earliest Human League, but of course with Big Hare's innate quirkiness. There aren't many outfits making music like this anymore; stuff that's fun but not necessarily funny, unconventional without being outlandish, but most of all, enjoyable.
A contemporary of the likes of Nite Jewel and Ariel Pink on the productive and cultish LA art-pop scene, Geneva Jacuzzi here presents a new collection of brazen, leftfield synthwave numbers called Technophelia. With the deliberately muddy, lo-fi fad now out of fashion for 80s appropriators, Geneva follows suit with most of the scene's continuing practitioners on their recent efforts, turning up the cutoff on her authentic analogue hardware and investigating the clarity of the upper spectrum.

In contrast with something like the rather straight-faced role-play of Nite Jewel's One Second of Love, Technophelia is less even, more lyrically and sonically adventurous and wackier in general. Take the lead single and album centrepiece 'Cannibal Babies'. The rhythm is an Italo strut, over which Geneva lays a very potent, jagged synth lead riff and a lot of delayed vocal play beneath the main lines. She makes lively lyrical references to vorarephilic hookups, apparently complete with absurd suggestions of starting a cannibal bloodline. "Try to remember / You're dancing with your dinner / You don't wanna get me thinner", she warns. A couple of lines later, as a brilliantly lush chorus prepares to drop, she exclaims "I'm gonna eat your - eat your sex. Ugh!" It's loopy, and great fun from the start. As a single, it's delivered complete with a decent video that brings together fitness dancing, revolting black teeth and nifty datamoshing.

Unlike 'Cannibal Babies', which passes five minutes, most of the album consists of short tracks. There are grimy, flattened motifs that could've been lifted from tacky slasher films, as in 'Technophelia (Intro)' and 'Technophelia' (naturally, the intro is longer than the main song). There's flirtation with darkwave, such as in 'Casket' and 'Squid Hunter'. There's a decent noodling vignette with the delicate title 'Biogasms in Babyland', as well as a more straightforward pop diversion in 'Macho Island'. 'I'm a TV' either draws parallels between voyeurism, objectification and physical manipulation/touch, or indulges in a retro sci-fi narrative about machine sentience - or perhaps combines the two.

Altogether, as with most synthwave, there's nothing especially surprising on the record, and a few of the tunes don't really stick. More inclusions on the spectacular level of 'Cannibal Babies' would have been nice. That said, Technophelia is a very confident effort, and gleefully, irresistibly tacky.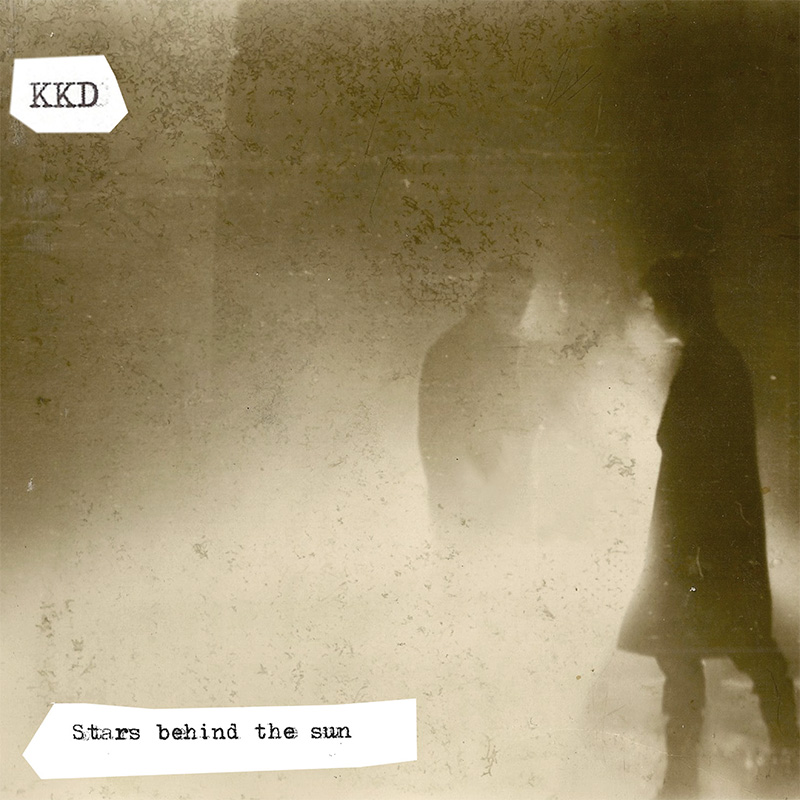 Artist:
KKD
Title:
Stars Behind The Sun
Format:
12"
Label:
Synthetic Shadows
Rated:
Active at first in the late 70s/early 80s and now alive and kicking again, KKD were coming from Modena (Italy). Taking an ex hotel as headquarter where experimenting with sounds and graphics, they took the post punk / new wave sounds as a starting point just to let their imagination run free. If tracks like "Sound From The Universe" were sounding quite standard for that period, others like "I Need Help", "Stalin Strategy" or "Kippur" were examples of their will to break the boundaries of genres. Even if they were using bass and guitars, they were filtering them through the Korg MS20 synth, creating in this way a post wave hybrid. The sign that their intuitions were good was showed also from the fact that Ralph Records appreciated them but, unluckily, we had the chance to check only two of their songs on the ultra rare compilation "First Relation" released in 1983 by Lisfrank's label Man Mask: "House TV" and "And In Your Mind". Now, thanks to Synthetic Shadows, a wider audience is able to check KKD music by purchasing the LP "Stars Behind The Sun", a compilation album that gathers fourteen tracks composed from 1979 to 1983. On this album there's no rip off track and you'll have the chance to have a glimpse of their music. Prepare yourself for dark post punk, minimal wave experimentations, new wave catchy melodies and more!
Artist:
Ivan Iusco
Title:
Transients
Format:
CD
Label:
Minus Habens
(@)
Distributor:
Family Affair Distributions srl
Rated:
I've been familiar with Iusco's name since the early '90es as the founder of Minus Habens, one of Italy's most prominent electronic music labels (which released things by Angelo Badalamenti, Brian Eno, Depeche Mode and a number of Italian artists). I was less familiar with Iusco as a composer, but it turns out he's moved operations to Los Angeles and has been working hard as a film composer scoring mostly Italian movies for the better part of the last 15 years.

"Transients" is his second album and showcases his evolution from electronic music tinkerer to full blown orchestral composer. The cover art work of the digi pack looks like a blurred version of a dutch masters painting or a Rembrant portrait but it's actually by the internationally-acclaimed artists Miaz Brothers.

The album starts off with tracks that are very cinematic (as is most of the record, really) and more orchestral. Layers of more than 20 real world wind, brass, string instruments and atmospheres that range from mysterious and melancholic to grand and majestic... When there is a real violin (like on track "Mobilis in Mobili", played by Pantaleo Gadaleta, who also played with the great Morricone and Antony and the Johnsons) you can really hear how the track is lifted to a whole other level, proof of what true musicianship can contribute to any computer generate music project! Then from the fifth track on Iusco pulls out his nails and teeth out and sinks them into the largely unprepared listener with some great mean-ass IDM/industrial/electronic sounds... Two tracks later the album takes another sudden turn and becomes a more vintage sounding, dare I say, almost nostalgic old-school electronica record (echoes of Clock DVA, maybe even Tangerine Dream...). On the eight track ("Circuitless") a female vocalist is introduced (it's Tying Tiffany, who's been featured on CSI, The Hunger Games)... Then Ivan dips back into ethereal ambient soundscapism that almost leaves you with a sense of uneasiness and peace at the same time. But obviously, he prefers to pick things up again and go out in a blaze of glory because the closing "Unconquered" track is what you'd expect from the end scene of some epic battle movie or even a spaceship battle sci-fi film: it's as victorious, dazzling and magnum opus-like as you'd imagine it, the perfect end credit music for this album, even though it almost ends too soon and abruptly...

If you are into soundtracks and epic movie music that is a mixture of electronica and classical music, or any of those genres taken on their own for that matter, I'd recommend you give this a spin, or at least preview it on iTunes. There's some really good stuff in there!
Synth Pop / Electro Pop / Synth-Electronica
Edit (9061)
Artist:
HOX
Title:
Duke Of York
Format:
CD
Label:
Editions Mego
Rated:
The way how the venomous opening "Anthracite" ignites this amazing output by HOX, the collaborative project by Wire bassist Edvard Graham Lewis and Andreas Karperyd - partner-in-art within He Said Omala - could sound like a proper hoax, if you pardon the pun, as its amalgamation of mid-tempo bassline and liquefied synth-driven sequences could be mistaken for some stuff by Bomb The Bass before they begin to entangle listeners into a sort of narrative plot and well-forged toothed sonic belts. The following "Javelin" lights the fuse of a definitively more electro-pop oriented output than their previous "It-Ness", but in spite of such a mutation towards more "easy listening" areas, the above-mentioned features, i.e.the remarkable accuracy of lyrics, sung in a fittingly melodic way - many followers of Lewis's stuff believe he could be considered a poet, who arranged in the professional treatment of sound! - and sounds, which often hook some identified flying objects engined by Wire (particularly on tracks like "Correct Co-ordinates" and "White Space Conflict"), really matter. The ventricular sci-fi fibrillations of "It's Too Much", the sweet moments of computer aided bass-driven abandon of "X In Circle", the gum flavoured by fuzzy electronics and Colin Newman's oblique interpretation of bass music that we could imagine chewing while listening to "Track and Field", the amazing "Goodbye", which sounds like a false start of New Order's "Blue Monday" or some tune by John Foxx before they begin to say goodbye to some good friend, and the final bath into a sort of melancholic serendipity on "Freequency" are the other meaningful chapters of this sonic storytelling, where an important role got played by Christoph Grote-Beverborg's wise mastering.