Synth Pop / Electro Pop / Synth-Electronica
Edit (8891)
Artist:
It's A Synth
(@)
Title:
Curiosity
Format:
CD
Label:
Target Records
(@)
Rated:
It seems as though there's been a lot of synthpop coming out of Scandinavia lately, so it's not surprising to find that It's A Synth is from Copenhagen, Denmark. They're a duo consisting of Andreas Fog-Petersen -what else but synths! and Casper Clemmensen - vocals. While this isn't their first foray into music, 'Curiosity' is their first official release, and WOW!, is it ever a doozy. Right from the get-go these guys draw you in with "Bring It On," a medium slow neo-psychedelic synth stew that latches on to your psyche and won't let go. "...I will always find a way to get to you and numb your senses, Feeling so underrated, they..never will speak the truth...it's underestimated...yeah, they all dismiss you..." It's a bit dark, but not typical of this album. Casper's vocals are perfect for this kind of thing. "Endless Endeavor" peps it up for the dancefloor and Casper employs a little vocoder assist for this tune. Now the pop portion of this synth band kicks into high gear and drills directly into that happy portion of your brain and implants their infectious hooks. Unless you really hate synthpop, they've got you. And so it continues with the anthemic future-poppy "Almost". I can picture a huge crowd waving their hands in unison in time with the beat. These guys have lucked on to the magic formula that most synthpop bands strive for, namely to create music that you just can't get out of your head. And the weird thing is, it's so bloody simple. Fog-Petersen's synthwork is very good, but not ground-breaking. (Is there any more ground to break in this genre?) Clemmensen has the knack for writing melodies that are uber-appealing. "The Last Cell" isn't the greatest track on the album, but lots of synthpop bands would be satisfied to come up with something as good as this. Even when the band doesn't seem to be trying hard, as on "Pen to Paper", where the hook has only the words "there is a reason, there is a reason, there is a reason, there is a reason, there is a reason...ahhhh" it will melodically bubble up in your brain long after you've heard the song. I thought after this they might be spent, but no; wrong on that account. Blam, blam...two more infectious tracks - "Somehow" and "Piece of Me". After that "Steps" attemps the same formula, but isn't as compelling as anything that preceded it. "Moving" is much better with an old-school psychedelic chorus - "How will I find you?" repeated anon. The last track, "Spirit" is a bit heavy-handed with it's pounding staccato beats and really only serves to sum things up in a grand finale. As far as tunesmithing goes, It's A Synth makes bands on the order of Fischerspooner sound lame, and that's no small feat. I have heard the future of synthpop, and definitely, It's A Synth.
It doesn't really matters the circumstances that "Voyager II", "SH Crush", "VCO mode" or the awesome title-track "Shiva Watts" could resemble some stuff by Richard James's acid techno act AFX as well as other EDM tunes of the late 90ies and similarly "Blackfish" could vaguely remind of some EBM outputs (even if a friend of mine thought it was a remix of Bronski Beat's "Smalltown Boy" by Gridlok!), "Vocall 300" could be closer to some vocal daydreaming electro-hop that used to shake many headphones in the second half of the last decade, "Domo Geodesico" could lay in between contemporary Berlin electronics and 70'ies progressive electronic music - very interesting matching, indeed! -, "Pet Grief" could be confused as the remix of some Depeche Mode's unreleased melody by Beefcake or Proem, "Class of 1999" could sound like a robotic romance by Royksopp, which seems to get counterbalanced by the more lukeworm and softier sounds of "Bad Hair Day" and tracks like "Mixtape Alpha Dials" and other interplays could recall some clips by Boards OF Canada to some attentive listeners. Similarites are sometimes unavoidable, but the debut album by AAAA - a moniker, which sounds like a new format of batteries for electronic devices! -, the alias of Gabo Barranco, a Paris-born producer who raised in the suburbs of Mexico City, melts all these possible influences in a so roughly funny way that similaties become something to brag about! Previously released by Mexican imprint Maligna, Antime's founder Martin Steer thankfully decided to import it for the pleasure of Old Continent's listeners. Wise choice!
Artist:
HenriFernand
Title:
The More I Learn
Format:
Download Only (MP3 + Lossless)
Label:
Future Relics
(@)
Rated:
The man behind HenriFernad is Ludovic Bordas, an "Has-Been" of the 90ies electro-trance French scene as it was one of the secret recipes of "Pills" alongside Anthony Sandor, whose debut album "Foundation" is still considered a masterpiece of that scene by many nostalgic lovers of those sonorities. Pills keeps on existing as a one-man band as Ludovic left it just before the release of their second album "Electrocaine" - it seems that divergent views related to artistic direction of this album caused the breaking of the artistic marriage between Bordas and Sandor - after having shaken French scene - they also performed at the very first public rave party in France alongside big names like 808 State, William Orbit and Underground Resistance - and his occasional appearances on some dance releases don't give the possibility to trace what he did after Pills experience. The sound that he explores on this release by a couple of nice tracks, a somewhat gloomy vocal electro-pop (the refrain "The more I learn/the less I know" got easily stored in listener's memory as well as the sneaking electro song of "I Feel Free"), could meet the tastes of followers of sonorities close to Trevor Jackson aka Playgroup and Bomb The Bass. Even if I'm not a fan of house music, Julien Lenoir remix is a quite good way of chewing original sounds, but I prefer Agaric's nine minutes lasting overstretched one by far.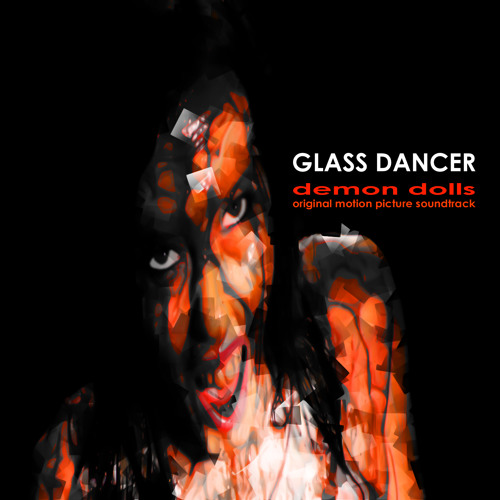 Artist:
Glass Dancer
Title:
Demon Dolls (Original Motion Picture Soundtrack)
Format:
Download Only (MP3 + Lossless)
Label:
House Of Analogue
Rated:
After Empire State Human disband, Aidan Casserly didn't lose his time and started immediately to work on a new project called Glass Dancer. The movie director Dustin Ferguson called him for composing the soundtrack for his remake of the 1993 Todd Jason Falcon Cook film 'Demon Dolls' and this has been the perfect opportunity to focus on new music. Composed in two weeks during the October 2014, "Demon Dolls" contains ten tracks included on the movie, plus three bonus tracks. I thought that this was an instrumental album, so I was curious to check what kind of atmosphere Aidan would create without using his vocals and I was surprised when I found out that he sung on "The Raven" and on "Open Up The Gates". Anyway, the album is a good mixture of ambient electronic with elements of synthpop and late 70s/early 80s electronic soundtrack atmospheres and I'm pretty sure you already know the name I'm going to do, which is... Yes: it's Carpenter. Aidan succeeded into creating a dark atmosphere without forgetting the use of catchy melodies and if on tracks like the opening "Dark Sunset" he focus on the ambience to create, on "Doll Intro" or "Dowtown Lament" there are echoes of his past, when he composed instrumental songs for Empire State Human along with Lar. I liked the album and you can find it at the major digital store, but if you want to check it first, you can listen to it on Spotify or Deezer.
Artist:
Nick Grey & The Random Orchestra
(@)
Title:
Breaker of Ships
Format:
CD
Label:
Milk & Moon Recordings
Rated:
This new album by Nicolai Riccardo Moldoveanu, better known as Nick Grey, and his Random Orchestra sounds like a sweetened declension of bitterness, the written tales on a wet diary after a storm by a mercenary captain everyone would like to save from a shipwreck or maybe the wheel, whose spinning top costantly swing around enchantment and disenchantment. The opening title track evokes that dark beauty you'll find in some stuff by Sofa Surfers or Massive Attack, but its musical skin soon changes colour and turns towards obscure bluesy, heavenly pop halftones, lush natural and exotic soundscapes, temporary ecstatic ablutions, a space-rock break-in; the puzzling electronic dark-pop, where kraftwerkian nuances meet pitched tones and 8-bit melodies from vintage videogames, on "Of Ghost & Women", inoculates an element of pervert opacity, while the somber "The Archivist" is a wonderful portrait of someone, whose distance from reality, turned himself into a vaguely henpecked shell of a man and better express one of the distinctive trait of this release by Nick Grey: even if I can't consider it a conceptual work, it's clear that Nick wisely braids a dilemma between the eagerly aesthetic yearning of being endowed with all the beauty you'll find in this world, the concern for the impossibility of accomplishing such a task and the dangers behind getting trapped by its mortal hug by means of meaningful lyrics, which got appropriately dressed by Random Orchestra. The dark tones of the above-mentioned "The Archivist" digs deeper and deeper on the bittersweet tones of "Vanisher", whose holy nihilism sound like echoed by the heart-rending storytelling on the final "Ghost Rain", whose speaking ghost marks the most hopeful moment of the album, on the dual portrait of a woman, which appears like a fairy on "Juliet Of The Spirits" and as a silent corpse on "Juliet Of The Bones". Scanner joined this glomily seducing album by a likewise seducing remix of "Here He Comes Now".