Artist:
Roman Leykam | Frank Mark
Title:
Experience Space
Format:
CD
Label:
Frank Mark Arts
(@)
Rated:
The label by Frank Mark bravely keeps on walking on his stylistic path by a plenty of releases, the last of which mostly focused on Roman Leykam outputs, so that a collaboration of Roman with the owner of the label is somehow surprising. On "Experience Space", they keep on squeezing electric guitars, synth-generated guitars, fretless bass (very nice the one that Frank forged in "Telepathic"), a set of recognisable synths and midi (yes, you read it well, MIDI...and one of the most recurring MIDI instrument is a really obsolete trumpet) by an impressive set of setups and effects, but they reached a balance between more traditional declensions of ambient meditations, cosmic music, and synth artifacts. Many tracks keep on resembling something in between the demo songs or pre-sets of some workstation or synths (particularly some stuff I heard by Yamaha, Alesis, and Oberheim engineers) and those CDs that get attached to the exercise books of some more or less improvised new-age guru and such a matching is somehow inspired by the (more or less modified) vocal sample, included in some tracks, sounding like guidelines in tracks like "Indelible Memory" or "Tumult of the Senses". Other ones sound like dadaist games on electric or synth guitars or minimal wandering of a Pink Floyd or Ozric Tentacles fan after trying opium, but lovers of these sonorities will be undoubtedly delighted by the number of strategies they explore over the 65 minutes of the release. Very nice artwork (featuring many pictures of sculptured faces and masks).
Artist:
Peter Zirbs
Title:
Firmament
Format:
Download Only (MP3 + Lossless)
Label:
Fabrique Records
"Firmament" is a compact EP of 3 tracks from the moodier side of piano-pop.

The instrumental title track sets slightly Glass-like repeating piano arpeggios with a steady basslines and triphop-ish beats. "Ritual Vitality" starts with the same structure but with far more pace and energy, with an slightly acid bassline that eventually unfolds into an unusual 12/8 sort of lightweight, glam rock/techno hybrid.

Tom Walkden's vocal on "You Don't Feel Like This" makes it the centerpiece of the EP, but while it's a strong and sorrowful song, the musical arrangement falls into some slightly flat, pop ballad clichés.

The result is reminiscent of a late 1990's era CD single- a main vocal track (a touch flat) and two interesting and slightly more experimental B-sides, all intended to draw your attention to an album (which in the case of Peter Zirbs I have no information about), but not a complete mini-work in its own right.
Artist:
low.poly.exception
(@)
Title:
Nodal Point Gang
Format:
CD + Download
Label:
self-released
Rated:
Want to know what is often the most difficult thing about being a reviewer here at Chain D.L.K. ? Finding out the email address of the artist, which is a requirement. Simply put, I CAN'T NOTIFY YOU OF A POSTED REVIEW IF YOU DON'T INCLUDE YOUR EMAIL ADDRESS. Now I understand some high profile artists don't want to give out their email address because of spam, stalker fans or whatever, and they often have mgmt, companies or reps who who field their email. But unless you're in that strata, please don't make me play detective and try and hunt down your email address when you don't include it, especially if your work is self-released. That said, low.poly.exception is an offshoot project of jhm from the Philadelphia area who mainly produces music under the name of Neon Shudder, Haven't heard that. 'Nodal point Gang' is low.poly.exception's debut album after releasing a couple of prior EPs. The accompanying one-sheet describes this as "9 tracks of dark electronic music with influences ranging from the likes of Kenji Kawai and Ryuichi Sakamoto to Ed Harrison (OEdit) and bands like Buck-Tick. 'Nodal Point Gang' takes elements of cyberpunk, darkwave, synthwave, and more. The end result is referred to in a tongue-in-cheek manner as 'codewave'." Okay, so that's the artist's take on his (or her) own music. Here's mine. Nine tracks of fairly innocuous instrumental synth electronica with programmed drum machine. As far as comparison with the artist's influences, perhaps low.poly.exception would like to sound like them, but in no way does. Comparisons are difficult because no one I know is is really doing this kind of old-school instrumental synth & drum machine stuff anymore. Maybe Sakamoto when he began with YMO many years ago, but even then there was some flair and panache beyond simplistic synth melodies, pads, and cliched rhythms. Sounds are definitely from Presetville and pose absolutely no challenge whatsoever for the listener. There is a bit of (melancholy) atmosphere on some pieces but it really isn't what I'd call dark. Because the music is so benign, it almost comes across as ambient, or more accurately, melambient, but I don't think that was necessarily the artist's intention. Although there are no vocals, there is a brief (processed) spoken word section in the third track, "Faded Semiotics" that sounds typically cyber-dystopian. This might have been considered great stuff in the '70s or early '80s but the electronic music field has become so glutted with bedroom musicians it sounds like it could have been made by anyone with some basic synth and sequencing software and time on their hands. Next time up your game beyond demo quality and deliver the real deal.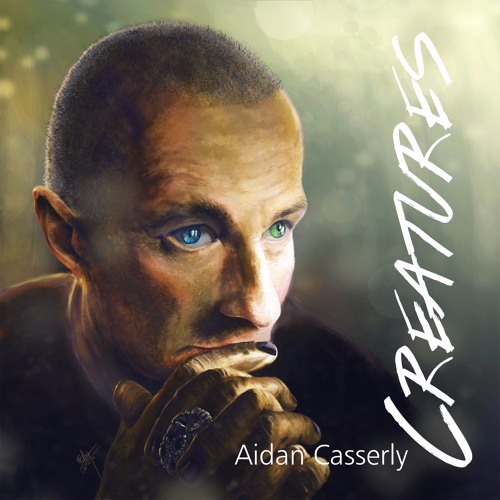 Artist:
Aidan Casserly
Title:
Creatures
Format:
Download Only (MP3 + Lossless)
Label:
House Of Analogue
Rated:
In all the years of his musical career with his different projects, Aidan has always showed to people his sensitive side which allowed him to produce many passionate songs and to explore different sides of his personality, from the brightest to the darker ones. With "Creatures" he's giving homage and he's expressing his feelings about the death of the "thin white duke"... David Bowie. The album doesn't sound like a classic Aidan's one, because ideally, like Bowie, he wanted to make a similar musical journey, starting with something sounding a bit rock and glamour ("Creatures", "I'm On Fire", the almost hard rock "I'll make you see" and the mid/slow tempo "What Can I Do"). With "The Serpent" we steer a bit and we have beautiful ballad with strings and piano. With "A Night Scene" we pass to a noir atmosphere a bit jazzy with nice synthpop inserts. "Intimate Tempest" is a really nice one so deep and full of pathos. Its piano, duet with sax and synth orchestra while Aidan passionately singing. With "His Little Eye" we have another slow intimate ballad while "Seduction After Dark" mix synth pop, dissonant piano chords and tons of drama (on this one, Aidan is helped by the French singer Caesar Gergess) and it's recalling me a bit some early Marc Almond solo stuff. The album is closed by "Always Fire", a ballad which will warm your heart and will make you drop a tear for Ziggy Stardust. So long, David.
Artist:
Soviet
Title:
We Are Eyes, We Are Builders
Format:
LP
Label:
Medical Records
This is an expanded re-issue of a synthpop album originally issued on CD in 2001 from an undisclosed number of Americans going by the name of Soviet. While it may seem odd to call an album that's so heavily rooted in that 1980's synth sound as dated, it still manages to feel like a product of its 2001 time. There was a boom of acts doing this kind of synthpop in the noughties, with some of the best examples found on labels like Ninthwave, and this feels like an unearthed part of that.

Perky but slightly thin Depeche-Mode-era-Vince-Clarke-style keyboard work and crisp drum machine patterns are the scaffolding for some fairly strong conventional pop songwriting, performed by a male vocalist with a voice that I'd harshly describe as a bit flimsy, gives us an album that's frankly a bit synthpop-middle-of-the-road. Elements like the guitar on "Run In" have shades of Alphaville, while "Candy Girl" is willing to aim for the cheesier side of pop.

There is a good ear for melody in some parts for sure. "Marbleyzed" is a very strong pop song, let down by weak production touches (particularly on the vocal again), but if Soft Cell had released this song in the 80's it would've been a hit. "Soviet Bot" is another highlight. "Breakdown" has a nice double-speed-chorus effect going on, and is one of several tracks that chugs along at a surprisingly high BPM (around 170 I think) which edge it towards a form of synthpop-happy-hardcore.

Ultimately this release falls a little between two stools- not properly 80's retro, but not up to the standard of modern synthpop either- but if the song itself is crucial to you and the production quality not so important, you'll find some tracks to enjoy on here.