Synth Pop / Electro Pop / Synth-Electronica
Edit (9252)
"Hope" was Anything Box's third album, though only the second that managed to get a public release due to issues with the Epic label. It was released in 1993, it's very much a product of its time. It sits very comfortably in the same pigeonhole as albums like OMD's "Liberator", Mesh's "Original 91-93", Erasure's "I Say I Say Say" or perhaps New Order's "Republic" without the guitars. The production is perhaps closest to Vince Clarke's early 90's work, the vocalist has just a slight touch of Marc Almond about his tone (but Marc Almond in a relaxed mood), while the songwriting is closer to Andy McCluskey's resolute optimism from the same period. I'm a child of that era and it's a winning formula for me- pure energetic songwriting that revels in 4-chord patterns and synthetic bleeps, and puts programming on a pedestal, but doesn't forget the importance of good verse-chorus songwriting.

The tongue-in-cheek mock live concert intro of "Entrance" isn't really followed through in the rest of the tunes. There's an unabashed non-ironic sincerity to the whole thing which, coupled with strong melodies, makes up for some of the slightly more mediocre production touches. Stand-out tunes include "Where Is Love And Happiness", "A Moment's Shifting", and the naive yet somehow quite profound closer "Life Is Fun". Ballad "Blue Little Rose" is arguably a weak point. The last three tracks on the album step away from the four-minute pop song structure and are a little more mellow and slightly indulgent, and while the hooks aren't as strong at this end of the album, I wouldn't call it filler.

Anything Box are still a recording and gigging entity. This may be a dated-sounding album now, twenty-three years on, but it's a time capsule of a slightly lesser-known album from some of electropop's golden years, and if it passed you by first time around, this re-release is a chance to catch up. I'm not convinced it has enough of a classic to warrant the luxuriant splatter vinyl re-release treatment it's getting through the Russia-based Other Voices Records, but nevertheless it's a very strong, solid 45-minute album, definitely worth a download if your CD's of early 90's OMD or Erasure albums are getting worn out.
Synth Pop / Electro Pop / Synth-Electronica
Edit (9248)
Artist:
Plus Instruments
(@)
Title:
Signal Through The Waves
Format:
CD
Label:
Blowpipe Records
(@)
Rated:
My last encounter with Plus Instruments was the 'Trancesonics' album from 2013, and since then, Truus de Groot has been kinda busy, sneaking by a limited vinyl release ('Exile in Paradise') that I wasn't even aware of prior to this one. Whereas on 'Trancesonics' Truus had only a little help from a single musician (Jimmy Virani on theremin and moog), here she employs additional musicians Paulo Bento (synths, bass, guitar) from Anvil FX and James Sclavunos (drums) from Nick Cave & The Bad Seeds and Grinderman. The result is something a lot less raw and a lot more controllled than 'Trancesonics,' yet still with that kind of "synth electronics as synth electronics" (as opposed to synths trying to emulate real instruments) ethic that seems integral to de Groot's music. Here Plus Instruments sounds a lot more like a real band than a solo artist with a lot of synths as on 'Trancesonics'.

Truus's vocal stylings have changed too; less experimental, less New Waveish, a lot more melodic, and somewhat jazzy and slightly soulful. Imagine Anette Peacock meets Amy Winehouse with someone else I've heard but can't remember her name. Plus Instruments tackles a variety of themes over the ten tracks on this album - a strange supernatural encounter ("Ghost"); passion ("This Fire Burns"); romantic breakup ("It's Over"); seduction ("Come Closer"). Some of the songs that work the best though can't be pigeon-holed to a specific theme, such as the title track "Signal Through the Waves". This little gem relies heavily on a distinctive sample & hold synth riff, a ring modulated chordal descending chordal progression and Sclavunos's snazzy drumming. Truus's voice is at her most appealing on this track, and the lyrics are great too. This track alone makes the disc a worthy purchase. Another great track is "Bad Mood" (rather self-explanatory) where drudgy broom-swept synths and plodding drums and bass back Truus's misery-tinged bluesy vocals. "You and Me" is as close as Plus Instruments gets to some of the chaotic 80's style experimentation so prevalent on 'Trancesonics'. But the most atypical song on 'Signal Through The Waves' is the last- "Your Mind" with guitar as the main instrument, and seething synths in the background. The poetic nature of this number is comparable to Patti Smith at the height of her powers.

'Signal Through The Waves' shows just how much de Groot has grown as an artist, and the songs are worth revisiting over and over again. While these tracks are more acessible, don't mistake accessibility for commerciality. This ain't mainstream, and we can be very thankful for that.
Synth Pop / Electro Pop / Synth-Electronica
Edit (9243)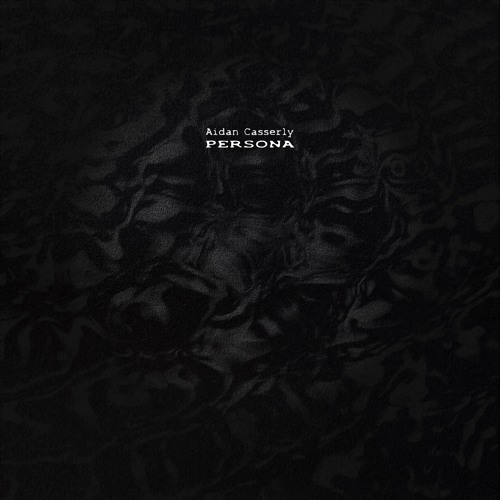 Artist:
Aidan Casserly
Title:
Persona
Format:
Download Only (MP3 only)
Label:
House Of Analogue
If like me you're familar with Aidan Casserly's previous work as the vocalist of synthpop acts like The Garland Cult and Empire State Human, this 5-track release might come as a bit of a surprise. This 16-minute collection of piano ballads is a very worthy, emotionally open release that seems to have been recorded as much as a cathartic experience for the singer as for the listener.

The release is dominated by an acoustic piano and Aidan's vocal, but with extremely subtle atmospheric touches and occasional accompaniment, some barely audible, all of which adds echo to the sorrow and reflection that runs deep through every song.

Aidan's voice sometimes seems influenced by the Boy George school of gentle affectation, and there are definitely doses of that here, but he also manages to find his own unique tone. Only "Silence Comes" feels over-dramatised; the rest feels very honest and heartfelt.

It's a bold EP. Knowing Aidan's previous work I'm not sure I could get through a whole album's worth of this without wondering when the drum loops and bassline were going to kick in, but as a sixteen minute emotional journey, it's got a lot of raw emotional power.
Synth Pop / Electro Pop / Synth-Electronica
Edit (9231)
Artist:
Spray
(@)
Title:
Enforced Fun
Format:
CD
Label:
Banoffeesound
(@)
Rated:
Synthpop bands seem to be popping up all over the place in such profusion as never before, but maybe I just never noticed and they've been here all along, hiding in the shadows, waiting for the right time to take over our bodies and brains with their infectious beats and melodies. Such is the case with the UK duo Spray (Jenny McLaren - vocals, & Ricardo Autobahn- synths & stuff + production), who have been around since 2001. With some notable previous releases, such as 'Living in Neon' (2002) and 'Children of a Laser God' (2006) one could hardly say they're novices. There has always been something big and clubby about Spray's sound, ultimately geared for the dancefloor, lyrically tongue planted firmly in cheek, and catchy but disposable as a Bic lighter pop melodies, and that hasn't changed on 'Enforced Fun', but what has is the production- polished to such a high gloss on 'Enforced Fun' that you can easily see your image reflected back at you in it. I suppose it's a kind of natural evolution, but one with potential drawbacks we'll get to it a bit later.

After an amusing Prologue delivered by actress Jane Badler (remember the sci-fi TV series 'V' ?) Spray launch into "Hit the Applause Light," a well-turned tune with a potent hook. If radio stations were still playing the kind of new music they used to play in the 80's, they'd certainly be playing this track. But so sad, all that's changed now... "Overdramatic" is nice melodic synthpop, but doesn't have the impact of the precious track. "You Show Me the Way" slows it down a bit, and is Enya-esque without going full-bore Celtic New Age. "Rotating the Square," as beatalicious as it is, may just be too obtuse for the geometrically challanged masses, but nerds will approve. The big hit (in my opinion) is "The Magic 8 Ball Lies," a song that has everything going for it. Great savvy lyrics, neat melody, and killer hook. What more could you ask for? "It's Not Enough" (with Kid Kasio) seems like typical danceclub fodder. "Diabolical Mastermind" seems to get lost in its own story drowning whatever memorable hook it could muster in too much plot. Although the lyrics are quite clever on "It's the Night of the Long Knives Charlie Brown" and the music has almost ska happy beat to it, it feels forced and artificial. (It was songs like this that seemed to herald the end of the halycon days of the 80's.) Although not one of the hottest tracks on 'Enforced Fun,' "Into a Tunnel" is wonderfully charming and thoughtful song, the likes of which you don't usually hear in the synthpop genre. Despite listing all the fave bands of the decade in the song "The 80's Never Died" (with Phil Fletcher & Don Quibeats) this paean to New Wave could have used a stronger hook, something as potent as the Buggles' "Video Killed the Radio Star." "Fake Controversy Coincidentally Moves Product" (with Barry Thumbs) is more satire than substance, but that's self-evident considering the title. Perhaps it would have been better as an instrumental with sampled dialogue rather than a song with lyrics. "The Biggest Pool in LA." works much better in the cynical/satirical vein. Gearing up for the big production number ending with some assistancve from Hyperbubble, Spray prove they're hipper-than-thou in "The Very Nerve Centre of Art/Video Cliche". I'm getting all sorts of vibes here, from Abba to Freezepop and much more. Every weak point on the album previously is forgiven and forgotten with this one. And if that isn't enough, "The Final Song" melds mellow Madonna with Enya and delivers a stellar hook to boot.

Now about that glossy production- it certainly moves the band into the big league, and could be instrumental in getting them noticed beyond the standard synthpop market. However, there is a homogeneity to it that may have some casual listeners thinking "oh, all the songs sound the same" over the course of the whole album. While that's not really true, Jenny McLaren's voice is remarkably consistent, and her harmonies constructed for maximum commercial impact, and Autobahn's synth arrangements and programming are as perfectly executed as possible. So what's so bad about that? Nothing really, but I think Spray has lost a little of its former exhuberence and impulsiveness. Maturity will do that to you. But they still make damn good synthpop music.

Synth Pop / Electro Pop / Synth-Electronica
Edit (9210)
Artist:
EmotiKon
(@)
Title:
Two of a Kind
Format:
CD
Label:
Timezone Records
(@)
Rated:
You may recall Dusseldorf-based synthpop band Emotikon from a while back when I reviewed their self-titled debut positively. Now they are back, albeit with some changes. At that time this duo consisted of Mine Voss - vocals, and Tom Tron- synths, programming. Mine left in 2014 for other pursuits and has been replaced by Natalie Malladi-Rao. While their sound isn't completely different, there is more of an accent on the POP aspect of their synthpop sound on 'Two of a Kind'. At first, they sound a lot their previous incarnation on the title track ("Two of a Kind"); a nice little melodic number orchestrated with simple sythnpop musical staples. Then, things get a bit more intense on "Die Alone," opening with a melancholy cello intro, then an amazingly sophisticated melody on the verse. The chorus is almost as good. The whole tone and temperament of this song could easily be used as the theme song for a James Bond movie. It's that good. (Certainly better than the theme song of the last Bond flick.) Upping the pop aspect of their repetoir, "Say Hey" just begs for a Bollywood style video with its crowd-rousing chorus. It's a mind-numbingly basic, but catchy as hell; a little bubble-gummy but so what? Over the next 8 tracks Emotikon present a variety of simple pop ditties, some better than others, and a couple just downright silly ("Do It Like the Birds," "Love Potion"), but nothing comes close to the impact of the first few tracks, inspite of being augmented by saxophone (Norbert Deuben) and flute (Silvie Ansorge) on a few songs. I get the impression Emotikon is striving to pull in a much younger audience with 'Two of a Kind' and Natalie can hold her own vocally with pop singers like Britney Spears and Katy Perry, but image, presence and production are what make pop singers pop divas, and there's a way to go on that account. There's little depth on 'Two of a Kind,' just good, light synthpop fun for the most part. If that's what they're striving for, they've succeeded.