image not
available
anymore
Artist:
TOMCRAFT
Title:
Hyper Sexy Conscious
Format:
CD
Label:
Kosmo Records
(@)
Distributor:
Caroline
Rated:
BUY from
If I should sum the review of the third Tomcraft's album titled HYPER SEXY CONSCIOUS I would only write: "wow"! I mean, this album is a smash! It contains all the elements that a dance album needs: good tunes, rhythm, house as well as techno and electro elements all blended into a perfect formula. Produced into his home studio in Munich, Tomcraft called Tai Jason for production (he also did the rap parts into the smash hit "Sureshot" and the electro gem "Quelle heure est il") and Rolf "Jam El Mar" Ellmer (from Jam & Spoon) for the creation of three tracks ("Electronic toys", "Roots" and "Dirty Sanchez"). For the female vocals he called Dacia Bridges and Stephenie Coker (she sung into "Bloated" a sensual soul'n'blues electro track and into "Da disco", a house track where her bluesy vocal enrich the cool melodies created by Tomcraft, Tai and Trokken & Lützenkirchen). The album opens with "Sureshot" (which is also the first single released after the album), a track that will convince you in no time with its hip hop techno structure (if you love Prodigy tracks of the likes of "Breathe" or "Smack my bitch up", you'll love this one) and which is also present as bonus into the version featuring Sido & Tai Jason for an even more rappier version. "Quelle heure est il" is a perfect track for the electro lovers and it has already released as a single the last year. Check its 4/4 rhythms and the funky guitar...I'm sure you'll love it! House techno is present with the following "On screen" where Dacia Bridges gives her sexy performance on vocals. "Roots" changes the atmosphere of the album turning it into a dark soundtrack with long synth pads and a catchy rock guitar. There are so many high points into this album that it is difficult to name each of them but each track contains something new that will catch your attention while your feet will start moving since the first notes of the album. Tomcraft is a well respected producer, he did remixes for Depeche Mode, Pet Shop Boys, Simple Minds and Dandy Warhols to name few and this is your chance to check his skills in full. Don't lose this opportunity!
Synth Pop / Electro Pop / Synth-Electronica
Edit (2791)
Are you feeling nostalgic for 80's synthpop? But not quite like the 80's bands did it? This is your album. First, a bit of self disclosure. Like the man behind Bunker Soldier, Tim Tyran, I remember the 80's from the first time around and I like 80's music. But this album didn't quite work for me. I think part of the reason is that this is a bit too poppy for my tastes. What I like about 80's synthpop is the fact that hidden behind the cheery pop sounds are some pretty disturbing lyrics. After all, have you ever heard a happy Gary Numan song? The one song on this album that comes close to having that kind of feeling is "Disappoint." According to the press package that came with the disc, CMJ will be pushing "Close the Door" on college radio, which makes sense. It's catchy and memorable. For me, two songs stand out on this album. "Infection" has a bit more complexity than the other tracks on the album, with both male and female vocals. Good driving beat and a bit heavier than the other tracks on the album. "Full Circle" is catchy and has nice harmony in the chorus. "Drive Me Home" is probably the low point of the album. Think female voiced adult contemporary pop - I can see this on a Buick commercial. Stylistically, this album is all over the map. "Flying (I Want to Go)" is like poppy techno and "I am Complete" would be at home in a movie soundtrack. The consistent thread here is the pop element. This album is a bit short at 37.36. With no song over 4 minutes, this is an album well geared toward college radio airplay. And I must admit that it will probably do well. The songs are catchy, which is the coin of the realm where pop music is concerned. I had "Darkness Falls" stuck in my head for two days after listening to this disc. Overall, this is a pleasant listen, but despite the multitude of styles that are represented, this album doesn't really seem to push the envelope.
image not
available
anymore
Blume is a new Italian band and their music is a blend of pop with electronic arrangements. Their first CD IN TEDESCO VUOL DIRE FIORE is a well produced album (it was something I was expecting for, because Paolo Favati produced it) of minimal ambient pop which contains some really catchy songs as well as other tracks that need more time to be dug. Tracks like "Fuori piove", "Non va bene" and "Ninna nanna alla regina" are good examples of indie rock with electronic arrangements and they can satisfy the taste of a wide range of listeners while the other tracks have a complex electronic arrangement that could amaze the purists but that can find some trouble into finding a place into commercial radio playlists. The minimal structure of the tracks sometimes give too much importance to Francesca's vocals and due to her particular way of singing (she seems halfway from being awake and sleepy and sometimes it seems she sings while she's yawning) I was losing the interest into listening some of their songs. For sure the album will find its fans but this isn't exactly my cup of tea. Instead, I found interesting the nine mp3s of the CD extra section. These tracks ("Nuove Gioie", "CADEAU 2", "Seppia", "Waiting Snow", "Souffle", "Piedi", "Sweet07", "Sigaro Rosso" and "S.Croce in Settembre") are instrumental experimental indie rock cuts that are really functional as soundtracks. Here you can't find pop influences but tons of melancholy mixed with other sour emotions.
P.s. Check the nice "Piove piano" video here:

Windows Media Video (wmv):
Low: 256kbts / 320x240http://compactURL.com/fdzs
High:1024kbts / 521x384http://compactURL.com/sctr

Quicktime (mov):
Mid:512kbts / 384x288http://compactURL.com/jrjj

Real Media Player (.rm)
Mid: 512kbts / 384x288http://compactURL.com/gver

Synth Pop / Electro Pop / Synth-Electronica
Edit (2786)
Artist:
FAKE THE ENVY
Title:
As They Fall...
Format:
CD
Label:
Idle Works
(@)
Rated:
This is the debut release for Danish Synthpop duo consisting of Kristian Kroll and Kent Petersen. Also for the label behind this release, Idle Works, it is a debut and we like to say "Hello" to a new promising force which can set already with this first release a big exclamation mark on the still very poor looking Electro/Industrial map of Denmark. And when I said Synthpop, I mean Synthpop. No Futurepop attitudes have found the way on this 8 tracks, it can be also generally said, that FAKE THE ENVY do not at all produce their kind of music to build a dancefloor compatibility. The music is smooth, catchy and fills in the right melodic synth swabs when needed. Similarity also for the vocals, which are excellent set in. MESH, DEPECHE MODE back to their "A Broken Frame" times only played with Synths of the current times come somehow to my mind when I try to find possible comparisons. Especially their right nose for the ideas of the Pop/Wave times of the 80ies is the outstanding ability on their valuable work here, it may needs 2 – 3 more rotations until it totally gets you! Remarkable and recognizing refrain works can be heard in both "Obsolete" and "What Kind Of Mess", while the title track of this album is maybe the only one track which can lead the Synthpop maniacs to a residence permission on the dancefloors. This is dreamy and valuable Synthpop in its clearest form and I hope the best for this act that they can soon enter a wider recognition and success. Same for the label Idle Works, which will soon return with the band MACHINE SOLDIER which more focuses on harder EBM-like music.
Synth Pop / Electro Pop / Synth-Electronica
Edit (2782)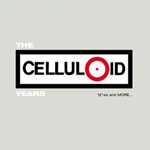 Artist:
VV.AA.
Title:
Celluloid Years
Format:
2 x CD (double CD)
Label:
Collision (Cause of Chapter 3)
(@)
Distributor:
Caroline
Rated:
1983 Herbie Hancock's "Future Shock" (and it's opening hit track "Rock It") was the first million selling album in the eighties to expose the sounds of the newly emerging rap music to the masses. If you look at some of the musicians involved, you'll find drummer Sly Dunbar, turntable-scratcher DJ GrandMixer D.S.T. (now DXT) and bassist Bill Laswell, the latter of which had been producing and releasing crossover albums for years on his label Celluloid records. This double CD release is a celebration of those years and of that label, a NY-based outlet that changed the face of music for years to come and contributed as much to the growth and sonic definition of the undeground rap movement that bloomed around 1979 (through its genre-defying crossover releases of those years) as it did to the evolution and quality of electronic music (check out Bill's massive discography online at www.silent-watcher.net/billlaswell, and you'll only be scratching the surface of how important this man's contribution to the genre has been through out the years, and still is).The sound of those days, defined by Linn drum machines, Yamaha DMX keyboards and early turntable scratching, represented the crib from which Fab Five Freddy (Change the Beat), Afrika Bambaataa (Zulu Nation movement guru) and the graffiti artist Futura 2000 were emerging from. All these artists, as well as Jalaluddin M. Nuriddin (one of the first of the Last Poets), The Clash, Sex Pistols' John Lydon, Manu Dibango, Jaco Pastorius, Jimi Hendrix, Herbie Hancock, Robert Musso (Material), Bernie Worrel (Talking Heads), Wunderwerke, Bernard Fowler (Peech Boys), Nicky Skopelitis (Material), Time Zone, Grandmixer D.ST, Deadline, D.ST, Lightning Rod, Shango, Tribe 2 - What I Like and Bill himself, were all brought together by the far-reaching hand and mind of Laswell and were mixed, re-mixed and re-arranged as to form duets you had never heard before anywhere else (Hendrix & Lightning Rod, Futura 2000 & The Clash), Grandmixer D.ST & Jalal etc). 21 tracks, among 12" releases, remixes, B-sides, dub versions and special remixes that will make you fly right back into the eighties and hover there for quite a while! Of historical importance!