Artist:
SILENCE
Title:
Key (Anthology / Rarities)
Format:
2 x CD (double CD)
Label:
Accession Records
(@)
Distributor:
Indigo
Rated:
If music would be that easy to understand and consume after only 2 – 3 rotations, I would have written this review much earlier. "What the FUCK is this?" – well, that does fit with my first impressions on the music of this Slovenian duo and I have also to admit that I've never heard any of their highly acclaimed releases before, although they were signed on the well known Germany-based label Chrom Records. No, their musically career went totally away of my attention. Here are two musicians at work – I mean "real" musicians – persons which are able to perform live on stage with real instruments, although when there's someone switching off the voltage. In short – people with more talent in a little finger than any else PC musician around. Also the named category I've chosen for this review explains nothing at all. It's not Synth Pop, it isn't Wave or something else. I would tend to name it Pop-Art, only at times Synth Pop, but also often inspired by orchestral/classic related themes. The Polish act CABARET come to my mind somehow, but also acts like DEINE LAKEIEN. As I said, this stuff is a musically discovery, but I mostly like to dive into it. This DCD set features one the first "Anthology" CD a kind of "Best of..." compilation to give the greenhorns (like me) a first overview of what has happened through the years. The mainly Synth Pop influenced tracks like "I Love You", "Belief" or the outstanding melodious masterpiece "Kraljestvo macjih oci" convinced me the most. Please check also out the addictive cover version on KRAFTWERK's "Hall Of Mirrors" featuring Anne Clark on the guest vocals. Also available here is a "rocking" remix of the DEINE LAKEIEN musician Ernst Horn on the track "Scream, Greeneyes". The second CD entitled "Rarities" features (you got it!) unreleased stuff this band has recorded through the years. On it you can find an impressive dark piece named "Der Untergang", featuring a nice German lyric content. Not all of the tracks can grab my totally attention here, some stuff turns to much into classic inspired or Avantgarde anthems. Globally I must say that I am quite impressed and surprised by this abilities of this act. That they've signed to Accession Records, a label mainly focusing on Electro/Industrial music, is just another surprising point. What could I read in the inlay of their CD? "Music is art, as long as you don't ask me what art is" – well said – keep it on!
Synth Pop / Electro Pop / Synth-Electronica
Edit (2667)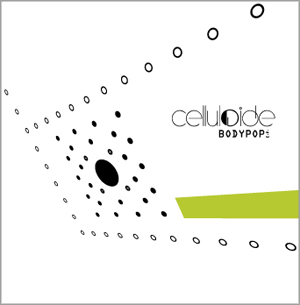 Artist:
CELLULOIDE
(@)
Title:
Bodypop
Format:
MCD (Mini CD)
Label:
Boredom Product
(@)
Rated:
BODYPOP is the new release by Celluloide, a French trio that started their activity on early 2000s. After several E.P.s and a couple of albums, they decided to move a step forward into their style and the result is represented by the five new songs of this MCD (there's also a sixth song, a remix of "I am fine" reworked by Ciëlo). If the vocal style hasn't changed that much (Darkleti use her detached style of singing since day one) the music has taken some influences from a certain techno electro dance (see Vitalic or Miss Kittin) but always having a song structure without being distracted by the acid attitude of some dance scenes. In this way tracks like the opening "People like me", "Audio therapy" or the following "I am fine" show a danceable attitude really catchy where the analog sounds are free to create interesting layers of melody. Even if the vocal style isn't always functional for the immediate enjoyment, after a couple of listening the band sound succeed into breaking the barriers of preconceptions showing all its potential.
Synth Pop / Electro Pop / Synth-Electronica
Edit (2666)
Artist:
Absolute Body Control
(@)
Title:
"Lost/Found"
Format:
CD
Label:
Tarantulla Productions
(@)
Rated:
It is not very often that one release can define an entire era of its genre. With that said the forty-four tracks of this two CD digi-pak do exactly that. They not only define the early roots of the many musics of Dirk Ivens and his prolific shadow Eric Van Wonterghem, but they define the minimal electronic pop glory days of the early 80's. A musically creative time marked by the new romantic movement in London and of course the Belgian electronic music scene. Certainly as interesting as anything that came out of Britain at that time, this music remained under the radar because the tracks were somewhat difficult to obtain. Often appearing on various artists' vinyl LPs and sold out limited edition singles, they were scarce. That rareness has no doubt contributed to their monetary value through the years, but it really is their intrinsic value that makes this collection so special. Long over due, someone needed to document the beginnings of what many of us consider to be one of the great electronic music stories of our time.
The music consists of simple yet effective analogue electronic arrangements combined with the anthemic vocals of Dirk Ivens. Hypnotically reaching out in what often seems to have the duality of naïve English flash card phrases and the sophistication of a direct and worldly savvy artist, Iven's vocals will you to trust him as authoritative. Songs like "Do You Feel Me Inside" or "Melting Away" are so strong they create an emotional response that is as powerful now as it was in the early 80's. Seeds of what would later become the industrial music stylings of The Klinik and later Dive sprout up here and there, but never really over take the sparse landscape that is Absolute Body Control. Marked by the minimal if not anti-tech approach, the aptly named "Lost/Found" is an often a dark and sonic experience that reeks of authenticity unlike the corporate versions of this genre at that time. A dream collection of minimal electronic synth-pop for whoever can get their hands on a copy "Lost/Found" will not be forgotten.

image not
available
anymore
Artist:
BUNKER SOLDIER
(@)
Title:
The Debris Field
Format:
CD
Label:
Neo Cultural Front Records
BUY from
From the blend of industrial, hip hop and new wave of the first Bunker Soldier 1996 release titled "Quite a dilemma", Tim moved to new wave / e.b.m. / industrial influences on his 1999 album "Innuendo". 2004 was the time of the "Triple threat" single where with the two electro industrial songs "Warlocked" and "Firewall" you can find a sign of Bunker Soldier opening to commercial music. "Flying" was a catching track that with its danceable structure was able to satisfy the radio audience and also the electro lovers that were also interested in commercial stuff. The new album THE DEBRIS FIELD moves a step ahead into the concept of blending really commercial songs (too much commercial for my taste) with electronic tunes influenced by 80s new wave (see bands like A Flock Of Seagulls or Psychedelic Furs). With the help of five different singers Tim packed ten songs of which nine new (the tenth is a version of "Flying – I want to go"). The opening "Darkness falls" recalled me the Psychedelic Furs while "Close the door" has something of U2 (the guitar style) and the following "When all is lost" has got something of Bryan Adams. Basically half songs of the track list have for a commercial approach (sometimes they are too rock for me) while the other half have still that electronic industrial new wave blend (see the track "Disappoint" or "Infection") that I have already appreciated. It is difficult to tell if this is a good album or not, because I really liked the tracks influenced by 80s and by electronic but I feel a little confused about the commercial rock ones. I'd give five stars to half of the album and I'd leave the other half without a judgement because it isn't really what we are dealing with usually.
P.s. There's also an instrumental version of the album available and it is titled "This void beyond measure"
Synth Pop / Electro Pop / Synth-Electronica
Edit (2655)
image not
available
anymore
Artist:
PROVISION
(@)
Title:
The Consequence
Format:
CD
Label:
Section 44
(@)
Rated:
THE CONSEQUENCE is the third Provision album and it sees the band changing its line-up slightly because Leslie Hyman isn't in the band anymore. Now Provision are Breye 7x (founding member and singer), Jen Foxx and Carlos Covarrubias. The sound of the band hasn't changed that much as far as I can hear it seems that there are less e.b.m. influences but their distinctive sound made of dancey electronic synthpop is still intact. The upbeat tempos or the catchy mid tempo tracks like "Attraction" shows a good song writing and use of melody (I always like to keep an eye on the sequencer melodies). The only thing didn't thrill me about Provision is Breye's style of singing because is too linear and this risk to make the tracks sound alike. Probably changing singer would help a lot but there's also the possibility that a different singer could loose the energy and the excitement that Breye have singing his tunes. THE CONSEQUENCE is the best band's album to date and if you aren't looking for the new Depeche Mode you for sure will appreciate tracks like "Perversion of conventional warfare" or "Behind your disguise".