Artist:
C.A.R.
Title:
Pinned
Format:
Download Only (MP3 + Lossless)
Chloé Raunet's second album as C.A.R. is a blend of supremely confident post-punk swagger with electronica twiddles, steady-walking house beats and just a dash of synthwave. Slow tempos, rumbling long bass guitar notes and some surprisingly sparse mixing gives quite a bold overall result. Bleak lyrics are mostly spoken and semi-rapped with a controlled, sometimes semi-whispered temper, only occasionally twisting into singing on tracks like highlight track "Swaggart", the faintly bluesy "Prism" or the more radio-friendly gradual progressions of "This City".

After the slightly underwhelming opener "Growing Pains" leads into the richly textured Steve Osborne-produced single "Daughters", the first half of the album has slightly brighter pieces, with the upbeat "Heat" and the properly quirky "Flat Out at the Sockhop".

Tracks like "Strange Ways" are also very accessible, with a decidedly indie flavour, but there's nothing truly impenetrable here, with every track keeping within at least the broader definition of a pop structure. The pared-back "VHS" is worth playing to Siouxsie fans.

This is mature and balanced pop music, introspective-yet-confident, earnest and cathartic yet not too indulgent. It won't set either your heart or the charts alight but hooks or charisma but if you're looking for something more grown-up and rewarding, there's certainly an appeal.
Though they cite influences like Steve Reich and Brian Eno, John Blonde and Chris Pace's work as House Of Blondes sits quite firmly under the umbrella of synthwave, albeit on the more sombre and serious side of that playing field. Across nine pieces, all instrumental with the exception of one single word in one track, they combine layered synths and samples with a mix of real and electronic drums and some authentic bass guitar.

It's a steadily grooved, measured, road-trip atmosphere most of the time, with pieces like the title track evoking images of steady, trouble-free open-road driving in some warm synthetic forest. "Why It Happened In The West", with its steady repeating 'remember' mantra, feels like it wants to make some important political statement but the result is probably more suited than the musicians intended to winding the car window down and turning cruise control on. There's a positivity to "The Tilted Earth" that feels genuinely warming.

Things do get a little darker and colder in pieces like "Modern Clock" with its forefronting of quite droney pad sounds, but a predisposition towards melody is never too far away. Gentle ballad-like "The Rise Of The Equal Hour" is a prime example. "Intimate Seconds", with a slightly darker distorted synth bass, sounds like it might be about to rip into speaker-busting drum-and-bass imminently, but it never arrives.

It's a pack of atmospheric and thoughtful synthwave that at points threatens to deteriorate into blandness but generally manages to keep it together as a synth soundtrack well suited to those times when you're actively looking for something that's uneventful but in the nicest possible way.
Artist:
Territoire
Title:
Alix
Format:
CD & Vinyl
Label:
Humo
Oscar Arson, as Territoire, serves up a dark, slow-techno concept album based around the titular character being born into slavery. Not that you'd realise it was a concept album from the lyrics, as there are barely any. Instead what you get is seven slices of gothic-tinged bass rumbles, slow heartbeat-like kick drums, sinister whispered vocals, low gated and processed synth pads and atmospherics.

More conventional instrumentation- guitars, tuba, clarinet- are worked into some tracks but in nicely understated ways that add to the palette of those tracks without sounding like novelty- in some cases you may be hard pushed to distinguish that instrumentation from its synthesized setting.

After the very bold and attention-grabbing polished sound of opening track, erm, "Sourd", "Esclvvv" begins a steady, not-too-heavy pounding that's imbued with plenty of both fear and attitude. Things go a little off the boil with "Soumission" and "Chant" which settle into slightly less dramatic, industrial-ish rumbling. "Exil" is a bit more vigorous initially but unfolds into an almost ambient conclusion, which segues nicely into "Meta/Xim"'s broad and fairly empty rumbling into nothing. Final track "Quatre siècles de privilèges" sounds at first like the beginning of a new dawn- certainly not a happy ending but certainly slight hints of optimism rather than fatal finality.

At 37 minutes it's quite short, but that helps to excuse the slight lack of sonic variation. The concept may not shine through but as a hybrid of some very dark techno with also-dark soundscaping and atmospherics, it's got a polished sincerity and a powerful mood-changing tone.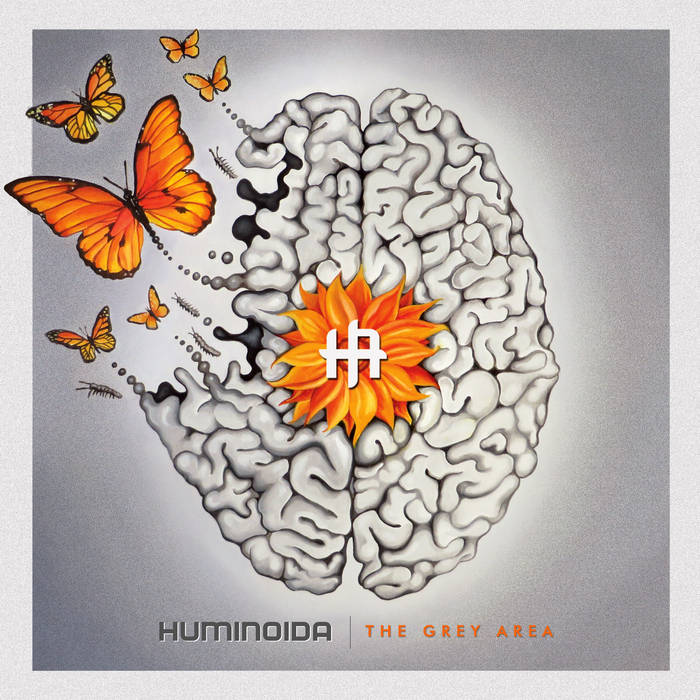 Artist:
Huminoida
Title:
The Grey Area
Format:
CD
Label:
Out Of Range Records
Rated:
Arriving four years after the previous release titled "Intoxicating Spring", "The Grey Area" is the newest album by Finnish synth electronic project Huminoida. Containing nine new tracks, the album is focused on the dark synthpop side of Kimmo Karjalainen and if "Intoxicating Spring" contained also some powerful upbeat tracks, this one doesn't as most of them are mid-tempo songs where Kimmo's vocals are upfront and the synths are creating the right ambience for his lyrics. Released on CD, vinyl plus CD and digital, "The Grey Area" is a very personal album where music is an outlet for Kimmo's feelings and thoughts. As stated on the presentation leaflet, the last years have been difficult for Kimmo and these songs are just reflecting that. I received the CD to review and it is housed into a beautiful package which is including a 7" twelve pages booklet with all the lyrics and some photos. As represented by the cover, Huminoida is transforming ideas into something else and ideally these songs are the butterflies flying away from his brain, just to be able to show their beautiful colors to people and, hopefully, live longer than a butterfly. Lyrics, like the ones of the opening track "Thoughts Like Insects", are setting the theme of the whole album, where Kimmo is writing down all his bitter experiences: "The little things I've loved in life are now in decline / Many values I've admired are being despised / And the things made just for fun are denounced unproductive - and that's a big no-no!". In balance from 80's/90's synthpop and new wave, "The Grey Area" is a nice collection of songs and for sure it's worth your attention. You can check it here https://huminoida.bandcamp.com/album/the-grey-area-2 and you can make you tempt by the gorgeous orange vinyl edition.
Artist:
Baptist
Title:
Love Is
Format:
Download Only (MP3 + Lossless)
Label:
Basserk
This new single on the Basserk label is an unusual step towards the pop charts. With slow, grandiose pop-ballad sounds, bold piano and lush pads over a simple slow-and-steady electronic beat, this is a radio-friendly production whose only real twist is the pitched-down vocal. It hints at a big euphoric chorus that never arrives, and that's probably the only ingredient it's missing from being an unusual piece of chart fodder, given the right publicity.

With an original mix, a radio edit that's marginally shorter but essentially the same, and an instrumental mix, a big-name remix might have also provided the tipping point into the mainstream as well.

Otherwise, a strong bit of luxury-thickness melancholic pop.