image not
available
anymore
Artist:
VV.AA.
Title:
5th Anniversary Compilation - Vol 1 + Vol 2
Format:
12"
Label:
Das Drehmoment
(@)
Rated:
Based in Berlin Das Drehmoment started its activity as a record shop but the passion of the owners made them create also a label soon after. In the past five years they didn't release a lot of stuff but the quality is always at the top if you like analogue sounds and electro music. If you had the opportunity to check one of their first compilations "... Dreht weiter!" (where you can find Super 521, Aurica, The Rorscach Garden, Lokate, KeenK & Dorian E., Quakes, Solenoid, Die Liebe, TecROc, Smäg and Beta Evers) you already know that they are deadly serious into bringing to the attention of electro lovers good stuff from underground acts (unknown for the MTV people). To celebrate the fifth year of activity (started with a compilation co-produced with Genetic Records) Das Drehmoment produced two vinyl album compilations. 5TH ANNIVERSARY COMPILATION VOL.1 gathers eleven tracks/bands for a total length of forty two minutes. The album opens with the instrumental 80s e.b.m. of OstZilator while Keen K's "TRI - ID" follows (he's a producer from Berlin which started to do music in the 80s with Kinky Roland, Boy George's producer) with a track of ambient electro, catchy and hypnotic. Third we find a band we already know (see my reviews of their album here http://www.chaindlk.com/reviews/index.php?id=2298 and wait for their next album for Das Drehmoment and for Kinetik Media in the U.S.A.), Kitbuilders which with "Disco Obsession (RZCZ Mix)" brings a minimal remix of their tune released on the same E.P. back in 2001. Mas 2008 is next with "Du!" (a track of their distinctive new sound really influenced by early e.b.m. and D.A.F.). With Lesbian Mouseclicks the atmosphere gets smoother with their electro pop. Datafreq from Toronto (which will release a new album for Das Drehmoment really soon) presents "Just like 1981" a nice electro wave song with retro bleeping sounds. Minimal electro comes from Slovakia with Imiafan while Beta Evers (founder of the female music network called Kommando 6) is here with "Dry Tears". The Quakes with "Caligula" spice up the compilation with a little bit of industrial guitars while Keen K with Pmuench refresh the air with the synthpop of "Spring". Last but not least comes Jaques Dubroix with "Electronic Age", an hypnotic electronic soundtrack for a futuristic thriller. After few months from the release of VOL.1 here it comes VOL.2. This time Sneak Thief have the honour of opening the dances with "Material Nights", a dance electro tune that sounds like a New Order meet Prince track. Makina Girgir from France are proud to present "White eyes" while Divider (a Kenn K side project) with "Cold eyes" sounds like Jean Michael Jarre playing electro pop (this is a really nice track). FBS (a new band from Berlin) are here with "Don't touch" (pretty but too minimal) and Aurica follows with "Hypothenuse". Side B sees Electrosexual hailing from Tolouse with their electro dark wave with an edited version of "Trapped inside". Electro wave doesn't stop here, so Silent Signals from Dortmund are ready for "Waiting for reaction" while Ich helped on production by Keen K did a night version of his "Aberglaube" (a Kraftwerk meet D.A.F. cool track). Legopop (he's present with "Legopop", a minimal electronic retro tune) and Zhark (his retro industrial e.b.m. with raw analogue samples is here with "Eisenzeit") close the second volume of this celebrative collection. If you are looking for retro sounds and fresh ideas (only few bands need a little tuning up for a whole release) you should definitely give a listen to these compilations. They are limited and you'll realize that keeping your turntable at home was the right move for your ears!
Artist:
PUNX SOUNDCHECK
(@)
Title:
When Machines Ruled The World
Format:
2 x CD (double CD)
Label:
Pale Music
(@)
Rated:
Meeting on late nineties djs and producers John Taylor and Arif Salih decided to start the Punx Soundcheck adventure in 2002. Four years has passed and the duo didn't release many things with only their name on them (they did only a couple of E.P.s and a 7" with Marc Almond) but they did remixes for a lot of people (Dead Or Alive, Frau Doktor, Atomizer, Duran Duran, Tigerbeat, etc.). Anyway, now the waiting is over because Punx Soundcheck's (now joined by Kidrobot) debut album WHEN MACHINES RULED THE WORLD is here and it is double! Divided in two sections ("Home" and "Club") the album brings to the attention of the audience (and not only to club lovers!) twenty top notch tracks of electro influenced by new wave (they pay their tribute to 80s electro wave on "Monument" where they use John Foxx's "Underpass" melody at the beginning of the track), house and techno. The first CD contains a lot of catchy songs sounding so 80s thanks also to guest like Steve Strange (he sing "In the dark"), Boy George (he's on "Idiot crowd", an electro melancholic danceable tune where you won't hear him sounding like on Culture Club), Marc Almond (here you can find the beautiful "Neo burlesque", the B side of the limited 7" "Vanity, poverty, revenge"). Beside these icons you can find also Mr Cormac & Kidrobot, Gene Serene, Princess Julia and Giorgia Alberti giving their help on vocals. This CD is an electro gem but its twin brother is also an amazing one where the electro sound influenced by 80s turns into an hypnotic trip into house and techno. Also on this CD you can find guests like Susanne Aichele (on "Giving me the bleeps", a seducing track based on analog house bleeps and techno melodies), Maria Gutierrez, Larry Tee (he's on "Creep", a pumping Berlin electro song) or Avenue D ("You don't know jack" is her tune). The "Club" section sounds raw and it's impossible to stand still while distorted basses break the silence of your room. We had to wait all this time for WHEN MACHINES RULED THE WORLD but it was worth it!
Synth Pop / Electro Pop / Synth-Electronica
Edit (2710)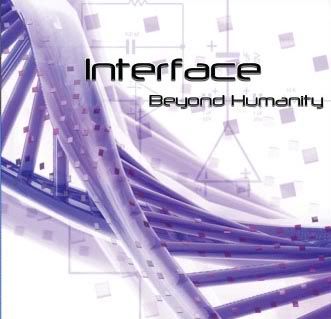 Artist:
Interface
(@)
Title:
Beyond Humanity
Format:
CD
Label:
nilaihah
(@)
Distributor:
Metropolis
Rated:
Beyond Humanity, the third album from New York-based Interface, offers a refreshing earful of forward-thinking, futuristic electro-pop. This highly-charged melodic escapade expands outward from its understated opening track, "Gravity," accelerating from zero to sixty in the blink of an eye. Staccato beats and fluid arpeggios sizzle around the vocoded articulations of singer Eric Eldredge as "Age of Computers" kicks into high gear. "Mind Killer" shows off the programming and arrangement skills of Eldredge and bandmate Jon Billian, as this highly infectious dance track palpitates like a heart on the verge of infarction! The place slows a bit on "Wonderland," but cranks back up again on "Despair," a repetitious but energetic instrumental. "Stranger in a Strange Land" incorporates samples and some nicely executed vocal melodies in a very palatable fashion. The vocoder returns on the title track, "Beyond Human," along with some very familiar, euphonic retro beats and effects – musically and thematically, one must believe there's a nod to techno godfathers Kraftwerk in here somewhere! "Insomniac" slams on the breaks, its slow, flowing beat giving it a much darker sheen than the rest of the album. "Nobody's Hero" is definitely a cut above, and should emerge as a dancefloor favorite for clubgoers this summer. "Faith in Nothing" closes out the album nicely, though I had to laugh while listening to the chorus, as I was reminded of the nihilists from "The Big Lebowski" – we believe in nothing!As this is an Expanded Edition, six additional remix tracks (some from deleted releases on the now-dormant Tinman record label) have been included on the disc. Contributors to this effort include Assemblage 23, Stromkern, Combichrist, Imperative Reaction, and DJ Sean Tyas. "Clear Night," remixed here by Sean Tyas, originally appeared on 2002's "Angels in Disguise." "Doubts and Fears," an 80's new-wave influenced track originally available via the internet, was previously only available in CD format on the "State of Synthpop 2005" 5-disc set. The other remixes feature songs from this album that sound significantly different from the originals, making for a really nice mixture of styles. Jump on this!
Synth Pop / Electro Pop / Synth-Electronica
Edit (2709)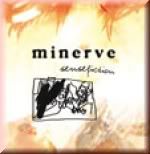 Artist:
Minerve
(@)
Title:
Sensefiction
Format:
CD
Label:
Dephyte Records
(@)
Distributor:
finetunes solutions
Rated:
Minerve are singer-songwriter Daniel Wollatz and programmer Mathias Thürk. Their brand new album, Sensefiction, delivers eleven solid tracks that pulse with life, exploring some of the darker themes surrounding love: loss, isolation and introspection.

The songs come in two primary varieties – driving dance tracks and forlorn ballads. Although there is a feeling of melancholy throughout, the musical tone remains upbeat and stimulating. "Lost in Your Room," with its infectious piano refrain, and the quick-paced "Take Me Higher," are my top choices from this laudable long-player. This is a very candid album. Wollatz uses his golden voice to put the listener in his shoes, conveying an array of complex emotions through unembellished, understandable lyrics that fit perfectly with Thürk's smooth, catchy synth lines.

Replete with strong, dramatic elements, the music of Minerve is certain to draw comparisons to Depeche Mode and Mesh. Personally, they remind me more of Wolfsheim, and at certain moments they inspire memories of more recent output by Clan of Xymox. Synthpop fans take note... this album, which rides the line between club and radio-friendliness, is certain to be one of the sleepers of 2006!

image not
available
anymore
Artist:
NEONMAN
Title:
Gift Of The Gab
Format:
CD
Label:
Pale Music
(@)
Rated:
Lately dance music is taking inspiration from the most various musical scenes and the concept of dance music played with electronic instruments is fading fast. The target is to make the people move, no matter how. At this purpose mixing funk, punk and electro is not a problem. This is what Neonman do: music to dance to with thousands influences played with guitars, drums and keyboards. In this way the nine tracks of GIFT OF THE GAB sounds like a mixture of XTC, Clash and Gang Of Four with a pulsing rhythm. Listen to "One last breath" and it will seems to listen to Talking Heads playing with Grandmaster Flash. Each track have a dominance of one of the styles mentioned so you have to discover the tracks little by little because if "Bombs in the backdrop" sounds tense and funky, "Rude boy" is a punk reggae song a la Clash. GIFT OF THE GAB is a multifaceted album that will please all the punk wave kids that like also electro sounds. Check also the three remixes of "Buy now , pay later" by Shapemod (cool version with electro arrangement using original sounds along with electronics) and "Rich kids" remixed by Warren Suicide (he did a punkish techno version really good) and by The Scandals (they extended the track adding some punk/dub/techno moments).