Synth Pop / Electro Pop / Synth-Electronica
Edit (3402)
Artist:
I, Synthesist
(@)
Title:
Art Of Survival
Format:
CD EP
Label:
self-released
Rated:
I, Synthesist (aka Chris Ianuzzi) is one of the few synth-pop acts I admire and respect for being original. Now, this one man electronic futuristic pop band is back with a new release following from his critical acclaim best selling album "Avalanche". This six song ep is easy to get into. Eighties tied into the 21st Century sound that will get your undivided attention. "Art Of Survival" is a studied, classy, straight down the line synth-pop record. The music is bouncy and the beat is much more harder with a razorblade edge thump. So mature, confident, accomplished, and powerfully well produced without simultaneously losing the spark vitality and adventure that first urged I, Synthesist out of New York. The tracks combine with some of the best pop melodies around yesterday and today to make this album something special. I consider Mr. Ianuzzi the doctor and scientist pioneer of synth-pop in the new millenium. The new Thomas Dolby and Information Society of this new time and era. Highly memorable 80's vintage sounds you can hear in the songs as well. And the vocals so keen that have Talking Heads David Byrne singing arrangement style. I even play the cd every morning when I wake up, especially when I'm playing Mortal Kombat: Armageddon game on my PlayStation 2 with the tv volume down low or on mute. Chris Ianunzzi is interesting and brilliant with his vision and music in well form.


Tracklistings:

1. Telepathy
2. Time Machine
3. Don't Belong
4. Paradise
5. Pieces
6. Waterfall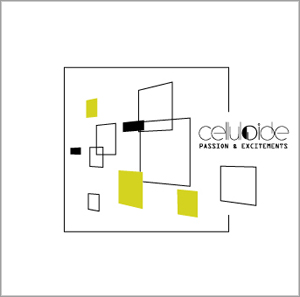 Artist:
CELLULOIDE
(@)
Title:
Passion & Excitements
Format:
CD
Label:
Boredom Product
(@)
Distributor:
Audioglobe
Rated:
After delivering the "Bodypop" E.P. in 2006, Celluloide worked to their third album developing the refined style they already presented with the songs released the last year. After listening to PASSION & EXCITEMEMTS a couple of times the best way to describe it is: minimal electronic pop. The elements that cooperate to fulfill the process are the cold/detached way of singing of Darkleti and the bouncing and bleeping sounds provided by Patrick Holdwem and Member U-0176. The album starts with a couple of good songs "Make things last" and "Second chance" where the band bring to the attention of the listeners a cool kind of upbeat electronic pop. At a first listening you could feel that the sounds don't change that much on the whole CD and that at a long distance it is a little difficult to cope with the "cold" vocals style. Fortunately this change totally with the following spins of the CD you realize that the songs' structure is rich and multi-layered and most of the tracks have enough energy and catchy melodies to satisfy your electronic needs. Tracks like "Puzzled" or "Translation of love" could also succeed into clubs as they are or remixed.
Synth Pop / Electro Pop / Synth-Electronica
Edit (3382)
image not
available
anymore
Artist:
CHINESE THEATRE
(@)
Title:
Voices and Machines
Format:
CD
Label:
Section 44
(@)
Rated:
I really like some of the products which are released by Section44, expecially Provision. Chinese Theatre is an interesting project for the plastic synth addicted freaks! Voices and Machines is a perfect analogue pop product. With a broken view is a hit styled song which dates back to the eighties. Juicy synth tunes and colored sounds will fill your ears. Sometimes melodies have a sad taste, most of all for the voice line ("Change of Time" is a good example).
If you are into synth pop, please listen to this cd, you will be enchanted.
image not
available
anymore
Artist:
VV.AA.
Title:
Born/Evolve/Progress 2
Format:
CD
Label:
Progress-Productions
(@)
Distributor:
Nova Media
Rated:
Winter time – compilation time # 3: Well, that's a fine label compilation. The Swedish label Progress Productions likes to celebrate the new year with their second edition "Born/Evolve/Progress" on which all signed label artists provide new and unreleased tracks. No compiling of known smash hits, no releasing of unnecessary remix works by more or lesser known "stars" of the scene – luckily only new and never-heard-before stuff. Also a nice introduction to the new signings this label has recently picked up. TERROR PUNK SYNDICATE, thankfully featured with a Swedish solo project by John Karlgren has already worked hard to create a satisfied and complex sound for years reaching the level of some classic FLA works. It was about time and a consequential must, that this fucking-great artist finally has found a label home in Progress Productions. Already appearing with an enthusiastic track on the beloved Interbreeding VII (BLC Productions, www.blcmusic.com), this is an act to follow immediately. Opening act is CRYO aka Martin Rudefeldt, maybe the most underrated act on Progress, also present with two new pieces – it's hard to find any better opener than this new track "Freedom", combining vocoderized vocals, cold melodic synth textures and rather old-school like bass lines. Follows the second new signing MOMMY HURT MY HEAD with a pounding Harsh Electro piece. This act hails from Denmark and can be seen as a follow-up act to the legendary ARZT + PFUSCH, a well-known act still in hiatus. Also the young NECRO FACILITY return with two Dark Electro tunes following more or less obviously some similarities to classic SKINNY PUPPY and/or INTERLACE works – good stuff. RED CELL then marks one of the surprises of this compilation. Wasn't it this act which could grab some attention by some Swedish Metal music magazines? Where are the guitars? It looks like a huge stylistically change, because this track is a real Futurepop piece somehow comparable to CULTURE KULTÜR and PRIDE & FALL. Mr. JONES MACHINE and HYPE offer late 80ties-inspired Synthpop tracks and especially HYPE's vocal performance by Robert Enforsen (ex-ELEGANT MACHINERY) can convince totally. SYSTEM continue with a rather minimal early 80-ties, KRAFTWERKian piece, while 8KHZ MONO joining this comp with a surprising hard Electro/EBM piece. Also IAMBIA, hailing out of Greece, are pushing the hard and stomping beats forward to some dark dancefloors featuring once again their fine worked-out signature. STURM CAFE could to my impression really improve their knowledge in German language, while the music formula with NEP-like bass lines and a solid kick and snare work remains the same. Finally the last new signing comes up with the last track, KOPFER KAT with "Spike" providing a rhythmically Powernoise effort which really shatters some walls to dust. Not that Tekkno-based 140 bpm and faster kick/open hi-hat work, but real distortions, easy, but effective produced. Regarding the "limited to 1000 pieces world-wide" special this compilation features as well, there can't be any real reason not to purchase this fine collection. Progress Productions concentrates on quality releases and has grown in the past two years to much more than only a secret tip. The next label giant after the coming demise of Dependent? Well, let's see how far it goes...

01: Cryo "Freedom"
02: Terror Punk Syndicate "Dysmorphia" (Epicentre Version)
03: Mommy Hurt My Head "Nothing Zero Option (After the pills)"
04: Necro Facility "Tuxedo"
05: Red Cell "Lust"
06: Mr Jones Machine "Vilda Drömmar"
07: Hype "Love-o-lution"
08: System "No Man"
09: 8kHz Mono "Crash Course"
10: Iambia "Program K"
11: Cryo "Rage"
12: Terror Punk Syndicate "Wish I Was Retarded"
13: Sturm Cafe "Weltliches Leben"
14: Necro Facility "Dope"
15: Kopfer Kat "Spike"

image not
available
anymore
Artist:
YENDRI
Title:
Malfunction
Format:
CD
Label:
Mental Ulcer Forces / Metropolis-Records
Distributor:
Soulfood / Nova Media
Rated:
Once a time there was a tiny Goth-inspired girl hailing out of Hamburg to teach fear to the international Electro/Industrial scene... Well, that was the impression I had from the info sheet of the label Mental Ulcer Forces, leaded by our almost beloved Rudy Ratzinger aka :WUMPSCUT:. Listed under ULC14 here comes out a new :W: recommendation, maybe a bit in the shadow to the coming same-time release new :W: full-length CD "Body Census". That YENDRI will already release her sixth full-length album speaks for her experience and her musically abilities in this scene. And her experience can be heard on almost all of the featured 16 tracks presented here. While it is hard and near to suicide to release music which needs a wider horizon, which is produced non-linear to some overrated trends, YENDRI seems to have a favor for the unusual. This album needs some more spins for sure and isn't at all designed for the intolerant short-haired UNTER NULL supporters. A rather silent tone brings in some magic to this release on which you'll may don't find an entrance to. It's a bit to categorize the music – Electro? Yes, for sure and rich available. Goth? Well, some pieces really are really floated with a very sad message and she also knows how to integrate some rather acoustic guitar sounds. The vocals are maybe the point on which the tastes differ. Some may can really find it enjoying, when YENDRI offers her cherry-flower-like fragile voice, while some others could find it disturbing to use too much reverb and delay effects to support some weaker parts. Although this release gets the fully DJ support through Germany's Hardbeat Promotion and a license deal to Metropolis-Records, I have my doubts that it will take the hearts of the audience by storm. This stuff is rather capable to enjoy under a pair of headphones with some candle lights instead designed for some dancefloor action. YENDRI works in her very own world with a solid result, while not outstanding at all...