image not
available
anymore
Artist:
SNOG
Title:
The Last Days Of Rome
Format:
CD
Label:
Hymen Records
(@)
Distributor:
ant-zen
Rated:
The Australian musician David Thrussel and his famous SNOG-project I surely don't need to introduce any nearer. Active now since more than 15 years in the Electro/Industrial genre, he also can't be musically sorted in to get a constant and remaining style description. On "The Last Days Of Rome" he offers some more or less subtle Electronica elements with a constant acoustic attitude through guitars and his still a bit strenuous sounding voice. Always and ever an eye-feast are Thrussel's essays referring on politically and social-critically themes, which he of course likes to point out through his lyrics, too. The art deals with the influence of promotion banners regarding new cars and status symbols, while his essay "A Capital Day" describes and exaggerates the routine of our affluent society. Thanks to some quite different license deals he has given out, this version of this album, released by the Ant-Zen companion label Hymen Records at least offers several bonus tracks, so on this release you'll get at least 20 tracks. Some have to be mentioned: "City" comes out calm and catchy, but with a melancholic mood. Also note, that it is "Christmas Everyday" for the freaks in the White House – what a fine track. It's fun to follow Thrussel's sarcasm richly spread through his lyrics, while it makes you think of on several things as well. You're wrong with it, if you look for a new and modern sounding Electronica/IDM/Ambient-release, for which the Hymen is otherwise an excellent resource for. This one has to be seen as poetry - fine work, keep on the vision of a better world!


image not
available
anymore
Artist:
[:SITD:]
(@)
Title:
Bestie:Mensch
Format:
CD
Label:
Accesssion-Records
(@)
Distributor:
Indigo
Rated:
New full-length for this well-known and internationally renowned German Electro/Industrial trio. Since they've done some remix contributions for some Chart-breaking acts like OOMPH! or ONETWO, it seems to be only a question of time, until [:SITD:] themselves can look on Chart positions. Enough capable stuff is featured for this on this new album, while the harder-minded EBM/Electro-listeners will even find a fair amount of some straighter oriented stuff ("Stammheim", "Kreuzgang V.2", "Propaganda"). Musically not too much news can be reported from this new album, it seems that the earlier years of experiments and the finding of the right sound direction have a bit gone towards to routine. Nothing wrong on this, since the studio work and the arrangements of [:SITD:] can be named as being one of the best and tastefully produced around. What is definitely new is the fact, that also Tom now picks up the microphone for one or another track to offer his vocals. And mostly the result is satisfying, Tom's voice sounds a bit smoother compared to Carsten and it works the best on the rather slow, nearly Synth-/Electropop-like tunes ("Reincarnation", "Displaced" or the engaged dual performance with Carsten on "Herbsterwachen"). I guess it can be realized that [:SITD:] do concentrate the most to polish a bit their outfit, maybe with the side-effect, that their music sounds lesser aggressive than before. But it's still an experience to discover the sinister sounding works with its epic and multi-layered arrangements, "Telepathic" has to be named, for sure one of the favorites out of this album. Lyrics got as usually provided in both languages, German and English, and like the title of the album announces it a bit, [:SITD:] deal with a lot of things related to the human kind and behavior. "Herbsterwachen" can be interpreted to be a reflection of the happenings in the ex-eastern part of Germany during the fall of the GDR-regime, but it can be also seen as a statement against the ongoing inertia of the people for taking all politically decisions without protest. Engaged lyrically content, music and production without failure, [:SITD:] are offering once again an album which defines standards. Their successful way will continue, no doubt.


Synth Pop / Electro Pop / Synth-Electronica
Edit (4044)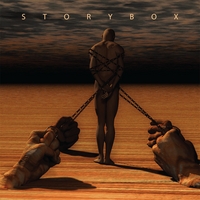 Artist:
STORYBOX
(@)
Title:
No Dancing Allowed
Format:
CD
Label:
Section 44
(@)
Rated:
BUY from
or BUY from
Storybox is the personal project of Agent D (a.k.a. Dave Montana). Previously he played in different bands and experienced different musical genres. After moving through different states of the U.S. Dave arrived in Austin, Tx and there decided to start working at Storybox. When Dave asked me if I was interested into reviewing his album I accepted because I like electronic music and synthpop but I accepted also because since from its cover NO DANCING ALLOWED shows its multifaceted essence. A man tied to chains kept by hands raising from the ground it's a particular image for a synthpop record. Also reading the lyrics of the album I noticed that here Dave or Agent D. shows himself naked in front of his audience, talking about his joys and his fears. From his website you can read that "Ashes in the air" born from a chat with a friend who found out his ex was Pro Nazi, "Dream ghosts" from the nightmares that he has almost daily, "Therapy" about a child who's been abused by an uncle while his mom was abused by his dad. Musically we have poppy songs like "Sun", "Gone with the wind" as well as dark electro ballads or dark tunes like "Dream ghosts", "Ardor", "Therapy" or the opening "No dancing allowed". There's also a cover of Beatles' "Thigs we said today" which originally was recorded as "A hard day's night" B side. The production reflects the nature of the work: genuine and without frills.
image not
available
anymore
Artist:
VV.AA.
Title:
Dark Future
Format:
CD
Label:
Dark Past Communications
(@)
Rated:
This is the debut release for the new US-based label Dark Past Communications, which will soon return with debut releases of their represented artists. Musically almost all acts turn into the Synth-/Futurepop-genre, at times with some tendencies into EBM or Goth. 10 tracks are available here provided by 7 different acts, the already known act LEVEL 2.0, plus SINCOGNITO and ANGEL CRISIS can provide two tracks out of their repertoire. I miss a bit some details on each band with contacts, links and credits, but unfortunately there isn't a real cover available. However, the already mentioned LEVEL 2.0 opens this comp with their new track "Far Away". They are a bit longer active in this business and this can be well recognized through more maturity in their textures. There's experience behind their compositions, even if the male vocals are sounding a bit too rough to fulfill the perfect Futurepop-kind. SINCOGNITO follow and they offer female-leaded vocals to known and mostly already discovered sounds. "Ever Mary" is a decent mid-tempo tune, while the second of their tracks, "Obsession (Save Your Love)" ends in a fiasco, because of the misplaced female singer, which totally gets out of tone. BLACKMAIL MUSIC follow and have to fight with that often heard failure of not offering a capable singer - unfortunately also TED CIKOWSKI lacks of the same problem, while I tend to rate the music as being acceptable. Nevertheless both acts could need some polishing and help on the production. ANGEL CRISIS then are the third act with a double-play and the mood provided through their tracks turns into grief. Maybe the renowned act PRIDE AND FALL have had a depressive influence on them, while they can't nearly rival with the Norwegian giant. Although offering cliche-filled lyrics, they've got some useful ideas, while also they could be any better with some experienced help on the production and also the vocals. Coming then to the winner of this compilation, the already known project PULSE STATE with "Innocence". A debut release is slated for 2008 and this act has already caught some attention thanks the placement at several forums and communities. Refreshing sounds, catchy bass and synth lines, good male vocals – well, this "Innocence" is an innocent reference for all featured artists here – some of the above mentioned can learn from it. Since both acts, LEVEL 2.0 and PULSE STATE, can look back on some more experience in any kind, the label Dark Past concentrates to offer dedicated US-based acts a new home to publish a professionally pressed CD. Some of the featured acts here have to be rated critically, nevertheless there seems to be some promising potential for this label. Wait and see what will come...

TRACKLISTING
01. Level 2.0 - Far Away
02. Sincognito - Ever Mary
03. Blackmail Music - Die With You
04. Angel Crisis - Fallen Angel
05. Pulse State - Innocence (United Mix)
06. Softcore - External
07. Ted Cikowski - Servitude
08. Level 2.0 - Intercept
09. Sincognito - Obsession (Save Your Love)
10. Angel Crisis - In My Dreams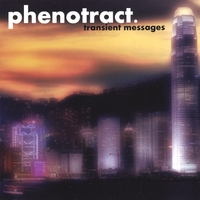 Artist:
PHENOTRACT
(@)
Title:
Transient Messages
Format:
CD
Label:
Souvenir Records
(@)
Rated:
BUY from
Phenotract's second full length album TRANSIENT MESSAGES brings to the attention of electronic music lovers eleven tracks which are deeply influenced by modern synthpop, techno, ambient as well as 80's electro. A good example of song with well merged ingredients is the third of the track list ("In another life"): it has a pounding rhythm (almost techno), sounds that to me seem digital and an 80's flavor, talking about the vocals. This particular mix works well and also the refrain is a convincing one. The following one "A million colors", mix ambient (see the long intro), melancholic atmospheres and dreamy vocals. On half of the tracks Eric Shans (the main person behind Phenotract) is helped on vocals by Niabi Caldwell, who gives an help to the dreamy atmospheres thanks to her mellow voice. If I have to find a weak point I have to point out the length of the tracks (the shorter one is 5' long) and the sounds equalization which is too high on mid and high frequencies (is this due to digital sounds?). A nice album which would be a great one with a different production ("Heightened" would gain points with powerful sounds). You can check the songs excerpts at http://www.cdbaby.com/cd/phenotract2.