Artist:
Fixmer/McCarthy
Title:
Into The Night
Format:
CD
Label:
Synthetic Symphony/SPV
Distributor:
SPV
Rated:
Terrence Fixmer, a worldwide renowned Techno DJ and producer and the infamous voice of NITZER EBB, Douglas McCarthy have united once again to release another new album after their successful debut "Between The Devil" in 2004. Was the debut a kind of explosive and straight-forward moving mixture between EBM and Technoid sounds, this new album surprises with a unexpected and rather calm and melodic oriented sound outfit. I must say that Terrence does the best of his part, not to sound too much after some Techno-oriented patterns, the music here generally satisfy multiple tastes. More than this, the sound-wise orientation to include also more melodic elements lets him grow and it will strengthen his reputation. To Douglas McCarthy is nothing more to say than the fact: Yes, he's in here and the magic of his raspy voice is with him. Even if you get the impression, that Terrence's music would turn too much into the Futurepop/Electropop-genre ("Banging Down Your Door", "Tonight I Sleep"), Douglas is there and makes the difference to all those too often heard smooth and gay-like male vocals. Of course some upbeating tunes are included too ("Hate Me", "Love The Night", "Look To Me"), which all work well for the dancefloors. A quite good and interesting album, which has the best attitudes of both musicians included. Fans of the debut, especially those of the straight-oriented Rivethead-culture will may have problems to accept this smoother outfit, but who cares? The musically content of this fine work should be reward enough.
Synth Pop / Electro Pop / Synth-Electronica
Edit (4601)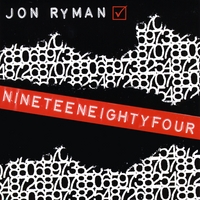 Artist:
JON RYMAN
Title:
Nineteeneightyfour
Format:
CD
Label:
Really Real
Rated:
BUY from
I'm so glad I received this CD. NINETEENEIGHTYFOUR is the fifth Jon Ryman album in fifteen years and shame on me, I didn't know him until now. He works as an electronic music producer since early nineties and his latest album is a blast. He succeeded into blending into these eleven songs (the first one is a 30" introduction) so many elements coming from 80's music in a great way that there's no song that is a filler. The atmospheres goes to songs a la Paul Haig ("Julia") to ones a la Karl Bartos ("Rhythm Machine") passing through Jean Michelle Jarre (the instrumental "Oneohone"), and John Foxx ("Overexposure"). The whole CD sounds fresh with great electronic sounds and good melodies and it catches the sounds and the themes of a period dear to many of us (see the Orwell reference of the title or the one to the Thatcher Falklands period you can read about into the inner sleeve notes) but thinking about it as a mere re-proposition of an era like it was a commercial move for sure is wrong. This CD takes inspiration from a decade of electronic music (maybe for this reason the CD closes with a 90's sounding acid techno track titled "Acid music"... because a kind of electronic music ended then with the born of a new genre) and inspire. Be sure to check it. This is the first release for Really Real and I hope that they will release more gems like this.
Synth Pop / Electro Pop / Synth-Electronica
Edit (4595)
Artist:
BOBBY SOUL et LES GASTONES
(@)
Title:
73% Phunk
Format:
2 x CD (double CD)
Label:
Inmusica
Rated:
Here we go with Genova's own godfather of funk, we've been talking about him when reviewing Audiodevice, since he was featured as a singer. His own project with Les Gastones is funk to the bone as you can easily guess from the records' title, but in the drink you're gonna taste a little bit of acid jazz, a slice of italian pop flavor and a spruce of soul. Funky easy listening that reclaims the airwaves both when following a dance route and when it surrenders to soft heartbreaking tunes. Classic fm-funk/fm soul style, thus if you're looking for some weird "white-funk extravaganza" you'd better leave your hopes, just some hip-hop incursions but I don't think it will surprise anybody since it's a natural marriage. After many listenings I think this guys really kick ass above all when going for the slowest cuts, but I can imagine when playing live the fast tunes are a sure shot for a crowd who's there to dance till death. I dunno if you know Enzo Avitabile but mr. Soul reminds me so much of him and I think it's a great comparison since Avitabile is one of the few artists mixing italian music, traditional ethnic reminiscences and afro-american influences and giving it all credibility. For example give a listen to "sSull'onda buona", or "Dammi un brivido" and tell me if this not the typical mid summer chart climber!?, here you have some other potential hits, but this one is my first candidate for the heavy rotation if you're into the style. Usually that's not exactly my cup of tea, above all for the fact many italian pop productions get suffocated by a bunch of plastic like sounds, but this could be a good follow up to bands such as Dirotta su Cuba with the considerable difference this time the singer is not a lady but a gentleman. Hard to say if it gets the popularity it demands, but I've no doubt about the fact it's a good product. For what concerns the product itself, here you have a double cd with some live tracks and some videos to make it all even more appetitive. Don't worry, I've not mentioned intentionally James Brown, Steve Wonder, Isac Heyes, Barry White or Marvin Gaye, but this double cd pays such a tribute to these black masters you hardly will distinguish the different influences. A soulful, danceable artifact that could also make it in the heart of those who loved early Jamiroquay and Us3, just more "traditional" and much more poppy.
image not
available
anymore
Artist:
VV.AA.
Title:
Machines Against Hunger
Format:
2 x CD (double CD)
Label:
Sigsaly Transmissions
(@)
Distributor:
Sigsaly Transmissions
Rated:
This is the debut release by the new Texas-based label Sigsaly Transmissions, a DCD compilation with some remarkable content. As the given title may leads to the right hint, this compilation and its content is heavily inspired to bring out a clear action of charity against one of the biggest problems of mankind at all. This project is meant to support all those aid relief organizations against famine and disease, in this case dedicated to Action Against Hunger, as they are leaders in this endless fight. 100 % of the net profit from the sales of this compilation will be donated. So not at all just another label compilation, the presented acts give an excellent cross-section of all thinkable styles of Electronica music available. Big names got united to walk this path hand in hand with undiscovered but promising newcomer acts, and mostly all are presenting exclusive recordings. As for the big names, we have here classic and veteran Electro/Wave acts like PSYCHE, PARADE GROUND, THE WEATHERMEN (...and they all can prove their abilities, as they've never taken a pause in between...) and side-projects of FRONT 242 and CLOCK DVA aboard, but also better known artists like DIVE, IMPLANT or PRE-EMPTIVE STRIKE 0.1. The diversity of the different presented music is the remarkable point of this compilation, but as usual and compared with many other different compilations, mostly the newcomer acts caught my attention.
Starting with the bands, which are related or signed to Sigsaly, we have K-BEREIT. Right on, this is the continuation of the famous French act KRIEGBEREIT, which could only release a nowadays hard-to-find-MCD on the German Machinery Records entitled "A Forest". This one is maybe the best known (and best done...) cover version on this classic tune of THE CURE. Of course, K-BEREIT's music follows the traditionally old-school sound and their "H(a)ngry" is an evil beating smasher with tragic German voice samples. K-BEREIT also created a remix for DIVE's "Behind The Sun", which is featured here as well. Another new signing to Sigsaly is the Paris-based act CODE MACHINE, another straight and rather old-school-minded EBM outfit. Their track "You Say, I Say" is am angry smasher featuring sawing bass lines and emotional vocals, although we are talking here on the weakest part of their track, they could need some refining. Third one to mention seems to be the Belgian newcomer act NTRSN, who offer some KLINIK-al bass lines, vocoderized vocals and a steady beat much in vein of some older SUICIDE COMMANDO works.
The Hellectro field is also present with appearances of DERMA-TEK ("Mauled" – TAU FACTOR-remix, well done in the expected line, but wouldn't it be time to offer new stuff?), PRE-EMPTIVE STRIKE 0.1 ("Lethal Defense Systems", although remixed by a musically comparable act like DEAD JUMP, I ask myself, if this Greek duo can't really offer any other striking piece, since this track has been now switched the 27th time on compilations...), NURZERY [RHYMES] ("Alpha-Omega", presented in remix by WYNARDTAGE, not bad at all, but maybe a bit too often heard? It becomes more and more routine...), the talented newcomer MAN + MACHINES ("Revolt", taken from their last demo, just watch our search engine for a review on them...), and finally the best appearance of this genre, DAWN OF ASHES ("Nail Driven" in a remix by DIE SEKTOR, the quality of this interpretation really nails!).
The veteran old-school EBM sound of NITZER EBB and their followers are presented well through acts like IONIC VISION (what has been named "This Life" isn't at all a new composition, it's rather a special remix of their classic track "The End" to offer something special to this comp.), and a collaboration effort by both Swedish bands CONTAINER 90 and STURM CAFE. What else?
There are some additional works featured on here asides the above named styles and bands, which deserve attention. Both COP-recording acts THREAT LEVEL 5 and CARPHAX FILES can impress with rather Dark Electro tracks (not Hellectro!!!), while the synths programmings of DISKONNEKTED ("Broken" remixed by RAZED IN BLACK), THE CRYSTALLINE EFFECT ("Nothing Warms This Room" in a special Machine Against Hunger Remix) and the instrumental tune of the collaborative effort between EMPUSA with FRIGHT DOLL lefts me breathless. Another highlight is surely the cover version of INTERFACE on "Land Of Confusion" (Genesis): radio-compatibility included, decent Futurepop-like arrangements, good vocal performance and it luckily avoids Rutherford's dirty guitar work. Finally the Swedish act CHINESE THEATRE come up with a new version of "I'm Leaving You Behind" featuring pummeling bass lines, cold subtle female vocals and a strong dedication to some Pop/Wave-attitudes of the 80ies.
A lot of interesting stuff to discover on here and a compilation project with a lot of background, intense work and idealism. Please note the charity factor behind it, which alone should be reason enough to purchase this DCD set, but also the content alone is sort of something special. You'll get rewarded with this convincing label-debut, so watch out for more from Sigsaly Transmissions.

Track listing:

Disc One

01. K-BEREIT – Hu(a)ngry
02. Essence Of Mind - How Does It Feel [Machines Against Hunger Edit]
03. Implant - The Stimulator [People Theatre's Final Call Mix]
04. Container 90 & Stürm Cafe - 1/15
05. Dawn Of Ashes - Nail Driven [Die Sektor RMX]
06. Nohno - Unbalanced
07. The Crystalline Effect - Nothing Warms This Room [Machines Against Hunger Mix]
08. Threat Level 5 - Tripping
09. Diskonnekted - Broken [Razed in Black Mix]
10. Sunao Inami - Decreases
11. Code Machine - You Say, I Say
12. Interface - Land Of Confusion
13. Destroid - Revolution [Machines Against Hunger Version]
14. Nurzery[Rhymes] - Alpha-Omega [Wynardtage RMX]
15. NTRSN - Innerbleeding v1
16. Biodrone - Last Waltz

Disc Two

01. Hi-Tek Homeless - Planet Hump
02. The Tenth Stage - Black [Machines Against Hunger Slow Remix]
03. Ionic Vision - This Life
04. Radiotron 36 - Burned Out Cinder
05. Carphax Files - Guns And Violins
06. Empusa [feat. FrightDoll] - Unpreventable
07. The Weathermen - Your Town
08. Preemptive Strike 0.1 - Lethal Defense Systems [DeadJump Remix]
09. Dive - Behind the Sun [K-Bereit Light Speed Remix]
10. Autoclav1.1 - This Is Untitled [Magrette Mix by Coreline]
11. Parade Ground - Entertain Me
12. Man + Machines - Revolt
13. Psyche - Tears [Original]
14. Eisdrive - Reeperbahn
15. Je$us Loves Amerika - Cifer
16. Chinese Theatre - I'm Leaving You Behind (Help The Poor Version)
17. Modern Cubism - Le Serpent Qui Danse
18. Derma-Tek - Mauled [Tau Factor Remix]

image not
available
anymore
Artist:
MYRA DAVIES
Title:
The Girl Suite EP
Format:
Download Only (MP3 only)
Label:
Moabit Musik
(@)
Rated:
Available at all the main digital stores, THE GIRL SUITE EP is the collaboration of the spoken word artist Myra Davies and Gudrun Gut. The four tracks deals with girls and women culture themes. "My friend Sherry" talks about a story that bring us back to the 60's when abort was illegal and so many girls died during the parturition while "Valkirie" takes the figure of the female warrior as a rebel icon with a music background made using samples of Wagner's "Ride of the Valkyrie". The use of spoken word/sung parts is well supported by the music produced by Gudrun Gut: sampled percussions and pop melodies on the opening "My friend Sherry" are followed by a cool electronic track (on "Love - demo") and by semi industrial dance parts ("Drill"). Check this release and you'll realize that genuine inspired music still exists.