Artist:
GAB.GATO VS XBEAT
(@)
Title:
No Light Or Shadow EP
Format:
12"
Label:
The Villains Inc Recordings
Rated:
Influenced by the sound of classics like Professor X, Egyptian Lover and the Den Haag sound (see many Bunker Records and Clone records releases) a bunch of guys coming from Milan, Italy, decided to form a collective called The Villains Inc. Their second release is a 12" EP which sees Gab.Gato and XBeat collaborating at the creation of four original tracks plus a mixed version of the main title. The EP opens with Gab.Gato vs XBeat "No Light or Shadow" Electro mix, a mysterious analog tune based on an acid bass line coupled by an analog drum machine and synth pads. On this one Gab.Gato deep vocals help giving the right thing that helps to impress the listener. The following version is more 90's sounding, more Detroit. On this one the vocals are filtered, the atmosphere changes a little but it's always cool. The B-side opens with Gab.Gato vs XBeat "Subterrania", an electro funk cool tune with pumping rhythms (lovers of the fore mentioned artists have been warned). The side follows with two tracks where XBeat alone performs "Autobody", another electro analog song with pumping bass and drums and sinuous synth pads and Gab.Gato presents "The Villains Inc", a nice mid tempo tune with vocals coming from an old educational toy which spells the words. The solo tracks are nice but the collaborations are cool and I'm proud of these guys because I'm Italian myself and it's good to see that someone is making this musical genre also on this country. Let's not forget that this is the place where Italo Disco born...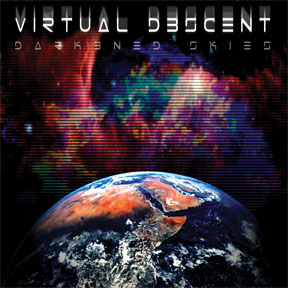 Artist:
V1RTUAL D3SCENT
(@)
Title:
Darkened Skies
Format:
CD
Label:
DSBP
(@)
Distributor:
Indietective
Rated:
Well, it's effective and a promising hint, if the band name offers a letter/number-combination, which shall document the genre classification, isn't it? Seriously, the debut of the Illinois-based duo V1RTUAL D3SCENT is a little surprise for the DSBP label, since the musically direction of Erich Fate and Scott Pilz turns rather into a smoother form of Futurepop/Electro. No hint of the Harsh EBM formula normally expected and often presented by DSBP can be found on "Darkened Skies", but therefore an unexpected catchy tendency. This duo has already shared the stages with acts like LOST SIGNAL (signed to 23DB – yep, the label of Tom Shear/A23) or STATE OF THE UNION (maybe much more prominent in Europe with a license deal to Infacted Recordings...) and it doesn't seem to be happened by chance, that their sound outfit draws comparisons with these examples and to related bands. What disturbs is the abused term Futurepop', which has been too often used in the past to describe a repetitive one-dimensional point of view of danceable Synth-/Electropop music. Transformed on V1D3 this wouldn't be a fair description, because the music turns much further – simply the fact that both Erich and Scott are more talented than the usual PC-user-produces-some-samples-and-adds-loops-musician'. Both have experienced in their childhood a classic-oriented piano training – and for some reasons this can be heard. Very often they add classic strings and piano drops as being used as the main lead synth sound ("Darkened Skies", "...") – it sounds elegant and cohesive so it seems to be a trademark of this act. The opener "1000 Tears" is a fresh state-of-art Electro-track reminding with its strong programming art on works of bands like IMPACT PULSE or INDIVIDUAL TOTEM. Applause also for the excellent usage of vocoder fx on the lead vocals for "Suffocate" – seldom before a band could use vocoderized vocals that effective like V1D3. "I Vivisect" then is another favorite and it didn't wonder, that V1D3 have given out remix kits especially for this track to share it with some friends and additional musicians. The result can be discovered here, 4 additional remix contributions of "I Vivisect" are documenting the attraction of this fine and catchy tune with finest programming art. The track "Concede" then offers a fair amount of a fast-paced rhythm construction which allows some dancefloor action. A lot of good stuff to discover from this duo and a perfect alternative output against the harsh and pseudo-aggressive Hellectro camp. Check it out!


Artist:
ACTION NANO
(@)
Title:
Select And Start
Format:
CD
Label:
M-Tronic
(@)
Rated:
Action Nano is one of the monickers used by Stefano Piredda for his musical projects. He's also active with the following other projects: Elefant'O, Octowire, O.T.X. and King Esteban. SELECT AND START is the Action Nano debut album and it opens with two tracks that mix vocals a la Afrika Bambaataa with lushy electro tunes. The whole album deals with soft electronic atmospheres (it remembers me a little some Bochum Welt tracks) making often references to video games ("Vintage games" or "Catch the pills!" which remembered me of Pacman) balancing the sound from electro joyful atmospheres to futuristic tunes good for soundtracks (see "Another beauty") passing through semi techno songs like "We are back". Using a lot of old educational toys samples along with analog synth sounds, Stefano made a nice record which lacks of "hit singles" but, at the same time, has a lot of cool sounds and a nice cinematic atmosphere (thing that affect also O.T.X.). Along with the 15 tracks of the album you can find also the Oil 10 remix of "Another beauty" (a little more relaxed edit) and a totally new version of "Bad arguments" edited by Cosmic Pocket.
Artist:
Coburn
(@)
Title:
s/t
Format:
CD
Label:
Great Stuff Recordings
(@)
Distributor:
Rooftop Promotion
Rated:
BUY from
Breezy and fun Electro/Rock from the E.U. strikes into territory somewhere between Fatboy Slim and Arling & Cameron, with the ghost of T. Rex leading the charge. The freshness and naïveté of these mostly 3-minutes-give-or-take sample-rich cut-and-paste pieces, is kind of Coburn playing the innocent, drunken college freshman coed to A&C's detached, grad-school irony. Hilarious segues like "Matured Sinner" and the smarmy interlude "10,000 Leagues" do well to frame main tracks like the rocking "I Get My Kicks" (track 11). Track seven, the lovely 2-chord vamp "Beyond Dawn", is nearly ruined by too much clever hacking and slashing; but right after comes "Give Me Love," a somehow acceptable makeover of Donna Summer's "I Feel Love," if not quite as sophisticated. The warmed-over-Prodigy hip-hop moves in "Sick" and "We Interrupt This Programme" by rappers Solid State and Princess Superstar are not nearly as convincing; but the most bizarre re-working of all is to be found at the center of the disc: "Tallulah," from the child-acted '70s movie Bugsy Malone (in which the original was sung by none other than Jodie Foster, pre-Taxi Driver, people!). The amazing 40-second interlude toward the end, "Metro," deserves to trade places with the last track, "Erase," and be developed into a full song. This CD is in desperate danger of being dragged down by slower tracks in its second half, like the Portishead-ripped "Edge of a Knife", and needs all the party nitro it can get its nervous hands on.

This duo, Pete Martin and Tim Healey by name, are -- bless their little hearts -- consciously doing their damndest to keep their techno out of generic hell, and deserve good marks. Their saving grace is their rock moves -- the initial Coburn line-up had originally been as a garage band, before collapsing again into a 2-man unit. Singing on "Tallulah" and five other tracks on here is Heidrun Björnsdottir, providing the obligatory, sleazy Eurotrash lilt you'd expect to accompany a couple of hard-partying lads such as these. Previously working under the name Slide & Healey, they took their present moniker from legendary movie actor James Coburn for extra attitude. Not a bad move, if you ask me. This début release of theirs will definitely do the trick as soundtrack for your next topless love parade.
Artist:
KEEN K
(@)
Title:
Structures
Format:
12"
Label:
Das Drehmoment
(@)
Distributor:
Neuton
Rated:
Active since the 80's with different musical project Kai Lüdeling has released few things as Keen K. This new E.P. is presenting six new tracks in balance from lush electronics and italo disco intuitions (like the female vocals on "Retro 420"). The sound used and the way of alternating the different synth layers remembered me the latest Kraftwerk. You know, that sort of soft techno sound with many rhythm layers and rich sound textures. The whole E.P. is based on this kind of sound where long pads are enriched by light glitches, electronic breaks on mid tempo structures. This is the most "modern sounding" release for Das Drehmoment Records and it's good to see that they are varying their sound always keeping the quality high. This E.P. is available as limited edition of 200 vinyls with three different hand sprayed covers by Dinasix. Pick up the one you prefer...