Artist:
CHAIN OF COMMAND
(@)
Title:
Some Aspects
Format:
7"
Label:
Anna Logue Records
(@)
Rated:
Active for few years during the end of the 70's/early 80's Chain Of Command were an English band coming from Birkenhead. During their activity they unfortunately released only one track on a vinyl compilation ("Some aspects" on "Subtle Hints", released by Sane Records back in 1983) but they had some others ready to be discovered almost 25 years later thanks to Anna Logue Records. SOME ASPECTS E.P. despite the title don't contain that song, it contains four demo tracks recorded in 1982: "Honour amongst thieves", "Programs for plunder", "Friends" and "Borderline". Their peculiarity was to have a bass guitar, two synths, a drum machine and no guitars. Their music was a blend from new wave and electronic pop with particular atmospheres. They recalled me a more accessible version of The Passage. All the four tracks are worth the purchase but if you want me to point out a hit, for sure that is "Borderline". Catchy melodies and choruses that will make you want listen to it different times in a row. Check some of their tracks at their myspace page (www.myspace.com/chainofcommandsynthy) and download other tracks coming from their demos at their web page.
Artist:
VV.AA.
Title:
Advanced Electronics Vol. 6
Format:
2 x CD + DVD
Label:
Synthetic Symphony
(@)
Distributor:
SPV
Rated:
A premiere for this successful compilation series, the 6th issue comes out with 2 audio CD's and a DVD part which features clips of some of the represented artist. Nothing has changed regarding the concept of this comp series though, this DCD set got once again compiled by the guys and gals of the well-known Hardbeat Promotion agency. Also nearly without any surprises are the names of the featured bands on here. This comp tries to spin a connection between diverse electronic-driven music styles in between Electro/Industrial, Techno and Alternative. So you shouldn't wonder too much if you can check out some tunes of among others like SCOOTER (!!!), ZEROMANCER, IAMX or NITZER EBB. The problem with this label info sheet belongs on the fact, that they like to rate acts like DISKONNEKTED, CRYO, AMNISTIA, PAINBASTARD or PROCEDD as being newcomers. Well, those acts are still a "small number" when it comes to start comparisons to the above mentioned mega-selling acts, but at least also they can't be called "underground" or "newbies". Real new and inexperienced acts however don't get any real chances in the play-lists of the DAC-voting DJ's. The acts presented on here can count to get backed up by a financially strong label, which is able to pay for advertisements in the big German print-magazines like Zillo, Sonic Seduce, Orkus of Gothic. You as being the listener and possible purchaser of this compilation set should have this in mind. But not too much negativity here, since some good pearls can be found. PATENBRIGADE WOLFF, recently quite active with a new album, have to be named for their awesome and surprising harsh remix of "Demokratischer Sektor". Also worth a mention is – as usual – the Austrian duo of MIND.IN.A.BOX with their Short Storm Mix of "What Used To Be" – not new, not exclusive – but a great example how to combine traditional Futurepop with upper-class synth play. GRENDEL is another winner with the X-FUSION Remix on "Hate This", as this was expected. Though I couldn't find myself too much comfortable with TECHNOIR, the remix of MESH on their "Dying Star" is a valuable addition and a fine example for experienced Synth-/Futurepop programming abilities. Those are the outstanding pieces on CD 1, while CD 2 has lesser interesting content to offer. PROCEED like it "Laut", that's quite okay and will satisfy the fiends of traditional NEP-releases. Both XOTOX and NOISUF-X representing the spearhead of the ProNoize label and both do fine here, too. Nothing surprising new from acts like HOCICO, HEIMATAERDE or PAINBASTARD, which we haven't heard multiple times before, but all of them are still fair enough in their style. As usual I print the track list of this compilation inclusive the track list of the DVD, which isn't unfortunately part of the content of this promotional edition. As you see, here are a lot of favorites presenting mostly rare recordings or unreleased stuff. But if you're seriously watch out for something new, then this compilation is maybe the wrong addition on your "must-purchase-this" – list.

Tracklist:

CD 1
01) Nitzer Ebb: Payroll (John 0 Mix) 03:10 *
02) Zeromancer: Doppelganger I Love You (RMX) 05:32 *
03) Vive La Fete: Mais 03:05
04) IAMX: Nightlife (Single Mix) 05:00 *
05) Massiv In Mensch feat. Mind.In.A.Box: Supermassive Gravity 04:34 *
06) Faderhead: Electrosluts Extraordinaire (Preview Mix) 04:10 *
07) Scooter: Lass Uns Tanzen (Radio Edit) 03:44
08) Spetsnaz: Nothing But Black 04:05
09) Disconnekted: Prayer (Northborn Mix-Edit) 04:15 *
10) Patenbrigade Wolff: Demokratischer Sektor (Club Mix) 03:59 *
11) Mind.In.A.Box: What Used To Be (Short Storm) 04:31 *
12) Cryo: My Wall (Edit) 04:27
13) The Retrosic: Unleash Hell (Deeper Into Hell 2008) 05:15 *
14) Grendel: Hate This (X-Fusion Remix) 03:59 *
15) Amnistia: Self-Defence (Steel-Alloyed Edit) 04:59
16) Technoir: Dying Star (Mesh Remix) 05:21 *
17) Ladytron: Weekend (James Iha Mix) 03:58 *
18) Solar Fake: The Shield (Remix) 04:16 *

CD 2

01) Diary Of Dreams: The Plague (Version N4-4) 04:47
02) Destroid: Friend Or Foe (The Betrayal) 04:00
03) Feedback Machinery feat. Mortiis: Tainted 03:56 *
04) Trisomie 21: Now (Leæther Strip Version) 06:02 *
05) N.W.R.: Punkstar 04:15 *
06) Umbra Et Imago: Glaubst Du (Remix) 07:03 *
07) Der Tante Renate: Psychobot 03:51
08) Modcom: One Zero (FM Mix) 06:29 *
09) XP8: Dreamt Of Blue (Mindless Faith Remix) 04:23 *
10) Painbastard: Alive 06:07 *
11) Proceed: Laut 03:30
12) Santa Hates You: Sugar And Spice 05:59
13) Xotox: Ewig 03:55 *
14) Noisuf-X: Hit Me Hard (As Hard As You Can-Mix) 04:23 *
15) Hocico: About A Dead (Killed By Proceed) 03:14
16) Heimataerde: Vater (Person Non Grata Version) 04:58 *

*exclusive or rare Song / Mix

DVD:
Faderhead: Girly Show
[SITD]: Plastination City
Diffuzion: Wired tunes
Arya: My Device
Metallspürhunde: Was hat dich bloss so ruiniert
Scooter: Lass uns tanzen
IAMX: Spit It Out
Purwien mit Wit: Alle Fehler
Ladytron: Sugar
Mesh: It Scares Me (live)
Covenant: The Man (live)
Skinny Puppy: Haze
Retrosic: Maneater (live)
Leather Strip: Dirty little secret
Funker Vogt: Thanatophobia (live)
Zeromancer: Doppelgänger I Love You
Neikka RPM: Umbra Sub Noctem


Synth Pop / Electro Pop / Synth-Electronica
Edit (4414)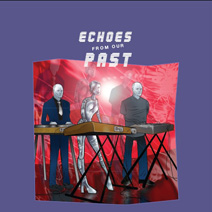 Artist:
VV.AA.
Title:
Echoes From Our Past
Format:
12"
Label:
Anna Logue Records
(@)
Rated:
Here we are after the label special I did seven months ago and after my Monuments review, talking again about Anna Logue Records releases. This time we have their first compilation on our hands. ECHOES FROM OUR PAST is a vinyl LP+7" gathering thirteen worldwide bands/songs coming from the 1979/1984 period. The track list opens and ends with two Hero Wouters projects (see also my review of " Muziek voor Leven en Dood", his compilation LP released by Enfant Terrible): Dada Di Musica ("Flat flat" is a great minimal pop song) and The Two ("Love Is Not Enough - Demo" is a particular mix of atmospheres a la Vangelis and an electro pop tune). Geff Walton with "Danger boy" is bringing us an mid tempo synthpop song with a nice refrain. Boys Du Severe were coming from Canada and were participating to the Neoism/Monty Catsin circuit and their "Mondmädchen" sounds mysterious without losing attention to the melody. From Australia, Informatics and the project of their singer, Valek, are next with "Shed Your Skin" and "I, Foreign Eye". The first ones sound less poppy and more aggressive paragoned to what listened before and their tune is dark and catchy at the same time. Valek, instead, is more particular as he sounds like influenced by new wave and D.A.F. Bernd Kunze, from Germany, is on this compilation by "accident" (words by Marc, label's owner) and his "Own World" is a rhythm less introspective song with two synth lines and his voice. From the U.S. we have The Higher Primates that with "After image" are exploring the thrilling possibilities of electronic music composing a slow scary pop tune. The Canadian band Vex are here with a track recorded back in 1979: "DNA" sounds a little punk/wave and with guitars and drums we have a synth performing interesting solos. Invisible Zoo are here with "How can I be sure", an energetic pop song with driving guitar lines and light synthpop melodies. The American solo project Solitaire is bringing his despair into sound with a catchy dark electropop tune: "After dark". Gilded Youth from Australia (band which had a Second Glance member on their line up) are here with "Please Don't Kiss", a new-wave synth melancholic song. The Perfect Jewish Couple, from the U.S., present here a song coming from their self-released CD titled "Nuclear Blues", a song that has electronics, particular violin solos and a wave voice. Wow... I'm done and I suggest you to get your copy in a hurry, because only 400 copies are available for you.
image not
available
anymore
Artist:
PUNX SOUNDCHECK
Title:
The Legends EP
Format:
12"
Label:
Pale Music International
Distributor:
Neuton
Rated:
It's some time that I was waiting for a new Punx Soundcheck release. Their double album released a couple of years ago amazed me (see my review and my interview with them), so I was willing for more. This new E.P. contains two reworked tracks coming from their debut album (the night versions of "Idiot crowd" feat. Boy George and "In the dark" feat. Steve Strange) plus two new ones featuring Marc Almond (now is explained at full the reason of calling this E.P. THE LEGENDS), with one of his passionate performances on "Saint now" (a 4/4 sensual dance mid tempo) and Linda Lamb (she's active as a solo performer and did also a 12" on Gigolo Records as well as being active with the Silures) on "Flowerpower" (an electro mid tempo that sounds like an electronic march with the sexy vocal performance of Linda, aided by Marc Almond on some duets). As usual Punx Soundcheck did a good work and if you loved their previous release for sure you'll dig this one also.
Synth Pop / Electro Pop / Synth-Electronica
Edit (4404)
Artist:
VV.AA.
Title:
Future Sound of Jazz Vol.11
Format:
CD
Label:
Compost Records
(@)
Distributor:
Roof Top Promotion
Rated:
Jazz has gone through many changes in these many years, from Dixieland, the Big band, to Bebop, to Fusion, to Hard Bop to Free Jazz and everything in between and everyone has their favorite in this most malleable of forms. What makes it jazz? The instrumentation? The beat? Does it really matter? To purists it certainly does, the conservation of traditions and forms are set in history and easily demonstrable. But musical forms never stand still in my experience and definitions thus must change as well. With all that said the producers of this eleventh compilation from Germany find themselves unapologetic in their use of the word jazz to describe what they are about. They do take it upon themselves to precise the definition with a category called "advanced dance music" thereby I believe expressing the central theme of the importance of the beat. In these tracks we find all manner of musical expression building on a "jazzy" beat loop. So if the music is built on jazz rhythms is it still jazz, no matter what else is layered on top? After all, Jazz is no stranger to mixtures of beat and non-Western culture. As with all compilations there will be tracks you like and those you don't, but that's the fun of compilations. There's a chance you might discover something that opens up the chakras.