Synth Pop / Electro Pop / Synth-Electronica
Edit (4887)
Artist:
Interface
(@)
Title:
Destination Focus
Format:
CD EP
Label:
Nilaihah Records
(@)
Distributor:
Nilaihah Records
Rated:
Interface- Long Island, New York Synthpop/Futurepop band that's been around for quite a long time, since 1993 in fact. They sound kind of like Information Society, De/Vision, Psyche, Seabound, Neuropa, The Echoing Green, Underwater Pilots and a host of others in the genre. They've been on a number of comps (Cryonica, A Different Drum, Alfa Matrix, etc.), have half a dozen releases including this one to their credit, and an upcoming full album release in 2009. In 2005 they hooked up with Nilaihah Records, probably a good move for them. TTo their credit, hey seem to maintain a pretty active profile in spite of about 20 other bands having the same name.

On this 7 track EP, there are 5 versions of the title track- "Destination". First is the single version, then the "State of the Union Remix", the "Code 64 Remix", the "Mindless Faith Remix" and "North Star". The song is basically straight-ahead futurepop with a generically memorable hook- ("I will be your destination, I am the promised land, You will be my inspiration, you make me understand") and a strong dance beat. Vocals done in a clean, minimally processed fashion (a bit of chorusing). Typical elements in the single version- futurepop synths, sequencing, a dash of vocoder for accents. The "State of the Union Remix" is a bit heavier than the single version, eliminates the synth excepting the bass on the verses, and pumps up the synth hook on the chorus, and the vocoder. The "Code 64 Remix" begins with a strong synth bass, rearranges the synth parts on the verses (from none on the first verse, to a fuller sequenced pad on the second) before the first chorus, which is handed off to female vocalist Rachel Feder. She gets only minimal string and a hyperactive bass backing for her solo vocal. This is quickly followed by a Casio-like sequenced melody carrying back into the refrain with vocals handed back off to Interface's Eric Elredge. Another Casio-ish synth counter-melody emerges briefly. This is probably the weakest track on the CD. The "Mindless Faith Remix" might be the heaviest remix but it's so junked up with sonic effluvia that it sounds distorted. Call it industrial, whatever. It does offer more open spaces which might be a good thing for the dancefloor but (DJs be warned) shaky soundsystems are gonna cry uncle over this one.

"North Star" is nothing more than "Destination" without any chorus hook in it all and a lot of busy sequencing. "Inferno" reminds me a bit of Covenant in the beat and synth departments, and might have been pretty good if there was a song in there somewhere, but I couldn't find one. Still, it might make good dancefloor fodder. "After Hours" is the final and quirkiest track on the EP, and offers something a little different than the 6 dance oriented tracks that precede it- mid tempo with a repeated vocal refrain about drifting away, swathed in a cloud of verb and echo and an off-kilter synth line.

So what's the final verdict? First, if you've never read my reviews before, don't get the impression that I don't like Synthpop and Futurepop because I do, when it's original and engaging. The problem is here, that the featured song here sounds a bit genre-generic and the remixes aren't all that compelling. Passable dancefloor fodder, but unless you're a DJ (and they usually get copies gratis) what's the point? Yes, it's competent and well-produced, but for 8 bucks (or more!) I'd pass. Maybe if it was half-price it might be worth it for the "Inferno" Covenant-style instrumental track. You could add in your own vocal track and send it back to the band. They might even be amused. Hopefully their upcoming 2009 full album will have a lot more to offer than what I've heard here.

image not
available
anymore
Artist:
Intercity3
Title:
Love The Way You Are
Format:
Download Only (MP3 only)
Label:
Urbcom
(@)
Rated:
This is the first official release of this London-based collective, which can look back on a promising compilation appearance with their track "Windows" on the 2-years-old Urbcom double-CD release "Recreation V. 2". "Windows" brought in unexpected success, so the call for new stuff was loud enough to release now this 7-track EP, again via Urbcom. Responsible for the machinery and controls is D. Escott, better known with his very own AWAX project, which too is related with Urbcom. For INTERCITY3 different vocalists got hired, like the both females Catasha Kin, a London-based singer, promoter and DJ, as well as the Brighton-based Liz Andrews (SWARF) and the Danish PROJECT-BLUE-musician Martin Holt. So from the vocal part, there's quite diversity, but also musically INTERCITY3 can't be thrown into only one cupboard. The music takes elements out of up-to-date sounding Synth-/Futurepop themes, inserts also Trance and House elements, but also harder EBM evoking an enjoyable Industrial ambience got included. A quite interesting sound outfit, since no track comes out in an expected kind. Best moments are offered with the nearly Indie-/Alternative-sounding track "Freaks", featuring an energetic D. Escott in front of the micro, but also both last track "Catch Me" and the nearly 7 minutes clocking "Supersonic Dreams", which offer impressive Electronica arrangements. Completely well done, entertaining and recommendable, I hope for a full-length album of this project.


Synth Pop / Electro Pop / Synth-Electronica
Edit (4863)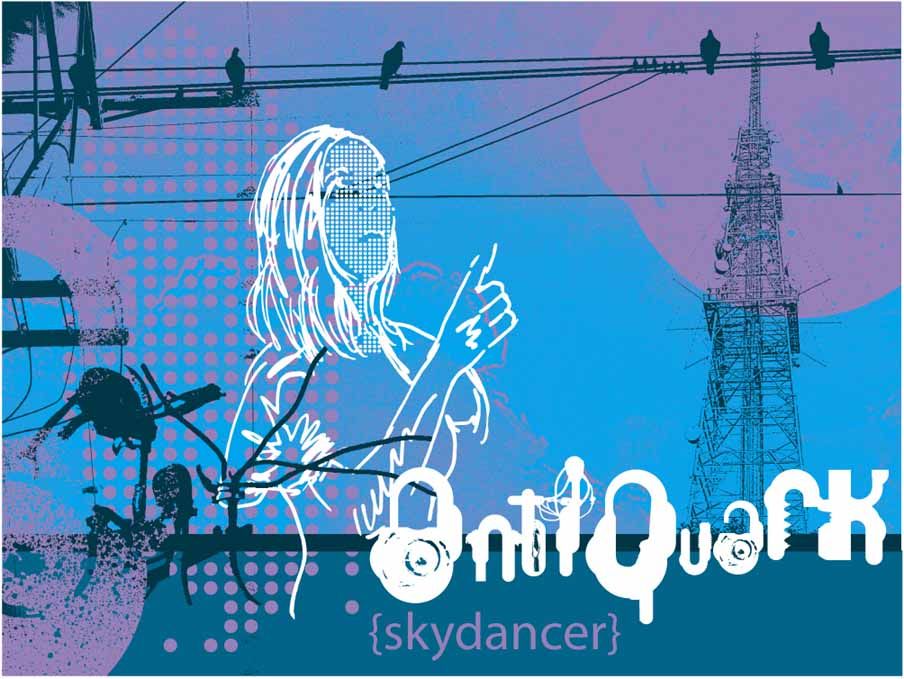 Artist:
ANTIQUARK
(@)
Title:
SKYDANCER
Format:
CD
Label:
HUNGRY EYE RECORDS
(@)
Distributor:
http://www.hungryeyerecords.com/
Rated:
SAN DIEGO I LOVE YOU! This CD is an homage to psychedelic party life, sounds and electronic carpets are really, the voice follows the rules of NEW VAWE, but the sound atmosphere wanna be huge like Pacific Ocean; great work, easy to listen and easy to love above all. For sure they will play a lot in club this project is made to dance over beach. It's the proof that a dance project has to be SIMPLE AND DEVOTED TO FUN first to be a complex structure of glitch and other electronic strange entities. The DUO behind the name: "She is the composer and producer of AntiQuark music. Sergio, the voice, joined the project in 2006. He formally studied singing at the University of Texas and garnered extensive experience performing with a variety of bands. He also worked as a radio-DJ and sound-engineer before moving to California." From the website of the LABEL, Hungry Eye rec., a small but intelligent USA label devoted to underground ideas and content with a god attitude for booking.
Artist:
BRIAN CARES
Title:
FINGERPRINTS
Format:
CD
Label:
Bar 25
Rated:
Born in the 80s in East Germany Brian Cares is an artist or the Bar 25 roster and after several years of 12"s and E.P.s the next February he will have his full length out. Teaming up with Justine Electra, Raz Ohara and Jake The Rapper and Howard Katz, whom helped him on vocals, Brian's album is also the first release of the FINGERPRINTS series. The project is inspired by the format of a radio-show playing songs of no particular style but held together by the "fingerprints" of the producer and the participating artists. The nine tracks of the album are fitting really well the original intentions of the project: Brian made tracks that span from the jazzy house of the opening "Conclusion" followed by the electro soul of "No more play" just to pass through a particular electro latino spoken word titled "Saysay" with the charming vocals of Justine Electra. "Trust" instead is a mix of shoegazer pop song and house while "40 degrees" and "Dissolve", thanks to Raz Ohara vocals, seem a minimal techno soul cover of Prince songs: sensual and electronic sounds for you to dig. Electro/hip-hop is on with the cool Jack The Rapper performance on "Hey dj!". The bonus track "Sensational" is an electro mysterious one while the closing "The beginning" is a particular blues track with Howard Katz singing on treated beatbox samples. You can preview some songs on Brian's myspace page.
Synth Pop / Electro Pop / Synth-Electronica
Edit (4844)
image not
available
anymore
Artist:
COLOR THEORY
(@)
Title:
The Thought Chapter
Format:
CD
Label:
11th Records
Rated:
Six years after his latest studio album containing original songs (the beautiful Depeche Mode cover album "Color Theory presents Depeche Mode" has been released in 2003 but I'm not counting it now) titled "Something Beautiful", Brian Hazard a.k.a. Color Theory is back with a new album titled THE THOUGHT CHAPTER. Well, the first thing that pops out while listening to the eleven songs plus the Death Cab For Cutie cover of "Photobook", which originally has been released on 2000 on their "The Forbidden Love" E.P., is that Brian thought a lot: if "Something Beautiful" was piano driven and more acoustic on THE THOUGHT CHAPTER the experience of covering DM songs affected his songwriting and his way of arranging a track. The album sounds more electronic and richer. The instruments are well balanced and the characteristic Brian's song gain in pathos sounding more effective. "Hypothetically" for example could be a perfect simple piano/vocals song but the choice of picking up a synth sound where the notes sound like a mix of an hammond and a synth open up the sound and when the piano plays few chords the atmosphere changes again. Also the choice of using different drum machine sounds widen the sound palette and also recording upbeat songs like the following "If not now when", "Behind the rhine" or the great "Zero crossing" has been a wise choice because Color Theory fans will felt rewarded for the waiting. Check some songs at Color Theory website and if you are fans of bands like The Lotus Eaters and you like also electronic sounds, this is your time to give to Brian a chance... P.s. I'd like to give kudos to the four Maya Klein's drawings because they match perfectly the atmosphere of the album