image not
available
anymore
Artist:
Digital Geist
(@)
Title:
Motorcade EP
Format:
Download Only (MP3 + Lossless)
Label:
self-released
Distributor:
CDBaby
Rated:
It's unbelievable, that a new audio sign of life behind the New York-based Electronica-project DIGITAL GEIST has taken 3,5 years in the making, since the last album, the high prolific and awarded "The Zero Engine", has been a promising start into a seemingly bright future for this act. This music project of Alex Kourelis and his partner N3wt offers with this EP 4 new and long-awaited tracks. Still providing the state-of-art regarding sound and recording quality, his newest audio results convince the audience once again with skillful Electronica sequencer works, modern synthesizer sounds and a straight and steady beating rhythm section. Mainly active in an attractive form of Techno-/Trance-related sound environment, this EP is an appetizer for an upcoming new album as well as a promotional tool for live performances. The opening track "Aeroplane" may works as being the best tune here, especially its deep drilling synth bass lines approving Alex' and N3wt's talent to create modern sounding arrangements, which also entertain the listener under a pair of headphones. Second and third track is "Luna Patrol" in two parts, which both push the speed to a higher and more dancefloor-oriented level. Since both parts got right in time separated into two versions, this track – consumed in one spin – gets a bit too repetitive. Last, but not least, they present us the title tracks of this EP, which continues with a comparable bpm number, as well as with a guest appearance of Bill Boulden/Spruke for the vocals. This guy also provided some guitar riffs to back up the depth of the arrangements for this track, which means a relatively new form to express music for DIGITAL GEIST. Only 4 tracks and 21 minutes aren't enough, to catch an impression of the whole DIGITAL GEIST sound empire – no wonder, since "The Zero Engine" is still in mind. This EP sounds promising enough, to bridge easily the time for the next full-length album.
image not
available
anymore
Artist:
PLAYDOE
Title:
Bubble & Freeze
Format:
Download Only (MP3 + Lossless)
Label:
Leonizer Records
Rated:
Distributed by Juno Digital, BUBBLE & FREEZE is the newest Playdoe release. It contains two new tunes by the South African duo, I interviewed some months ago, plus nine remixes of the main song. "Ice cream" is an upbeat electro tune with hip hop vocals and grime bass/drums rhythms. It's refrain will stick into your head and make it perfect for a sunny ride near the seaside while surfists cover the horizon. Also the female/male duets are making of this a really catchy song. "Champoon" is more focused on electro hop standards with its mid tempo rhythms and dark atmospheres. With these new tracks Playdoe confirm themselves a great band that for sure are ready for releazing an album that for sure will be a blast. Last but not least on this digital release you'll find nine remixes of "Ice scream" that are able to enhance its melodies or change it in particular ways (check Kaptain Cadillac dry version where picked guitar samples change the song in a nice way). Riot Kid, Kaptain Cadillac, Zôl & Illstm, Square Tune Magician, Digital Fighter, Club Cheval, D.L.i.d and Chris de Luca are giving their best to entertain you and make you dance... a great song for great remixes.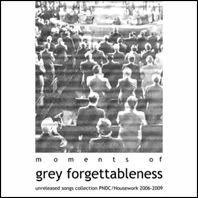 Artist:
PNDC / HOUSEWORK
Title:
Moments Of Grey Forgettableness
Format:
CD
Label:
Listen Loudest Records
Rated:
Like thieves that return always on their steps also PNDC/Housework went to their vaults and found that they had a lot of unreleased material as well as remixes, demos, etc. MOMENTS OF GREY FORGETTABLENESS gathers twelve of these tracks where you can appreciate the experimental approach of the project applied to the electronic/wave/rock formula (check the guitar solo on the unreleased track "Properties", for example). Electronic arrangements and pop sensibility meet guitar riffs and the personal vocals of Housework giving to the listener a wide choice: orchestral craziness meet vocal introversion on "Binocular / Oh my God, it's true" or rock cover-ism is mixed with guitar noise on the "Inagaddadavida / Dream about love" medley. There are also demos like "Unless" or "Pink cave" where you can check sounds similar to the previous two albums produced by the Serbian / Greek duo.
Synth Pop / Electro Pop / Synth-Electronica
Edit (5624)
image not
available
anymore
Artist:
VV.AA.
Title:
Global Surveyor Phase 3
Format:
CD
Label:
Dominance Electricity
Rated:
Available in CD as well as a three vinyl edition and on digital format at the usual retailers, GLOBAL SURVEYOR PHASE 3 is, as stated by the title, the third chapter of the series compiled by Matthias Weise (a.k.a. Sbassship, TRV, etc). Released five years from the second chapter, this new gathers twenty one killer electro tunes, which taking inspiration from the cover painted by David A. Hardy (the longest established living space artist, European vice president of the International Association of Astronomical Artists), bring to the lovers of deep synthetic bass lines and analog waves tracks that mix hard beats, spacey ambient synth sounds and electro bleeping sounds. Matthias, along with bands coming from Dominance Electricity roster, called in Keith Tucker (a.k.a. K1 from the legendary Detroit band Aux88), Middle Men (a.k.a. Phil Klein, famous for making music under the Bass Junkie moniker), Gosub (famous Miami project of Shad T. Scott) and Mesak (one half of Mr. Velcro Fastener). We have plenty of tunes to dig and electro sounds from all over the world with participants coming from Sweden, Holland, Serbia, Lithuania, Germany, England, U.S.A. and Finland. As usual for compilations some tracks stand out and in our case I won't make you miss the following: DJE's "Defiler" (its electro sounds mixed with middle Eastern melodies will catch your attention in no time), Global Surveyor feat. K1 & Gab.Gato's "Global Surveyor (DBS Remix)" (finest bouncing electro), Middle Men's "Space Quest" (cool deep vocals and upbeat electro mysterious melodies to dig), Lektroid's "Modular" (breathtaking electro funk), Gosub's "Folding time" (classic Gosub bass sounds with catchy ambient atmospheres), Sbassship's "Fall" (classic Sbassship's sweeps coupled with upbeat tempos), Varia's "Night Drive" (atmospheres a la Klaus Schulze for this project), Direct Control's "Stars" (classic electro that you'll love if you dig Sbassship) and the closing spacey threatening ambient sound of CPU's "Signals from the Dark". You can download the 10 minutes teaser here http://www.saveoursounds.net/music/gs3/gs3t192.mp3
image not
available
anymore
Artist:
MT. SIMS
Title:
Happily ever after... again
Format:
CD
Label:
Punch Records
(@)
Rated:
Mount Sims isn't a newcomer even if under the moniker Mt. Sims he previously recorded only one album for Hungry Eye. In 2002 he released his first album "Ultra sex" on the famous label Gigolo Records and devastated the dance floors with the instant electroclash hit "Hate fuck". Three years after, he came back on Gigolo with his second and last album under his own name. On "Wild light" we have the first signs of the sound changing: on "No yellow lines" we already had bass guitar (with tons of effects) and melodic lines that can recall the tracks that he released on "Happily ever after" in 2008. Mt.Sims is now a band where Mount/Matthew sings and plays with André Lang and Randy Twigg, the sound has changed to pure electronic distorted pop into an hybrid where you can hear echoes of garage punk, electro, post punk ("Fall back" sounds like an outtake from the first Christian Death album) and much more. Guitar, drums (sometimes drum machines) and bass guitar are used to create dark pop tunes where melodies stick into your head. The Knife wanted him to collaborate with them (and with Planning To Rock) for a special album titled "Tomorrow, In A Year" and this isn't a casualty. Mount Sims at first wanted to do a simple European version of the album but Tairy at Punch Records, always willing to keep his releases appetible, succeeded into convincing him to keep only three tracks from the album and one from the MLP released just before that. Mt. Sims prepared new tunes and thanks to Tairy we have HAPPILY EVER AFTER... AGAIN packed with songs that, like the old ones, mix electro (like the dark melancholic "The shattering of crystal" or the bouncing dancey "Candy coated") and post punk creating an explosive mixture. Editors or Knife became famous because of their sound but people should be aware also of Mt. Sims... they deserve it!