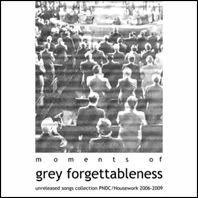 Artist:
PNDC / HOUSEWORK
Title:
Moments Of Grey Forgettableness
Format:
CD
Label:
Listen Loudest Records
Rated:
Like thieves that return always on their steps also PNDC/Housework went to their vaults and found that they had a lot of unreleased material as well as remixes, demos, etc. MOMENTS OF GREY FORGETTABLENESS gathers twelve of these tracks where you can appreciate the experimental approach of the project applied to the electronic/wave/rock formula (check the guitar solo on the unreleased track "Properties", for example). Electronic arrangements and pop sensibility meet guitar riffs and the personal vocals of Housework giving to the listener a wide choice: orchestral craziness meet vocal introversion on "Binocular / Oh my God, it's true" or rock cover-ism is mixed with guitar noise on the "Inagaddadavida / Dream about love" medley. There are also demos like "Unless" or "Pink cave" where you can check sounds similar to the previous two albums produced by the Serbian / Greek duo.
Synth Pop / Electro Pop / Synth-Electronica
Edit (5624)
image not
available
anymore
Artist:
VV.AA.
Title:
Global Surveyor Phase 3
Format:
CD
Label:
Dominance Electricity
Rated:
Available in CD as well as a three vinyl edition and on digital format at the usual retailers, GLOBAL SURVEYOR PHASE 3 is, as stated by the title, the third chapter of the series compiled by Matthias Weise (a.k.a. Sbassship, TRV, etc). Released five years from the second chapter, this new gathers twenty one killer electro tunes, which taking inspiration from the cover painted by David A. Hardy (the longest established living space artist, European vice president of the International Association of Astronomical Artists), bring to the lovers of deep synthetic bass lines and analog waves tracks that mix hard beats, spacey ambient synth sounds and electro bleeping sounds. Matthias, along with bands coming from Dominance Electricity roster, called in Keith Tucker (a.k.a. K1 from the legendary Detroit band Aux88), Middle Men (a.k.a. Phil Klein, famous for making music under the Bass Junkie moniker), Gosub (famous Miami project of Shad T. Scott) and Mesak (one half of Mr. Velcro Fastener). We have plenty of tunes to dig and electro sounds from all over the world with participants coming from Sweden, Holland, Serbia, Lithuania, Germany, England, U.S.A. and Finland. As usual for compilations some tracks stand out and in our case I won't make you miss the following: DJE's "Defiler" (its electro sounds mixed with middle Eastern melodies will catch your attention in no time), Global Surveyor feat. K1 & Gab.Gato's "Global Surveyor (DBS Remix)" (finest bouncing electro), Middle Men's "Space Quest" (cool deep vocals and upbeat electro mysterious melodies to dig), Lektroid's "Modular" (breathtaking electro funk), Gosub's "Folding time" (classic Gosub bass sounds with catchy ambient atmospheres), Sbassship's "Fall" (classic Sbassship's sweeps coupled with upbeat tempos), Varia's "Night Drive" (atmospheres a la Klaus Schulze for this project), Direct Control's "Stars" (classic electro that you'll love if you dig Sbassship) and the closing spacey threatening ambient sound of CPU's "Signals from the Dark". You can download the 10 minutes teaser here http://www.saveoursounds.net/music/gs3/gs3t192.mp3
image not
available
anymore
Artist:
MT. SIMS
Title:
Happily ever after... again
Format:
CD
Label:
Punch Records
(@)
Rated:
Mount Sims isn't a newcomer even if under the moniker Mt. Sims he previously recorded only one album for Hungry Eye. In 2002 he released his first album "Ultra sex" on the famous label Gigolo Records and devastated the dance floors with the instant electroclash hit "Hate fuck". Three years after, he came back on Gigolo with his second and last album under his own name. On "Wild light" we have the first signs of the sound changing: on "No yellow lines" we already had bass guitar (with tons of effects) and melodic lines that can recall the tracks that he released on "Happily ever after" in 2008. Mt.Sims is now a band where Mount/Matthew sings and plays with André Lang and Randy Twigg, the sound has changed to pure electronic distorted pop into an hybrid where you can hear echoes of garage punk, electro, post punk ("Fall back" sounds like an outtake from the first Christian Death album) and much more. Guitar, drums (sometimes drum machines) and bass guitar are used to create dark pop tunes where melodies stick into your head. The Knife wanted him to collaborate with them (and with Planning To Rock) for a special album titled "Tomorrow, In A Year" and this isn't a casualty. Mount Sims at first wanted to do a simple European version of the album but Tairy at Punch Records, always willing to keep his releases appetible, succeeded into convincing him to keep only three tracks from the album and one from the MLP released just before that. Mt. Sims prepared new tunes and thanks to Tairy we have HAPPILY EVER AFTER... AGAIN packed with songs that, like the old ones, mix electro (like the dark melancholic "The shattering of crystal" or the bouncing dancey "Candy coated") and post punk creating an explosive mixture. Editors or Knife became famous because of their sound but people should be aware also of Mt. Sims... they deserve it!
image not
available
anymore
Artist:
D.J. Golubb (@)
Title:
Underground Pathos
Format:
Download Only (MP3 + Lossless)
Label:
X-Line / Alter-X Promotion Group
(@)
Rated:
First, I'm always skeptical with DJ's trying to convince the audiences with self-produced Electronica music, since several results can be called that weak, that a recommendation would be utterly mockery. Secondly, to start an album with a cover version on "Fade To Grey" of VISAGE including the usage of poorly vocoderized vocals, can be called as being the biggest mistake an artist can produce. Luckily the next 2 tracks, aptly titled "2" and "3", are musically far away from plain Tech-Dance music – both can be placed into the wide field of modern IDM/Electronica and giving some surprisingly well-done references. The integration of experimental and noisy FX and percussion elements results in amazed faces of the listeners. At least with the 4th track, "Space", starts Mr. GOLUBb in that expected manner, to produce danceable and consumer-friendly Electronica. Both tracks, "Space" and "Illusion", can satisfy with a well-done catchy synth-play. "Robot Voice" seems to be his best track so far, it features a matured sound environment, well inserted samples, and offers a slightly nostalgic touch to some 80ies revival bands. The following tracks, as well as an alternative version to "Robot Voice" and a remix on an ID MOLOTOV-track, are turning too much into the Techno-/Trance-genre. Diversity seems to be the trademark for D.J. GOLUBb and he has created several right decisions. "Underground Pathos" is may lesser designed for the EBM-purists, but an interesting addition to the X-Line roster.


Artist:
Autoclav1.1
(@)
Title:
Where Once Were Exit Wounds
Format:
CD
Label:
Tympanik Audio
(@)
Distributor:
Ant-Zen
Rated:
A complete new studio album from the UK-based IDM/Electronica-based project AUTOCLAV 1.1 only a year after his last release "Love No Longer Lives Here", but this shouldn't wonder anyone, because there can be easily drawn a fine stylistically connection between both albums. Tony Young seems to reach more and more trust into a straight and linear rhythm programming, also his usage of orchestral-like strings, acoustic guitars and dominant piano sounds rather speaks for a developing musician. I found myself to pick out one of his older albums to recognize clear the differences. The days of his notorious and abstract IDM-related rhythm pattern programming are definitely over – if there's still available a glimpse of this past, just check the percussion work of both new tracks "When We Woke Up" and "These Walls Have Seen All". Nearly all other tracks convince through its straight-forward and mostly 4/4-on-the-floor-like pattern structures, as well as the above mentioned instruments offer a lot of organic "life" and catchy moments to the music of AUTOCLAV 1.1. Some guest contributors can be heard too, Rachel Haywire for short introduction of "When We Woke Up" or his long-year friend Jamie Blacker of ESA, who provides vocals and some guitar inserts on "Do You Feel Disposable?". That tasteful black/white photo-artwork got done by Salt (Ant-Zen/Hymen Records), mastering provided by Metarc – well, you'll get the finest art tools asides nearly 50 minutes of purest audio entertainment. Because of its highly acoustic content, this album differs enormously compared to nearly all other label horses out of the rich Tympanik Audio stable, with the exception to AD-VER-SARY maybe. Someone out there to argue against diversity of the label roster?