Artist:
RHYTHM MONKS
Title:
Primal Beat
Format:
12"
Distributor:
Zebralution
Rated:
Formed by a team of mysterious producers that live in the Berlin area, the Rhythm Monks will release a 12" titled PRIMAL BEAT, on July the 21th. It contains three versions of the main track which into its video edit version is based on a rhythm popular in the Siguiri, Kankan and Kouroussa regions in Africa which is used during disputes among the men of the villages. This preamble is to make people understand that the team wants to link their music to the tribal origin of music where rhythm was playing a basic part of life. The original tune has an involving rhythm, a simple bass line and fresh vocals thanks to their guest, Barbara Panther. The whole result is a nice dance electro pop summer song with tribal approach. The other two tracks are remixes by Timo Maas (he did a great techno electro tune with driving rhythms and saturated sounds) and Mutant Clan (their version of the song show their ability to make techno psychedelic sessions, as it seems kinda mixed during a live performance). In my opinion this single is a summer release that is kinda hiding what is next, because judging by the video posted on the Rhythm Monks website their are capable of much more. They have an innovative show make of screen projections and interactive midi music/images system. As remported on their website: "All-shaped drums with electronic pads, a robot built by robocross.de as well as unique projection techniques are part of the extraordinary show".
Synth Pop / Electro Pop / Synth-Electronica
Edit (5754)
Artist:
CCCANDY
Title:
Lonesome Berlin
Format:
12"
Label:
Avant! Records
(@)
Rated:
Limited to 300 copies, LONESOME BERLIN is the first vinyl album of Cccandy, a musical project of a 20 years old guy who's living in Berlin. The twelve tracks are based on analog synth sounds and basic melodies and most of the times the vocals are loud and kinda saturated but sometimes you have to admit that less is more. 4/4 rhythms, stops and go, synth layers now added and now removed compose a stripped to the bone structure that sound good because the essential is there and if you love early 80s electronics, you already know that those familiar bleeps and fat bass lines will make tremble your spinal bones. Sometimes melodic and sometimes desperate (check the tense atmosphere of the closing "Blood & guts" these songs are ready for your ears into their rawness. "Lonesome Berlin", "I'm A Punk", "Police Offizier" or "Boredom" are ready to be your city anthems...
Synth Pop / Electro Pop / Synth-Electronica
Edit (5753)
Artist:
KRYSMOPOMPAS
Title:
Gesa
Format:
7"
Label:
Avant! Records
(@)
Rated:
After their double album "Heute Schlafen - Morgen Aufwachen" released on S-S Records, Krysmopompas are back with two short tunes on Avant! Records. GESA is a 7" where you'll find the same title song on side A and "Wolker" on side B. The first song is carachterized by an old Casio rhythm/distorted guitar duet which is alternated to a psychedelic bass/vocals intermezzo just to start again. "Wolker" is a sort of cold wave song with obsessive electric guitar/bass lines where a German spoken word piece does the rest. The only rhythm of the track is played by a echoes of a synthetic siren. The single lasts about six minutes but in this short time Krysmopompas show their experimental vein applied to cold wave sounds and I must admit that they don't lack of originality!
Synth Pop / Electro Pop / Synth-Electronica
Edit (5745)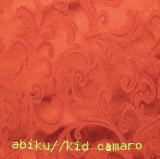 Artist:
Kid Camaro
(@)
Title:
1. drop, 2. Dusk
Format:
7"
Label:
Automation Records
(@)
Distributor:
CD Baby
Rated:
8-bit IDM, at times simple and cute, at times a bit a sad. Other times quite manic and just a bit upset. Sounds like a usual day to me.
Synth Pop / Electro Pop / Synth-Electronica
Edit (5739)
image not
available
anymore
Artist:
INTERNATIONAL HYPER RYTMIQUE
Title:
Uncity Nation
Format:
CD
Label:
Ocean Music
Rated:
Interesting debut album from this French band, they play a kind of pop rock which owes a debt to band like Blonde Redhead and Pulseprogramming. It's unusual from releases like this, but the best part of it, are the experimental pieces like "Monday 7 24", "City nation" and "La plus petite tempête de neige". The rest is well written and played, it's a good car album but non so original to say it will be in any playlist of the year.