Synth Pop / Electro Pop / Synth-Electronica
Edit (5584)
image not
available
anymore
Artist:
Hungry Lucy
Title:
Pulse Of The Earth
Format:
Download Only (MP3 only)
Rated:
Hungry Lucy have been around for over a decade, and I've definitely enjoyed everything that I've heard from them in the past. "Pulse Of The Earth" is to the best of my knowledge the fourth full length album from this trip-hop/ electro-pop/ darkwave duo, and it is in a somewhat more organic direction than their previous releases. By "organic", I guess I mean that while the songs are still heavily electronic, there is also quite a lot of piano and occasional string work mixed in as well, and also there is a little more emphasis on Christa Belle's vocals (not that she was at all lacking in vocal presence in the past). These are all definitely good changes.

All of the 10 tracks here are extremely well produced and arranged, with a very potent emotional resonance to them.
These songs are all very lush and dramatic, both in theme and in sound, much like their contemporaries BloodWire (who I like a great deal).




It's hard to pick favorites from these tracks, since they're all quite good, but there are definitely a few that stand out: "Balloon Girl", with it's catchy chorus yet somewhat sombre tone (it kind of makes me think of what Depeche Mode could sound like with a female vocalist), "Bumble", which reminds me a little bit of mid-nineties era Tori Amos, and "The Standing Ones", which has another amazing chorus, as well as some orchestral stabs in the middle that seem quite close to the opening part of the imperial march from Star Wars. "Sunday Smiled" is also a highlight for me as well. But like I said, all of these songs are great, so it's hard to choose.


All in all, "Pulse Of The Earth" is a warm, beautiful piece of dark electronic pop music. It is currently available as a free download, so you have no excuse not to check out this masterpiece. You won't regret it, I promise!




Synth Pop / Electro Pop / Synth-Electronica
Edit (5578)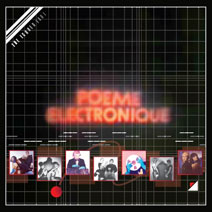 Artist:
POEME ELECTRONIQUE
Title:
The Echoes Fade
Format:
12"
Label:
Anna Logue Records
(@)
Rated:
We left Poeme Electronique two years ago with the release of a renewed version of The Echoes Fade 7" and we already knew that something else was going to be released but I wasn't thinking it would be this huge! THE ECHOES FADE double vinyl album contains sixteen songs recorded during the 1981/1982 period of which fourteen are never been released before! Basically this is an extended version of the first Poeme Electronique unreleased album. The first record begins with the original 7" versions of "The echoes fade" plus "Voice" and follows with "Rendezvous" and "She's an image" the first tracks of the unreleased lot. Since the first melodies I hear echoes of Gary Numan and Toyah/Nina Hagen for the vocal parts and this is so true on "Theories" thanks to the rich female vocals and the synth lines. With "Inside his Head" the atmosphere gets darker and robotic late 70s synth lines (it recalls me of "Oxygene") are the perfect background to a theatrical vocal performance. A perfect atmosphere for a song that talks about someone in coma (the refrain says: "Oh God don't let him stay this way, hear my prayer and what I say, release him from the cage he's in, bring him out of this tormenting"). Also "Fragile" offers interesting atmospheres coupled with upbeat rhythms, a catchy refrain and tons of synth leads and bleeps. The second vinyl opens with a slow epic/atmospheric tune titled "It's in the atmosphere", it introduce you to a sort of horror poem where the refrain says: "It's in the atmosphere, on the wings of the breeze, the force of almighty, in the tombs of the beasts". Also "This night" is quite atmospheric while the following "My complicated personality" mix upbeat tempos, pop sensibility and a certain dark feeling. Poeme Electronique used electronic equipment but weren't minimal at all (all their songs have many synth sounds and rich arrangements) and unfortunately they had to wait for thirty years to get the exposure they deserve! If you are a vinyl addict don't miss this luxurious gate-fold edition with glossy inner sleeves with lyrics of all the songs, as well as individual mini 7" sleeves for each of them. Next to follow Anna Logue will issue also the CD but I don't know if it will include all the tracks.
Artist:
STRIP IN MIDI SIDE
(@)
Title:
Strip In Midi Side
Format:
CD
Rated:
Strip In Midi Side is a band coming from Sarno, near Salerno, Italy. They just produced a demo CD with five tracks (you can check four of them on their myspace page): "A strip in your midi side", "Everyday like this", "The dreams", "Bring me down" and "Sweet bastard". They call their style neuro-pop and claim themselves influenced by Depeche Mode and Marilyn Manson. Well produced and mixed Strip In Midi Side's music is a a nice blend of electronic pop and guitar riffs. Personally I hear more Duran Duran than Depeche Mode or Marilyn Manson (check the refrain on "The dream") and this isn't a critique because I love the first two Duran Duran's album as well as the ones recorded with the original line-up reunited. Anyway, Giotto (vocals/synth), Amon (bass/vocals), Maks (guitar) and Akrid (synthesizer/programming/noises) are ready to get signed and they deserve it because their music is energetic, melodic and catchy. "Bring me down", for example, would fit well the alternative dance floors as it is a mix of goth, electro and new wave.
Synth Pop / Electro Pop / Synth-Electronica
Edit (5564)
Artist:
Pulcher Femina
Title:
Darkness Prevails
Format:
CD
Label:
Decadance Records
Distributor:
Broken Silence
Rated:
In 1998 Roberto Conforti recorded the first output of Pulcher Femina ("pretty woman" in Latin) which was released via the label Decadance Records same as all subsequent PF releases. A duo turned into a one-man-project later on but it did not stop Roberto from working on this project and developing its sound. "Darkness Prevails" is an electro popish sounding album, but not of a dull happy-chappy kind. The songs tell of personal and painful experiences or contemplations that do not give much reason for cheerfulness, while Roberto hints at love as the way out. Some may find the sound of "Darkness Prevails" too soft. Well, Roberto is does not write songs about dangerous viruses that would contain samples from catastrophe movies. Neither does he sing about bar-coded cyborgs and such. And by "sings" I mean singing with clear vocals and not shouting from the top of his lungs. Fans of Elegant Machinery may very well be interested to check this CD out. Most songs on this album fit probably better to be played at home than at a party with the exception of "Holy War" and "Face the Fear" that closes the album. Perhaps more energetic numbers would do no evil to the overall work. "Love you to Death" is a very beautiful song about the power of love and the strength it may give the sides involved. It also includes some oboe and piano passages (it is by keyboards actually).
"Darkness Prevails" is about people not seeing the light, as Roberto explains. It is not about one depressive guy sitting alone in darkness. The whole record is rather easy-light sounding and has lyrics worth listening to. Volker Lutz (Evil's Toy-T.O.Y.) is the co-producer of this album which was recorded, mixed and mastered in three different studios in three different countries in order to achieve best result possible. The effort was worthwhile from the technical point of view. From the artistic point of view this is probably best work by Roberto up to now. One thing is certain: Roberto has an unmistakable sound.

image not
available
anymore
Artist:
PULCHER FEMINA
Title:
Darkness Prevails
Format:
CD
Label:
Decadance Records
(@)
Rated:
Personal project of Roberto Conforti, Pulcher Femina has released its first album on Decadance Records in 2000 having as musical references Wumpscut and VNV Nation. Ten years after, Roberto is releasing for the same label his newest and third album titled DARKNESS PREVAILS. About the title he says: "Often, this is how I perceive the world around me. In the absence of light, darkness prevails. An age isn't called 'dark' because the light fails to shine, it's because people refuse to see it". This is the main theme the thirteen songs are focused on, songs that musically are always influenced by Roberto's aforementioned loved bands (see for example how he used the punching rhythms and the synth leads arpeggios) but that are also packed with melancholic melodies and clean vocals. In this way he created a particular blend where 80's melodies meet 90's e.b.m. solutions. Try to imagine a Frozen Autumn/VNV Nation mix and you'll have pretty much an idea of how DARKNESS PREVAILS sounds. I'm listening to it for the third time in a row and I have to admit that I like how it sounds: now melodic/energetic and then melancholic. If you love e.b.m. and cold wave you have to check this one. You'll be pleasantly surprised...