Artist:
Torn Hawk
Title:
Union and Return
Format:
LP
Label:
Mexican Summer
(@)
Rated:
"Union and Return" could be considered a personal and somehow joyful way of revamping the Romantic concept of "Sturm und Drang" by Berlin-based audio-visual artist Torn Hawk, if you acknowledge that the primary sources for inspiration for this album were the paintings of two Romantic landscapists like Caspar David Friedrich - I'm pretty sure many people saw his "Wanderer above the Sea of Fog" by leafing through some art history book during school age or as a cover artwork for some reissue of Nietzsche's writing - and Karl Friedrich Schinkel, Prussian city planner, architect and painter who poured his awesome architecture both in likewise remarkable paintings and all over former Prussia. In order to render their aesthetics and above all their poetics, Torn veered towards an impressive interbreeding of simple electronic textures and tidy sounds in between the symphonic majesty of Tangerine Dream and Klaus Schultze, new age-oriented chillwave and frequent raids into sonorities that could remind the dadaism of some child plays, the so-called epic ambient, soundtracks of video games related to the branch of dungeons and dragons and even new wave and synth pop stuff (if you check tracks like "Thornfield", "With My Back to the Tower" or "Our Knives", you will probably notice some echoes of sonorities that got largely used by Depeche Mode, The Chameleons or even The Cure). In the list of possible similarities I'd also include (maybe for some medieval nuances and the use of military snares in some tracks) some stuff by In The Nursery as well. The titles of the eleven tracks on this album are obviously references to Schinkel and Friedrich - for instance, "Feeling is Law" is a reference to a key quotation to understand Friedrich's poetics (he wrote in Thoughts on Art that "the artist's feeling is his law. Genuine feeling can never be contrary to nature; it is always in harmony with her. But another person's feelings should never be imposed on us as law. Spiritual affinity leads to similarity in work, but such affinity is something entirely different from mimicry. Whatever people may say of Y's paintings and how they often resemble Z's, yet they proceed from Y and are his sole property.") and the whole sonic environment he rendered by means of elegant and sometimes old-fashioned (some sounds seem to be taken from old MIDI presets...) intertwining of electronic patterns, gentle orchestration, smeared pads and layers of electric guitars evoke the vibrant visions of both painters as well as their strong connection with one of the golden age of German culture. If I have to indicate some glitches of Hawk's output, I will point to the limited palette of sounds as well as the already mentioned antique-like nuance, even if some of the most recognizable sonic "antiquities" are ingredients that highlight its charm.
Synth Pop / Electro Pop / Synth-Electronica
Edit (9407)
Artist:
Arctic Sunrise
Title:
When Traces End
Format:
CD
Label:
Echozone
(@)
Rated:
Sophomore album for the German duo of Torseten Verlinden (vocals) and Steve Baltes (electronics) who are Arctic Sunrise, following on the heels of last year's 'A Smarter Enemy'. While I liked that album well enough, 'When Traces End' is really a better effort, as experience can be a powerful motivator. What I like most about this album is its vibe; a hard to describe quality, but metaphorically, it squeezes the juice out of the darker aspects of 80's electropop distilling it down to a fine concentrate, then embellishes it with a modern millennial sensibility. Songs are moody and introspective, but not pointlessly angst-ridden as some of the gothier projects of the aforementioned bygone decade. The first couple of tracks have a Cure-ish sound to them musically. I really like the beat and descending staccato eighth-note synth line of second track, "Tell the Truth". The semi-cynical lyrics referring to people who lie to make themselves look good really resonated with me. The ambiguous "Mine Forever" might initially sound like an eulogistic love song to a deceased lover, but delve a little deeper and you can envision a psychopathic murder ballad. The guys create a great wistful atmosphere on "Let It Rain" and a kind of sinister one on "Over Me". Uptempo title track "When Traces End" may not have a dynamic hook, but it has plenty else going for it, vocally, lyrically and instrumentally. The warranted cynicism of "A Lifetime to Disagree" speaks volumes to the plight of so many who have to tow the corporate/party line just to survive, and the (futile) future of someday - "When I am older - a lifetime to disagree - I will be bolder...". "The End of Things" succinctly chronicles a resolute break-up, but in the downtempo "Your Eyes" it appears there is some melancholia for the loss. I would have liked a snappier, less brooding and more positive end to the album, but perhaps that would have been out of character. As is though, there is plenty to enjoy here, and I think the more it's played, the more it will grow on you. I said it before, and I say it again, this is thinking man's synthpop, devoid of the cliched silliness you often find in the genre, and we all could use some good music worth sinking your ears (and $$) into.
Synth Pop / Electro Pop / Synth-Electronica
Edit (9404)
This is bright, openly accessible, sincere and straightforward synthpop. It will appeal to fans of everything from Kylie Minogue to Erasure to Goldfrapp to Spray. Some tracks have an extra tinge of darkness to them, but it's slight, and doesn't detract from the fact that this is eleven radio-friendly pop numbers.

The breathy, slightly husky vocals sound like a French Marianne Faithfull. This is most noticeable in "Every Shadow". The album is not blessed with the strongest choruses and hooks you've ever heard, so the understated, faintly sexy approach is quite fitting, and the pieces fit together more comfortably in the later, slower tracks.

The arrangements sit on that synthpop borderline where you're not actively sure whether it's deliberate 1980's pastiche, or just a genuinely heartfelt and misunderstood love of the synthesizer. There are modern production touches and qualities, this is not simply a wantonly 1980's album.

It's space-themed, but only to a degree. The promo blurb describes the album as having been inspired by the sci-fi work of Ray Bradbury, Philip K Dick and Stanley Kubrick. That influence isn't necessarily obvious. The influence of Jean-Michel Jarre, Kraftwerk and Vince Clarke is much more openly audible by comparison! Only the closing track "Alpha" really tackles the space theme head-on.

"First Symptoms", "One By One" and "Every Shadow" are highlights, and among the strongest standalone pop pieces (although "Lost In Space" was the single, available separately with remixes). "I Know Where You Find You" has a filmic drama to it, segueing into "P.U.L.S.E." in a manner that's neat but almost too easy, highlighting a slight lack of sonic variety. "Paradise Of Broken Hearts" as a strong slow ballad sounds faintly Soft Cell-like.

Foretaste's fifth album is polished, poppy and appealing, if a little bit unchallenging. It falls just slightly short on the catchy hooks front but it's still a very enjoyable listen.
Synth Pop / Electro Pop / Synth-Electronica
Edit (9403)
Sophomore release from German electropop duo Matthias Grod (songwriting, keys, production) and Thorsten Kruger (lyrics, vocals, songwriting, keys) following their 2015 release, 'Now!'. I was only able to listen to a couple tracks off their debut, but in comparison, 'Circuits' sounds more polished, while still maintaining their club-friendly style. There seems to be a little less edge, but more attention to songwriting and melodic content. While on their initial release there was a similarity to OMD, here they're more along the lines of Pet Shop Boys and Neuroticfish. Roughly half the songs are sung in English, the other half in their native Deutsche, sometimes both languages in the same song. Lyrics are more emotional than deep, but hey, this is (synth)pop music; usually comes with the territory. Synthwork is on the lighter side for the most part, competent but not overwhelming, still with snappy and effective arrangements. As with many new albums I hear the strongest songs with the most potent hooks come early on; "I'm Waiting," "So Lonely," and "Neonlicht" are tracks 1, 3 and 4 respectively and really have the most to offer in the way of hit potential. There is a nice change of pace on balladish track 6, "I Wanna Be Free" with additional vocals by a woman named Jeanette, but after that it begins to get formulaic. The band still has its groove but the songs seem less memorable. I can tell they're really trying, but somehow they miss the mark. Good hooks can be tough to create, even when you have nice melodies going for you, and unfortunately too many fall short on this album. (Perhaps they should have included a cover of something well-known- Apoptygma Berzerk's "Until the End of the World" might have worked well for them.) The big missed opportunity though comes on the last track, "Thunder and Sun". It's a 6 minute instrumental that's the darkest and heaviest thing on POS.:2's plate. It's also a little industrial. This is a track that builds with tension and intensity, but ultimately it's a letdown. It really needed something more- dramatic vocals or at least a recitation to give it a raison d'être, but without that extra oomph, it falls flat. Be that as it may, the album is well-produced, and there are still a few really good songs on 'Circuits,' as that may be enough to keep synthpop fans and club djs interested.
Synth Pop / Electro Pop / Synth-Electronica
Edit (9391)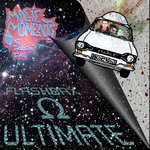 Artist:
Magic Moments At Twilight Time
(@)
Title:
Flashbax Ω Ultimate
Format:
CD + Download
Label:
Klappstuhl Records
(@)
Rated:
This release is a compilation is a compilation of the best tracks of Magic Moments At Twilight Time and aims to create a detailed picture of the band using tracks from all their releases so featuring all their members. Apart from this CDr, the release features an additional download with other tracks and a booklet. The music is something that could be classified as post punk but the tracks reveal a more multifaceted nature as they sometimes expose an experimental aim instead of a more typical pop attitude. Courageously the label decided to let the sound closer to their time so it doesn't sound as most remastered edition exposing a modern sound instead of the sound of that time.
The musical framework of "State Of The Art" is as outdated as nostalgic; it's not something sounding old, it's really old and it triggers a sense of lost time. "Story X" is almost irresistible in his dancey attitude. "Pandora" deals with dub oriented sounds while "Traveller II" is a real pop tune. "Blitzkrieg!" is probably an homage to a band as the title suggests. "Psychojolting" and "Get Into The Dream Cream" are essential rock tracks with an electronic sound while "Shades Of Purple" tries to remove the rock ingredient from the recipe. "Bewitched" is instead an example of their more experimental output while "Spirit" is even an acoustic track and "Acidic Heaven" is an algid track based on guitar and synth. "Magic Moments At Twilight Time" closes this release blending all characteristics of their sound: a punk attitude, a new wave sound and a pop writing.
The booklet available as a download include a full introduction of all tracks and is a must to enjoy this release which is more a nostalgic postcard from the past than a path for the future but it's a release that shows what kind of gems are forgotten to remember some old dinosaur. A must for philologists.