Artist:
low.poly.exception
(@)
Title:
Nodal Point Gang
Format:
CD + Download
Label:
self-released
Rated:
Want to know what is often the most difficult thing about being a reviewer here at Chain D.L.K. ? Finding out the email address of the artist, which is a requirement. Simply put, I CAN'T NOTIFY YOU OF A POSTED REVIEW IF YOU DON'T INCLUDE YOUR EMAIL ADDRESS. Now I understand some high profile artists don't want to give out their email address because of spam, stalker fans or whatever, and they often have mgmt, companies or reps who who field their email. But unless you're in that strata, please don't make me play detective and try and hunt down your email address when you don't include it, especially if your work is self-released. That said, low.poly.exception is an offshoot project of jhm from the Philadelphia area who mainly produces music under the name of Neon Shudder, Haven't heard that. 'Nodal point Gang' is low.poly.exception's debut album after releasing a couple of prior EPs. The accompanying one-sheet describes this as "9 tracks of dark electronic music with influences ranging from the likes of Kenji Kawai and Ryuichi Sakamoto to Ed Harrison (OEdit) and bands like Buck-Tick. 'Nodal Point Gang' takes elements of cyberpunk, darkwave, synthwave, and more. The end result is referred to in a tongue-in-cheek manner as 'codewave'." Okay, so that's the artist's take on his (or her) own music. Here's mine. Nine tracks of fairly innocuous instrumental synth electronica with programmed drum machine. As far as comparison with the artist's influences, perhaps low.poly.exception would like to sound like them, but in no way does. Comparisons are difficult because no one I know is is really doing this kind of old-school instrumental synth & drum machine stuff anymore. Maybe Sakamoto when he began with YMO many years ago, but even then there was some flair and panache beyond simplistic synth melodies, pads, and cliched rhythms. Sounds are definitely from Presetville and pose absolutely no challenge whatsoever for the listener. There is a bit of (melancholy) atmosphere on some pieces but it really isn't what I'd call dark. Because the music is so benign, it almost comes across as ambient, or more accurately, melambient, but I don't think that was necessarily the artist's intention. Although there are no vocals, there is a brief (processed) spoken word section in the third track, "Faded Semiotics" that sounds typically cyber-dystopian. This might have been considered great stuff in the '70s or early '80s but the electronic music field has become so glutted with bedroom musicians it sounds like it could have been made by anyone with some basic synth and sequencing software and time on their hands. Next time up your game beyond demo quality and deliver the real deal.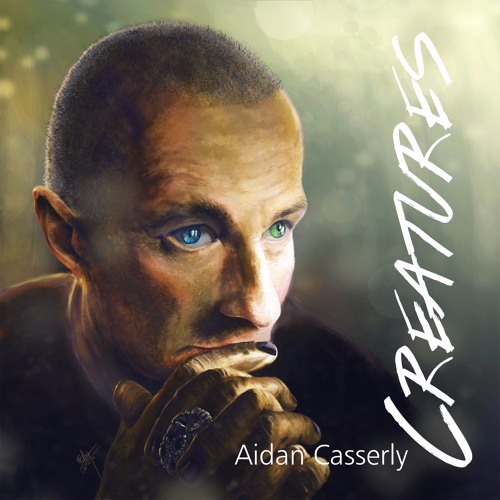 Artist:
Aidan Casserly
Title:
Creatures
Format:
Download Only (MP3 + Lossless)
Label:
House Of Analogue
Rated:
In all the years of his musical career with his different projects, Aidan has always showed to people his sensitive side which allowed him to produce many passionate songs and to explore different sides of his personality, from the brightest to the darker ones. With "Creatures" he's giving homage and he's expressing his feelings about the death of the "thin white duke"... David Bowie. The album doesn't sound like a classic Aidan's one, because ideally, like Bowie, he wanted to make a similar musical journey, starting with something sounding a bit rock and glamour ("Creatures", "I'm On Fire", the almost hard rock "I'll make you see" and the mid/slow tempo "What Can I Do"). With "The Serpent" we steer a bit and we have beautiful ballad with strings and piano. With "A Night Scene" we pass to a noir atmosphere a bit jazzy with nice synthpop inserts. "Intimate Tempest" is a really nice one so deep and full of pathos. Its piano, duet with sax and synth orchestra while Aidan passionately singing. With "His Little Eye" we have another slow intimate ballad while "Seduction After Dark" mix synth pop, dissonant piano chords and tons of drama (on this one, Aidan is helped by the French singer Caesar Gergess) and it's recalling me a bit some early Marc Almond solo stuff. The album is closed by "Always Fire", a ballad which will warm your heart and will make you drop a tear for Ziggy Stardust. So long, David.
Artist:
Soviet
Title:
We Are Eyes, We Are Builders
Format:
LP
Label:
Medical Records
This is an expanded re-issue of a synthpop album originally issued on CD in 2001 from an undisclosed number of Americans going by the name of Soviet. While it may seem odd to call an album that's so heavily rooted in that 1980's synth sound as dated, it still manages to feel like a product of its 2001 time. There was a boom of acts doing this kind of synthpop in the noughties, with some of the best examples found on labels like Ninthwave, and this feels like an unearthed part of that.

Perky but slightly thin Depeche-Mode-era-Vince-Clarke-style keyboard work and crisp drum machine patterns are the scaffolding for some fairly strong conventional pop songwriting, performed by a male vocalist with a voice that I'd harshly describe as a bit flimsy, gives us an album that's frankly a bit synthpop-middle-of-the-road. Elements like the guitar on "Run In" have shades of Alphaville, while "Candy Girl" is willing to aim for the cheesier side of pop.

There is a good ear for melody in some parts for sure. "Marbleyzed" is a very strong pop song, let down by weak production touches (particularly on the vocal again), but if Soft Cell had released this song in the 80's it would've been a hit. "Soviet Bot" is another highlight. "Breakdown" has a nice double-speed-chorus effect going on, and is one of several tracks that chugs along at a surprisingly high BPM (around 170 I think) which edge it towards a form of synthpop-happy-hardcore.

Ultimately this release falls a little between two stools- not properly 80's retro, but not up to the standard of modern synthpop either- but if the song itself is crucial to you and the production quality not so important, you'll find some tracks to enjoy on here.
Artist:
The Process Void
(@)
Title:
Dreams of Departure
Format:
CD EP
Label:
self-released
Rated:
The Process Void is Sydney, Australia based musician Alex J. Wise who has been producing music and experimenting with sound since 1995. He calls The Process Void electro post punk, melodic dark and cryptic, but I find it to be more cold wave synthpop. Interestingly, this EP was co-produced by Claus "Leæther Strip" Larsen, and mixed and mastered by him as well. Hmmm...didn't see that coming. Wise claims his previous two album ('Arcane Matter' and 'Staat Des Zerfells') had previously been reviewed here at Chain D.L.K., but try as I might, I couldn't find those reviews. No matter, for the present we have 'Dreams of Departure'. When I first put this CD on I really didn't care much for it; sounded like dreary retro cold wave to me. It somewhat reminded me of Human League's first two albums, albeit with less panache. There is some vocal similarity to Mr. Oakey but sort of filtered through a John Lydon screen. Strange how it grew on me with more listenings. While none of the five tracks on this EP are great, they conjure a certain nostalgia to the late 70s/early 80s early synth bands I still remember well. (Remember the 'Some Bizarre' compilation album? This would definitely have fit on it.) The music is mostly simple synths and drums (drum machine likely in most places) in the same vein but the last track (title track, "Dreams of Departure") is the most different. Subbing guitar and bass for synths, as well as using real drums, this track has a more PIL/Killing Joke vibe. While there's nothing groundbreaking here, 'Dreams of Departure' will provide a sentimental sojourn for those that miss Factory Records bands and early cold wave synth music.

Artist: Kedr Livanskiy
Title: Ariadna
Format: CD & Vinyl
Label: 2M Records

Kedr Livanskiy (real name Yana Kedrina; kedr livanskiy is the Russian name for a kind of tree), hailing from the outskirts of Moscow, funnels a variety of influences into this 10-track synthpop album. It's got one foot firmly in the past, with production touches such as the slightly muddy reverb on the vocals feeling like a throwback to 80's new wave, but with some expansive synthetic soundscape work that also feels quite up-to-date, and a selection of super-soft house beats that are sort of timeless (within the last 30 years).

It's openly an album of two parts, with the first part described as a kind of suburban melancholy. Long synth pads underpin shoegazey vocals, most of which are in (I assume) Russian so I'm afraid I don't know what they're about but I'm guessing they're not a-laugh-a-minute. Highlights include the very lush "Sunrise Stop", and the spaced-out beatless "Mermaid". The rather anachronistic "ACDC", featuring Martin Newell's slightly featureless reading of William Blake's "The Tyger" and wandering into 90's Amen breaks out of the blue, ends up working well after a rather flat start.

The second half is allegedly more urban and less insular, though it's a subtle change. The house beats are thicker and more prominent. "Za Oknom Vesna" is a bit of faintly lo-fi deep rolling techno with a pop vocal draped on top; only the snare drum sounds dated. With a bolder and more confident vocal hook, "Love & Cigarettes" could have been a standout. The core of the album is wrapped up by the unimaginatively-titled instrumental "Sad One", sorrowful keys echoing away over windy environmental textures.

The two bonus tracks are the digital & LP-only "Fire & Water", another darker techno number with a more forceful, politely chanted vocal and pretty rolling hi-hats, and the slightly sluggish walking-electro of the vinyl-only track "Sunset" which has slight echoes of 90's chillout lurking in its ambience.

Overall it's a rich and deeply sincere synthpop album with a sorrowful core and some interesting production touches that rework some slightly backwards-facing sounds into something that sounds freshly constructed. If you like your pop music dark and brooding, this one is certainly worth tracking down.