Synth Pop / Electro Pop / Synth-Electronica
Edit (6329)
image not
available
anymore
Artist:
ODAHL
Title:
Out Of Control
Format:
Download Only (MP3 + Lossless)
Label:
Mullet Records
(@)
Distributor:
Juno Download
Rated:
One year and half from the "Never 2 much" single, ODahl is back on Mullet Records and this time he delivers two dancefloor killers. "Out of control" is a 4/4 conga driven cool tune with lead synth solos, fat bass lines and nice female vocal samples. "Just be easy" is another 4/4 instrumental song where the Swedish guy make us go crazy with hypnotic arpeggios, in levare fat bass lines and plastic synth pads. These tracks have great melodies and are good to dance with. Two winners! The E.P. contains also two remixes for each track, the first is by Justin Faust (a nice remix that plays a little with the original tune and add a different lead line). The remix of the second track is by Honom and they play a little with stops and go just to let the tune start on the second half and turn into a night dance track on the ending part. The original tunes are great, the remixes are nice...
image not
available
anymore
Artist:
SEVEN OCTAVES
Title:
Encouragements
Format:
CD
Label:
self-released
Rated:
The newest Seven Ocatves album, ENCOURAGEMENTS is able to destabilize the listener for the way Kenny mixed synthpop (check "The real me"), late 70s pop a la Hall & Oates (like on "I'm falling"), 70s electronica, dubstep, electro funk, id.m., a bit of jazz or cheesy early 80s dance/soundtracks tunes with piano and harp in evidence (check "Give it unto you"). I dug the central part where electro funk was the main influence but at first it's difficult to get into the right mood to listen to the whole album in only one session. You need at least a couple of time to get used to its "weirdness" to be able to fully appreciate it. This album contains a lot of ideas and melodies if you are patient to discover them... Nice.
Synth Pop / Electro Pop / Synth-Electronica
Edit (6316)
image not
available
anymore
Artist:
CASIO SOCIAL CLUB
Title:
Running Man
Format:
Download Only (MP3 + Lossless)
Label:
Mullet Records
(@)
Distributor:
Juno Download
Rated:
RUNNING MAN is the newest single by Casio Social Club. Justin Winks for this digital release brings us three new instrumental tracks. The opener "Running man" with proper vocals can be used as dance 80s tune and it would be a track good for Madonna of the early period, also thanks to its funky guitar. "Brassy boogie" is dancey and cinematic at the same time and could have been used on the Miami Vice show on the funny moments. "Happy slappy" is a 4/4 mid tempo with an upfront slapped bass. It is the king and it knows it happily spreading its cool bass vibes while chimes, bongos, sax inserts and synth pads celebrate it. Nice single...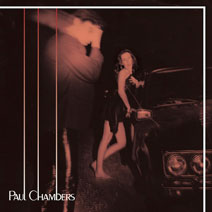 Artist:
PAUL CHAMBERS
Title:
Stations / Absorptions
Format:
CD & Vinyl
Label:
Anna Logue Records
(@)
Rated:
Paul Chambers is a guy coming from UK who in the late 70s started to experiment with synthesizers and, just like Thomas Leer (his album "The bridge" released in collaboration with Robert Rental has been released by Industrial Records in 1979), could be considered a pioneer of dark minimal electronic music. Officially Paul released only two tracks ("Steering solo" and "Take a ticket") in 1981 when he took part to "The apprentices dance", compilation released by Sounds Interesting Records. For "Steering solo", Paul took the post punk energy thanks to solid guitar riffs and energetic vocals and mixed it with epic synth lines. "Take a ticket", instead, is a mid tempo introspective synth wave tune with passionate vocals and nice melodies recalling me a bit John Foxx. Those were two really nice songs which showed the potential Paul Chambers had and that he couldn't prove with a full length release. Fortunately, now, Anna Logue Records is giving to Paul that chance and is giving to us listeners the pleasure to check a double feature release: an LP titled "Stations", containing vocal and instrumental tracks where you can find also the two songs I mentioned and a CD titled "Absorptions" containing fourteen instrumental tracks which sound like a soundtrack for futuristic movies (for the concept of future that people had in early 80s) made with screaming synthesizers and cold drum machines plus a different mix (even colder than the previous one) of "Take a ticket". If "Absorptions" represents the experimental side of Paul Chambers, "Stations" contains synth wave gems like "The appointment with fear" (where sudden pitch changes make it sounds like a post punk track for aliens), "You are time" (syths leads play a mysterious atmosphere while Paul sings mesmerizing the audience like David Bowie was used to), "Crazy lazy" (try to think to a version of Japan's "Nightporter" played by Vangelis) or "Title name" (a slow synth r'n'r tune with guitar solos and fat lead sounds). I hope that Paul will dig some more into his archives to give us more songs. He's a multifaceted artist and he'd deserve to get the proper exposure even if it arrives thirty years late.
Synth Pop / Electro Pop / Synth-Electronica
Edit (6278)
image not
available
anymore
Artist:
Titans
Title:
All There Is
Format:
Download Only (MP3 + Lossless)
Label:
Progress Productions
(@)
Rated:
It is hard to judge on a newcomer band after only one EP featuring one original track, in this case the title-track. The two additional featured remixes of this track by those prominent projects like BIOMEKKANIK and DE:AD:CIBEL (a SKORBUT side-project...) are polishing the whole impression with good ideas, but at least, this is quality remix contribution, but lesser a proof of quality of this new Progress Productions artist. Musically providing an accessible and catchy form of Electro-Pop, this one track reminds a bit on PRIDE & FALL, as I noticed a similar sad mood in the arrangements and vocals. An album is announced to be released during this year, so I keep my fingers crossed for a more crafty declaration of work.