Artist:
Dicepeople
(@)
Title:
Destroyer
Format:
Download Only (MP3 + Lossless)
Label:
Syndicol Music
(@)
Rated:
London's Dicepeople are back with a new 4-track EP, the band being distilled down to Zmora on vocals and Matt Brock - music (electronics, keyboards, drum programming) and backing vocals. This streamlining allows Dicepeople to get their point across more succinctly establishing a firm, 21st century cyber-synthpop sound. Zmora's sexy but icy vocals sound like what I think Arisa (the female robot from the Netflix Russian series 'Better Than Us') would sound like if she decided to front a band. Truth be told, more than half of Zmora's lyrics on these songs are spoke-sung, which although it suits the material, the results are generally better when she actually sings the lyrics. The first track, "Rollercoaster," is the obvious commercial single as it has the best melodic content and a decent hook. Straight ahead and fairly uncluttered (for Dicepeople) it does make an impact in its club-friendly manner, even if not a huge one. Brock amps up the atmos on "Siren Song" with cavernous orchestration making this one sound much larger than it really is. Zmora's vocals on it are rather diminutive in comparison. "Don't Save Me" reminds me of some '80s/'90s female-fronted coldwave/synthpop bands such as XEX, Adult, Book of Love, and others along those lines. It's very good filler and dance fodder but doesn't rise much beyond that. The title track is plenty rhythmic with talky-echoed verses and a stutter-doppler chorus that could garner some positive club response. If anything, it seems like Dicepeople are moving away from the conceptual in favor of the accessible, and for them that could be a pretty good thing. Likely these tracks come off better live too.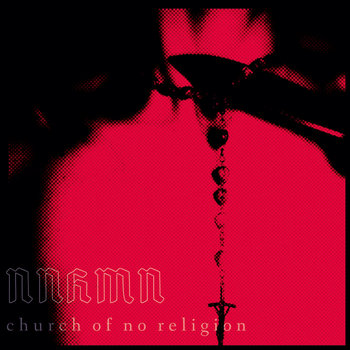 Artist:
NNHMN
(@)
Title:
church of no religion
Format:
CD
Label:
Zoharum
(@)
Distributor:
Alchembria
Rated:
NNHMN is a duo from Berlin whose music is a synth electronic vaguely gothic or new wave and "church of no religion" is presented by the label as a form of gothic i.e., non Christian, ceremony. The critic of religion a common topic in section of the dark scene is conveyed mostly by the nice artwork based on symbols.
Their music is rooted in the form based on the triad vocals, synth and drum machine and while undoubtedly evocative at its best, it's sometimes a little bit commonly known. A good half of this release is focused on rhythmic beats more or less suitable for dance floor while the rest is concerned with the construction of pseudo religious atmosphere due to the vocal by Lee which are truly effective in this purpose with aid of effects.
This is that kind of release that could be well appreciated by fans of the genre that will be bound by the craft in the making but the other could remain puzzled by the lack of novelty. It's worth a listen.
'Soft', 'snow', 'honey'... gentle smooth ambient right? Wrong. Very wrong.

"Take Your Honey" is a single 22-minute live jam recording of voice and electronics from the Berlin-based duo. It's a thorough and harsh disassembly of what might once have been a song- where the sparse lyrics come from. It's now buried in distortion, grit, reverb, noise, sometimes anger, and vocal anguish ("I know it hurts" over, and over…). It sits somewhere between industrial electronica and pure noise.

It's not constantly aggressive, thankfully. There are dips in energy, for example around the 10 minute mark, when things get a bit dubbier and more introspective, and that's when some of the more interesting textures pop up. Some of the live ping-pong looping, pitch-shifting and repetition is genuinely clever stuff when you focus on some of the details.

Overall though this is raw and thoroughly emotive material that was probably absolutely captivating if you could have been there for the live performance. In a recording though there's something a little alienating about it, a sense of being cut out of this expression, an antagonistic sonic cliqueyness that left me feeling slightly cold.
Artist:
Soft Riot
(@)
Title:
When Push Comes To Shove
Format:
12" vinyl + CD
Label:
Possession Records
(@)
Rated:

Soft Riot is Jack Duckworth (JJD); a former Vancouverite who has clocked over fifteen years of musical output in various bands and projects. Moving from Vancouver to London, UK, in the late 2000s, Soft Riot came into full being, having released a couple of acclaimed albums and EPs and staging numerous tours around Europe. Soft Riot now has set up camp in Sheffield, UK; a city with a history of innovative synthesizer music.

While Soft Riot's previous album - 'The Outsider In The Mirrors' was a marked step up from earlier material (which often sounded amateurish and tenuously experimental), 'When Push Comes To Shove' is the first Soft Riot album that doesn't sound like it strictly came from Demoville. Now there are a few things you have to understand about Soft Riot if you haven't heard it before. This is much more "Cold Wave" than synthpop. Coldwave is characterized by its detached lyrical tone and somewhat minimal (and usually analogue) synthesizers, as well as drum machines and/or programmed electronic percussion. Think of (mid-to-late period) Kraftwerk, John Foxx ('Metamatic' period), KaS Product, Marquis de Sade, Lebanon Hanover, early (pre-'Dare') Human League, Suicide, and outfits along those lines. Of course, vocal quality of the aforementioned is quite variable, and perhaps less important (and consequently less "pop" or popular) than it is in synthpop. Depeche Mode, OMD, Camouflage, Erasure, etc. were never really Coldwave, always synthpop. This distinction is important, because as a synthpop artist, Soft Riot would miss the mark more often than not. In Cold Wave, Soft Riot is at the top of its game. While there's an unbridled enthusiasm on 'The Outsider In The Mirrors' it lacks that certain something that makes an album compelling.

'When Push Comes To Shove' starts off strong with "Taking Off The Edge" grabbing the listener's attention with a 'less is more' technique and a memorable synth riff. The galloping rhythm of "It's No Laughing Matter" reminds me of Telex (remember them?) and that's pretty cool. JJD's somewhat monotone voice is like John Foxx filtered through the spirit of Ian Curtis, and then put through Ralf Hütter's voice box; distant and remote, the way Cold Wave ought to sound. I couldn't help but notice that something sounded out of tune in "The Lost Weekend," and in places there's just too much going on. I don't know if it's too much compression, but it sometimes sounds a bit mushy and packed too tightly. Otherwise it's a decent tune. "Fate's Got A Bone To Pick With You" takes a more minimal approach which works well. Good no frills dance beat too. "By The Skin Of Your Teeth" reminds me of Bill Nelson's more experimental electropop, post Be-Bop Deluxe and Red Noise. The vocal could have been a bit more up-front in places on "Don't Get Yourself Bent Out of Shape" as the synths nearly drowns the voice out at times. The most promising potential (hit) single off this album would be "Heads Turn Around" as it's very simple, has a dynamite hook and a relentless beat. Shave a minute or so off it and ship it to college radio stations. I guarantee it would get plenty of airplay. Final track, "Your Work Is Never Done" tries too hard to breech the synthpop genre and gets caught up in its own ambition leaving the album on a weak note.

There is definitely some very good material on 'When Push Comes To Shove,' but I think Mr. Duckworth might benefit from a savvy producer for Soft Riot's next effort. Definitely a must for Cold Wave fans, I'd recommend the vinyl format even though it is a bit pricey. Then again, what vinyl isn't these days.

Artist: Roman Jungblut
Title: Back To Where It Never Started
Format: 12" vinyl + Download
Label: self-released

Established musician and sound artist Roman Jungblut mainly works in bands or on soundtrack and sound design work, as well as teaching, but his 'proper' musical releases have been very scarce, especially in the last decade. This is his first solo release to appear in his own name, without an alias, and it's a distinctive set of sketches that draws from a variety of different sounds and genres, fusing some more classical composition elements with quite an angry and raw electronic melody work that generally sits front and centre and grabs all the attention.

"Detox - Retox" opens almost like a piece of EDM, atmospheric tension getting cut through by a gutpunching, bass-rich power note full of drama- but as it proceeds, this lead note starts meandering, almost drunkenly, like a rant that has made its point nowhere to go. "78-7-8" transplants a not dissimilar distorted and wailing melody onto a much more conventional piano arpeggio base, for the most accessible piece of the set. "Einsicht" also adopts a piano but far more sparingly, letting the classic contrast between gentle bell notes and screaming abstract electro-distortion (this time with hints of vocal noises) play out in confusing fashion.

It's a short 23-minute EP, almost half of which is accounted for by final track "Two For Tooth", which is much gentler, with warm synth arpeggios and wistful pads playing out a much less harsh affair. Some crisper sounds appear as it proceeds, but it's always much more settled than what preceded it.

It's synth work with character, particularly where it's interjected with a fury and edginess that's coupled with synthwave-ish sounds that are more often used to sound glib or confident. It's clearly from an experienced and cutting-edge sound designer, and although it does feel a little more like a production showreel at times, it does stand out in its field.