Artist:
Confrontational
(@)
Title:
Under Cover of Darkness
Format:
CD & Vinyl
Label:
Synthstorm Records
(@)
Distributor:
Bandcamp
Rated:
Confrontational is the musically outfit for Massimo Usai (vocals, guitars, synthesizers, programming) and his partner Juan Zurdo (Simmons drums, live percussions) and it hails from Cagliari, Sardinia / Italy. Founded in 2014 this project could already gain some attention with live performances at famous venues (WGT Germany in 2018 or at Frantic Fest in Francavilla al Mare, Italy, in August of last year). Also their various cooperations with some well discovered guest vocalists out of the Synthwave-/Outrun-genre like Cody Carpenter (Ludrium / John Carpenter), Tying Tiffany, Tobias Bernstrup, Trevor William Church (Beastmaker / Haunt), Hélène De Thoury (Hante) or Tony Kim (Dance with the Dead) this project has gained internationally reputation. "Under Cover of Darkness" is already the fourth full-length album and has been already digitally self-released by this band project at the end of October 2019. So the reason for this review is the celebration of the consequently release on vinyl and CD via the label Synthstorm Records, also hailing from Italy.
This album is sort of a conceptual release and you'll get a satisfying explanation with the information around this album: "There is a thick red line that binds together the worlds of darkness and disco - a line that can be traced through some of the tracks that unsuspectingly topped international charts between 1975 and 1987, going straight from Goblin's "Deep Red" to Sabrina Salerno's "Boys." A story originated on the dance floor through lyrics that, when read through a certain peculiar angle, attest to a number of severe implications. A wild ride into the night, ripe with possibilities, fear and excitement".
Therefore Controntational have decided to release rather a tribute just to praise some of the instigators, who could unite the classic, slightly depressive 80s life-style and emotion with the then up and coming Italo Disco genre, which has seemingly left a lot of impact on the producing musicians. Guest vocalists have been again hired with Cody Carpenter, Adrien Grousset (Carpenter Brut), Tobias Bernstrup and Amedeo. As the chosen guest vocalists are mostly based out of the Synthwave- / Outrun genre, it shouldn't wonder too much, that also Confrontational's music expression rather picks up compareable ideas. There can be also named Dark Wave, Synthpop or even EBM with a slightly Crossover touch as musically references to describe their background.
It even brings a smile to the listener to hear that cheesy "Boys" - here simply re-named "Summertime Love" - originally sung by the busty sensation Sabrina Salerno back in 1987, but here with Tobias Bernstrup to replace her performance. Musically it is a haunting tune with furious guitar riffs thrown into the mix - but the right one to animate the audience to sing along the chorus line. Also the Bohlen composition of Modern Talking's classic "You're my Heart, You're my Soul" (Here simplified into "You're my Heart") receives its roughly produced transmutation into a biting synth smasher with screaming guitars and Amedeo's vocals. Also Den Harrow's top-hit "Future Brain (feat. Cody Carpenter)" or Yazoo's classic "Don't Go" reveive a tastefull refreshment in those darker and gritty styles. It's difficult to point out THE hit track of this album because all of these reinterpretations have it own advantages.
Confrontational and in person of Massimo is capable to provide purest 80s infiltrated Pop- and Wave-art, although he seems to have a darker and more ominous sounding view on this era. That is in no way to blame, it's rather the opposite because some of these mentioned top hits have lost through endless repetitions via radio its magic in those days. Therefore this new, darker and more biting reinterpretations are a welcomed alternative. Get it while can and to purchase this goody on vinyl seems to be a must-have for all retro lovers.
Artist: SDH (Semiotics Department of Heteronyms)
Title: Against Strong Thinking
Format: 12" vinyl + Download
Label: Avant!

In this 6-track mini-album, SDH's synthpop sound is maturing nicely, with the classic combination of introspective female vocals, layered synthlines and drum machines offered up in a way that isn't especially original or ground-breaking, but which is executed confidently and with a lot of success.

After the introspective and fairly lightweight, proper-synthpop-ballad opener of "Suffer", the driving industrial techno beats appear and the melodies disappear for first single "No Miracles" with its brooding and sinister synth lines and effects complementing the attitude-laden spoken words. A slightly more lo-fi tone is adopted in "Your Next Story".

In the press release the duo's names have been studiously avoided, so I mean no disrespect by just referring to 'the singer' here- but spoken word tracks feel like playing safe, as though the singer lacks confidence. However first track on the second side "Four Arms" shows that confidence really should not be lacking- the strength and sorrowful vocal quality really sparkles, and the combination of that with distinctly Vangelis-style chords and authentic synthwave makes this a standout track worthy of very wide attention.

"You Pt. 12" is a re-recording of the band's first release with a better sound quality, before "Poem Against Strong Thinking" ends the release in strong fashion, with a thoughtful, motorway driving groove and some of the strongest and huskiest vocal work.

There's one thing the band haven't cracked yet, and that's endings. Each track seems to lose steam and stop, as though they couldn't decide whether to write a proper ending or just do a fade, and ended up doing neither. Well, nobody's perfect…

It's a really worthwhile 25-minute short album that should appeal greatly to the synthwave and synthpop crowds, but the strength of most of the songwriting has the potential to get it a wider audience, if it can catch the right wave or placement.
Old school day here at Chain D.L.K. with a couple of cassette releases. First up is Uglyhead, the experimental electronic project of Jake Alejo from Seattle, WA., who has been doing this sort of thing and releasing albums since 1996. 'Disembodied' is a 5-track EP on cassette that Jake calls "a descent into a bottomless pit full of ghosts". (Alrighty then, better ghosts than snakes, eh?) The EP was mostly created with hardware synths, samplers and bass guitar (YEA!!! a musician after my own heart) and features Galen Waling (Lord of Acid, Pig, Left Spine Down) on acoustic drums on the title track (#3, "Disembodied"). It was mastered by Shawn Hatfield (Amon Tobin, Surachai).

First track, "Here But Not Here" is a rousing coldwave number that fires on all cylinders (at least for me it did) and sets the tone for what's to come. Jake's vocals are of the tortured hoarse and scratchy variety, which is just fine for the material, and also seem to be augmented by the occasional use of vocoder. At times it sounds a bit Teutonic, maybe even early Wumpscutty. Next, "There But Not There" is significantly wilder, treading into hardcore territory. "Disembodied" slows things down in its measured pace, but you really need to see the quite disturbing video (shot entirely on a lo-fi VHS camcorder) version of this song, although the sheet ghost was amusing. "Too Real For Love" is just too long, too slow and too monotonous at over 7 1/2 minutes. Ending things is the warped and woozy "Funhole" which is loosely based on the novel "The Cipher" by Kathe Koja. (A man is trapped in a room that contains a bottomless pit and a snake - his only friend. Solving the mystery of the hole proves to be worth everything the man has. In order to get the full impact of this number, you really need to see the colorfully surreal music video of this song on YouTube. (Interesting enough that I watched it several times in a row.)

If you like coldwave electronic with a experimental edge, and also happen to be a cassette devotee, I recommend you scoot on over to Uglyhead's bandcamp site and buy it, because it's limited to 100 copies.

Artist:
Dicepeople
(@)
Title:
Destroyer
Format:
Download Only (MP3 + Lossless)
Label:
Syndicol Music
(@)
Rated:
London's Dicepeople are back with a new 4-track EP, the band being distilled down to Zmora on vocals and Matt Brock - music (electronics, keyboards, drum programming) and backing vocals. This streamlining allows Dicepeople to get their point across more succinctly establishing a firm, 21st century cyber-synthpop sound. Zmora's sexy but icy vocals sound like what I think Arisa (the female robot from the Netflix Russian series 'Better Than Us') would sound like if she decided to front a band. Truth be told, more than half of Zmora's lyrics on these songs are spoke-sung, which although it suits the material, the results are generally better when she actually sings the lyrics. The first track, "Rollercoaster," is the obvious commercial single as it has the best melodic content and a decent hook. Straight ahead and fairly uncluttered (for Dicepeople) it does make an impact in its club-friendly manner, even if not a huge one. Brock amps up the atmos on "Siren Song" with cavernous orchestration making this one sound much larger than it really is. Zmora's vocals on it are rather diminutive in comparison. "Don't Save Me" reminds me of some '80s/'90s female-fronted coldwave/synthpop bands such as XEX, Adult, Book of Love, and others along those lines. It's very good filler and dance fodder but doesn't rise much beyond that. The title track is plenty rhythmic with talky-echoed verses and a stutter-doppler chorus that could garner some positive club response. If anything, it seems like Dicepeople are moving away from the conceptual in favor of the accessible, and for them that could be a pretty good thing. Likely these tracks come off better live too.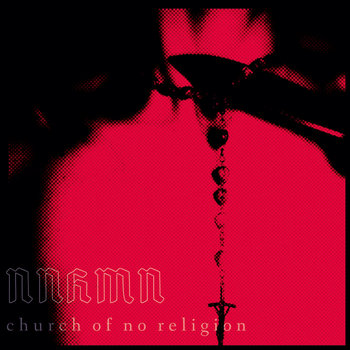 Artist:
NNHMN
(@)
Title:
church of no religion
Format:
CD
Label:
Zoharum
(@)
Distributor:
Alchembria
Rated:
NNHMN is a duo from Berlin whose music is a synth electronic vaguely gothic or new wave and "church of no religion" is presented by the label as a form of gothic i.e., non Christian, ceremony. The critic of religion a common topic in section of the dark scene is conveyed mostly by the nice artwork based on symbols.
Their music is rooted in the form based on the triad vocals, synth and drum machine and while undoubtedly evocative at its best, it's sometimes a little bit commonly known. A good half of this release is focused on rhythmic beats more or less suitable for dance floor while the rest is concerned with the construction of pseudo religious atmosphere due to the vocal by Lee which are truly effective in this purpose with aid of effects.
This is that kind of release that could be well appreciated by fans of the genre that will be bound by the craft in the making but the other could remain puzzled by the lack of novelty. It's worth a listen.