Artist:
Hidden Souls
(@)
Title:
The Incorruptible Dream
Format:
CD + Download
Label:
Echozone
(@)
Rated:
It seems as though I've misplaced all the promo material on this band so I guess I'll have to wing it. This futurepop group is from Buenos Aires, Argentina, but they don't sound like it, or at least not what you might expect musically from the region. In fact, they sound very Euro, not unlike VNV Nation with a strong and charismatic vocal presence. The band consists of Leo Carden, Guillermo "William" Pardo Neira, and Alejandro Visona. Who plays (or sings) what I really couldn't tell you, but all songs are in English. Lyrically the songs are mostly of a personal nature - feelings, love, fear, dreams, desires, revenge, etc., but there are a couple of others that are different, and the title of one is self-explanatory - "Political Brainwash Machine," something of a rather timely nature. On the other, "The World is Falling," the band opens strong with a forceful track that kicks butt - "...I can't understand why the religion is the biggest gun of all, please believe me, the landscape begins to bleed, please believe me, no one deserves to die..." put in the context of powerful synths and a killer chorus hook, this is can't miss hitsville. The following track, "Deep Emotions" shows depth in songwriting through some unexpected chord changes with very effective vocal harmonies. This band proves they're not just a one-trick pony! After a little slowdown they pick the pace right back up again with "Hearts & Minds". It's not as memorable as the opener but still a strong track. "Revenge" brings another strong hook to fore and now these guys remind me a bit of Assemblage 23. As I could have almost predicted, there is a bit of a slowdown-lag in the middle of the album with "Separate Ways," "Mine," and "The Guilt," which is kind of typical. The question is- can they revive themselves and put some oomph back into the music? Well, they certainly try. "Darkness Falls Down" comes really, really close but the hook is too long in coming and just isn't powerful enough. "Silence" has all the makings of a great track but once again lacks a strong hook. "Know" goes for a completely different vibe with an atmospheric rainstorm, and acoustic guitar but doesn't forsake the synths. There's a nice romanticism here without getting sappy, which leaves us finally with "Political Brainwash Machine." It's a little slim in the quantity of lyrics - "All I see it's a mass destruction of young minds and the oldest of values, morality forbidden and forgotten, blind people in a political brainwash machine," but large in concept and execution. It's also the darkest track on the album. After a complete play-thru, there is no question in my mind that Hidden Souls are not lightweights, and they deliver enough quality material on 'The Incorruptible Dream' that a lot of people are going to stand up and take notice. Some tracks have great dancefloor potential as well. I wouldn't be a bit surprised if a remix ep or album was in the works...
Artist: Michele Mercure
Title: Beside Herself
Format: 2 x 12" vinyl
Label: RVNG Intl. / Freedom To Spend

"Beside Herself" is a 19-track, 66-minute anthology of material taken from Michele Mercure's self-produced and distributed cassettes released between 1983 and 1990 from her base in Pennsylvania (until divorcing in 1987, some were released under the name Michelle Musser).

It's a collection of almost wholly instrumental experimental electronic vignettes, with one foot decidedly in the world of lo-fi 80's synth pop but the other foot pointed outwards into more esoteric and avantgarde directions.

It's one of those works that inspires a lot of comparisons to other artists, which is not to take anything away from its originality or the uniqueness of its character. "Beginning" sounds like a mid 80's Nik Kershaw instrumental, and not in a bad way, while "An Accident Waiting To Happen" with its sampled car noises and sharp noisy percussion has more than a shade of The Art Of Noise about it, albeit with the sound quality of a homespun demo rather than a Trevor Horn-produced master. "De Dunk" is an oddly squelchy bit bit of slow-grooved weirdness that sounds like one of the more out-there moments from the early days of library music.

Thanks to some warm bass guitar work, there's a decided downtempo funk aspect in parts, the title track for example feeling like it could have soundtracked a night-time stakeout in a big-hair cop show. "Mother" is a nicely quirky bit of synth work with an almost lullaby-like quality to it.

Mercure's breakthrough material is certainly worthy of some re-appraisal, though the demo-like sound quality and production techniques root it firmly in its original decade. Fans of the edgier and more experimental edges of the early days of the 80's synth explosion will find a lot of merit in this.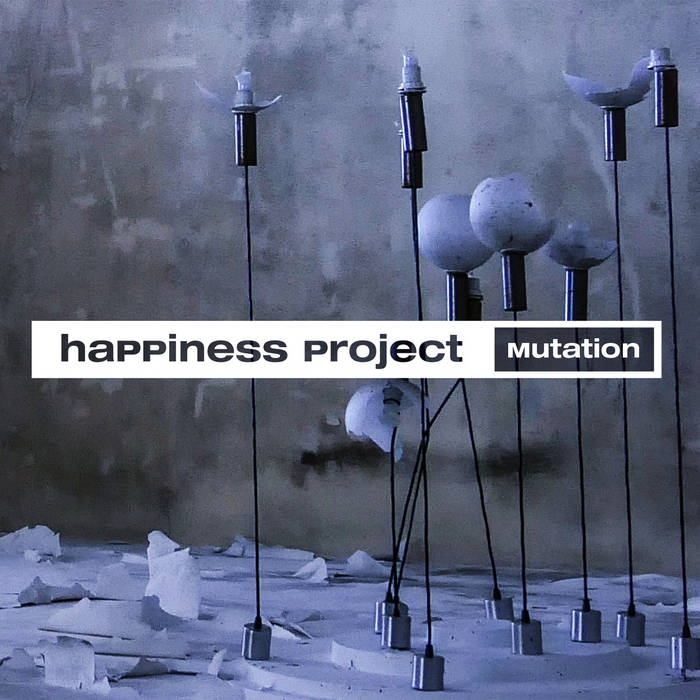 Artist:
Happiness Project
Title:
Mutation
Format:
CD
Label:
Boredom Product
Rated:
Spring is gone and in a snap we are arrived to autumn and as announced "Mutation", the newest album by Happiness Project, is out. Like I wrote on my review of their previous EP, the new album has been released five years after the previous release and sees the band with an enriched sound with the additional production of JB Lacassagne (a.k.a. Dekad) and Member U-0176 (of Celluloide and label's boss). Compared to the past on "Mutation" we have more bass and guitar, along with some aggressive rhythm sound here and there but, as I wrote, it's a thing that is enriching the sound which, as in the past, is synth based. Compared to the EP "Big Cities", the album propose a balance of upbeat energetic tunes (as the opening "Big Cities", "Sweet Heart Of Mine", "A Better Claim" and "Tell Me") and a bit more intimistic mid tempos ("Still Able To Love", "Mutation", "The Pumpkin Fairy Tale" or "Ivak Trahor" to name a few). Besides the professional production, which is a distinctive thing of the label Boredom Product, I might say that I have the impression that for the band this album signs their maturity as songwriters. "Mutation" mixes science fiction bits with visiting aliens and everyday humans' doubts: if "Mutation" is a bit philosophic ("The future comes to an end / as soon as tomorrow comes / the future come to an end / as far the technologies change… Mutation may be a better word / it helps us understand / nothing's complete"), "Still Able To Love" is more intimistic ("Everything has blasted away / and has come to pieces in me / is my heart still able to love? / maybe I will soon again / but I'm lost in all these sensations"). At the end you'll ask yourself: ain't we all beings with feelings in the end? You can check and the whole album and purchase it here https://boredomproduct.bandcamp.com/album/mutation.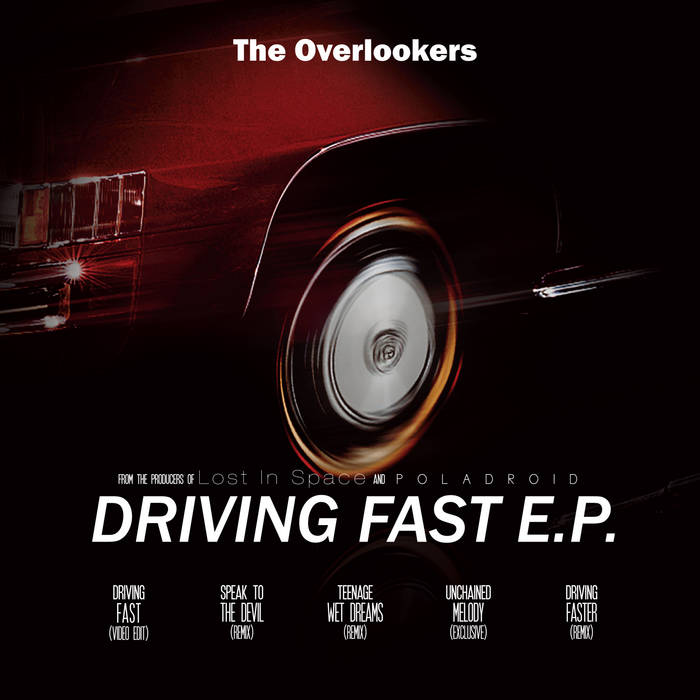 Artist:
The Overlookers
Title:
Driving Fast EP
Format:
CD EP
Label:
Boredom Product
Rated:
Initially I was thinking that The Overlookers were a mysterious band coming from France but they have recently posted a photo on their Facebook profile and it seems to me that one of them is JB, of Dekad. Anyway... Their first EP "Driving Fast" has just been released by Boredom Product and it contains three tracks which will be released on their first album "Teenage Wet Dreams", which you can find here remixed (only "Driving Fast" is here also with the video edit version), plus a cover of the Righteous Brothers' "Unchained Melody". The band, has been helped by Member U-0176, of Celluloide fame and boss of the Boredom Product label, for the "special effects" and post-production. The songs, find their roots in the 80s/90s synthpop but with a twist and in this case we have a bit of 90s e.b.m. influences helping to spice up the rhythm section, thanks to bumping bass arpeggios. The three original tracks "Driving Fast", "Speak To The Devil" and "Teenage Wet Dreams" are really nice and make you feel curious about the forthcoming album, because they are sounding quite different: the first is a uptempo killer (probably it's the one which is more e.b.m. sounding), the second is a mid tempo dark tune and the third one is a slow tempo which is recalling me the old Depeche Mode ballads of the likes of "Waiting For The Night" or "Question Of Lust", because of the overall atmosphere and also because of the the arpeggios progression, which melodically remembered me the Basildon boys. The "Driving Fast" remix, renamed "Driving Faster", is a good electro track which is focusing on the rhythmic parts of the song (bass lines, drums and synth percussions are the main elements) and the leads are added here and there to enrich the melodic parts. Check it here! https://boredomproduct.bandcamp.com/album/driving-fast-ep
Artist:
Key To The Mint
(@)
Title:
A Godless Line
Format:
CD + Download
Label:
self-released
Rated:
Key To The Mint is an '80s retro synthpop band (although they describe themselves as "post punk") from Cleveland, Ohio, who have been around since 2015 or so. The band consists of Joel Anger (lead and backing vocals), John Alexander (guitar, bass, keyboards, drum and synth programming), and Rich Kundracik (drum and synth programming, bass, keyboards) plus a few guests who help out with additional backing vocals and guitars. They admit to influences of Depeche Mode, The Smiths, The Cure, Sisters of Mercy, and OMD, and truth be told, they sound a little like most of those bands. This 11-track CD opens well enough with "The Hague," a song that sounds nearly like a Depeche Mode B-side, but unfortunately it's all downhill after that. The aptly titled next track, "Make Me Suffer" will make you realize that this album sounds like it was recorded live in a basement. It's also where the singer switches from Dave Gahan mode to Morrissey mode, meandering in the melody with no real hooks to anchor the songs. Joel Anger's vocals may be an amalgam of all the singers of the aforementioned "band influences" (excepting the Sisters) but basing the vocal melodies on the worst traits of Morrissey is no way to make an impact. Considering that Anger's voice is the most talented aspect of this group (the instrumental performance/execution is fairly pedestrian), these guys have a long way to go as the competition is fierce in this genre, and there are many better bands out there. In this age of rampant technology there's simply no excuse for the mediocre recording. What this band needs is a spiffy songwriter (one who can really cook up great hooks) and a good studio with someone who knows how to use it. Until then, it's back to the basement.