image not
available
anymore
Another new output of the German SkullLine Mail order service, this release was done by one half of the project TT, which lately brought out a first CD "Opfer:Einheit". The already presented musical elements are also listenable on this new output "Kunzt!-Gaz?", maybe with a stronger dedication to harsh minimal and rhythmically Powernoise efforts. This well done release takes already known elements like pregnant German voice samples and combines them with pounding Electro-like bass line and of course the tormenting distorted drum patterns. "Terrorgefahr" features this element well, it is dedicated to some bombing attacks against trail stations of Berlin. Another heart-felting piece has to be named with "Terror Pakt" featuring the news content of the tragic happening of the terror attack in Beslan. "Hell-Sound" sounds like a cliché and reminds a bit on some OBZÖN GESCHÖPF works. "Warum" and "Lebensberechtigung" continue the more EBM than Powernoise style in a decent way, but then this release turns more and more into the Powernoise/Powerelectronics genre. Still very rhythmically arranged, TRITON 83 offer with the best pieces here, "Seelenfresser" or "Bestie Mensch" a perfect alternative to some known acts like NOISUF-X, XOTOX, FABRIKC or CONTROL-SYSTEM. The dark but still hefty tune "Ozonhole" gets my favorite vote here by offering some well done layers and well set in voice samples. Although not providing anything really new, this mysterious does well in this minimal harsh EBM/Powernoise style. And as usually, also this release is strictly limited to 100 pieces. Also a special edition of only 20 pieces packaged in a special steel box is in preparation. Act up soon and get it!
Artist:
BLEIBURG feat. MANMACHINE
(@)
Title:
History In Flames
Format:
2 x CD (double CD)
Label:
SkullLine
(@)
Distributor:
SkullLine
Rated:
This is a new DCD release set out and produced by the German underground mail order service SkullLine. It provides a mutual team work by both German projects musically based into dark and minimal Ritual Electronica, which takes here some influences out of different music styles. BLEIBURG is leaded by Stefan R. who's very active not only with his various music projects, under the "Dark Transmission" website he publishes also a small online zine. MANMACHINE is A. Schwarz, an experienced musician since 23 years based in various styles. So you don't have to wonder also to hear some classic Electro tunes ("Deep Down In My Heart" – provided with a "classic" inspired vocal performance) besides further styles like Powernoise ("99 Percent Noise", "About The Nights" or the very chaotic "Hekate Song"), slowly Ambient tunes and - oh wonder – an acoustic Neo-Folk tune ("Fall Apart", a cover version originally done by DEATH IN JUNE) only arranged with a guitar! Some vocals are included as well, but mostly they rather act here like a dramatic news reporter rambling down some lines. This can't be called a real singing. In all you got a DCD set focusing on dark, minimal programmings and sounds, where it at times wouldn't be wrong to fill in some more maturity. To lengthen this stuff on two CD's is also a bit too much, a limitation and concentration of the best tracks placed on one full-length would do better. Designed for genre fans only. Of course, also this item is a special limited and numbered release of about 45 pieces, packed in a carton box with a pin and a t-shirt.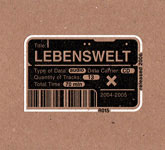 Artist:
LEBENSWELT
Title:
Lebenswelt
Format:
CD
Label:
R.A.I.G.
(@)
Rated:
Formed back in 1999 Lebenswelt is a Russian trio that released five cd-r and one tape since then but they distributed them only to their circle of acquaintance. Produced by R.A.I.G (Russian Association of Independent Genres) LEBENSWELT CD is their first official release and here Andrei Blokhin, Igor Mukhin, and Mamikon Vartapetyan decided to collect their 2004-2005 recordings. Inspired by the ambiguous works of German prophet poet and translator Stefan George (1868-1933) the CD contains 13 tracks that span from the dark ambient to the industrial/experimental genres. Most of the tracks have a back ground humming sound where the band built up their sound sculptures. Sometimes they beat some metal stuff and other times the track keep its ambient structure but alternating hisses to percussive sounds or synthetic bleeps. The ambience created by Lebenswelt has a good effect even on the occasional listener that is immediately absorbed by the magmatic sound.
Artist:
NOIZ + ZILENTH
Title:
Noir Tag
Format:
CD
Label:
NEIN Records
(@)
Rated:
"Ultra complex and intense sounding CD – a mix of Industrial and Power Electronics – Are you ready?", so the slogan of the label info sheet. Well, I can only advise: "FASTEN YOUR SEAT BELTS!!!" – There's no "Zilenth" all around here!!!. This new release for the R.A.I.D. (R.hythm A.nalog I.ntelligent D.istorted) specialized Nein Records label is not like anything else lately heard out of the Power Noise/Electronics genre. Man behind this project is Fco. Alejandro Maldonado M., a young musician based in Tijuana, Mexico, and this is his debut. The 10 tracks are almost all very rhythmic constructed and the arrangements are indeed full of complexity and strange ideas. It's definitively not that kind of danceable minimal Power Electronics, moreover it can be discovered some really effort and dedication to more and better worked out tracks. The result is amazing and this release doesn't take any prisoners. Strongest moments can be discovered on the straight and aggressive pieces "Guia-Zkull" or "Mental Recreation", both pieces should be able to appeal the fans of harsh Electro/EBM/Industrial as well. It doesn't need to be signed on Ant-Zen or Hands to bring out such a pure and authentic noisy CD. The final mastering done by John Sellekaers in his famous Metarc studio is just one more proof of the professionalism behind this fine output. If you are into this genre, this one is a must-have and comes highly recommend!
image not
available
anymore
Artist:
SKY BURIAL
Title:
Spectrehorse
Format:
CD
Label:
Audio Immolation Industries
Rated:
I've hailed Sky Burial's eponymous cdr on Housepig as one of the most interesting and fresh debuts that I listened to over the last few months, thanks to its ecstatic mix of mostly string-originated drones, hypnotic loops and minimal percussion. Right from its grim cover, its follow-up "Spectrehorse" shows that Michael Page has decided not to replicate that formula, which he could have easily done ad nauseam - so kudos to him for that. This second disc is a definitely more obscure, heavy and merciless beast, evoking barren ghost villages rather than lush landscapes. It would be far too easy to write that this sounds like a spin-off of Page's main project, Fire In The Head, and it would be also untrue. Sky Burial has maintained the droning, atmospheric element but plunged it in a midnight black tinge. The pitch-shifted guitar (or bass?) sounds on the title track add a twisted industrial doom sound, while the similar use of rhythmic loops in the following "Smoke Sky Horizon" has a vague dub feel. The album, however, tends to get darker and even more abstract as it progresses, with low-end drones submerged by a feedback crescendo ("Down and Down and Down"), wailing distortion ("Straightjacket Sonata"), spiralling drones ("Justice, Just Ice, Just Us") and the gaping chasms of "Chroma Polaris". It is not surprising that the only glimpse of vital reaction (ahem...) comes from the remix version of "To Mock a Killing Bird", the best track from the debut disc and, in my opinion, the best one here as well. As a whole, I must admit I still have to make up my mind about the disc - it is very good in itself, with a welcome physical approach to the dark ambient style, but now and then I've missed the variety of the Housepig release. On the other hand, it wins in terms of construction and layering, which show how Page is getting more mature and complex with Sky Burial just like with FITH. He probably hasn't found a perfect balance of his epic side and his depressive, darker one yet, but the album surely gets a thumb up from me.