Industrial Noise / Power Noise / Harsh Noise
Edit (3770)
image not
available
anymore
Artist:
CENOTYPE
Title:
Origins
Format:
CD
Label:
Hive Records
(@)
Distributor:
Metropolis / Ad Noiseam
Rated:
The gauze-bandages evolution continues!!! By watching the artwork (great job, Mr. Pittman) to the new and debut release of the New York-based one-man act CENOTYPE I had the impression, that it could re-animate the ideals of the renowned veteran duo Ivens/Verhaegen (THE KLINIK) at some point. Behind CENOTYPE "hides" Lenny B. a.k.a. DJ Wintermute and hiding" is the right term to keep his look behind some bandages and black leather" shirts and jackets.
And the opening track, the more than 10 minutes clocking deep dark facility-like sounding Sinking", even strengthens this impression – really cool Dark Ambient stuff to "sink" in. Although that this opener slows down this album, Lenny then likes to demonstrate with the following tracks why he got signed to Hive Records, one of the finest resources for harsh and rhythmic arranged Powernoise efforts. "Save Me" is a one of this pounding tracks featuring some strange human voice-like samples and a churning metallic attitude. "Pieces" and "Skip Trace" bring on besides the noisy inserts some solid bass kick work and follow rather some known paths which acts like TERRORFAKT, ALTER DER RUINE or ENDIF have gone before. Comes then with "Think It And Will Be" the return to a static and creepy Dark Ambient outfit, which features a mysterious female vocal performance in – I guess – Hispanic language. This diabolic piece works excellent to prove that Lenny understands it well to integrate diversity.
Follows then my personal favorite "The Mind Wanders". Well, what wanders here are the masses with the intention to bring some action on the dancefloors of the dark clubs. Rich and detailed arranged rhythm patterns featuring complex inserted percussion elements and tasteful synths spots unite to a killer track which rivals the throne of the Crunch Pod heroes ENDIF or CERVELLO ELLETRONICO. The track "Is" cools down the scenario with an almost sedating Dark Electro-like synth layer, until "She Dead... Requiem" and the final piece "Unearthed" bring back some rotten bodies to the dancefloors. In between the track "Justice" likes to start an assault with a chainsaw against your central nerve system. Starting as an ominous Dark Ambient piece until the rough white-noise-like wall of sound and an enraged male "screaming" performance lead the scenario – no wonder, since this track is a collaboration effort with NAVICON TORTURE TECHNOLOGIES, this fact already explains its outcome.

As for being a DJ, Lenny B. knows well to animate the masses by providing rhythmically Powernoise efforts. That he's capable to offer a wider musically insight with some murky Dark Ambient tunes rather surprises, but this even sets him to a higher and much appreciated level. Here's a true musician at work and this release is a top-notch and entertaining output for the Powernoise genre. Thumbs up!

image not
available
anymore
This is a new artist collaborating with Germany's most addictive rarity mail order service, SkullLine, and a fine addition to the musically diverse roster of their label section. KALIBER 9 seems to be a female/male-leaded duo and they provide a musically mixture out of Harsh Powernoise, Experimental, Martial Industrial and Ambient drones – heavily inspired of the works of some Cold Meat Industry patterns. It isn't designed for the weak of heart thanks to the use of de-constructed textures and a massive (ab-)use of distortion, lo-fi and overdrive effects. "Traumatized" comes near to what can be called a rhythmically Powernoise track, while it doesn't integrate any related Harsh EBM structures. It is a noise massacre with a harsh metallic-sounding attitude at its best. "Neurotoxin" or "Dungeoned" turn rather more into the field of Martial Industrial and Experimental genres, here and some deep and restranged male vocal extracts are thrown in. "In The Morgue" plays in a wide field of the Dark Ambient genre, while both tracks, "Dungeoned" and "In The Morgue" are also featured here as special bonus remix works, both aptly entitled "Distorture mix". KALIBER 9 offer a harsh and smashing output which likes to reflect excerpts out of different, but still rather experimental and dark-minded styles. As usual for a SkullLine release, also this release is strictly limited to 99 exemplars and comes packed in a DVD case. Play it louder than bombs, but take care for your neighbors!!!

image not
available
anymore
Artist:
GREIFENKEIL
(@)
Title:
Symbol
Format:
2 x CD (double CD)
Label:
GrenTzwert
(@)
Distributor:
Alive
Rated:
The Bavarian-based mysterious GREIFENKEIL project returns with a complete new studio album. Their label GrenTzwert has decided to change the distributor, so from now all of their releases are coming out under wings of the German distributor Alive! – for sure a right and wise decision. That they could also arrange a totally DJ support with the helping hand of the Hamburg-based Hardbeat Propaganda still surprises – I at least like to get introduced to the open-minded DJ, who's seriously be able to deal with the diverse musically onslaught of GREIFENKEIL. Besides the "normal" 1CD edition, which already caused attention thanks to an extraordinary package and artwork, this release comes also out as a limited DCD collectors item edition featuring a more detailed art packed into a DVD-like paper box set, a booklet featuring expansive explanations on every single track, a mystic "touch key" with detailed descriptions how to use it and of course a second full-length CD offering alternative Club versions on the GREIFENKEIL tracks and several remix collaborations by diverse artists.
As expected, the music of GREIFENKEIL is mostly a very dark and spooky arranged output by integrating elements out of Dark Electro, rhythmically Powernoise, Dark Ambient and Ritual-Industrial impressions. GREIFENKEIL can be described as a whole artistic concept, consisting not only out of the audio results, they are also a kind of performance act. Musically on the hunt to pick up the ideas and tendencies of some 4AD legends like THIS MORTAL COIL or DEAD CAN DANCE, the like to re-interpret these artistic aspects without known boundaries mainly based into harsh Electronic-/Industrial-minded fields. You'll be warned, because it isn't all the Trance-infiltrated Harsh EBM formula which unfortunately still floats nationwide through the dark clubs – therefore I tend to call this DJ initiative as being courageous. On the other hand and if you seriously like to grab attention by the unprepared listener, you have to start actions like this, because mostly this music still gets heard for the first time in the clubs – as sad as this maybe is.
As "usual" for GREIFENKEIL and the band leader A. von Greifenkeil, they like to pick up again a thematically mixture out of the critically consideration of "prominent" religions, the European finding and its cultural and historically background – and, to my surprise – they nowadays deal with politically inspired themes like the Iraq crisis ("Survivor") and the generally, but unfortunately questionable right to present an own opinion ("Democracy"). What differs to the self-titled debut is the fact, that GREIFENKEIL more than ever before draw offensive their aversion against Christianity and the questionable kind how the church and its legations like to act. This was rather hidden or subtle presented on their debut ("Irina") and only recognizable with some background info, but on "Symbol" (here the track "Untergang") they offer an open statement. But main theme and maybe the most important quell for the creation of this album is the finding of some archaeologically stones ("Platz Der Alten Steine") in Goseck/Germany – a sign ("Symbol"), maybe a kind of forefathers temple of a culture which historians and scientists expecting to be 7000 years old – therefore older than the pyramids. Do we have completely to re-write all historically textbooks?
As for the limited second CD of this album, GREIFENKEIL themselves are offering alternative and rather club-oriented versions on the tracks "Symbol", "Democracy", "Untergang" and "Survivor". Several colleagues based into stylistically very different kinds of Electro/Industrial music with the best known names like IMPLANT, FIL/QNTAL, MONOLITH or ACYLUM are providing remix works based on both tracks "Symbol" and "Democracy". Regarding the fact that I am personally involved with my own music project providing a remix work on "Democracy", I come here to the point, where I don't fall into the mistake to rate any of the appearances here. At least there will be out several other dedicated colleagues writing for different resources, which should be able to review this item and aren't personally involved.
Anyway, musically also this new GREIFENKEIL effort is a release which requires your fully attention. Several rotations are needed to get a simple glimpse of the idea and impression behind the artistic work of GREIFENKEIL. You got also warned if you're heavily follow your whole life the catholic ideal of a Christ – without being open-minded to different kinds of a belief, you'll could be offended by some musical/lyrical/artistically content here. To me personally, I've given it now several spins here – and like on the debut I still have the impression, that I've missed some content. The atmosphere and mysticism which GREIFENKEIL likes to explore and present is a dark and complex one - free time without disturbing influences seems to be required to sink into this...

Track list

1. Symbol
2. Untergang
3. Survivor
4. Democracy
5. Selling your Souls
6. Curse
7. Departed
8. Platz der Alten Steine
9. Ahnentempel
10. WinterSolstice
11. Symbol (Reprise)

Track list Remixes

1. Symbol (Greifenkeil Club Version)
2. Symbol (FIL / Qntal Remix)
3. Symbol (Implant Remix)
4. Symbol (La Magra Remix)
5. Symbol (Puissance Remix)
6. Untergang (Greifenkeil Club Version)
7. Survivor (Greifenkeil Club Version)
8. Democracy (Greifenkeil Club Version)
9. Democracy (DemoCrazy RMX by Monolith)
10. Democracy (violent nation RMX by acylum)
11. Democracy (Synaptic Defect Remix)
12. Democracy (Puissance Remix)


image not
available
anymore
Artist:
SANDBLASTING
(@)
Title:
Adrenaline
Format:
CD
Label:
Rustblade
(@)
Distributor:
Masterpiece Distribution
Rated:
Active since 1997 Luca Torasso's personal project Sandblasting is presenting to the fans of noise industrial percussive sounds his latest release titled ADRENALINE. Starting from its name, Sandblasting wanted to define its target and its sound: grinding noise which is able to remove rust from listener's heads. With this purpose in mind, Luca recorded, helped by Stefano Rossello (:Bahntier:) and Justin Bennet (who produced and played on the latest :Bahntier:'s album), eleven tracks in balance from percussive industrial noise and breakcore which are influenced by early Test Department (see the metallic percussive sounds used), Merzbow (see the white noise parts) and early Ant Zen bands (see how the rhythm layers are built). The result will please the lovers of the genre and if with the opening track "Near the dead" I feared of being about to listen 70 minutes of wild noise, the second one (the first rhythmical one on the album) made me realize that something else was going on. Luca is good at blending all his sound, being able to build a well working wall of sound but, for my tastes, sometimes he's stuck into a loop and someway the tracks end into repeating themselves with the noise and the rhythms going back and forth like a wave of liquid concrete. I'd rather prefer tension and dark ambience to this amount of noise but it's only my opinion and if you love industrial rage check this out...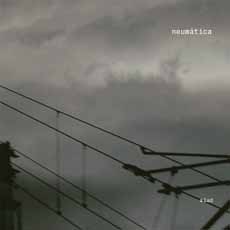 Artist:
NEUMÁTICA
Title:
Alud
Format:
CD
Label:
Creative Sources
Rated:
Alfredo Costa Monteiro, here at "pick-ups on turntable", may well be one of the loudest, meanest improvisers around. Even when he plays a plain accordeon, he manages to raise some serious hell. Here, he teams up with Pablo Rega, at "home made electronic devices", for a wisely short and to the point cd (three tracks, 37'50") documenting a performance given in Barcelona in 2005. If you're familiar with Costa Monteiro's other duo Cremaster, you can have a hint about how "Alud" sounds: a flow of menacing noise, be it hisses, crackles, gurgles or metallic low-end rumbles. It could even be labelled "harsh noise", but bear in mind this has a lot of nuances and microscopic details that are usually lost in full-on noise releases. Again, if you know other releases of Costa Monteiro's, you'll know what to expect, which is the only drawback I see in this powerful and radical performance.