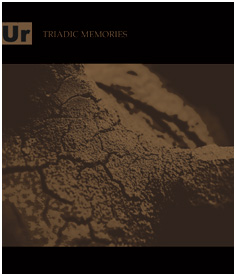 Artist:
UR
Title:
Triadic Memories
Format:
CD
Label:
Afe Records
Rated:
Named after the Italian esoteric group attended by Julius Evola, Ur are the best newcomers in the Italian industrial underground, as already promised by their self-released cdr (see archive). Formed by three performers with a HC- punk background (former and current members of Heartside, Permanent Scar, Burning Defeat, Onefineday, Downright and Kafka), they prefer live performances, so these recordings should reflect quite well what you can expect from a concert of theirs. The strong "played in real time" feel is surely one of the most interesting qualities of their recordings. "Triadic Memories" (a homage to Morton Feldman?) features three tracks ranging from 7' 28" to 20' 51", and opens with "Movement # 1", already featured - with a rougher mix - in their DIY cdr. The track is the most noisy and heavy of the lot, with theremin squeals, heavily delayed bass, metallic percussion and looped vocal samples, possibly the most refined characteristic of their sound. "Movement # 2" opts for more ambient, but surely not serene atmospheres: the disquieting spoken samples, drones and loops, and a bleak accordeon, all convey a sense of uneasiness and depression. The two main currents of Ur's sound (the noisy and the droning one) are well fused in the mammoth "Movement # 3", a psychedelic tour de force of theremin loops, pedal galore, accordeon, bells, and vocal mantras. Ur use their tool well, and know how to dose aggressive bursts and more expanded fragments; their sound could appeal to a wide range of industrial-ambient lovers (especially those into IRM, Non and Throbbing Gristle's soundtracks).
Industrial Noise / Power Noise / Harsh Noise
Edit (3398)
image not
available
anymore
Artist:
THIRDORGAN
Title:
Satanico Pandemonium
Format:
CD
Label:
Dead Sea Liner
Rated:
Thirdorgan is one of the greats of the current Japanese noise scene, but somehow I don't think he's been recognized as he deserves. Last time I heard from him was in the split 7" with Government Alpha (on Dada Drumming), but I've probably missed something along the way. Released on a cdr with simple photocopied sleeve, as usual with Dead Sea Liner, "Satanico Pandemonium" features five tracks, all titled "La Sexorcista",and opens with a looped sample from Romero's "Dawn of the Living Dead". Throughout, all sort of bizarre samples are minced and distorted, generally beyond recognition; for example, the longest track, # 3, begins with some disco music soon submerged by layers of noise. Yep, Thirdorgan's tools are distortion and feedback and low-end crunch (predominant in tracks # 4 and 5), but he also uses weird tecniques (is it tape manipulation or VST processing?) which make the cdr a quite varied and interesting one. Think of the musique concrete-cum-harsh noise of the best Merzbow and you'll get close to "Satanico Pandemonium".
image not
available
anymore
Artist:
TEXTURED BIRD TRANSMISSION
Title:
Purple Weighted Pellets of Despair
Format:
CD
Label:
Dead Sea Liner
Rated:
I don't know much about Textured Bird Transmission, except that he/she/they is/are probably from the UK and that this cdr marks the debut of the Dead Sea Liner label. "Purple Weighted Pellets of Despair" is a one-track, 29-minute cdr starting as a serene drone thing and gradually billowing to a powerful crescendo of distortion and feedback. Minimal means (it's probably a synth + pedals set), known formula, but nice results; a positive debut from both the project and the label.
Industrial Noise / Power Noise / Harsh Noise
Edit (3387)
New and second release for this German Experimental duo, again published in limited editions (100 pieces) by the German special mail order service SkullLine. TT continue with their musically concept to install rhythmically, extremely distorted drum patterns with minimal synth textures, strange and shattered vocal interpretations ("Psycho") and some noisy sample work. This stuff should appeal fans of the Electro/Industrial genre, but more the supporters of Minimal, Experimental and Powernoise music. The difference to their debut can maybe found in the fact that they have reduced the term Electro in their sound a bit to a rather minimal outcome. Both straight, but still distorted pieces "Kampfkrampf", "Geigerzähler" and the speedy "Stress" got my vote for the most accessible tracks, while not all pieces here feature the 4/4-on-the-floor formula. This stuff isn't designed for the fainthearted, the whole 14 tracks with 66 minutes playing time need some attention and good nerves of the listener. Another fine but soon hard-to-get item of the SkullLine mail order. Check it out.


image not
available
anymore
Artist:
VV.AA.
Title:
Born/Evolve/Progress 2
Format:
CD
Label:
Progress-Productions
(@)
Distributor:
Nova Media
Rated:
Winter time – compilation time # 3: Well, that's a fine label compilation. The Swedish label Progress Productions likes to celebrate the new year with their second edition "Born/Evolve/Progress" on which all signed label artists provide new and unreleased tracks. No compiling of known smash hits, no releasing of unnecessary remix works by more or lesser known "stars" of the scene – luckily only new and never-heard-before stuff. Also a nice introduction to the new signings this label has recently picked up. TERROR PUNK SYNDICATE, thankfully featured with a Swedish solo project by John Karlgren has already worked hard to create a satisfied and complex sound for years reaching the level of some classic FLA works. It was about time and a consequential must, that this fucking-great artist finally has found a label home in Progress Productions. Already appearing with an enthusiastic track on the beloved Interbreeding VII (BLC Productions, www.blcmusic.com), this is an act to follow immediately. Opening act is CRYO aka Martin Rudefeldt, maybe the most underrated act on Progress, also present with two new pieces – it's hard to find any better opener than this new track "Freedom", combining vocoderized vocals, cold melodic synth textures and rather old-school like bass lines. Follows the second new signing MOMMY HURT MY HEAD with a pounding Harsh Electro piece. This act hails from Denmark and can be seen as a follow-up act to the legendary ARZT + PFUSCH, a well-known act still in hiatus. Also the young NECRO FACILITY return with two Dark Electro tunes following more or less obviously some similarities to classic SKINNY PUPPY and/or INTERLACE works – good stuff. RED CELL then marks one of the surprises of this compilation. Wasn't it this act which could grab some attention by some Swedish Metal music magazines? Where are the guitars? It looks like a huge stylistically change, because this track is a real Futurepop piece somehow comparable to CULTURE KULTÜR and PRIDE & FALL. Mr. JONES MACHINE and HYPE offer late 80ties-inspired Synthpop tracks and especially HYPE's vocal performance by Robert Enforsen (ex-ELEGANT MACHINERY) can convince totally. SYSTEM continue with a rather minimal early 80-ties, KRAFTWERKian piece, while 8KHZ MONO joining this comp with a surprising hard Electro/EBM piece. Also IAMBIA, hailing out of Greece, are pushing the hard and stomping beats forward to some dark dancefloors featuring once again their fine worked-out signature. STURM CAFE could to my impression really improve their knowledge in German language, while the music formula with NEP-like bass lines and a solid kick and snare work remains the same. Finally the last new signing comes up with the last track, KOPFER KAT with "Spike" providing a rhythmically Powernoise effort which really shatters some walls to dust. Not that Tekkno-based 140 bpm and faster kick/open hi-hat work, but real distortions, easy, but effective produced. Regarding the "limited to 1000 pieces world-wide" special this compilation features as well, there can't be any real reason not to purchase this fine collection. Progress Productions concentrates on quality releases and has grown in the past two years to much more than only a secret tip. The next label giant after the coming demise of Dependent? Well, let's see how far it goes...

01: Cryo "Freedom"
02: Terror Punk Syndicate "Dysmorphia" (Epicentre Version)
03: Mommy Hurt My Head "Nothing Zero Option (After the pills)"
04: Necro Facility "Tuxedo"
05: Red Cell "Lust"
06: Mr Jones Machine "Vilda Drömmar"
07: Hype "Love-o-lution"
08: System "No Man"
09: 8kHz Mono "Crash Course"
10: Iambia "Program K"
11: Cryo "Rage"
12: Terror Punk Syndicate "Wish I Was Retarded"
13: Sturm Cafe "Weltliches Leben"
14: Necro Facility "Dope"
15: Kopfer Kat "Spike"