image not
available
anymore
Artist:
GREIFENKEIL
(@)
Title:
Symbol
Format:
2 x CD (double CD)
Label:
GrenTzwert
(@)
Distributor:
Alive
Rated:
The Bavarian-based mysterious GREIFENKEIL project returns with a complete new studio album. Their label GrenTzwert has decided to change the distributor, so from now all of their releases are coming out under wings of the German distributor Alive! – for sure a right and wise decision. That they could also arrange a totally DJ support with the helping hand of the Hamburg-based Hardbeat Propaganda still surprises – I at least like to get introduced to the open-minded DJ, who's seriously be able to deal with the diverse musically onslaught of GREIFENKEIL. Besides the "normal" 1CD edition, which already caused attention thanks to an extraordinary package and artwork, this release comes also out as a limited DCD collectors item edition featuring a more detailed art packed into a DVD-like paper box set, a booklet featuring expansive explanations on every single track, a mystic "touch key" with detailed descriptions how to use it and of course a second full-length CD offering alternative Club versions on the GREIFENKEIL tracks and several remix collaborations by diverse artists.
As expected, the music of GREIFENKEIL is mostly a very dark and spooky arranged output by integrating elements out of Dark Electro, rhythmically Powernoise, Dark Ambient and Ritual-Industrial impressions. GREIFENKEIL can be described as a whole artistic concept, consisting not only out of the audio results, they are also a kind of performance act. Musically on the hunt to pick up the ideas and tendencies of some 4AD legends like THIS MORTAL COIL or DEAD CAN DANCE, the like to re-interpret these artistic aspects without known boundaries mainly based into harsh Electronic-/Industrial-minded fields. You'll be warned, because it isn't all the Trance-infiltrated Harsh EBM formula which unfortunately still floats nationwide through the dark clubs – therefore I tend to call this DJ initiative as being courageous. On the other hand and if you seriously like to grab attention by the unprepared listener, you have to start actions like this, because mostly this music still gets heard for the first time in the clubs – as sad as this maybe is.
As "usual" for GREIFENKEIL and the band leader A. von Greifenkeil, they like to pick up again a thematically mixture out of the critically consideration of "prominent" religions, the European finding and its cultural and historically background – and, to my surprise – they nowadays deal with politically inspired themes like the Iraq crisis ("Survivor") and the generally, but unfortunately questionable right to present an own opinion ("Democracy"). What differs to the self-titled debut is the fact, that GREIFENKEIL more than ever before draw offensive their aversion against Christianity and the questionable kind how the church and its legations like to act. This was rather hidden or subtle presented on their debut ("Irina") and only recognizable with some background info, but on "Symbol" (here the track "Untergang") they offer an open statement. But main theme and maybe the most important quell for the creation of this album is the finding of some archaeologically stones ("Platz Der Alten Steine") in Goseck/Germany – a sign ("Symbol"), maybe a kind of forefathers temple of a culture which historians and scientists expecting to be 7000 years old – therefore older than the pyramids. Do we have completely to re-write all historically textbooks?
As for the limited second CD of this album, GREIFENKEIL themselves are offering alternative and rather club-oriented versions on the tracks "Symbol", "Democracy", "Untergang" and "Survivor". Several colleagues based into stylistically very different kinds of Electro/Industrial music with the best known names like IMPLANT, FIL/QNTAL, MONOLITH or ACYLUM are providing remix works based on both tracks "Symbol" and "Democracy". Regarding the fact that I am personally involved with my own music project providing a remix work on "Democracy", I come here to the point, where I don't fall into the mistake to rate any of the appearances here. At least there will be out several other dedicated colleagues writing for different resources, which should be able to review this item and aren't personally involved.
Anyway, musically also this new GREIFENKEIL effort is a release which requires your fully attention. Several rotations are needed to get a simple glimpse of the idea and impression behind the artistic work of GREIFENKEIL. You got also warned if you're heavily follow your whole life the catholic ideal of a Christ – without being open-minded to different kinds of a belief, you'll could be offended by some musical/lyrical/artistically content here. To me personally, I've given it now several spins here – and like on the debut I still have the impression, that I've missed some content. The atmosphere and mysticism which GREIFENKEIL likes to explore and present is a dark and complex one - free time without disturbing influences seems to be required to sink into this...

Track list

1. Symbol
2. Untergang
3. Survivor
4. Democracy
5. Selling your Souls
6. Curse
7. Departed
8. Platz der Alten Steine
9. Ahnentempel
10. WinterSolstice
11. Symbol (Reprise)

Track list Remixes

1. Symbol (Greifenkeil Club Version)
2. Symbol (FIL / Qntal Remix)
3. Symbol (Implant Remix)
4. Symbol (La Magra Remix)
5. Symbol (Puissance Remix)
6. Untergang (Greifenkeil Club Version)
7. Survivor (Greifenkeil Club Version)
8. Democracy (Greifenkeil Club Version)
9. Democracy (DemoCrazy RMX by Monolith)
10. Democracy (violent nation RMX by acylum)
11. Democracy (Synaptic Defect Remix)
12. Democracy (Puissance Remix)


image not
available
anymore
Artist:
SANDBLASTING
(@)
Title:
Adrenaline
Format:
CD
Label:
Rustblade
(@)
Distributor:
Masterpiece Distribution
Rated:
Active since 1997 Luca Torasso's personal project Sandblasting is presenting to the fans of noise industrial percussive sounds his latest release titled ADRENALINE. Starting from its name, Sandblasting wanted to define its target and its sound: grinding noise which is able to remove rust from listener's heads. With this purpose in mind, Luca recorded, helped by Stefano Rossello (:Bahntier:) and Justin Bennet (who produced and played on the latest :Bahntier:'s album), eleven tracks in balance from percussive industrial noise and breakcore which are influenced by early Test Department (see the metallic percussive sounds used), Merzbow (see the white noise parts) and early Ant Zen bands (see how the rhythm layers are built). The result will please the lovers of the genre and if with the opening track "Near the dead" I feared of being about to listen 70 minutes of wild noise, the second one (the first rhythmical one on the album) made me realize that something else was going on. Luca is good at blending all his sound, being able to build a well working wall of sound but, for my tastes, sometimes he's stuck into a loop and someway the tracks end into repeating themselves with the noise and the rhythms going back and forth like a wave of liquid concrete. I'd rather prefer tension and dark ambience to this amount of noise but it's only my opinion and if you love industrial rage check this out...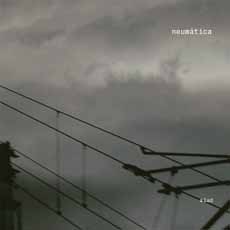 Artist:
NEUMÁTICA
Title:
Alud
Format:
CD
Label:
Creative Sources
Rated:
Alfredo Costa Monteiro, here at "pick-ups on turntable", may well be one of the loudest, meanest improvisers around. Even when he plays a plain accordeon, he manages to raise some serious hell. Here, he teams up with Pablo Rega, at "home made electronic devices", for a wisely short and to the point cd (three tracks, 37'50") documenting a performance given in Barcelona in 2005. If you're familiar with Costa Monteiro's other duo Cremaster, you can have a hint about how "Alud" sounds: a flow of menacing noise, be it hisses, crackles, gurgles or metallic low-end rumbles. It could even be labelled "harsh noise", but bear in mind this has a lot of nuances and microscopic details that are usually lost in full-on noise releases. Again, if you know other releases of Costa Monteiro's, you'll know what to expect, which is the only drawback I see in this powerful and radical performance.
image not
available
anymore
Artist:
HARSHCORE
(@)
Title:
the sybian sorority
Format:
CD
Label:
Rudimentale
(@)
Rated:
No, despite their name these guys have nothing to do with harshcore musicwise, but they deal with noise anyhow. After having heard a couple of old songs I had a split sensation probably due to the fact I was expecting close to Luca Sigurtà solo works but later, after having seen them live, I've had to change my mind about the band since they've something special. Finally this time the recording reflects much more their live performances that means post-industrial-sometimes hip hop rhythms (since in case you didn't noticed mighty Dalek and mighty Techno Animal took the idea from that scene... well, Techno Animal took the idea from themselves), a soft and odd bass plus a good dose of odd noises underneath or choking the rest of the music. Not all of the songs have the same impact but sure some of them have it, above all when they drown in slow-rip-your-ass rhythms and leave ordinary/bass-lines back home. But being a confused reviewer and a contradictory person: the sixth track is probably one of my favourites and it presents a mechanical drum beat that moves like a two hundred Kilos slug with a melancholic but yet depressive bass at the place of the shell. The noisy/sad closure is another really inspired moment that deserve a special attention when you approach to the release. Some of the atmospheres of "sybian sorority" are strange to say it all and Harshcore has something crippled and out of ordinary in the way they play. Probably their best is yet to come but i n the meanwhile they've already floating ashore (if you don't believe me go and give check out what Vital says), the fact many people have problem to classify them is probably another hint they're doing a good job.
Artist:
SEVERE ILLUSION
(@)
Title:
Armed Evolution
Format:
CD
Label:
Advoxya Records
(@)
Distributor:
Poponaut
Rated:
Since the last full-length album of the SEVERE ILLUSION side-project INSTANS has found a possibility to get released via the Hungarian label Advoxya Records, Ulf Lundblad and Fredrik Djurfeldt are now on returning with their main project. I hear already the tacky comments of some freaks like "why not releasing this through the DSBP label?" or related because of possible problems of availability. Well, I guess it depends on a "business" decision and DSBP has already confirmed somewhere else, not to release EP's out of cost-wise reasons. At least and with respect to the last happenings, I'm very sure that Tommy T. will offer this item as soon as it is available in his mail order. "Armed Evolution" finally features nevertheless more than 61 minutes of new and unreleased tracks, several remix works by friends and label comrades, and a re-interpretation of a fan favorite recording, "Trust", originally released on their first full-length album "Discipline Isn't Reward Enough".

The CD starts with the track "I Wish I was Dead" – a typically SI smasher with a really simple bass line, that "special" feeling and so the winning point lays as so often in the use of their distortion effects, in which also the vocals are woven in. "And Some Other Dead Stuff" is available in both, original and extendet version. SI are setting a crown on this track to their lately discovered tendency to simplify their arrangements – this is purest minimalism. Not that harsh like the opener, the vocals are also calmer provided, also the distortion effects are generally reduced. It follows the revamped version of their classic track "Trust". Compared to the original track I tend to rate this version as being darker arranged. Two more previously unreleased tracks rather provided in their current minimal arranged style follow, until the remix marathon starts with a contribution of the BLC recording act THE PAIN MACHINERY. The work on "I Wish I was Dead" really kicks ass – the only flaw I see in the fact, that the vocals got too much hidden in the mix – otherwise it could grab more attention. Three remix works on the track "And Some Other Dead Stuff" are following, provided by THIRTEENTH EXILE, the Advoxya-recording act MULPHIA and the US-based "Mattman", CAUSTIC aka Matt Fanale. From the idea to create a rather Dark Electro-inspired atmosphere I tend to rate the MULPHIA work as being surprisingly the best work here. Two more remix works are following on the track "Trust" (SPETSNAZ are doing what they can do best: providing NEP-like bass lines...), until you'll get finally another unreleased track entitled "Eight Minutes Is A Long Time" – which at least is only 4 minutes long. This track is a strange sample-driven collage.

A SEVERE ILLUSION release is always a candidate to reach the 4/5 stars rating and this release isn't an exception. But at least I have the impression that they've reached an end of the rope regarding their current dedication to reduce their arrangements and textures. I don't criticize this development, since their style still remains authentic and unique in the world-wide Electro/Industrial scene. But at least I like to ask, how to jump out of a possible musically death valley?