image not
available
anymore
Artist:
Asylum
(@)
Title:
Rattus In Sanguine
Format:
CD
Label:
Dead Love Records
Rated:
This cd is the official reissue of the demo already reviewed on this site. The album is released by the Australian label Dead Love Records and, compared to the demo, the sound quality has improved. Yet, I could confirm some of the observations years ago Maurizio Pustianaz wrote: seems that the one man band hasn't decided yet which is its personal style, and it's a pity because many ideas are quite interesting and could lead Cryos (the artist behind this work) to a bright future in the industrial area. All tracks are instrumental and show a large use of psychotic loops and distorted drums, usually in a crescendo that involves the listener in Cryos' morbid Weltanschauung.
I prefer tracks like "Everybody's Dead", with obsessive strings loops and harsh drums, or "Ancient Poets (Scream of Butterfly Remix)", obscure and sad but with a light remembrance of Enigma, the painful and distressing "Ploratus" or even "Lesbo Sado Dance" with its obsessive hardcore drums, a good track for smoky and crowded techno/industrial clubs. I can't understand how can be in the same album tracks like the above mentioned and completely different ones, like "Crying People" (with some Vangelis' atmosphere) or "Human Model", where the commercial influence is excessive for my taste.
Sincerely, ASYLUM has to decide with is its main path, giving an internal coherence to its production (at least on the official releases): the same confusion can be seen in the name of the band that changed continuously so that every time I look at the website I notice a different monicker (Asylum, Porno Machine, Angel Machine). This, together with a much better production (more clearness on string pads and noisy background and emphasis on the powerful drumbeats), could give to Cryos' project the opportunity to emerge and place himself among the other good Italian industrial acts.
image not
available
anymore
Artist:
AUTO AGGRESSION
(@)
Title:
Artefacts
Format:
CD
Label:
Dependent
(@)
Distributor:
Alive
Rated:
With the second CD release of Lukas Schneider the German label Dependent brings out just one of those beloved, but also courageous and in some phases strange release for which this label has reached a fine name world-wide. AUTO AGGRESSION isn't at all like your daily and usual Electro/Industrial listening and like on his debut Lukas provides again a rather diverse and experimental minded kind of work. The concept for this "Artefacts" (NO typo here...) means to collect and to re-assemble audio byproducts out of digital sound manipulations. What sounds in this description as a real inaccessible extreme experiment isn't at all that strange. Musically he offers his fine worked out mixture which combines Electro (A Thousand Fires"), rhythmically Powernoise ("Blame", The Sky Is Not Yours", "Speed"), Ambient, Electronica ("Mechanical Sun") and Pop art ("Shallow Things"). Definitively from the intelligent side of music, the used sounds are of course self-created and arranged. Mostly instrumental tracks, Lukas could add again Nives Garasevic doing the female vocal parts on two tracks, and Eskil Simonsson of COVENANT to perform on the track "A Thousand Fires". Always cool to discover something different, unfortunately also this release will be one of the last of this fine label.


Artist:
VV.AA.
Title:
Electronic Manifesto
Format:
2 x CD (double CD)
Label:
Caustic Records
(@)
Rated:
A DCD compilation set brought to us by the Spanish label Caustic Records which provides the excellent idea to collect several rather underground acts of both countries France and Spain. It is a fine collected initiative to offer these acts a platform to publish some promising material. And indeed, I have found here several tracks and artists on which it is hard to believe that they haven't been yet recognized by a wider audience. Also the both compilers of the darkest pieces out of both countries speak for quality. CD 1 got compiled by Pedro Penas Y Robles – better known under his band H.I.V.+, while the second CD was compiled by DJ Dogme, who stands behind the French label and online community Axess Code. Additional help they received on the production and the artistic concept by Caustic Records label chief Manix S. and from Yann Soutre of the French act REMAIN SILENT (...why not on here with a new track???) providing the mastering of this DCD set. The French act NEON CAGE EXPERIMENT opens this compilation with a new and rather slow tune, which once more approves their status. PUPPYan-like ominous synth layers, complex programmings and the authentic vocals of Laurent K. (STIGMA) celebrate a strong recommendation to check out more of their stuff – now signed to the US-based Vendetta Music/Electro Aggression Records there should be something out soon. Pedro aka H.I.V.+ has united here with THE HACKER and offers a rather danceable version of "Növö Disko". The "black sheep" on this whole compilation is the guest appearance of PSYCHE providing an updated version of the classic track "Unveiling The Secret 2.0". CHRISTOFFER KAH has to mentioned here too and can totally convince with a danceable track featuring rather old-school EBM bass lines, dark restranged vocals and great melodic content. And have you ever thought about that the French old-school EBM act VOID KAMPF can provide a convincing Dark Electro-minded instrumental tune, instead of "body-muscle-machine" shouts? They can – hats down – but have I heard an obviously use of a FLA sample ("Infra Red Combat") in their track? However, it's one of the best surprises here! PAIL, the Spanish project leaded by Manix S., comes up with a new euphoric and danceable Dark Electro track, which makes hungry for more! TANNHAUSER, next to PAIL also signed to Caustic Records, is an act which – to my shame – I haven't discovered anything about. What a big mistake, as they can prove here. A lot of fine tunes to check out here and while CD 2 maybe features the lesser known artist names, it stands head to head in quality to CD 1. SENSORIAL RESPONSE is a new signing for Caustic Records and their first audio sign of life is a fine worked-out instrumental piece. EMBRYO is a new cooperation project by Bruno L. of NEON CAGE EXPERIMENT and Dominique Debert of BRAIN LEISURE – they aren't afraid to use some guitar riffs to provide a different kind to their rather classic EBM-inspired tunes. Comes then one of my most favorites, E:S.R. with a new and unreleased alternative version of "Regression", which should even raise the collector's value of this compilation – excellent quality as usual from this fine French act. Musically in a comparable style comes then a collaborative effort by both relatively known French acts BRAIN LEISURE and SKOYZ, while the following cooperation between H.I.V.+ and DEADCELL (= Bruno of NEON CAGE EXPERIMENT) reminds strong on some INTERLACE/NECRO FACILITY tunes featuring a fine but dark melodic content. Best surprise to me is the return of the French act DATA RAPER aka Anthony Dupre. He has released one album called "Carbon Flora" on the French label Brume Records, but afterwards it got silent around him. Fantastic programmings, rich and detailed synth textures, vocoderized vocals – let's hope and keep all the fingers crossed that he will return. We then get into the part where the searching qualities of DJ Dogme are asked for, because behind names like MIND NECROSIS FACTOR, QUANTIC CHURCH, ZAUBER and SPLATTERPUNK are hiding mostly undiscovered acts – not lesser talented for sure, but they stand mostly in their very first beginning of a career – as far as this is possible in this poor scene. EX_TENSION I need to mention as well, and I hope that this French act will finally soon coming up with a long announced CD release on Cortex Records. The veteran act K-BEREIT also receives a free slot providing straight EBM bass lines with rather chaotic textures. This is globally one of the finest compilations around of the last six months for sure, especially and thanks to the fact that the generic Trance/Techno-inspired Hellektro formula hasn't find any free slot. The compilers have done a great job and could collect quality, congrats to all of you. Some more and mostly known names I miss here (TAMTRUM, ALLIED VISION, CULTURE KULTUR, OBSZÖN GESCHÖPF...), but this maybe would mean they have to replace some talented newcomer... However, I hope for a continuation, the second chapter has to follow, please...

CD1 selected by HIV+_

1.NEON CAGE EXPERIMENT "memento"
2.LAAG "submit"
3.MAURI "critical day (feat. Victor HAZE)"
4.THE HACKER & HIV+ "növö disko"
5.TERENCE FIXMER "substance"
6.PSYCHOSOMATIK "release me (industrial mix)"
7.PSYCHE "Unveiling the secret (PEOPLE THEATRE ext. version) "
8.CHRISTOPHER KAH "urban night"
9.VOID KAMPF "restore hope (instrumental)"
10.PAIL "dignity corrosion"
11.TANNHAUSER "born in fear"
12.GEISTFORM "alter"
13.LTNO "lucyfer rising (SCHOOLBUS TEENAGE Rmx)"

_CD2 selected by DJ Dogme_

01.SPROG "discordia ( M-linc vocal)"
02.SENSORIAL RESPONSE "Your life is mine (instrumental)"
03.EMBRYO "save me from myself "
04.E.S.R "regression ( Human wasteland mix)"
05.BRAIN LEISURE vs SKOYZ "the maze"
06.HIV+ vs DEADCELL " transmutation (rmx)"
07.DATA RAPER "prosium"
08.MIND NECROSIS FACTOR "senescence"
09.QUANTIC CHURCH " millenium jihad"
10.ZAUBER "funeral imagination"
11.EX_TENSION "freedom (Ultimate mix)"
12.TWINKLE vs SHIZUKA "?"
13.K-BEREIT "blue halo"
14.MUCKRACKERS "fraktion 27"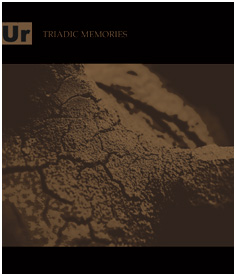 Artist:
UR
Title:
Triadic Memories
Format:
CD
Label:
Afe Records
Rated:
Named after the Italian esoteric group attended by Julius Evola, Ur are the best newcomers in the Italian industrial underground, as already promised by their self-released cdr (see archive). Formed by three performers with a HC- punk background (former and current members of Heartside, Permanent Scar, Burning Defeat, Onefineday, Downright and Kafka), they prefer live performances, so these recordings should reflect quite well what you can expect from a concert of theirs. The strong "played in real time" feel is surely one of the most interesting qualities of their recordings. "Triadic Memories" (a homage to Morton Feldman?) features three tracks ranging from 7' 28" to 20' 51", and opens with "Movement # 1", already featured - with a rougher mix - in their DIY cdr. The track is the most noisy and heavy of the lot, with theremin squeals, heavily delayed bass, metallic percussion and looped vocal samples, possibly the most refined characteristic of their sound. "Movement # 2" opts for more ambient, but surely not serene atmospheres: the disquieting spoken samples, drones and loops, and a bleak accordeon, all convey a sense of uneasiness and depression. The two main currents of Ur's sound (the noisy and the droning one) are well fused in the mammoth "Movement # 3", a psychedelic tour de force of theremin loops, pedal galore, accordeon, bells, and vocal mantras. Ur use their tool well, and know how to dose aggressive bursts and more expanded fragments; their sound could appeal to a wide range of industrial-ambient lovers (especially those into IRM, Non and Throbbing Gristle's soundtracks).
Industrial Noise / Power Noise / Harsh Noise
Edit (3398)
image not
available
anymore
Artist:
THIRDORGAN
Title:
Satanico Pandemonium
Format:
CD
Label:
Dead Sea Liner
Rated:
Thirdorgan is one of the greats of the current Japanese noise scene, but somehow I don't think he's been recognized as he deserves. Last time I heard from him was in the split 7" with Government Alpha (on Dada Drumming), but I've probably missed something along the way. Released on a cdr with simple photocopied sleeve, as usual with Dead Sea Liner, "Satanico Pandemonium" features five tracks, all titled "La Sexorcista",and opens with a looped sample from Romero's "Dawn of the Living Dead". Throughout, all sort of bizarre samples are minced and distorted, generally beyond recognition; for example, the longest track, # 3, begins with some disco music soon submerged by layers of noise. Yep, Thirdorgan's tools are distortion and feedback and low-end crunch (predominant in tracks # 4 and 5), but he also uses weird tecniques (is it tape manipulation or VST processing?) which make the cdr a quite varied and interesting one. Think of the musique concrete-cum-harsh noise of the best Merzbow and you'll get close to "Satanico Pandemonium".