image not
available
anymore
Germany's special mail order service and underground Powernoise-label SkullLine releases only a few month after "Document A" another compilation. This time they like to celebrate their 1st anniversary of the SkullLine label and for this event they've invited besides the complete own roster several acts musically based in the wide field between EBM, Powernoise, Minimal, Ambient, Martial Industrial and Neo-Folk. Of course and thanks to the rich amount of acts joining this compilation, this release comes out as a double-CD packaged in a huge DVD case. Also – as usual – it is limited to 200 hand-numbered copies, from which 64 exemplars will be released as a box-set including a T-shirt.
Giving CD1 a first spin, it is already conspicuous how diverse the musically playing field of this compilation will turn. SkullLine's very own act TT provides an intro-track which comes unusual dark, while KALIBER 9 storming merciless in your brain with a hefty Powernoise tune, a remix of their track "Neurotoxin". Neo-Folk-inspired works musically supported by acoustic guitars you'll get with the appearances of BERKANA ("Sehnsucht Nach Dem Frühling" – lyrics originally written by August H. Hoffmann, a well-known traditionally German text) or ROSE ROVINE E AMANTI. Rather sedating comes the Dark-Ambient tune of EINHEIT 731, while BLEIBURG surprises once again with an outlook to a coming new album, "Der Meldereiter" comes out as a straight rhythmic-oriented track featuring some amusing German voice samples. In between we have STANDGERICHT, another project new signed to SkullLine, offering Minimal textures with a slight noisy ingredient. Something new also from SHIFT 69, the track "Arbeit" features retro-EBM structures and sampled and vocoderized vocals – WELLE:ERDBALL can be named to be a quell of inspiration. The term "Noise" in a rhythmically form returns with the appearances of both ZYANKALI and TRITON 83, and with LIFE'S DECAY one of the international better known artists joins this comp. MANMACHINE, last but not least, ends this compilation with a rather dark Ambient-tune, also from this act a new release out on SkullLine is in the works.
CD2 got opened by MARK LANE offering a moody Dark Electro/Ambient-driven track entitled "Atomium". Other striking appearances have to be named with LADY MORPHIA ("Widerstand" – something between Goth and Neo-Folk, well-done male vocals and a orchestral-like musically building.), NEJET NOK ("Singen, Lachen, Töten", minimal retro-EBM structures with pitched vocals and German lyrics which cause a smile...) and SCHALLGEWALT ("Electrocabinette", a minimal but speedy rhythmic piece remixed by BLEIBURG). Also a positive point is the fact that especially the second CD of this set doesn't forget to include some more or lesser known acts like MELEK-THA, HYBRIDS, CONTAGIOUS ORGASM or KENJI SIRATORI, all providing stuff in their representative styles.
Although the second CD out of this set may features the better-known names, the favorites can be mostly heard on CD1, at least to my personal preferences. SkullLine-chief Harald Jarosch has once again concentrated to collect a very diverse and wide-ranging music compilation, on which no appearance sounds like any other on here. Some surprises drifting in unexpected musically regions seems to become more and more a trademark of his work for the SkullLine label as well, so let's listen and see what the coming months will bring until we've to celebrate the 2nd year anniversary.

Tracklist:

CD 1 :
01. TT – WHW (intro)
02. Kaliber 9 – Neurotoxin (RMX)
03. Berkana – Sehnsucht nach dem Frühling (Lyric of August H. Hoffmann)
04. Einheit 731 (S.T.A.B ELECTRONICS INC.) – Last Glint
05. Rose Rovine E Amanti – Noi Ritorneremo
06. Von Thronstahl – Returne your Revolt into Style (Boss / Lagerfeld Mix)
07. Standgericht – Total Discipline (V2)
08. Bleiburg – Der Meldereiter (RMX)
09. Shift69 – Arbeit
10. Heiliges Licht – Untitled (only for WHW)
11. Zyankali – Zyklon
12. Triton 83 – Insolent Ungodliness
13. Life's Decay - Regimental
14. MDMA – Vengeance
15. Bonemachine – Rhythmus der Einsamkeit
16. Manmachine – We Love in Still

CD 2 :
01. Mark Lane – Atomium
02. Genocide Lolita – Haganah Whores
03. Lady Morphia – Widerstand (symphonic version)
04. Melek-tha – Complaint de la Terre Brulee
05. Nejet Nok – Singen, Lachen, Töten
06. Hybryds – Resistance
07. Von Liebenfels – Sailing Homeward
08. Zhark – Eisenzeit (C-64) Dedicated to Josef Maria Klumb/Von Thronstahl
09. Kenji Siratori – Rebirth
10. Exemtum – Tribute to Club Moral
11. Camisole – Recycle the Dead
12. Contagious Orgasm – The Fall
13. Iron Youth feat. The 120 Days – White Comfort (Re-2007)
14. Lonsai Maikov – Coup de Grace (demo)
15. Schallgewalt - Electrocabinette (RMX by Bleiburg)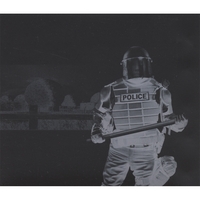 I can't resist to start this review with a warning printed on the backside of this compilation:
"Under the revised Patriot Act, secret Presidential Directives and Orders, and Military Commissions Act of 2006 any person found in possession of this CD can have their mail opened by Order of the President, watched by various U.S. Law "Enforcement" Agencies, and ultimately be charged with a Federal crime. Welcome to the United States. Enjoy your stay."
I'm sure that this warning points out well which politically-inspired content you've obviously to expect from the booklet of this compilation CD. Included is a lot of stuff to read, essays and regime-critically stuff on which I can't judge, since I'm not a US citizen. Only one personal note: that stuff leaves me thinking on...
Chain D.L.K. is a music-related resource, so back to our business: This compilation released by the small Chicago-based label Arable Farmland provides 17 tracks by 11 different artists mostly hailing out of Australia and the USA. Musically the content of this compilation jumps over genre-related boundaries between Dark Electro, Ambient up to Experimental and Ritual tunes. The best known artist here is surely the Australian duo EMPTY, which provides two tracks. Of about all other artists, including the label chief's own project CRYPTO FACIST, I haven't heard so far from. PASK is an Australian-based Powernoise/Ambient-artist and opens this comp with an experimental track – this act also has created a remix on EMPTY's track "Alone" to take part here, which reminds a bit on some classic GRIDLOCK/DISHARMONY works. Also the 3 appearances of CRYPTO FACIST are convincing by offering some eerie moods and foggy voice samples. SEARAD are providing a great electronic-driven Alternative track and have to be named along both EMPTY-tracks to be the highlight here. Two other appearances I like to mention with ROPS56 (a Pop-song with smooth female vocals) and FLOOD OF RAIN (crunchy Metal-like track), because both are representing different music styles. As for a conclusion, this comp works musically well if you're interested to check out some rather unknown artists, although it is shadowed a bit by the politically message provided by the art.

Track list:

PASK - precursor
SEARAD – remote
MEMBRANE CONSPIRACY - mistrust
SMEA - career politician
METAGNATHOUS - flawed copies
ROPS56 – lament
RDS - heavily redacted
CRYPTO FASCIST - quarantine u.s.a.
MEMBRANE CONSPIRACY - fuel for empire
METAGNATHOUS - neighbors bones
PIN - symbiance
EMPTY – alone (PASK remix)
CRYPTO FASCIST - democracy
METAGNATHOUS - without a word
EMPTY - p.e.r.
CRYPTO FASCIST - controlled cradle
FLOOD OF RAIN - system crash

image not
available
anymore
Artist:
XENTRIFUGE
Title:
Light Extinguished
Format:
CD
Label:
NoiTekk
(@)
Distributor:
Nova Media
Rated:
New release for the well-known German NoiTekk label and this time they like to present the long-awaited debut of one of the most promising newcomer acts out of the US-based Hellektro army camp – Chris C. a.k.a. XENTRIFUGE. After having discovered his work for the first time on BLC Productions "Interbreeding VII: The Flesh Harvest/Natural Enemies"-compilation (track "Entombed"), I kept my fingers crossed for an official release. XENTRIFUGE's audio results have often been named Hellektro or Harsh EBM – that for sure fits somehow, but it is also to mention that Chris' works feature a constant Powernoise influence. His tracks offer a very disturbing outfit, a massive noise and disturbing inferno accomplishing to the already straight tunes. Think on acts like ALLIED VISION combined with outputs of comparable colleagues like LIFE CRIED (...and indeed, here's a collaborative track with Mr. Death Condition offering the vocals on "Paragon Void") for example. That this all doesn't end in total sound climax belongs on the fact that Chris understands it well to integrate a gripping Dark Electro-minded melodic content. By all included aggression it is appreciated that Chris never seem to leave his musically base – it is recognizable that he has tried out a lot to work on his very own authentic kind. Maybe Chris has already found his special niche in the scene, but this release deserves the unreduced applause at first. This is a must-have release if you're supportive to this genre!


Industrial Noise / Power Noise / Harsh Noise
Edit (3863)
Artist:
Swamps Up Nostrils/Guignol Dangereux
(@)
Title:
Shitbreather
Format:
CD
Label:
krakilsk
(@)
Rated:
Collaboration CDR by industrial noisebeaters Swamps Up Nostrils (aka Helmeticrononaut) and Guignol Dangereux. Six corroded metal-laden noise and techno shredded beats. Some distorto vocals for good measure. Not bad when you're in the mood for some chaos in your life, or after a day of humiliation at the hands of a boss whose only reason for living is to give you a hard time and make you look bad in front of your fellow workers. The soundtrack for the day you kick his ass. Payback is a bitch. The disk ends with the epic Dangereux track "the noseman sonata" which regales us with a relentless beat that slowly changes as the piece develops.
Industrial Noise / Power Noise / Harsh Noise
Edit (3861)
Artist:
Helmeticrononaut
(@)
Title:
We Who Are Not Like Fettoters
Format:
CD
Label:
krakilsk
(@)
Rated:
Well I guess there just isn't enough noise in the world for some people. Noise music seems to have embraced the democratization of musical forms. It seems that just about anyone can make this kind of racket and does. And there are plenty of CDR labels like Krakilsk in Norway willing to foist it on the rest of us. Has this been done before? Probably millions of times by now. But there are times when this is exactly what the doctor ordered to clear out the cob webs, like a sonic enema. The artist (aka Arnfinn Killingtveit , aka Swamps Up Nostrils) uses a modified alpine-skiing helmet turned feedback instrument with the help of discarded headphones and microphones) and whatever else comes to hand. There are photos and videos (Youtube, Mutant Audio) extant on the internet that make me fear for the guy's hearing (and even life). 13 tracks for those of you who like their music without boundaries.