Industrial Noise / Power Noise / Harsh Noise
Edit (4034)
image not
available
anymore
Artist:
[ORGANIC_CAGE]
(@)
Title:
Electro Masochistic Powernoise
Format:
CD
Label:
self-released
Rated:
New band projects providing the rhythmically Powernoise-formula are still sprouting like mushrooms out of the ground. Since the seed of noise got successfully spread through Germany's scene-player mostly signed to the ProNoize label (among others FABRIKC, XOTOX, NOISUF-X), there are coming up some new talents to give this another try. The North-Germany-based one-man-act [ORGANIC_CAGE] a.k.a. Tim K. isn't an exception and fits musically extremely well with the roster of the above mentioned label – while I tend to say, that [ORGANIC_CAGE] deals more with the term Noise instead of producing minimal EBM simplicity. "Electro Masochistic Powernoise" is the 10-track-strong debut release for Tim K. and he could already proudly enter a free slot on the highly anticipated "Extreme Clubhits 6"-compilation with his track "Noisebleed". But not only for this tune I tend to award him a little medal. "Desert Of Bones", well, what a fine title, comes out with multiple stumbling rhythm patterns, while "DeadBodyGrinder" can be nearly sorted into the slow Harsh Martial-Noise genre. It's conspicuous that Tim's rarely integrated voice-samples don't follow the typical repetitive stupidity, also they seem to be rather well thought out and inserted. Even if most of tracks are straight produced to kick into serious asses, the term of EBM is rather limited. This "Electro Masochistic Powernoise" reminds more on the straight "Shockfront"-era-like CONVERTER-stuff than the most efforts of comparable acts. If Tim develops and can manage it for one or another track to reduce a bit the too obvious loop-based work in his tracks, he can surely reach some higher dimensions. But first of, a signing to one of the leading labels should be possible already with this strong debut release, because this stuff needs to get heard by the fans!


image not
available
anymore
Artist:
FABRIKC
Title:
Impulsgeber
Format:
CD
Label:
ProNoize / Dark Dimensions
(@)
Distributor:
Broken Silence
Rated:
Hailing out of Hannover/Germany, the Powernoise/Industrial-musician Thorsten Berger a.k.a. FABRIKC returns with his second full-length album. Again released by the German ProNoize-label out of the Dark Dimension label group, Thorsten could already earn several laurels thanks to the unexpected success of his debut "Gleichstrom". "Impulsgeber" is that sort of a hard and rhythmically Powernoise-releases featuring a minimal EBM-like impact, which has become that famous, also thanks the roster of the ProNoize-label. Music which works at best at the clubs, while some of Thorsten's works are accessible for a consumption at your home entertainment. FABRIKC also likes to integrate some remarkable voice-samples taken out of diverse and very different quells, which at least helps one or another of his tracks to gain a message. Whatever he has to complain against "Chinese Food"??? Hard to name out favorites, since almost all pieces provide a straight-forward moving attitude, which guarantees a hard dancefloor activity – so this seems to be a matter of personal preferences. "Klangaktiviert" comes up with some nice "screaming" metallic sounds penetrated through a big hall reverberation effect, while "Schalltod" deals with a nearly anarchic noise collage, until the beats lead the scenario. With the track "Absolvo Te (In Memoriam Francisca)", placed at the last position of this album, Thorsten also offer a rather calm, but still dark piece with a personal background. 3 remix works created by his appreciated label comrades NOISUF-X, XOTOX and S.A.M. accomplishing this album, which is a must-have item for the dedicated listener.
image not
available
anymore
Artist:
ACYLUM
(@)
Title:
Mental Disorder
Format:
CD
Label:
Rupal Records / e-noxe
(@)
Distributor:
Alive!
Rated:
New and second full-length album release for this German one-man act. Often criticized, at times also insulted because of his radically chose of voice-samples and drastically photos out of the dark past of Germany's period during WWII, Pedro Engel has had some hard early years in his being of a musician. "Thanks" to the still leading narrow-minded kind of Germany's moral when it comes to talk or to reflect the actually happened atrocities during this darkest era, an earlier offered contract with another at least came never to reality. So Pedro has signed and collaborated with Kai Arnold's (WYNARDTAGE) X-Cem collective and Pedro could produce his first full-length "Your Pain" during 2K5. After his unexpected success with "Your Pain", this Chemnitz-based Harsh Electro/Industrial-musician returns glorious, because he could mature in several terms of production since the debut. Having still his long-year friend Kai Arnold of WYNARDTAGE on board, responsible for the vocals and most of the lyrics, this new ACYLUM comes out as being one of the harshest album of the last quarter, maybe of the whole past year. Pedro still installs depressive and cold layered Dark Electro themes very often interspersed with several cinematic scenarios and voice samples. Kai's vocal performance can be even named as hellish-aggressive, plus add to this Pedro's well-chosen Powernoise rhythm construction and a dramatic and scary mood. Musically relations can be discovered in works of FEINDFLUG, DIOXYDE or older :WUMPSCUT:, while Pedro's works can claim to be authentic. Most of his tracks are rather based in mid-tempo, this is maybe the style and speed where Pedro deals the best with, the rather few dancefloor-oriented works like the pounding "Rape" or "Hunger" are – against to Kai Arnold's main project WYNARDTAGE – in a minority. This more than 76 minutes long album opens with "Ruthless Aggressions" and already this title works well to document the coming massive sonic assault. As usual, Pedro's music output deals with the darkest themes man can think of – his at times provoking kind to realize the radically content of themes like the horrible amok-run in a school of Germany's town Erfurt in 2K2 gets a drastically output ("Glock 17"). With "Face To Face" he returns to his more in the earlier years discovered and above mentioned kind, since this track offers surprisingly a sample of a soldier march-polka. It follows "Alone", a cold and dark ballad-like song which impresses with its multiple played layer sounds. The title track or "Your Devotion" are instrumental tunes, on which Pedro offers musically his hammering Powernoise-weapons. 3 remix works by the NoiTekk-act XENTRIFUGE, ACCESSORY and – as expected – WYNARDTAGE placed to the end accomplishing this album. Even if it still touches the tastes of the faint-hearted, Pedro's music deals with things which happen or have been happened during the past – like it or not. This isn't that sort of Cyberspace/Sci-Fi-sort of Hellectro, Pedro's music reflects rather with the real things of life, even if it sounds cruel and tasteless to one or another. Who cares? This is a must-have release for any fan of hard Electro/Industrial music!


Artist:
The Pain Machinery
(@)
Title:
Chaos Transmissions
Format:
2 x CD (double CD)
Label:
BLC Productions / e-noxe
(@)
Distributor:
Alive
Rated:
A double-CD-set release for this Swedish Electro-/Powernoise-artist leaded by Anders Karlsson out on BLC Productions, but it isn't a new studio work. "Chaos Transmissions" unites on the first of both CD's recordings out of the early days of this band. So the main tracks available on the previously very limited CDR-releases "Terminate Transmission" (2000) and "Chaos in Expansion" (2001) will be now available to a wider audience. Be assured that the technically skilled and permanently perfectionist Anders Karlsson wouldn't offer simple his old demo recordings, all included audio stuff got revamped and polished for the best thinkable sound quality. Musically his signature compared to his latter releases like "Hostile" is recognizable, while it has to be said that his old stuff offers more roughness. The often announced term "Punk"-influence is more obviously featured in tracks like "Revenge" or "Monster", which both should work extremely well to earn some bloody noses at an uncontrolled Pogo-movement on the dancefloor. That's harsh Powernoise-speed-action music with a snatching snare drum work. Some other pieces to impress the more faint-hearted listeners which offer a rather dark and Ambient-driven out fit can be discovered with tracks like "Already Dead" or "Psychotic Disorder". A track like "Fear Me, Hate Me" than already features some TPM-typically rhythm patterns, which also got re-interpreted in different ways on the later releases. After checking Anders' stuff once again I come to the conclusion that it was the right decision to make it possible for a wider audience to discover this recordings. Although originally, and although that THE PAIN MACHINERY has developed to a modern-sounding high-skilled Electronica/Powernoise-act, this stuff can still rival with some nowadays released productions. It features much more musically background compared to the nowadays too often heard redundant EBM-formula featuring repetitive distorted drum patterns and stupid voice-samples.
This been said, let's check the second CD of this set which got aptly entitled "Live Chaos". Since Anders and his comrades including TPM-vocalist Jonas Hedberg could make it possible to storm the stages at WGT 2K6 in Germany, it would be a shame if some recordings of this live performances would never get released or heard. So you'll find here 3 cuts out of 2K2 including some heavy stuff like "Monster" and 9 tracks taken from the WGT-festival. So here you'll get all the favorites through the years like "System Error", "Pre-programmed Automatic", "Dominator" or both rough cuts "One" and "Dehumanize" in a fair live-recording quality, which offers a satisfying alternative to the studio music. The content of this second CD seems to be an ideal recording to all of you, who couldn't make it possible so far, to see TPM live on stage. Let's hope that a lot of promoters and concert agencies will open their ears and will offer THE PAIN MACHINERY to play at all places on this world. So lets also hope that Anders will soon find enough inspiration again, to produce a new album. An awesome and well-deserved release for this fine Swedish act.

Industrial Noise / Power Noise / Harsh Noise
Edit (3981)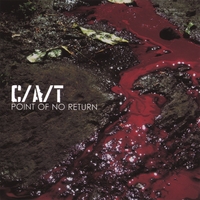 Artist:
C/A/T
(@)
Title:
Point Of No Return
Format:
CD
Label:
Crunch Pod Media
(@)
Distributor:
CD Baby
Rated:
New album out for C/A/T, one of the leading acts out of the Crunch Pod Media label roster. It is also the project of label owner Ben Arp and his female better half Malice. Both do receive assistance in the studio and live on stage by the second female Kat. As a trademark for Crunch Pod label act, also C/A/T is heavily dedicated to the rhythmically Powernoise-genre, "Music To Piss You Off" isn't only a track of C/A/T, it's also the label slogan. The main difference between US-based acts and their European colleagues may can be seen in the fact that the US-acts offer a wider musically horizon. It isn't at all the same redundant formula to combine EBM bass lines with distorted rhythm loops and a repetitive voice sample. You shouldn't be too much surprised by C/A/T's efforts to break through genre boundaries by incorporating Trance/Techno-elements ("Parasite" or "State Of Decay"). Another positive point is the fact that Ben has decided to include more than ever before vocals – rather seldom in this genre, no matter if it sounds like a Johan-Van-Roy-like growling. With respect to the music, you also shouldn't expect any "relaxing-at-sunshine-beach"-lyrics, C/A/T's efforts are straight and smashing formulated. Best tracks? Well, this depends a bit on some personal preferences, but both mighty arranged "Denied" and "Malice" are hammering out sweat and provide hardcore-dancefloor-action. Make sure also to check out the hidden bonus track available here at song position 14. Mastered by Jan L. of X-FUSION, this new album and the uncountable release parties and live performances during the last months should be efforts enough to provide one of the best-selling releases for Crunch Pod. Let's hope that C/A/T continue soon to take also more acceptance on the European market. A new EP providing remix works to "Point Of No Return" is already in the pipeline.