Artist:
This Is What I Hear When You Talk
Title:
Untitled 0001
Format:
3" MiniCD
Label:
Inner Demons Records
As I mentioned in the review of the FFI Digital disc, this is yet another project of Dan Fox, the man behind Loss, Fail, FFI Digital, and Inner Demons Records. So how is this different from his other projects? The Facebook page for this project describes it thus: "Walls, of the noise. Variety: harsh. Harsh walls of noise. Noisy, harsh, walls. PSHHHHHHHHHHHHHHHHHHHHHHHHHHHHHHHHHHHHHHHH!" So let's put in the disc and see what we have. I enjoy noise, but I like a bit of variety in it. This disc consists of one track entitled "PATCHOTRON_S0F0_FX70_≈21." This track consists of rumbling low-end bass noise. Although the droning feel of it was almost peaceful, I found myself wanting it to do more. The feeling was similar to being on a plane, with its constant, never-ending hum. This may work well for some people, but it wasn't really my cup of tea. That said, it would be an epic disc to give to someone you were breaking up with. This disc weighs in at 21 minutes.

Artist:
FFI Digital
Title:
Untitled
Format:
3" MiniCD
Label:
Inner Demons Records
Rated:
Dan Fox must be one of the hardest working people in noise. As if Loss and Fail were not enough to keep him busy, in this batch of CDs that he sent in for review he unveils two more projects. This one goes under the name FFI Digital. The logic behind this project is explained on the project's Facebook page: "Experimental music made from scratch in a DAW, using only freeware / donationware plugins. The revolution will be digitized." So the question, of course, is what this stuff sounds like, so let's get right into it. This disc consists of one track entitled "180110." High pitched squeals mix with static, slowly going up and down in pitch. I imagine that this is what an air raid would feel like in your head. As the track progresses, the siren-like sounds take a bit of a backseat as metallic crashes come at regular intervals, giving it a hypnotic quality. As the track comes to a close, the grinding noise that has permeated the track begins to diminish as we are left with a pounding heartbeat over all of it that suddenly comes to an end. There is a lot going on in this composition, and FFI Digital manages to throw in a lot of variety while still keeping an internal consistency that holds everything together. This keeps the track from becoming too repetitive. Well done, and worth checking out. This disc weighs in at 21 minutes.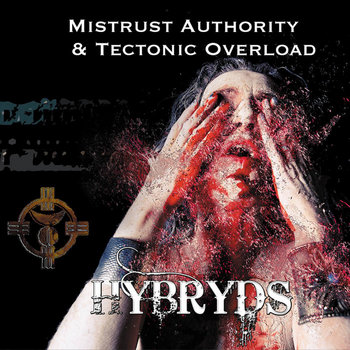 Artist:
Hybryds
(@)
Title:
Mistrust Authority & Tectonic Overload
Format:
2 x CD (double CD)
Label:
Zoharum
(@)
Distributor:
Alchembria
Rated:
Zoharum continues his reissue plans for Hybryds with a collection of two works "Mistrust Authority Promote Decentralization" originally released 1996 and bundled here with the bonus of a live recording of the same year and "Tectonic Overload" released in 1998. While the previous release were prevalently based on evocative ritual music with vague oriental influences, this are more aggressive music closer to industrial EBM influence by cyberpunk themes.
So, as "noise2trance" starts the listener is overwhelmed by the intensity of the sound barrage based on loops and rhythmic cages and this lasts for all the release featuring also quotes from writers as Timothy Leary to further clarify the message. While it's particularly noisy "dead zombie dance", there's a small return to their distinctive style in "I walk alone" even if the overall sonic impact is due to the questionable remastering by TraumaSutra where large part of it is characterized by an over compression. It should be noted, as "Tectonic Overload" is not labelled as remastered, that the high volumes and compressed sound were probably part of the sound construction of that period. So, while there are even better ideas, the musical result is characterized by a dried out sound which now sound a little bit outdate and trivial in his research of physical impact.
Fans of the band and collectors will have a release with takes with it a part of the zeitgeist of the period were cyberpunk ideas had great currency and so will have a little bit of nostalgia. The others could perhaps avoid it for its lousy sound yield and orient themselves for the others reissues.
Artist:
Otzepenevshiye
Title:
Razryv Svyazi
Format:
2 x CD (double CD)
Label:
Zhelezobeton
(@)
Rated:
'Razryv Svyazi' is Otzepenevshiye's first major release in the 11 years of the band's existence. This industrial death/doom/sludge metal outfit was originally formed in 2006 by Evgeniy Voronovskiy (Cisfinitum), Dimitriy Zubov (Hypnoz, Zub off Sex Shop), and Ivan Napreenko (Sal Solaris, 016), but after some time transformed into the duo of Ivan and Arnold_pR (Reutoff, Myrrman). Otzepenevshiye have had tracks on numerous compilations previously, but their only full-length album ('For A Knife') was in collaboration with the band, Vir. Now here they are alone (for the most part) in all their noise-infected walls & slabs of distorted guitar glory. On the second CD features collaborations with the bands Circle of Unexisted, and Vir, and also remakes of compositions by Banda Chetyryokh and Theregothon. If all this sounds obscure to you, you are not alone; you'd have to have a familiarity with the Russian underground doom metal scene to really know any of these names, but that's what I'm here for. The first thing you need to know about the music of Otzepenevshiye is that it's (mostly) instrumental. Any vocals/voices used in the music seem to be strictly incidental or ephemeral, save for a couple of tracks on CD 2 but we'll get to that later. The second thing you need to know is that the title, 'Razryv Svyazi,' means 'Disconnection,' if that's in any way helpful. Some of this might even be described as "doomgaze" as there is a strong reliance on atmosphere even over content and form in some cases. There are only five tracks on the first CD (still 71 minutes) but they're all rather long, ranging from a little over 9 minutes to a little over 23 minutes each. It starts out innocuously enough with some drone and slow paced doom drums, but when the squalling atmospherics and eventual mass of distorto-guitar and other noise-sonics kicks in, you'll feel you're on Jupiter with all its gravity bearing down on you. It's pretty oppressive all the way through. The second track begins with some ostinado bass guitar that moves into a sludgy, heavy groove that just seems endlessly endless. (Yep, this is the 23 minute track.) To be perfectly honest, the first CD was a bit hard to take- a depressingly slow crawl through a bleak, nightmarish landscape eternally. Great walls of guitar noise block your path at every turn as the doom drums beat you into submission. Some people are really going to love this though as I know there's market out there for this kind of music, especially when it's as well done as this is. There is some variety in form and content on the first CD but not nearly as much as on the 2nd CD. CD 2 has more tracks and of shorter duration (approximately 8-13 minutes each), also with more sonic variety and form. I noticed more industrial aspects on the 2nd CD as well as ambiences. Some songs go through a number of radical changes before they play out which adds some spice and keeps things from getting dull. There's also more melodic content in places. Overall I liked the drum-work/rhythms better on the second CD as well. Even the atmospherics seemed more refined than on the first CD. In fact, there are parts that are industrial drone dark ambient, and I love that kind of stuff! There are two tracks with vocals - (Title in Russian I can't really duplicate) where a voice just barely above a whisper recites the barely melodic melody, and "The Black" where the vocals are sort of screamed in the background. For me, the former was preferable to the latter, but whatever, it all works. While most of this is not my prime kind of music, I'd recommend it to those who crave industrial death/doom/sludge metal; it's worth seeking out. Comes in a neat glossy double slipcase, and my copy had 3 interestingly gloomy postcards, one with photos of the band members who look unsurprisingly wretched.

Artist:
Guillermo Pizarro
(@)
Title:
Three
Format:
Tape
Label:
Flag Day Recordings
(@)
Rated:
This is a score for a short film that is making the rounds at several festivals across the country. I have had the joy of seeing Guillermo perform live one time and he puts on a very dramatic disturbing show. I didn't expect anything less from a film score produced by him. This tape has an excellent disturbing feel to it which I'm sure lends an overwhelming feeling to the film. Guillermo is one of those artists to keep an eye on in the future and he is putting an equal amount of time and detail into his label Flag Day Recordings. I highly recommend anyone who enjoys noise or cinematic music, in general, to check out his music as well as his label.