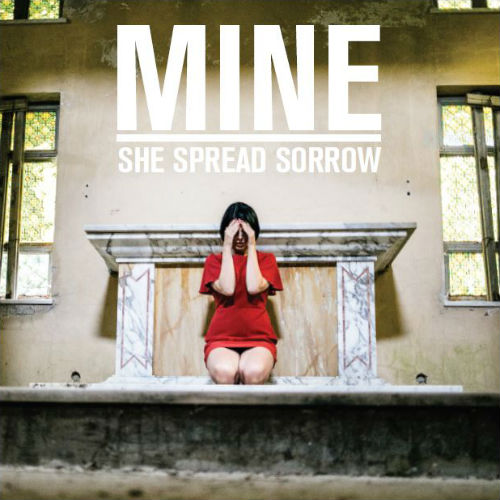 Artist:
She Spread Sorrow
(@)
Title:
Mine
Format:
12"
Label:
Cold Spring
(@)
Rated:
After the well received "Rumspringa", Alice Kundalini returns with a vinyl-only release on Cold Spring moving even further in her personal depiction of Power Electronics. This release is almost entirely center on her voice, so this could even be seen as a form of audio play as the sound part, even if harsh in some moments, has evidently the role of accompaniment.
Just after if seemed that she moved into quieter territories, the distorted voice of "Crushed On The Pillow" introduce the listener into a sort of theatrical spoken word upon small and sharp noises. However, the first part of "Lust" hints an attention towards the construction of an atmosphere while the crescendo of the loop explode into the noisy second part. The minimal sound palette of "On The Bank Of The River" closes the A side of this release underlining the histrionic quality of the voice.
The first part of "Mine" is carefully developed in the aim of creating the expectation of the explosion of the second part and "Straight Back" closes this release with a dialogue between the voice and the noises immersed in an oppressive silence.
Perhaps this release could be a little disappointing for the fans of the genre searching for a monolithic wall of sound, but this release shows how in a codified genre an artist can find a way of escaping its formal cages. A really nice release.
Industrial Noise / Power Noise / Harsh Noise
Edit (9993)
Artist:
Institution D.O.L.
Title:
Exzess
Format:
CDS (CD Single)
Label:
Klanggalerie
Rated:
Introducing at length Institution D.O.L. shouldn't be necessary. For those who love industrial music it is a very well-known name, but Chain DLK has readers from very different types of electronics music. Institution D.O.L. is the creature of Barbie B. (joined by Meta Dolor in 2016). He has been pretty active between 1998 and 2008 and then, for some reasons, he quitted all musical activity until 2014. He hold collaborations with very famous acts such Wertham and Stahlwerk 9, but I would say that probably Institution D.O.L. are more known than them. This is a very important project in the scene, and it has inspired dozens of other acts. Institution D.O.L. plays its own specific type of industrial music, which is a perfect balance and combination of extremely violent power electronics and obscure dark ambient. This is a type of music that requires talent and experience. Barbie D. has both.

'Exzess' is (as far as I know) Institution D.O.L.'s newest album. This is the type of album that strikes you as a thunderbolt the first time you listen to it, because it has impact. Sometimes albums with impact become pretty boring after few days, but this is not the case with Exzess. Listening after listening you discover new sounds, new particulars that escape at first. This album is a perfect combination of dark ambient and noise/power electronics. Everything in this album is extremely well curated: samples, synths, voices, transitions. This album is like an organism: all its parts are discernible, but at the same time they find their own identity just in the whole. Unlike many other industrial albums, this masterpiece is more than the sum of its parts. Example of track delivering perfect transitions and wise integration of different sounds is Silent Night (best track in the entire album in my opinion).'Fallen and furious' - together with the title-track 'Exzess' - is the track that exemplifies this back and forth between noises sounds and atmosphere typical of a certain dark ambient tradition.
'Exzess' is a masterpiece of modern industrial music; an album that will soon become a classic in the genre. A classic is not just a must-have, but it is an album that communicates something new and different anytime you listen to it: this is the case of 'Exzess'
Industrial Noise / Power Noise / Harsh Noise
Edit (9930)
Artist:
Sutcliffe Jugend
Title:
Shame
Format:
CD
Label:
Hagshadow
Rated:
When I think about Sutcliffe Jugend of ten years ago, I think about chaotic guitar noise and distorted vocals, while if I think about the ones of the early 80s, I think about feedback and power noise. So, what about their sound of the latest years? Well, lately, their sound changed: they balanced the elements in a different way by using less distortions for the vocals, they combined different noise/sound sources together and they also changed the intensity of their sound on some tracks (check "Seedless" on their 2012 album "Blue Rabbit", for example), just to be able to have a wider palette of possibilities. On their latest album, titled "Shame" and released by Hagshadow, we have five new tracks that confirm the new path taken by Kevin Tomkins and Paul Taylor. I already listened to the opening track titled "Shame", because they played it on their concert at the latest W.G.T. festival in Leipzig at the beginning of this month and even if on the CD you lose a bit of the tension they create on stage, it sounds good and powerful. This track confirms what I wrote at the beginning of the review, as we have a melodic part played with a distorted bass guitar with the add of more guitar layers which create a fluctuating wave of sound. On this, Kevin is shouting his vocals about the worst human's behaviors, mostly concerning sex. On "Sledge" you can feel the tension but it's not a noise track, it has different layers of treated vocals with a clean one upfront while on the background we have a dissonant hammering of a which I think it could be a treated piano, which rhythmically repeats few notes. On "Hurts" we have noise tides which duet with a clarinet (or it's a feedback which is sounding like that). You don't know what to expect when the next tide it will arrive and this is a more effective way to create tension. "Bait" plays with guitar noise loops while Kevin shouts about survival. The closing track "Blood", is a long dreamy noise tune which is working as decompression room creating a dazing effect. I prefer this latest version of Sutcliffe Jugend, as they keep their sound more open to possibilities and I think that at this point of noise music, it's working better than an "in your face" formula. Well done!
Industrial Noise / Power Noise / Harsh Noise
Edit (9923)
Artist:
Macronympha / Body Stress
(@)
Title:
Vile Affections Pt.1
Format:
7"
Label:
8EMINIS
Rated:
Macronympha is now Joe Roemer and Leo Sabatto (also known as Armenia) working together long distance and creating some of the best harsh noise available at this moment in time.

Body Stress is a newer harsh noise musician from Copenhagen. Body Stress is creating an excellent wall of sound in the same vein maybe not as cut-up but still pleasing to the ears for folks that like this type of stuff.

Vile Affections Pt.1 is two grueling sides of harsh noise on which may be the best sounding "lathe" I've ever heard. This 7" comes packaged in a nice hand-made cover with some excellent collage work.

This one is limited to 10 copies and may be pretty hard to get your hands on but if you can find this one it is well worth the effort.
Industrial Noise / Power Noise / Harsh Noise
Edit (9873)
Artist:
Steel Hook Prostheses
Title:
Calm Morbidity
Format:
CDS (CD Single)
Label:
Malignant Records
(@)
Rated:
Steel Hook Prostheses (SHP for short) is a (well-known) heavy electronics/dark ambient duo from Texas.
In this specific experimental context bands have usually quite sophisticated concepts and stories behind their musical and graphical aspects. SHP is no exception. As you can read in several interviews here and there in the immense world-wide web, one of SHP's member thought about such a peculiar name because of the time he spent in a Veteran's Hospital, where his mom used to work back in the 1970s. Veteran's hospitals ain't ordinary hospitals, and this guy had plenty of time to observe atrocities and disfigured people. Therefore, most of SHP discography is really about medical stuff.
'Calm Morbidity' is no exception. A quick look at the songs titles prepares the listeners to a full-immersion into freaks ("Cyclopia"), confusion induced by drugs ("Doused with acids"), uncomfortable sensations ("Paresthesia"), etc. In other words, this album is about everything that can go wrong in the medical context. The 'heavy electronics' performed by SHP is not particularly original, but I think that in this genre failing in originality is not necessarily a vice. You have to do a lot of chaos, but you have to be good. You have to find a way to drag the listener into your own nightmares: this is the only important aspect of this music. And SHP are damned good. Their music shifts from a power electronics-based structure ("Hand of glory", "Piss prophet", "The medics" and in particular "Strangury") to dark-ambient ("Doused with acid", "Paresthesia", "Sulphur Drip"). The dark ambient I'm talking about reminds me some Cold Meat industry-based acts such as Nordvargr or Necrophorus. But there is something more, like Lustmord (in particular "Purifying fire") or some stuff produced by Aural Hypnox (Arktau Eos and Zoat Aon). The power-electronics parts are, let me say, more 'modern' and elaborated than classic projects in this type of music. The voice is distorted and modified way more than usual (take Genocide Organ to the extreme), but there is not a typical 'noise-wall', especially because of the dark ambient inserts and in general because it is really 'synth-based' (I would say less analog, more digital, but I might be wrong) rather than just grounded in the use of the typical home-made instruments of the noise scene. As I just said, it is not particularly original, but the way they combine different influences is remarkable. 'Calm Morbidity' is everything I can ask from an industrial album; violence and mystery at the same time: a perfect combination of power-electronics and dark ambient. Highly recommended.
I have to mention that this album is produced by Malignant Records. It goes without saying, Malignant Records has become one of the most important label for this type of music. I'm not exaggerating when I say that, if you like power electronics, dark ambient or death industrial more in general, then you can buy any Malignant's release and you won't be disappointed.