Industrial Noise / Power Noise / Harsh Noise
Edit (5552)
Artist:
IRON FIST OF THE SUN
Title:
Behavioural Decline
Format:
CD
Label:
Cold Spring
(@)
Rated:
Having tasted the classics during the 80's (see Whitehouse and the Broken Flag label's roster and similar) it's really difficult that today's power noise interests me. This genre is difficult per se, because it is really easy to pack a bunch of distorted noises and to cry out all the anger not caring about sound production just because this kind of music requires that you do things that way. For this reason I'm not looking for this kind of stuff to review. Anyway, Cold Spring Records fortunately always takes care of its releases and this is also the case of Iron Fist Of The Sun. BEHAVIOURAL DECLINE for sure falls into the power noise genre but even if it is full of analog/digital square waves and vocal cries, its minimal approach to elements helps avoiding the wall of sound effect. Taking inspiration from electro-acoustics and ideology akin to black metal/black noise and born from obsessions skewed by drug use, codes of behaviour observed by a misanthropic mind (so tells the info card), Iron First From The Sun succeeds into penetrating your skull without messing too much your brain.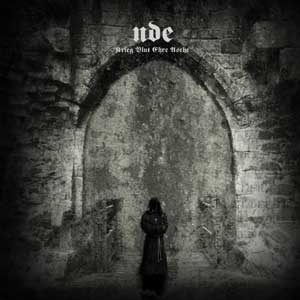 Artist:
NDE
Title:
Krieg Blut Ehre Asche
Format:
CD
Label:
Cold Spring Records
(@)
Rated:
NDE are a mysterious duo coming from Belgium. There's no information available about them, the only thing we have are the eight parts of their debut album KRIEG BLUT EHRE ASCHE (it means something like "The blood of war ashes glory"). Musically NDE blend the most extreme musical genres creating a monster who sounds now black metal/industrial noise and then noise martial industrial. Within ton of noise you'll hear epic melodies and clanging swords while the drums of hell are beating loud. NDE succeeded into creating something I wasn't waiting for and I liked that. The first time you'll listen to KRIEG BLUT EHRE ASCHE you won't really understand what the music is about and I think that this was what the duo was looking for: a destabilization of the listener in search for the de-construction of genres. They mixed the low-fi approach of black metal to the power percussion-ism of martial industrial adding feedbacks and despair. I may say that they invented a new genre, where there are no boundaries, by filtering nowadays extreme music and without, somewhat, forgetting a bit of melody.
Industrial Noise / Power Noise / Harsh Noise
Edit (5532)
Artist:
The Tenants of Balthazar's Castle
Title:
the moon
Format:
CD
Label:
A. Star
Rated:
Upon hearing the very 1st track on this album, you are soon warned that the frequency spectrum on this album will be a wide one. By track two, 'the voice of the moon" (their lowercase) is a manic, hyperspeed and looping race to an unknown destination in Tron land. As a point of reference here, a stretch mind you, it almost reminds of a midi-derived Reich percussion piece smashed into a work by maximalist composer Paul Dolden, complete with accelerated phasing and organically panned stereo imaging. This lasts just a short time however, as shortly thereafter in the moon moves' the swirl begins to deteriorate and melt upon itself. After this barrage, we return to a more spacious and sonically expansive place much like the intro. After a very patient 15 and one half minutes of this piece, we are hit with a sudden onslaught that would make any Merzbow fan happy. Its a big sound, and its in your face. Nice.

This was the first moment that truly woke me up. Starting at this mile marker, I found myself much more enrapt in the album as a whole. It's almost like you are listening to a compilation or split 7" and then the 2nd band arrives - the one you like more. This does make for a trajectory on the whole.

Everything that follows is worth sitting through. Other noteworthy tracks are 'lamplighter', and 'the end' which introduces some woodwinds, synths, and consequently a feel not unlike Badalamenti scoring a Lynch film. 'rising', the final track does an effective job of leading you back out the door you entered.

I initially decided to forego the liner notes, although as I wrap this it appears they reveal a bit about the equipment used on the record. This is not really part of the way I enjoy going into a new listening experience but its there for those who are curious.


image not
available
anymore
Artist:
Acylum
(@)
Title:
The Enemy
Format:
CD
Label:
Alfa Matrix
(@)
Rated:
The with a loud din fulfilled split with his long-year comrade and friend Kai Arnold of WYNARDTAGE has been the drama of the past year, especially if several hints and dissonances out of their private life have been buried out of own carelessness. To offer a too detailed look into a private life via the usage of blogs of a hugs community like MySpace does seldom good, although I tend to put this approach completely into Kai's own responsibility. Instead to argue too much regarding that awful situation, Pedro Engel has taken his own consequences and has left Rupal Records to join a new contract with Belgian Label giant Alfa Matrix.
"The Enemy" now is the first fruit out of this new collaboration and it offers some surprises and some additional facets of the brutal sound of ACYLUM. At first there's to mention the addition of the female band member, Nadine "Cooraz" Hagenbeck, who offers her voice for several tracks. As usual for ACYLUM, also the tracks on "The Enemy" convince with their raw and pummeling attitude and of course with the fat wall of cinematic instrumentals – a merciless x-times-kick-in-the-butt action is guaranteed! What's new is Pedro's braggart-like kind of self-presentation widely presented in the lyrically content of the title track, to name an example. I cannot remember, that I discovered any form of this from him before, and I'm not that sure, if that course of action is well-thought. But with a straight demanding "Raise Your Fist" he may proves that he's ready for flogging, right? Well, I guess he overestimates himself a bit too much, but that's a personal impression.
But what rather more polarizes is the merciless usage of "forbidden" themes – sexual child abuse is such a hot topic and the ruthless usage of dramatic voice sample in "Es" will shock the fainthearted audience and there are coming up doubts, if artists out of this special music genre have the right to abuse the cruelty behind this theme for self-presentation. Also Kai Arnold finally seems to get what he deserves out of the sight of ACYLUM, the track "Wynard" is more than obviously a personal deduction with the past things and the lyrical content presented by Nadine spits out the drama, which I mentioned initially.
What kind of result can end this review, if the hard content brings a neutral reviewer to think differently and feels offended on one or another theme presented here obviously without a sense to know boundaries of a good taste? Provocation as being the only one target to reach, is that still art which needed to get expressed? And has a label not the responsibility to hold its saving hands over an artist through a form of censorship or does that label follow a similar cheap motif by hiding under the "we don't censor art" sentence?

image not
available
anymore
Artist:
HEZZEL
Title:
Magnets
Format:
Download Only (MP3 + Lossless)
Label:
Absetzer / Alter-X Promotion Project
(@)
Rated:
That's a rich album full of golden shining "Magnets", at least 16 tracks have found the way on this free download-able album, published under the Absetzer-label, part of the Russian Alter-X promotion project. HEZZEL hails out of Latvia and I tend to rate their musically efforts as being a precise mixture between their countrymen ROSEWATER meets DIVE. It's a harsh Electro-/Industrial-driven foundation arranged in straight and pummeling conditions. Here and there they integrate some rare vocals as well as some obscure voice samples. "Noise Is More Than Just Noise", that title of one of the featured tunes here couldn't it describe any better, this stuff is also interesting enough for the Electro-/EBM-only supporters, since it balances well between the styles. Another quality and must-download item from the Alter-X promotion project!