image not
available
anymore
Artist:
Broken Fabiola
Title:
Severed
Format:
CD
Label:
Tympanik Audio
(@)
Distributor:
Ant-Zen
Rated:
A surprising comeback, since Karloz.M storms from success to success with his main project MANUFACTURA, so there wasn't too much hope for a return of BROKEN FABIOLA after the last double-CD collection released via Auricle Media. Now signed to Tympanik Audio, Karloz releases one of the darkest albums of the label catalogue. Only a few tracks available on "Severed" are following obviously Karloz' style presented with MANUFACTURA ("Everlasting", "Under"). This album rather stands for sick atmospheres provided through emotional soundscapes and abstract and for the most part broken rhythm beats. Not that easily to consume, this album offers a lot of authentic tunes, which are seemingly to far away from any possible comparison. For this album Karloz has received the constant help of Sharon Blackstone, who's responsible for additional production, lyrics and vocals ("Departure" is a great example). More prominence has helped out with sampling works, as there are Shane Talada of MARCHING DYNAMICS, Scott Sturgis (CONVRTER), Daniel Myer (haujobb., DESTROID) and Dre Robinson (DATABOMB, DOWNLOAD). This all are ingredients of an album, which drifts and hits many styles. As I said, it's not easily to consume and takes time and several more spins than usual, and it isn't stuff for the heart-fainted audience.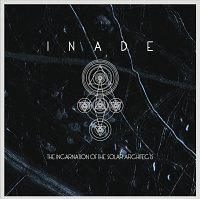 Artist:
INADE
Title:
The Incarnation Of The Solar Architects
Format:
CD
Label:
Loki Foundation
(@)
Rated:
Slow lava lapilluses, worlds collide, falling stars light the night of an unknown age. These are the images that arise while listening to the latest Inade album THE INCARNATION OF THE SOLAR ARCHITECTS. The ten tracks of the new album (released also as a double CD + dvd deluxe edition which is already sold out from the label) give some new elements to the mythology created by the band. As usual the darkest corners of sound have been explored and their sound sculptures (which can't be described only like dark ambient suites) find new ways of expression thanks to a great mix of melodies, noises, effects and vocals. "A lefthanded sign" shows us a new Inade sound by mixing their great sound to vocals and melodies. It's a good effect having blasts, deep vocals and ambient sounds all mixed like it was a pop song for angry deities. With a cover design that recalls a little the tree of life I was expecting some kind of link to it and I think we have it with "From the angle of aleph": a ritual track with sounds that recall the Tibetan human thighbones. Passing from different grades of tension the album closes with "Aion teleos", a track of the apparent calmness which is the perfect soundtrack for a post apocalyptic scenario.
Industrial Noise / Power Noise / Harsh Noise
Edit (5130)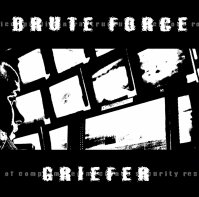 Artist:
Griefer
(@)
Title:
Brute Force
Format:
CD
Label:
Deterrent Industries
(@)
Distributor:
Cold Meat Industry (Sweden), Malignant Records (USA), Cold Spring Records (UK), Eibon Records (Italy), The Eastern Front (Israel), Troniks (USA), Molehill (Japan), Aural Hypnox (Finland)
Rated:
Griefer is a harsh noise / power electronics duo from the same people that run the famed website industrial.org. This is not their first release but it's their first non-CDR one and it comes in a nice 3 panel black cardstock case printed with silver ink. The interesting thing about "Brute Force" is that it is sort of a concept album themed around the internet and its flaws in terms of security, privacy and reliability. With Griefer's members being IT people, titles like "Pentagon Takes Network Offline", "Facebook", "Malicious iFrame" and "Undetectable Virtual Machine" and an art work sporting POP3 server's IP addresses and credentials, a short disclaimer-type text about internet service and control room type graphics, "Brute Force" is a very original take on what power noise / death industrial groups usually presents themselves as.
Musically (if I can even use that word, maybe I should say "sonically"), as you'd expect it's monolithic full force (or brute force) attack on your ears with sporadic non-pattern percussive pounding and super saturated vocals that make it impossible to hear what's being screamed. Everything is distorted and loud but surprisingly there is still room for dynamics and changes in intensity from piece to piece which convey overall moods. If you like stuff like Merzbow, Whitehouse, Throbbing Gristle, Dive etc I recommend you definitely give this a listen.
image not
available
anymore
Artist:
Zentriert Ins Antlitz
Title:
...No!
Format:
CD
Label:
Tympanik Audio
(@)
Distributor:
Ant-Zen
Rated:
Already the surprising news flash of the signing of this former COP-recording act has attracted some attention. Yes, this veteran and long time active German band returns with a complete new studio album, which features some remarkable extra goodies I like to review separately below. The decision to join again the ranks of a label can be seen as a surprise, since ZENTRIERT INS ANTLITZ have been released free available albums and EP's directly through their website in the last years. But "...No" plays itself already with the first few tunes directly from the ears into the heart of the listener by offering a rich and complex synth sound foundation, which features multiple hints into musically quite different genres and a wide cultural background. This isn't the work of bloody newcomers, that's for sure. I tend to compare ZIA's music with the audio results of TOTAKEKE regarding the featured diversity of styles and complexity, but ZIA are definitely more Electro/Industrial-minded and are sounding more "European" than Frank Mokros' project does. After a dark and voice-sample-driven intro, someone may expects another clubby EBM-album or at least a bit of possible dancefloor action by consuming "Today", but already the slow, but magically "Where Their Dreams Live" shows the direction in which kind this album will continue: a dark layered and for the most part slow and majestic Dark Electro-album with several hints into Ambient music. "Where Their Dreams Live" with its breathtaking high played acoustic guitar drops, or "Silence Diary", "24th Dimension", "Manage My Sensibility" with its more than 9 minutes playing time or the last track "The Final Walk" are mouth-watering masterpieces following this ideal. In between we have only one track offering the total contrast to this slow stalking milestone of Electronica music, "Can't Get Me", a track which screws the bpm to much higher numbers. Yes, it disturbs a bit the silence and course of this album – but again: what a great sort of an Industrial track is this! This one really remembers me on some last FLA-tracks, which had Jeremy Inkel aboard – a brilliant speedy track with vibrating bass lines, a straight kick and snare work and it also doesn't forget to include some guitar samples. What a great album, Gentlemen, thank you for the great music.
So we're moving over to the special content, which this album also offers for you. All you have to do is to move over to the official website of the band, www.zentriertinsantlitz.de and to download a tiny program entitled "Demutilator V2". Install and use this program by following all instructions, you at least need to "demutilate" the complete additional audio stuff only an original CD – no active www connection is required!
The "demutilated" stuff offers additional music to be burned and pressed on 2 CDR's and multiple graphic works.
CD 2 of this concept got aptly entitled "7 Dreams", because it offers 7 different versions of the already above mentioned track "Where Their Dreams Live". 6 different remix works produced by their Tympanik label colleagues like INTEGRAL, TOTAKEKE, STENDEG or SUBHEIM. Also a "Sheer Atmo Mix" by the masters themselves is featured too and as the title announces it, it reduces all rhythmical ingredients to zero and to drift completely in that rich and complex arranged layered sound outfit. Some remixes are nearer to the idea of the original (INTEGRAL), while some other are drifting away from it and fulfill to me the best the idea to create a remix with an own identity – LUCIDSTATIC, as usual, has to be named, but also SUBHEIM by offering an authentic form of ambience.
The "demutilated" CD 3 out of this edition is too me the better one, since it offers two unreleased tracks and especially the opener "Ewiniar" is a top-notch addition, following strong the presented quality of the main album. "Silence Diary", also originally available on the main album, receives two strong remix works by AUTOCLAV 1.1 and ACCESS TO ARASAKA. Also the remixes of "Perphenazin" are worth to mention, since the musically differences between the sedating DISHARMONY and the weird rhythm construction of the LUCIDSTATIC side-project Pandora's BLACK BOOK couldn't be more extravagant presented. Accomplished with a "Re-Dub Mix" of "Can't Get Me", by ZIA itself and a remix of an older track named "Jericho" by UNTERM RAD, you ll get another 45 minutes long soundtrack for your complete entertainment.
It remains the question, if this invention to "demutilate/extract" from the pure audio CD would have been the right concept to fight against the overpopulating downloading procedure – now it is definitely too late to start another MP3 debate for sure. However, this fantastic album is a milestone not only for Tympanik, but also for the genre of layered and complex produced Electronica music itself!


Industrial Noise / Power Noise / Harsh Noise
Edit (5058)
"Come Closer and smell the taste of gasoline". MOCTAN returns with a second full-length album and likes to invite the audience into another car race, of course and as expected signed to the German Ant-Zen label. Still consisting of the PUNCH INC.-musician Andreas Glöckner, "Come Closer" is for the most a straight and dancefloor-compatible Hard-Tec/Powernoise-album, which draws comparisons to highly renowned acts like S.A.M. out of the ProNoize-rooster or the Crunch Pod act C/A/T for instance. That's definitely a more straight-oriented direction than Andreas likes to produce under the massive stalking PUNCH INC. and generally more straight than someone expects from Ant-Zen. An album with action guarantee, "Come Closer" celebrates the pace with some floor burners like "The Survivor" (who can survive the speed of this track?) or "Long Distance Runner". Nice to hear also, that Andreas likes to fill in here and there some Downtempo, rather IDM-Electronica tunes too ("Come Closer", "A New Day") – that does well for a more diverse listening experience. Applause also for the abrasive tune "Overkill", which offers a predictable hint on his more famous above mentioned main project. Two additional remix works by ASCHE and BIPOL accomplishing a quite good, entertaining and recommendable Industrial/Hard-Tec-album. No, to call it ground-breaking or innovative would be an exaggeration - but it is able to satisfy all needs a fan of rhythmically Powernoise music can expect.