Industrial Noise / Power Noise / Harsh Noise
Edit (1574)
image not
available
anymore
Artist:
THIRD ORGAN/GOVERNMENT ALPHA
Title:
Counterattack of Shine-Shine-Dan/Dr. Freudstein
Format:
7"
Label:
Dada Drumming
Rated:
I've probably lost touch with the extreme noise scene over the last few years, but I think that the flood of records by Japanese noisemakers is not as intense as before. Well, this is surely a much anticipated release for harsh noise freaks, as Third Organ and Government Alpha are without doubt two of the best projects in the field. The 7" comes on marbled pink vinyl, but most of all, there's a bonus printed cd of live material (recorded in October 2003), so it's quite a massive dose of noise for your ears. As for me, the vinyl record wins the comparison: mean, brutal noise mess as expected by them. No frills, just a minor dose of theremin and bowed strings (!) on G.A.'s side, and that's it. Nothing new under the sun, but it literally pulverizes all the mediocre, heartless digi-noise by avantgarde wankers I've listened to lately. This hurts for real. As with grindcore, the limited length of a 7" keeps it short and violent. The bonus live stuff is mastered at a ridiculously high volume, but as expected from lengthy pieces, it also has weaker moments. Anyway, this is Japanoise to the bone... If you browse Lasse Marhaug's exquisite site and go to the photo section, there are a couple of great shots of Yasutoshi Yoshida (G. A.) in action - in one he's standing on a table, tweaking on a series of pedals, in the other I think he's showing a theremin which looks like a space weapon. Rock'n'roll intensity, man! Here, his side is titled after Lucio Fulci's masterpiece "House by the Cemetery", and dedicated to the master of Italian gore, so he immediately was in my good books. Instead, Third Organ's cover looks like a demented collage of various b-movies (but is that a picture from "The Brood"?). So the record is a winner in the visual department as well.
Industrial Noise / Power Noise / Harsh Noise
Edit (1563)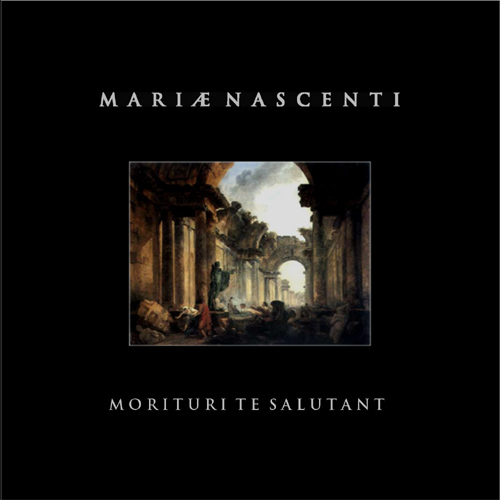 Artist:
MARIAE NASCENTI
Title:
Morituri te salutant
Format:
CD
Label:
Final Muzik
Distributor:
Nail Records
Rated:
Mariae Nascenti is a solo project of Angelo Visone's, here debuting on Final Muzik after a series of self-released cdrs and live performances. I don't know much about him, except that he used to collaborate with Speed Demon, probably the only underground queer(core) fanzine in Italy. Here he's helped by Massimo and Pierce (Black Sun Productions), Marco Schiavo (Larsen), Fabrizio Modonese Palumbo (Larsen and (r)), XS (Sadomarta) and Paul Beauchamp (Sikhara), all offering spoken vocals. Mariae Nascenti's sound is a mix of harsh old school industrial, death ambient drones and pounding rhythms ("A dead deer"), all very minimal and to the point; the vocals add a disturbing and dreaming atmosphere to the whole, and though at times I feel they are a bit over the top, they surely are one of the most interesting characteristics of the cd. While sound-wise this falls somewhere between '80's ritual industrial and early Cold Meat Industry acts, the carnal, decadent feel unavoidably brings to mind early Coil; and probably my favourite track is "I miei amori (and ode to P. P. P.)", where Pasolini's lyrics are half-whispered over droning sea-waves sounds.
Artist:
Compressed Infinity
(@)
Title:
Phase Formation
Format:
CD
Label:
self-released
Rated:
Compressed Infinity is a Sydney Australian one man project which began in 1998. 'Phase Formation' is the sophomore release featuring 14 tracks of electronica, electro-industrial, darkwave and EBM. Utilizing mostly harsh electro and trance elements, this project is dark with an introverted sense of melancholic inquisition. Musically the compositions are smooth and easy to listen to. Softer than some electro but harsher than any Sythnpop. An interesting and unique project that could use at least a bit more variance and some vocal modifications, as some tracks the vocal textures stand out a bit too much. However, this shows all the hallmarks of a likely future contender in the electro music industry. Musically it's much cleaner and produced than many of the self-starters one usually finds and has a wide array of variance in styles and techniques. The album varies from instrospective to a confusing array of off-kilter rhythmic techniques that are sometimes danceable and oftentime dreary and bleak. However, some of the tracks, or just parts of them, might come off rather amatuerish. This release does not have the professional polish it needs to get true recognition and stands out in my mind as yet another example of the overpopulation of would-be musicians in the current associated music scene.
Industrial Noise / Power Noise / Harsh Noise
Edit (1491)
image not
available
anymore
Artist:
LEGION ULTRA
(@)
Title:
Perversion Of Purity
Format:
12"
Label:
220N
Rated:
First album for Legion Ultra, PERVERSION OF PURITY is a 300 copies limited boxset containing an album, a 7" and an insert. Musically, I don't know why, I was expecting something like the other Koen's project (Cold Flesh Colony). Something less rhythmic and based unically on noise. Well, the opening "Helix" proved that I was wrong, as this one and the other eight tracks of the album (plus the three of the 7") are industrial tense tracks totally based on rhythm and on distorted vocals. Something in the vein of the early Whiteouse but with less feedback based sounds. The tracks sound compact, powerful and even without reading the various titles ("Martyr", "Perish", "Defied", "Pristine", etc) you get the message really well. On the website you can read that Legion Ultra combine the sheer brutality of Cold Flesh Colony with the harsh structures of Nörv and this release is the evidence of it! Saturation is the main thing on PERVERSION OF PURITY and this helps keeping the tension alive during the 50 minutes of brutality. Good one! P.s. You can get your copy sending 18 euros plus post, just write to Koen for more infos.
Industrial Noise / Power Noise / Harsh Noise
Edit (1488)
image not
available
anymore
Artist:
ILIOS
Title:
Encyclopedia_rw
Format:
CD
Label:
Antifrost
Distributor:
Mdos.at (Austria/worldwide), Metamkine (Fr), Anomalous (USA)
Rated:
The label press sheet defines it "some kind of jubilee": Ilios' third album "Encyclopedia", here revisited by a bunch of fellow artists, was released in 1993, and this is Antifrost's 20th cd. The list of contributors is quite impressive, but unfortunately the result is frankly not that great. As I don't know the original material by this Greek experimental soundmaker, I can only judge by the results - "Encyclopedia_rw" mostly deals with harsh digital noise, but not particularly outstanding or appealing. Mattin and Daniel Menche go for the throat and offer some loud & mean frequencies, but the other noisemakers (including experts like Jazzkammer and Karkowski) just don't do very good noise. The hyper-minimalist, "silent" part of the cd is definitely better: Francisco López, Xabier Erkizia, Coti K., Anla Courtis (ex-Reynols) and Joe Colley all revisit Ilios' material in more personal and interesting environmental/droning/lowercase variations; also nice are Jason Kahn's and Marc Behren's digital microscopies. But as a whole, especially considering the status of most names involved, this is a merely decent cd: the bad part is mediocre, and the good one is not particularly thrilling either.