Industrial Noise / Power Noise / Harsh Noise
Edit (1833)
Artist:
the Wretch
(@)
Title:
Ambulatory
Format:
CD
Label:
Magnatune
(@)
Distributor:
Magnatune
Rated:
One thing I admire about the Wretch is the evolution of his sound--not just album to album, but track to track. Never one to stay in the same place, the Wretch's Michael Weeks likes to keep his listeners on their toes. His new release, Ambulatory, is no exception to this. The mood and theme of each song manage to be substantially different, showing the listener a massive array of the influences and interests that helped shape this album.

On this newest release, Weeks takes his listeners on a journey through the darkened, eclectic corridors of the schizotypal mind of the Wretch. Ambulatory's base sound is an ever-changing mixture of cold, dark drones accented by heavy, spastic beats that sometimes become so intricate and precise they almost dare the listener to call them IDM. The feeling and style of each song is diverse, yet each track manages to feel like part of the whole. Each track is a glimpse in a different facet of a singular troubled mind.

From the foreboding beginning to the somewhat creepy, but almost friendly, end; Ambulatory grabs and holds the listener's attention, whispering distorted nothings and relentlessly assaulting the unsuspecting cochlea. As only his sophomore release under the Wretch pseudonym, Weeks has managed to reach musical standards most independent artists can only dream of. Ambulatory leaves no doubt in my mind, Michael Weeks/the Wretch is going somewhere, strap in now so you can say, "I told you so," later.

Industrial Noise / Power Noise / Harsh Noise
Edit (1831)
Artist:
Habeeb (@)
Title:
Il Cancello Della Morte
Format:
CDS (CD Single)
Label:
Somnambulant Records
Rated:
The return Of Habeeb with this disc is a treat, and one I have waited for since his last disc, "Il Cancello Di Morte." This disc could be considered a continuation from the 3", and if that is the case, then it is a continuation into a dismal abyss. "Della Morte" has grown into a much darker beast, and touches less on the light atmosphere heard previously and goes straight for the throat, purely suffocating the listener with solid foundations, dirge-filled drones and sparse but extremely effective texturing. The disc clocks in at just under one hour and the 8 tracks flow seamlessly together, till a sample in the intro of the last track, which takes you away from the depth of this release for a second, but only momentarily and you return to the full and corrosive sounds.
Industrial Noise / Power Noise / Harsh Noise
Edit (1814)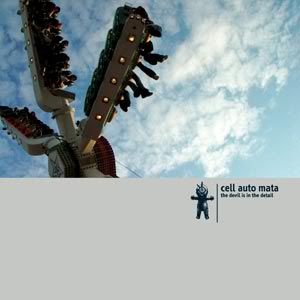 Artist:
Cell Auto Mata
Title:
The Devil Is In The Detail
Format:
CD
Label:
ant-zen
(@)
Distributor:
ant-zen
Rated:
As the title implies, there is much more here than meets the ears upon first listen. These sounds are born of an exciting alliance between Matthieu Maire (formerly Celluloid Mata) and Philipp Münch (Synapscape/Ars Moriendi/TRG). A few familiar elements of both musicians' other efforts can be found in this endeavor. However, this is definitely a new and exciting direction for the both of them, focusing more on composition and structure than either has done in any of their previous incarnations. A surfeit of sounds and experiences are laced throughout these fourteen adventurous tracks. The disc begins with a somewhat ominous feel on the opening track, "Fallen Dice," but soon breaks into a much more accessible, infectious tone. "Gws Hearse" employs some familiar sequencing with an added kick. "Huevos de Oro" blends interesting vocal manipulation with oddly transmuted instrumentation over hyperkinetic beats to create a highly attention-grabbing mix. The creative sampling and catchy sounds of "Hipsters" demands repeat listens. The guitar work on "Ish Galil" is an interesting departure for this pair, known more for their work with rhythms and synths. "Rip Rozz" once again calls upon Münch's vocals to deliver a good, solid punch.This disc is a pleasant diversion, and certainly unique among the crop of rhythm-oriented releases that have come to define ant-zen over the past couple of years. Slightly disorienting at first, but ultimately a ride worth lining up for again and again – highly recommended!
image not
available
anymore
Artist:
MERZBOW
Title:
Sha Mo 3000
Format:
CD
Label:
Essence
Rated:
I haven't listened to much of Merzbow's digital production, and this cd made me regret that quite a bit. Coming in a gorgeous matte-cardboard gatefold sleeve (with Akita's ongoing obsession for chickens, here in a wildly psychedelic mood), "Sha Mo 3000", played with ma-computer, guitar and EMS synthesizer, is much more diverse and tasty than I expected. The noise element is crisp, and while I'm not a fan of laptop-generated noise, there is enough care here to keep it intense throughout. But what makes "Sha Mo 3000" particularly interesting is the attention to structure and flow. Save for the initial short burst of "Suzunami", all tracks are lengthy (above the 10/15 minutes mark) and quite elaborated. Akita is always minimal in choosing his sources (often just one looped sample), but at the same time very careful with variations and details, so that the sound doesn't stagnate - which is quite fundamental in a good noise (and ambient and...) release. The title track, with its drum samples creating a heavily rhythmic backbone for the screeching feedbacks, and the fuzzy guitar of "Hen's teeth", have a flamboyant rock feel which sounds like a respectful, if perverted, tribute to '70's space music and psychedelia. "Ghost hide your eyes" and "Dreaming k-dog", on the other hand, are full of subtle and disquieting atmospheres - electroacoustic/concrete music drenched in an acid bath? Of course, there is probably enough sheer violence to make this worthwhile for a noise freak, but, unlike many ultra-noise releases, this definitely begs for repeated listens.
Industrial Noise / Power Noise / Harsh Noise
Edit (1798)
image not
available
anymore
Artist:
STABAT MORS
Title:
Ich bin so wild nach deinem Erdbeermund
Format:
7"
Label:
Drone Records
Rated:
Hailing from Bremen, Stabat Mors is a noise collective who has released, among others, a cdr on MSBR's label. This ep on Drone (coming on red vinyl, with handpainted covers) is, well, not exactly what you'd expect from Drone - possibly its noisiest 7" this far? Dedicated to the mighty actor Klaus Kinski, "Ich bin..." features two quite similar pieces ("Die Frau des Direktors" and "Krepiert"), played with sampler, accordeon, feedback, metals and a (kind of reciting) female voice. But what you'll mostly hear is feedback and pedal-like distortion - not in a full harsh-noise way, as the execution is rather sparse (as in a live improvised session), but still pretty gnarly. Very minimal and primitive, but quite interesting - just confusing if compared with the rest of Drone's discography.