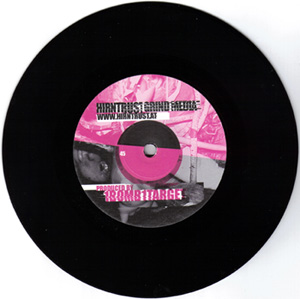 Artist:
1BOMB1TARGET/HARD-OFF
Title:
split
Format:
7"
Label:
Hirntrust Grind Media
Rated:
A new split vinyl single from Austrian label Hirntrust Grind Media, featuring their in-house project 1Bomb1Target and on the flipside the Australian-gone-Japanese Hard-Off (also known as M-PI, with a few releases on V/VM test records, Adverse Chamber, etc.). The former allegedly de-mixes "Come to Daddy", but you could hardly recognize the original in that crunching mess - loud and mean harsh noise, so good while it lasts. Hard-Off, on the contrary, opts for a spastic mix of techno beats and samples without much edge. Not my thing for sure, but at least it doesn't last for long. The single is limited to 290 copies.
Artist:
VV.AA.
Title:
Recreation-X Display Disobey V2
Format:
2 x CD (double CD)
Label:
Urbcom Music
(@)
Distributor:
Nova Media
Rated:
Already active since 1996 (and so we also have to celebrate their 10th year anniversary, congrats...), this Anglo-Dutch label leaded by both J. Hookens of JERICO ONE and Dave Escott (AWAX) returns with a double full-length CD set presenting rarities and special mixes out of their label program. Lately they could also get a distribution deal with the German Nova Media, so now their work and power will be spread all over the European continent. A DCD indeed has a lot of space to fill, so no real wonder, that several acts are here present with more than one track. Several "guests" are included here, for example the Alfa Matrix recording artist NEBULA H, the well known harsh IDM artist SOMATIC RESPONSES, or the artists of the German Sonic-X label SKORBUT, ANTISTASIS and GLENN LOVE. Bands also co-operate here often for mutual projects, so also this is responsible for a wide musically diversity. The music itself presents all known formulas of modern electronic-based music, styles ranging from Electro, EBM, Industrial, Synth Pop, but also Breakcore, IDM or Trance elements. Favorites can be named with the only one and real EBM piece here, "In Zenith" done by SKORBUT, then the very well worked out experimental tracks by ALIEN SIX, a side-project by Geoff Pinckeny of the UK Synthpop legend THE NINE. Almost well and with a rich amount of diversity is featured by the works of J. Hookens' own project JERICO ONE, with 6 (!!!) contributions on the top. There is a lot of nice stuff here to be checked out, please read also the very informative introducing words by Amanda Lear and the rich give track informations. A release to follow without hesitation and an impressive start for this label to reach a wider recognition.

DISC-1 [ DISPLAY ]

001: NEBULA-H FEAT PANGEA - andalusion +
002: JERICO ONE & AWAX - dcoy *
003: BIODRONE- c02 *
004: INTERCITY3 - windows [ club mix ] *
005: AWAX - statica [remix] *
006: ALIEN SIX - c sqared [edit] *
007: JERICO ONE> flashing light *
008: GLENN LOVE & T.H.INDUSTRY- iceland
009: KINHO- terminal *
010: ALIEN SIX & JERICO ONE>- stratastate
011: BIONIK PHUNK- supersonic +
012: INTERCITY3 city at night *
013: SEROTONIN- funkwall *
014: DEATHSTAR- mybodydrifting *
015: AWAX- lines *
016: JERICO ONE>- extol *

DISC-2 [DISOBEY]

001: AWAX- ion protocol *
002: DJ****- breakthrough *
003: ANTICRACY- uso derog [edit] *
004: SUDDEN INFANT- angelic agony
005: SOMATIC RESPONSES - omnivox [edit] *
006: SKORBUT- InZenith
007: DJ****- abberration *
008: JERICO ONE>- ulackra *
009: ANTISTASIS- TraumZeit
010: BIODRONE- pusher *
011: JERICO ONE>- bodyshock *
012: DJ****-metrophage plan B *
013: KYOSUKE TOKANAGA- extreamviolation
014: AWAX- know enmies *
015: BIODRONE- distrangled *
016: UNIFORM- day 6 in the season of mistakes *
017: BLACKPEPPER-thOughts

* Exclusive unreleased mixes or edited previously unavailable mixes / compositions
+ White label only or Dvd / promo-video transmissions

image not
available
anymore
Artist:
ONEBOMB>ONETARGET
Title:
Ich gegen mich
Format:
7"
Label:
Hirntrust Grind Media
(@)
Rated:
Shame on me! the review of this 7" has been delayed 'till now...my record playerf was broken, I've been kidnapped by alines and many other bullshits. by the way better late than never. "Power noise is da shit!" here and it will rip your ears apart erasing that smile of every listener caugh off guard: the music is dead serious. The first side is a great noise-blast that will give an hard-on to all the fans of Masami "Merzbow" Akita and early Murizio Bianchi, a simple cover but a name that leave no misunderstanding: Onebomb>Onetarget, the message is clear. The first side of the 7" fills perfectly in the genre, thus you're gonna receive nothing but a pure noise-blast. On the b-side of this vinyl the sound terrorist changes the blend but while the noise matter is almost analogous, I can't say I appreciated the "power-noise meets electro-keyboard" thing, somehow the idea and the result are odd but it's all a bit misleading or maybe out of focus. Notwithstanding both of the songs, as I've already said, have a similar forge, but on a two track records it works quite well. That's an overall good release above all if that's a debut.
Industrial Noise / Power Noise / Harsh Noise
Edit (2581)
Relentless... grinding... seizure inducing walls of noise guaranteed to clear those clogged arteries and to blow out any and all pending brain hemorrhages. Monokrom's release "tales of rabbits and hares" is far from the pleasant sounds you'd expect from the bunny-laden cover art. In fact, it's quite the opposite. While in the midst of the noise/rhythms there are quieter moments, this is all relative. Even the quiet moments are more grinding than most other releases. The CD contains 5 rather lengthy tracks and an additional video. Now this is what sets monokrom apart from a lot of other noise acts out there: identity. The packaging for "tales of rabbits and hares" is nothing short of fantastic. It's a great looking (monochrome) cardboard booklet with images of rabbits hopping all about wrapped in a silver band... not overly complicated I know, but it's minimalist presentation fits extremely well with the music. Their identity is brought out even more though, when the video is watched. The video presents the act wearing Donnie Darko-esque rabbit suits throughout what I assume to be a live performance. Saturated in video projections and dynamic lighting schemes, the video portion of the disc is totally engaging. With the exception of the video, I can only recommend this release to noise fans because there just isn't much breaching past that particular niche genre. The video is a fun watch but still might not be enough to win over the casual listener/viewer who isn't specifically interested in pounding walls of noise. Recommended tracks: "A Bunny's Life" (video).
Industrial Noise / Power Noise / Harsh Noise
Edit (2579)
image not
available
anymore
Artist:
Non (directed by Richard Wolstencroft)
Title:
Pearls Before Swine
Format:
DVD
Label:
Caciocavallo
Distributor:
Soleilmoon
Rated:
There used to be a trend in time when musical celebrities decided they'd venture into the film industry, and so even the ones you'd least expect it from, took a stab at it: Ice Cube, Jennifer Lopez, JJ Cool J, Will Smith, Madonna and so many more, you name it... What all these people have in common is that they all, to different degrees, did a decent job... That is unfortunately not the case of Boyd Rice. Pretty much every other person in this movie (except for maybe the terrible actress that played his girlfriend in the movie) did a much greater job at it than he did. He should definitely stick to making music, where at least he achieves decent results, instead of trying to act, which is a depressing sight to say the least!The movie itself, which was welcomed by Australian and international critics as "a 'Clockwork Orange' for the new Millennium", has some vaguely interesting aspects to it. I believe it originally came out in 1999 but on January 9th 2006 it was re-released on DVD in the US. It is the tale of a group of three for-hire assassins that increment their body count for money and some type of right-winged political agenda referred to as the coming of the "new dawn". Eventually they are contracted to kill a controversial book author who Rice's character actually ends up admiring. I won't give away the end (for those who are masochistic enough to spend the money for this movie). I will say that of course I don't sympahtize with right-winged bullshit and gratuit violence, nor do I care much for people who think they can still shock modern day audiences by employing cheap make up and quoting Pasolini's "Sodom & Gomorrah". That just doens't work like it used to, and today it comes through as a cheap attempt at trying to distress and outrage audiences that are used to much worse in movies and real life anyway. Politically-based provocation has seen its times, and I sure hope that this is meant to be a provocation, because if by any chance director Richard Wolstencroft actually endorses going around executing homeless punks, then we have bigger problems at hand.The movie is low-budget, but I am not going to let people's financial means and limitations influence my opinions of course, I am just mentioning it to let you know that you can't expect Hollywood color correction and photography, just so you know...The question remains: if casted differntly, would this movie have a chance? That's hard to say. Like I said, it has some interesting insights and makes some points, but in the end it seems like it was made just to test people's boundaries (hopefully it wasn't filmed to send a specific political message).The only thing that I thought was interesting about this movie were the cameos (special appearances): you can have fun spotting Douglas P. (Death In June), Ross Wilson (Daddy Cool), David Thrussell (Snog, Soma, Black Lung), author Phil Motherwell, Kristen Condon (Teknikust), George Huxley and James Young (Bloodlust) and many other actors, the film director himself.Let's just hope that Non fans won't assume that Rice's acting is as good as his music production (the music features a soundtrack mostly by Non). Unfortunately people (and especially fans!) are usually blinded by these artist's reputation and forget to be objective letting their love for other things the artist has done take over and influence their ability to judge... Initially that was my reaction: "wow, Boyd Rice made a movie! Let's check it out right now, it must be wild!". Yeah it was wild alright, it was wildly bad!!! It was hard to go through, I can only say that, but I watched the entire movie AND all of its extras in an attempt to give an objective review. If you love Boyd Rice and his music with Non, do yourself a favour and stay away from this movie, at least you'll be able to keep loving Boyd Rice for what he has accomplished before "Pearls Before Swine".