Artist:
STCLVR
Title:
Predator
Format:
Tape
Label:
Chthonic Streams
(@)
Rated:
This album reminded me of late 90's / early 2000's dark electro bands mixed with some of today's abrasive power electronics projects. The vocals are gritty and the beats are dirty but catchy.

Less polished than a lot of the dark electro bands and I don't mean that as a put-down, it adds something to the tracks and makes them darker than what usually comes out of that genre.

This is a short but sweet release and as always with the Chthonic Streams releases, this one has some beautiful graphic design and packaging.
Artist:
PBK
(@)
Title:
Inscrutable Secrets ´91-96
Format:
CD
Label:
Haunted Exp Labs Records
(@)
Rated:
OK, so I have to be honest, as it might be affecting my opinion on this one. I sat at home today and watched about 3 episodes of the new Twin Peaks and then put on this album. It was the second time I have listened to this one. The first time I really liked it and listened to it very intently but did not feel as if I was ready to write about it because it is a pretty deep and dark recording.

PBK lived in Puerto Rico for about 4 years in the early to mid-nineties. With an artist like PBK, I can see how being in a different environment would completely affect his recordings. These tracks were recorded at the same time as the Domineer / Asesino / Retro triple LP box set and may be separate pieces recorded in and out of those sessions. These separate tracks, at least what sounds like from the description, all fit very well together as an album even though they are spread out over a 5 year period.

I honestly don't ever have anything bad to say about the work of PBK but this is up there as one of my favorites for sure.

As for the beginning Twin Peaks reference, if David Lynch ever does another season, he doesn't need to look any further than these recordings for some of his masterful eerie visuals. I could easily see this fitting into any episode.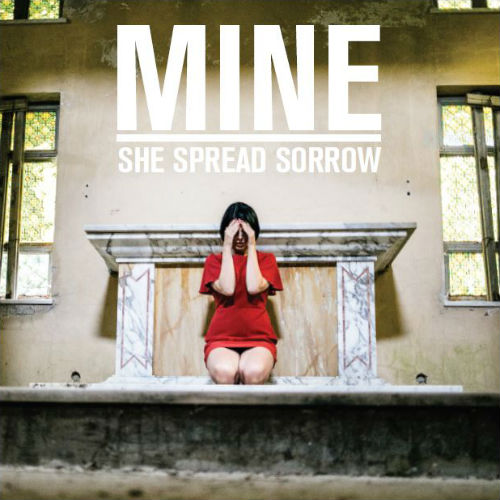 Artist:
She Spread Sorrow
(@)
Title:
Mine
Format:
12"
Label:
Cold Spring
(@)
Rated:
After the well received "Rumspringa", Alice Kundalini returns with a vinyl-only release on Cold Spring moving even further in her personal depiction of Power Electronics. This release is almost entirely center on her voice, so this could even be seen as a form of audio play as the sound part, even if harsh in some moments, has evidently the role of accompaniment.
Just after if seemed that she moved into quieter territories, the distorted voice of "Crushed On The Pillow" introduce the listener into a sort of theatrical spoken word upon small and sharp noises. However, the first part of "Lust" hints an attention towards the construction of an atmosphere while the crescendo of the loop explode into the noisy second part. The minimal sound palette of "On The Bank Of The River" closes the A side of this release underlining the histrionic quality of the voice.
The first part of "Mine" is carefully developed in the aim of creating the expectation of the explosion of the second part and "Straight Back" closes this release with a dialogue between the voice and the noises immersed in an oppressive silence.
Perhaps this release could be a little disappointing for the fans of the genre searching for a monolithic wall of sound, but this release shows how in a codified genre an artist can find a way of escaping its formal cages. A really nice release.
Industrial Noise / Power Noise / Harsh Noise
Edit (9993)
Artist:
Institution D.O.L.
Title:
Exzess
Format:
CDS (CD Single)
Label:
Klanggalerie
Rated:
Introducing at length Institution D.O.L. shouldn't be necessary. For those who love industrial music it is a very well-known name, but Chain DLK has readers from very different types of electronics music. Institution D.O.L. is the creature of Barbie B. (joined by Meta Dolor in 2016). He has been pretty active between 1998 and 2008 and then, for some reasons, he quitted all musical activity until 2014. He hold collaborations with very famous acts such Wertham and Stahlwerk 9, but I would say that probably Institution D.O.L. are more known than them. This is a very important project in the scene, and it has inspired dozens of other acts. Institution D.O.L. plays its own specific type of industrial music, which is a perfect balance and combination of extremely violent power electronics and obscure dark ambient. This is a type of music that requires talent and experience. Barbie D. has both.

'Exzess' is (as far as I know) Institution D.O.L.'s newest album. This is the type of album that strikes you as a thunderbolt the first time you listen to it, because it has impact. Sometimes albums with impact become pretty boring after few days, but this is not the case with Exzess. Listening after listening you discover new sounds, new particulars that escape at first. This album is a perfect combination of dark ambient and noise/power electronics. Everything in this album is extremely well curated: samples, synths, voices, transitions. This album is like an organism: all its parts are discernible, but at the same time they find their own identity just in the whole. Unlike many other industrial albums, this masterpiece is more than the sum of its parts. Example of track delivering perfect transitions and wise integration of different sounds is Silent Night (best track in the entire album in my opinion).'Fallen and furious' - together with the title-track 'Exzess' - is the track that exemplifies this back and forth between noises sounds and atmosphere typical of a certain dark ambient tradition.
'Exzess' is a masterpiece of modern industrial music; an album that will soon become a classic in the genre. A classic is not just a must-have, but it is an album that communicates something new and different anytime you listen to it: this is the case of 'Exzess'
Industrial Noise / Power Noise / Harsh Noise
Edit (9930)
Artist:
Sutcliffe Jugend
Title:
Shame
Format:
CD
Label:
Hagshadow
Rated:
When I think about Sutcliffe Jugend of ten years ago, I think about chaotic guitar noise and distorted vocals, while if I think about the ones of the early 80s, I think about feedback and power noise. So, what about their sound of the latest years? Well, lately, their sound changed: they balanced the elements in a different way by using less distortions for the vocals, they combined different noise/sound sources together and they also changed the intensity of their sound on some tracks (check "Seedless" on their 2012 album "Blue Rabbit", for example), just to be able to have a wider palette of possibilities. On their latest album, titled "Shame" and released by Hagshadow, we have five new tracks that confirm the new path taken by Kevin Tomkins and Paul Taylor. I already listened to the opening track titled "Shame", because they played it on their concert at the latest W.G.T. festival in Leipzig at the beginning of this month and even if on the CD you lose a bit of the tension they create on stage, it sounds good and powerful. This track confirms what I wrote at the beginning of the review, as we have a melodic part played with a distorted bass guitar with the add of more guitar layers which create a fluctuating wave of sound. On this, Kevin is shouting his vocals about the worst human's behaviors, mostly concerning sex. On "Sledge" you can feel the tension but it's not a noise track, it has different layers of treated vocals with a clean one upfront while on the background we have a dissonant hammering of a which I think it could be a treated piano, which rhythmically repeats few notes. On "Hurts" we have noise tides which duet with a clarinet (or it's a feedback which is sounding like that). You don't know what to expect when the next tide it will arrive and this is a more effective way to create tension. "Bait" plays with guitar noise loops while Kevin shouts about survival. The closing track "Blood", is a long dreamy noise tune which is working as decompression room creating a dazing effect. I prefer this latest version of Sutcliffe Jugend, as they keep their sound more open to possibilities and I think that at this point of noise music, it's working better than an "in your face" formula. Well done!