Industrial Noise / Power Noise / Harsh Noise
Edit (9075)
Artist:
Sirotek
(@)
Title:
Listening To The Mirror
Format:
Download Only (MP3 + Lossless)
Label:
Wall Noise Action
(@)
Rated:
This release from Sirotek, the post-industrial project of Vitaly Malygin, seems based based on psychological concept as it features also samples of the voice of Sigmund Freud. The mirror could be seen as how we perceive ourself in what we see and this could be the sense of the cover artwork where a man is seen through the disturbed signal of the television.
"Some Important New Facts About The Unconscious" opens this release juxtaposing noises and voices, perhaps from a television program, as the noises, perhaps from a malfunctioning television, underlines the worries generated by the lecture. "Rhizome Ways" reveals a sense of narration as it starts almost quality to superimposes noise generators to expose a gentle line of piano in the central part and closing the track with small noises in a pure silence. "Hypnagogia" is a long track starting as an almost dark ambient track to evolve with sharp noises in a central part of undeniable impact and closing with with tones of atmosphere. "Inside The Mirror" is a noise track of deep impact and "I'm Only Sleeping" is at the threshold between ambient and noise. "I'm Only Dying" is a meditative juxtaposition of noises while "Besy" superimpose noises until it reaches the white one. "The Gift Of Death" sequences sonic details from a sort of melody above a canvas of background noise.
This is more multifaceted release than the average of the genre which is focused on the body impact and reveals an artist which is anchored to an allegorical vision of noise that reminds to an almost spiritual vision. This not a release for everyone but noise fans will see a path for the future of the genre.
Artist:
Aeoga
(@)
Title:
Triangle Of Nebula-Devourers + Palace For Vultunales
Format:
CD
Label:
Aural Hypnox
(@)
Rated:
Another welcomed postcard from Finnish sonic underground recently reached my desk and group together a couple of older outputs by solo-project Aeoga of Aural Hypnox founder Anti Haapapuro, who decided to re-release "Palace For Vultunales" and "Triangle of Nebula-Devourers" ten years after their previously strictly limited edition (the former belonged to the deluxe boxset of "Zenith Beyond The Helix-Locus" - just 40 copies -, while the latter was limited to 100 CD-R copies) for Stellar Mansion series of the label by housing it in an silk-screen printed cardboard artwork that include four double-sided inserts of artwork and somehow explanatory words to describe each stage of these sonic entities in between dark ambient and ritual industrial. Such a stylistic hybridization is particularly clear on "Triangle of Nebula-Devourers", whose three long-lasting tracks could let you imagine it was recorded during a mysterious ritual by likewise mysterious entities in some hidden area of an abandoned factory during which obscure energies managed to shake the surrounding elements. Despite their somehow occult meaning, the descriptions of each stage of this rite are particularly fitted to what you are going to listen and sentences like "Silvery-eyed understand the language of those who are veiled in gold/Follow the ethereal currents to finally bath with the owl-eyed" (the words to describe "Menstrual Skull Consumed" or "Luminous desert of existence/Dual-directional roaming/through five nebulous five" (the description of "Let The Sun Become Your Eye") could stimulate your imagination, but certainly less the listening experiences that Aeoga provided over the thirty minutes of his recording. The sound of the two parts of "Palace For Vultunales" ("Palace For Vultures" and "Palace For Vulcanales") is definitively more ritual-oriented, but it's likewise obscure and powerfully imaginative - its sinister sumptuosity could be matched to a sort of aural training for some larger sweeping event by previously evoked deities-.
Industrial Noise / Power Noise / Harsh Noise
Edit (9040)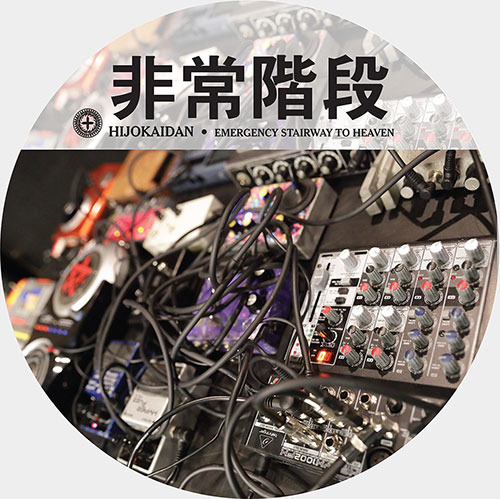 Artist:
Hijokaidan
(@)
Title:
Emergency Stairway To Heaven
Format:
12" vinyl + CD
Label:
Cold Spring
(@)
Rated:
The new album from Hijokaidan is a double release: a 12" release with the title track and a CD release with two live performances. Often enough Hijokaidan have been classified as a noise band, and they are considered as one of the first bands in this genre, but their music has that sort of Colemanesque quality that let emerge from the mass of the instrumentations the single quality of the performers.
Emergency Stairway To Heaven is a track divided in four parts: the "Part 1" starts with a radio signal which is suddenly interrupted by the guitar and the screaming, the energetic drumming sets a time frame where the music develops with convulsion and contractions interleaved by quiet mass of drones. "Part 2" is instead quite calm as it relies on sparse beats on cymbals and sporadic instruments noises so the result is almost psychedelic. "Part 3" close the side A of the vinyl with an overlapping of the instruments giving the sense of an apparent chaos. The "Part 4" last for all the side B and is a long track which starts quietly and alternates moments in which the voice and drums are in the foreground to moments in which the other instruments bear them; this structure let emerge the peculiar quality of the members: the ductility of the screaming, the framework of the drums, the texture of the electronic and the movement of the guitar.
The CD version collects two concert: the first is "Live At Uplink 20th May 2014" which is based on the thick mass of sound generated by the electronics of T. Mikawa which periodically leave a space for the screaming of Junko and the synthesizer of JOJO Hiroshige. The second is "Live At Chikusa-Za 21st Dec. 2014" and the presence of Futoshi Okano on drums is the elements that change the auditory structure as it changes completely his equilibrium so while the first live relies on details, this one relies on the dynamic as is sounds as every instruments take the lead role for seconds or fraction.
The impressive quality of this band stands in the absence of boredom in their music, while other projects sound able only to create a noise wall without any movements or rifts, as they amplify all the fissures in their sound to generate the same sense of form that could be found in a Pollock painting. If anyone remember in which record there's such painting the circle is closed. Absolutely a must for fans of the genre.
Industrial Noise / Power Noise / Harsh Noise
Edit (9032)
It's not often that one is able to so clearly trace the evolution of an artist, but in this 7' release, we can hear the missing link between 'A Letter That Will Never Be Sent' and 'I Kill Everything.' Gorgeous symphonic synth? Check. Distorted vocals? Check. The label says that these two tracks are 'abrasive, eroding, mindblowing and emotionally very intense. Maybe they're even more mentally disturbing as his earlier material.' Intense, yes; disturbing, no. This is what I like about Loss. His pain is real, and yet he has somehow managed to turn lead into psychological gold. If you can track this down (since Spectre seems to be no more), it's worth getting. This comes pressed on heavy transparent yellow vinyl in special sleeve with a vellum insert and is limited to 252 copies.
Industrial Noise / Power Noise / Harsh Noise
Edit (9011)
Artist:
Decondition (@)
Title:
Sukellan Tuntemattomiin Syvyyksiin
Format:
CD
Label:
Force Majeure
(@)
Rated:
I was not familiar with this Finnish artist, but Force Majeure is a sub-label of Nuit Et Brouillard, so this gives some indication of where this is going. Decondition is the work of Helsinki-based Arttu Laine, who had previously released a cassette on Freak Animal Records. Now for some, this may not be the best pedigree coming from a label best known for releasing music celebrating incest and pedophilia, but Decondition is not that kind of musician. This is no small feat in power electronics, but it is always good to find them when you can. The cover art provides a hint of want we will be hearing. This is industrial, in the sense of 'factory assembly line.' Only in this case, the factory has long since been abandoned, but no one bothered to turn off the machines. Parts have begun to rust and creak, but still they go on. Oil drums serve as percussion and everything is awash in static. But this is not all in your face. Tracks like 'Dark Clouds Over My Innerlandscape' show an admirable sense of restraint. Some lack vocals, letting the noise speak for itself, unlike some PE, which is content to have some fuzzed out noise that they can yell over. But where Decondition really shines is toward the end, where the tracks become less agitated and more musical. 'River Of My Emotions Unfolding,' for example, is almost melodic in a harsh sort of way. Sort of how the desert has its own austere beauty. 'Aistiharhojen Luoma Todellisuus (Sukellan Tuntemattomiin Syvyyksiin)' continues this trajectory until we reach the end with 'Deep Sleep In My Dreams,' which has more in common with dark ambient music than power electronics (albeit a gritty kind of dark ambient). In this respect it reminds me a lot of Loss, who creates gorgeous symphonic power electronics. If you're looking for power electronics that pays as much attention to the music as the vocals, this is one to pick up. This album weighs in at around 62 minutes and is limited to 497 copies.