New Music / Downtown / Avantgarde Jazz / New Classical / World
Edit (10746)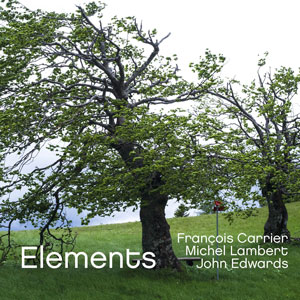 Artist:
Francois Carrier, Michel Lambert, John Edwards
(@)
Title:
Elements
Format:
CD
Label:
FMR Records
(@)
Rated:
The saxophonist Francois Carrier returns with a new release featuring his usual collaborator Michel Lambert on percussions and John Edwards on double bass. As we are talking about improvised music this is a live recordings from two different concerts: one at the l'Klectik Art Lab, The Horse Improv Music Club in London and the other at the 20th Festival Jazz Cerkno.
The first concert, done in 2016, is represented by two tracks: "Elements" which starts, after a quiet introduction with the bass sounding almost like a cello, with the alto sax conducting the improvisation with the rhythmic section sustaining it until the double bass begins to escape his rhythmic role to have a melodic one and so the sax use more melodic phrases and there's more use of silence in a second part where the percussion is used with remarkable restraint. "Roar of joy" is instead essentially an alto sax solo with the rhythmic section underlining the atmosphere rather than doing time beats. "Wilderness" is instead from the other concert, made in 2015, and starts as a prosecution of the previous track as it has more or less the same structure but, in this occasion, the sax lines are more continuous and less fragmented. The second section of the track is based on the interplay between the musician with small, even noisy, sound from the sax immersed in silence with quiet accompaniment by the other instruments until the use of the bow by John Edwards introduces the second part of the concert where there's the alternation between frenetic parts, when the sax use longer lines, and quiet ones, when the language is more fragmented.
The readability of the whole structure of the concerts denotes the amalgam between the three musician, so that there's no hint that this is an improvisation, and the idea of movement behind the performance. Recommended for fans of free jazz.
Artist:
Andreas O. Hirsch
Title:
Early Carbophonics
Format:
10"
Label:
Makiphon
The Carbophone is Hirsch's own invention and the first one was only constructed in 2015, so there's a tongue-in-cheek aspect to the name "Early Carbophonics"- but despite being an acoustic instrument built with a wooden base and carbon rods, the tone of the instrument, and of this 26-minute mini-album as a whole, is so close to the playful weirdness of 1960's experimental electronics that it really does sound like a throwback to what might get labelled early electronic music.

In terms of intention, it references the African Kalimba or Mbira, and the layered rhythms in pieces like "Octopus Promenade" do have shades of traditional African music, while others like "Balfolk" sound more like Eastern European folk instrumentation reworked into mesmeric repetition that borders on analogue techno. "Castle Moat Robot" would not sound out of place in a Radiophonic Workshop retrospective, while "Full Moon Hula Hoop" sounds like an attempt to construct a more modern, faintly glitch-steppy piece but solely using a wood-toned instrument.

Will the Carbophone reinvent music and invite retrospective compilations fifty years from now? I very much doubt it. But is it a pleasant and strangely nostalgic attempt to build something solid and new that rekindles the spirit of musical experimentation? Yes, it is that. And does it work? In a rather sweet way, it does.
New Music / Downtown / Avantgarde Jazz / New Classical / World
Edit (10736)
Artist:
Jibóia
Title:
OOOO
Format:
12" vinyl + Download
Label:
Discrepant
Óscar Silva's Jibóia project reaches its fourth album, and SIlve is joined by Ricardo Martins and André Pinto. Although the concept behind it is described in relatively high-art terms, referencing Pythagoras' Musica Univeralis and the limbo between fiction and reality, what you actually get on record is the sound of a free jazz trio enjoying themselves and wigging out in a moderately disciplined manner. The musicality and the production quality is top-notch but this is is a release that recalls the music of the '70s more than it cuts any edges.

The first side contains the atmospheric opener "Diapason", then the much more upbeat and waving-your-arms-about-friendly "Diapente" that reminds me of Silver Apples. That comparison holds firm for "Diatesseron", where the long sustained melodic high notes give a more alarmist feel.

The second side is given over to single 16-minute track "Topos" which has a more journeyman structure to it and just a faint dose of what you might label funk or groove, as well as a tonality that is just a shade more Eastern.

Forty or fifty years ago a release like this would have praised to the skies by jazz and Floyd fans, though they may have found it too upbeat for late-at-night horizontal listening; as it is, it stands sounding more like a tribute piece, but at the same time, there's certainly nothing wrong with that and it's a fresh and bright-sounding bit of work from the rockier side of jazz.
Some of the biggest names in 'new music' are associated with the Darmstadt school- Stockhausen, Cage, Boulez, Ligeti, Messiaen and many more. The school's Summer Courses for New Music have a recorded archive stretching back 70 years, and in true 'new' fashion, instead of drily reissuing archival recordings 'as is' and making them seem stuffy and no longer avantgarde by context, instead Hanno Leichtmann has been let loose on the recordings in order to not collate them but sample them, twist them, create homages to them and generally freshen them up into a work that's both old and new.

Sometimes we revel not in the lectures but in the music itself. The theatrics and bold tape manipulations of the 1960's are most notably on display in tracks like "Substanzsuche", with pieces like "Klangfigur (fur Klavier, Stimmen und Regler" openly melodic. There are elements of spoken word recordings dropped in, as short snippets or as elements looping into abstraction, in a manner that strangely recalls the Monkees movie "Head" (a reference that may seem obtuse but which will become apparent to people who've listened to both), especially when the accents are American.

At other times, pieces like "Einheit von Maß und Zahl" are more faithful to the lecture format, inserting a large chunk of spoken word explanation about feeding a music score into a computer and underpinning it with drone and spontaneous percussion in a manner reminiscent of Johann Johannson's "IBM 1401".

It's a very refreshing way to revisit and rework an archive. A movement of artists whose core work involved challenging preconceptions would, I presume, be generally satisfied that their work has been reappropriated in such a manner. What we have here, in effect, is an intriguing and high-quality bit of music history that's also brand new.
In this short concept piece, Monty Adkins "paints over" acoustic pieces performed by Sarah-Jane Summers and the Bozzini Quartet. The original performance was inspired by Norwegian landscapes, and Scottish and Norwegian folk traditions. Adkins has stripped away the performance elements, smothering them in processing and reverb, stretching and washing them until only the atmospheres and broad tones remain.

After "Hollow" and "Distant Waters", two pieces of slightly more generic cold-yet-positive drone from which the origins would be very hard to guess, it's in third piece "Spiral Paths" that more of the original source material is exposed and the unique reworking approach really clicks. The plaintive violin work rolling across the melodic slow bass drone in a much more cinematic fashion.

It's a curious concept piece that feels like it's not given enough time to really breathe as a drone work, and in "Spiral Paths", just hints at what award-winning soundtrack album could be conceived if this area was delved into more deeply.