New Music / Downtown / Avantgarde Jazz / New Classical / World
Edit (9853)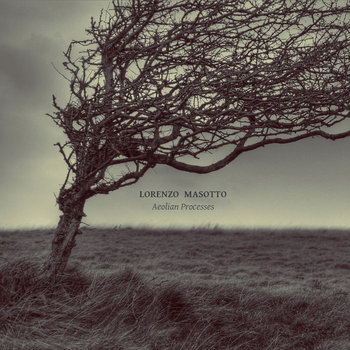 Artist:
Lorenzo Masotto
Title:
Aeolian Processes
Format:
CD
Label:
Dronarivm
(@)
Rated:
Lorenzo Masotto is a classically trained composer which, beyond being a member of a prog/post rock band called Le Maschere di Clara, writes music centered on piano. In the introduction to this release he states that he tries to make mimic music based on image and he want "to portray those images, using only the sound that a piano can paint". This approach clearly carries the listener to classify his music under the neo-classical genre whatever this may means.
The piano of "Arctic Summer" opens this release and introduces the listener into a sound field vaguely reminiscent of certain romanticism which is the key characteristic of what is called "modern classical" as we are in a pure melodic environment without any discernible dissonances and all track are based on the development of a single and clearly developed theme with the addition of simple effects for the expansion of the audial spectrum. This framework is repeated in almost all tracks even if in "Drone" there's some barely audible field recording and a sort of drum, in "My Great-Grandmother Lived In The Mountains" there the accompaniment of a synth or in "When The City Sleeps" there's a trace of kosmische musik in the looping synth in the background. As a matter of fact, they are more an ornament rather than an hybridization.
To evaluate this kind of release is a matter of perspective: if someone appreciate the novelty or the deviation from the canon, this is those kind of release that would be covered by dust but if instead he's searching the comforting sensation that a cantabile has in our musical culture, this release will firmly stand in the music player. Pick your choice.
New Music / Downtown / Avantgarde Jazz / New Classical / World
Edit (9848)
Artist:
Jeffrey Roden
Title:
Threads Of A Prayer Volume 2
Format:
Download Only (MP3 + Lossless)
Label:
Solaire Records
(@)
Further extracts from the same sessions which produced the two-hour-long first volume, "Threads Of A Prayer" continues the vein of dark, sombre, expansive melancholy, but in a slightly more succinct manner.

For the most part, opener "The Field" has the texture of a tragic violin solo, with occasional soft single-hit interjections from timpani. "As We Rise Up" is similarly violin-led but with a pulsing and subtle bass tone, so soft that it begins to sound like distant machinery, providing a grounding influence. By contrast, the title track and the six-part entirety of "6 Pieces For The Unknown" are all solo piano- simple and slow successions of dark and light chords with a languidly improvised feel.

Sometimes simplicity itself is not the sole ingredient of beauty, and perhaps in "Threads Of A Prayer" Roden relies too much on the technique of simplicity. However this work still represents a bold expression of solitude and quietness, confident in its duration and use of space.

(And before you ask me whether I've cropped the artwork incorrectly, I haven't- that's what it's meant to look like.)
New Music / Downtown / Avantgarde Jazz / New Classical / World
Edit (9841)
Artist:
Trophies
Title:
A Family Of Three (Band Photo)
Format:
12" vinyl + Download
Label:
Unsounds
Three-piece Trophies (voice, fretless guitar and drums) offer up a tightly woven collection of six pieces that blend avantgarde jazz stylings and beat poetry with drones and a range of grungy and bubbly post effects ranging from the classic and psychadelic to the more modern and electronic-sounding.

Opener "Curiosity" has a bit of everything, an eight-minute opus in four distinct parts. The indulgently bluesy, guttural vocal of "Arirang" is one of those love-it-or-hate-it elements- to me, the jaunty energy of the following track "Small Process" comes as a welcome relief.

The second half of the short LP is also somewhat lighter, with the high vocal of "Desidare" coming across as almost poppy. "Problem" (where- spoilers- apparently the biggest problem is Italy, so they say) takes short vocal samples and loops them unequally so that they fall out of sync in stereo, a well-established trick but still quite fun. Final track "Water" is an oddity in a different way, slightly more proto-techno and bordering on sinister.

Considering the relatively conventional musical set-up, this is a diverse and undoubtedly virtuoso set of musical ideas, though at times it does feel like the envelope could have been pushed just a little further.
New Music / Downtown / Avantgarde Jazz / New Classical / World
Edit (9832)
The award-winning violin & double bass duo Vilde & Inga's second album is an austere collection of ten short improvised and completely acoustic pieces. There's a broad range of dynamics between the pieces- "Usynlig Flimmer" and final track "Skinnende Stein" have drone basses under a disconsolate and manic violin, "Sprø Glimmer" is tightly metered, scratchy and difficult, while "Fljóta" is mellow and spacious.

The production quality is very close, you can really hear the deep wooden tones of the double bass movement, so much so that in pieces such as the title track, these elements feel like additional glitched electronic layers, yet they aren't. The players aren't afraid of a little distemperate bowing to produce additional screeches and tones that your school violin teacher would tell you was a mistake, though it clearly isn't… Pieces like "Røykkvarts" take this to extreme, focussing almost solely on the incidental sounds, while "Aurum" shows their capability at more 'purist' arrangements.

The experimental attitude pervading "Silfr" takes the sound of a violin and a double bass as far as it could possibly go from conventional music (at least, without breaking the instruments, or your ears), and it was probably wise to keep things succinct at 42 minutes. Yet this isn't just avantgarde for its own sake. There's a heartfelt and determined performance that shows through the emotional expression making "Silfr" a captivating piece of art music.
New Music / Downtown / Avantgarde Jazz / New Classical / World
Edit (9820)
Anne La Berge is part of Ensemble MAZE, and the six-piece ensemble are present here, performing two LP-friendly extended sparse improvisations of piano, double bass, electric guitar, flute, bass clarinet and electronics. The ensemble follow written instructions but with an energy that feels like it might have been spontaneous. We meander between sporadic and slightly more overlapping sections with a thread of melancholy running throughout.

Different combinations of instruments almost politely take their turns to be at the music's core, meaning that if you skip the needle five minutes further on, you'll hear something very different to what you were just listening to. Some of the transitions are smooth, others very abrupt, making it difficult to predict.

"RAW" has an unusual extra element that proves to be its USP. Each performer, as well as using their own instrument, uses a tablet which, when pressed, causes a very short spoken word sample to be played- quickly spoken dialogue that instantly seems to accelerate the pace and dynamic. These snippets are too brief to be coherent, but tantalisingly close to being understandable. Talk of structures and still-visible scars tease you into wanting to invent your own narrative. The shorter second piece "RAW 19" has more of this spoken word, more frequently overlapped, as well as a greater emphasis on radio-interference-style electronics and processing, than the relatively purist first piece "RAW 10.5".

It's a complicated pair of pieces with diverse character- sometimes bold, sometimes spacious, never easy to follow.