New Music / Downtown / Avantgarde Jazz / New Classical / World
Edit (10401)
Artist:
iety
(@)
Title:
hope you were covered up
Format:
CD
Label:
Wide Ear Records
(@)
Rated:
After I saw a couple of video live recording, I certify that a live concert by iety, a Luzern-based trio by the funny Elio Amberg (playing a tenor sax and a bass clarinet on this output), Laura Schenk (on piano) and Amadeus Fries (on drums) could be much funnier than listening to them through an audio-only support (as 90% of improv and free jazz collective or solo projects), but the deprivation of visual and scenic aspect can't really overshadow the chance to appreciate their amazing sounds. They're perfectly aware of the kind of puzzlement their sound can inspire into a listener, who could ask - for example - if they perform composition or if they're improvising. Well, they seem to say they do something in between improv and composition and such an ambiguity can be related to other aspects of their awesome sound, where sterility can coexist with emotion, and "uncontrolled energy sallies on celebrating the details", according to the introductory words by the label Wide Ear. The two video clips I found are live performances of the first two tracks of this album (the opening 9433 and the title track "hope you were covered up") an I invite you to check them out to have an idea of the energy and the above-mentioned ambiguity sprouting out of iety's sound. A similarly dada-punkish approach to improvisation can be heard on the following tracks such as "kick etude" or the evocative "ophelia" - the tonal thuds and its bitter mood as well as its similarities with some soundtracks of 70ies soap operas (a resemblance that gets more clearly audible on the final "petrol") could let you imagine a modern portrait of the Shakespearean character -, even if this approach could thinly veil a (desired?) certain rawness in some moments of their experiment.
New Music / Downtown / Avantgarde Jazz / New Classical / World
Edit (10397)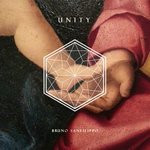 Artist:
Bruno Sanfilippo
Title:
Unity
Format:
CD
Label:
Dronarivm
(@)
Rated:
There's one problem with a release that has to be filed under the term "modern classical" which is the prejudice that it's nothing more than a nom de plume for a sort of nostalgic, if not reactionary, piano music more or less influenced by romanticism. This is not the case of Bruno Sanfilippo, which is a classically trained musician, as it uses elements of electroacoustic music to expand the palette of this genre of music and tries to avoid the cliché.
The first track, "Spiral", is an ethereal piece for voices and synth of remarkable atmosphere and clarity revealing also a sort of religious inspiration. Instead, a track like "One", dangerously borders the romantic borders of the genre luckily far enough from its shoal upon which the minimalistic framework of "Lux" docks. The violin line of "Simple" reveals an apparent simplicity to cover the complexity of the accompaniment while "Oneness" relies on the catchy melodic framework. The electronic treatments of "Entity" and "Cyclical" creates a lingering sense of suspension to balance the romantic piano melody. "Unity" close this release with a long and reasonably complex track where repetitive and hypnotic melodic elements creates a development ending in a ethereal final part close to canonical ambient.
The evident working on sound to juxtapose a patina of modernity to an overall traditional idea of music, as minimalism in this case is not based on repetitive figure but on a plain melodic plan, saves this release from the perilous courses of the genre but it could be not enough to earn something more. Perhaps not only for fans and collectors.
New Music / Downtown / Avantgarde Jazz / New Classical / World
Edit (10395)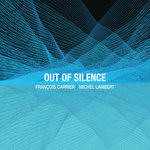 Artist:
Francois Carrier, Michel Lambert
Title:
Out Of Silence
Format:
CD
Label:
FMR Records
(@)
Rated:
As most release about improvised music, this is the recording a performance made in 2015 in London by François Carrier, on saxophone, and Michel Lambert, on drums and percussions. Roughly sketched, their music is mostly driven by saxophone which exposes the melodic parts with the drums essentially framing the segments of the performance.
The opening, and longest, track, "Out Of Silence", is developed upon the short phrases of the saxophone and the impressive works on dynamics of the drums which spans from quiet moments to furious underlines of the rhythm. While the saxophone, in "A Thousand Birds", plays almost relentlessly, the drums frames his most fragmented moments and the more continous ones. "For No Reason" is, instead, a more developed dialogue between the two instruments where Lambert begins to conduct his partner. "Soul Play" is the quieter and most lyrical moment of this release while "When the Heart Starts Singing" marks a return to faster playing. "Meadows and Shores and Hills" is marked by the drum parts which is practically a crescendo in dynamics in the first part with only a brief stop to give space to a quiet phrase of the saxophone. "Happy to You" closes this release with at least a small hint of catchy melody.
This is an enjoyable and well played release that could be well received by fans of classic free jazz as it's not as extreme as some output from free improvisation or EAI and has even some moments that borders into canonical jazz. It's really worth a listen.
New Music / Downtown / Avantgarde Jazz / New Classical / World
Edit (10376)
Artist:
Markus Eichenberger & Daniel Studer
Title:
Suspended
Format:
CD + Download
Label:
Hat Hut Records
Eichenberger's clarinet and bassclarinet collaborate with Studer's double bass for a 45-minute album of sombre, sparse notes, drones, rumbles and grumbles from the furthermost experimental edges of jazz. Occasional hammering or other gentle abuse of the instruments adds an occasional percussive layer to something that is otherwise a very pure and focussed sound.

After the baldness of opener "Walking Harshly", there's a few more spontaneous flourishes in "Pausing Reluctantly" which roll nicely into the more percussive "Staying Numbly" and "Glancing Loudly". By contrast "Listening Sideways" is more plaintive, allowing the long clarinet tones to breathe expansively first, gradually joined by some properly lush low double bass timbres.

With some vocal inhales and creaky-door bowing noises, "Gliding Upwards" feels a bit more theatrical, with some 'tread carefully in the haunted house' notes that roll elegantly into the lighter but still sparse final piece "Aiming Anew" that wraps with a flourish that remains in character.

It's a very clear work with a single-minded approach, consistent throughout and engrossing without being challenging. The Hat Hut label is releasing some very fine bits of experimental modern music, nicely if slightly modestly presented as CDs in slim gatefold card sleeves (that won't take up a lot of space on your shelf!) and this is another quality example.
New Music / Downtown / Avantgarde Jazz / New Classical / World
Edit (10374)
Artist:
Muddersten
Title:
Playmates
Format:
CD & Vinyl
Label:
Sofa
In four numbered and segued parts, "Playmates" is a 40-minute work combining lo-fi guitar, analogue tape-loops, electronic bleeps and a microtonal tuba into a dark array of drones, frantic rustling, spontaneous improvised percussive hits and found sounds akin to alien bird noises (and the occasional dafter duck-like noise).

The guitar, at points, flirts with the idea of melody, before shying away into individual, almost petulantly plucked standalone notes. Similarly the low percussive rumbles and almost sarcastic clap sounds sometimes engage in a repetition that has the natural feeling of a rhythm, before wilfully stepping away from it into random thumps and clicks.

Part 3 stands apart somewhat, bringing the melodic elements to the forefront, especially the weird tuba, adding gated processing on the drones and instigating a slow building drone reminiscent of Lygeti but with electronic pops. As such it's a highlight, followed up by the more sparsely arrangement Part 4 where the wall of drone gives way to a more barren collection of tape warbles, pitch-shifted percussive sounds and clicks.

It's a rich performance from the Muddersten trio, perhaps lacking a handle onto which the listener can tightly engage, and totally mis-sold by the slightly pop art collage artwork, but releases on SOFA tend to be good quality and this certainly doesn't break that pattern.