Artist:
Wolfgang Mitterer
Title:
Nine In One
Format:
CD
Label:
Col Legno
Taking all of Beethoven's nine symphonies (performed by the Haydn Orchestra of Bolzano and Trento) and compressing it into one 55-minute 'greatest hits' that's twisted with loops, cuts, backwards elements, electronic bends, sparse and sometimes raw-edged extra electronic noises and bold rearrangements- it's a supremely bold move, some would say very arrogant, especially when you spot the booklet tagline "you really can listen to Beethoven!". It feels like it ought not to be endorsed, or maybe not even listenable- yet for better or worse it works.

The most melodic themes- both the overplayed best-known ones and the less popular-culture-exhausted ones- are treated with a certain degree of reverence, but it's their dynamism, and the bridges between the peaks, that are driven further thanks to speed changes and more complex drops and builds. At times it feels truly complimentary- though Beethoven-academics are likely to disagree.

Large chunks are left intact, without electronic decoration- "Satz 2" being a strong example of where the editing is so subtle that only people who've memorised the original work will be conscious of the changes, while other pieces like "Intermezzo" are more explicit deconstructions, heavy speed-shifting and sharp glitching transforming some of the less dynamic source material into avantgarde electronica that at times borders on difficult digital jazz.

Despite it being rather deftly handled for the most part, traditionalists will still find this reworking of the so-called 'new testament of music' undoubtedly sacrilegious, but if you're looking for a piece of surprisingly fresh-sounding classical music that brings a little bit of electronic wizardry into play around established strong themes, and if you're not going to be too precious about it, this is surprisingly enjoyable.
New Music / Downtown / Avantgarde Jazz / New Classical / World
Edit (10548)
Artist:
Ernesto Diaz-Infante
(@)
Title:
For M.F.
Format:
CD
Label:
Pax Recordings
(@)
Rated:
The most obvious trait of Diaz-Infantes's music is its relentless moving as, from the strumming of his first works he's moving toward more rarified and spatial music. "For M.F." is a quiet work at the opposite of the mass of sound which was the first characteristic that overwhelmed the listener as it's immersed in silence as if contemplation of sound leads to silence.
The track begins with sparse notes reverberating in the space where he plays and this effect creates a sense of false notes and echoes which slowly cradles the listener; then he slowly speeds its playing so slow arpeggios became the focus of the second part of the track. The third part of the track is based on arpeggios articulated in brief phrases intertwined with pauses to let the resonances add color to the whole. At last he turns back to the the beginning of the trace disarticulating the phrases and returning to the contemplation of the notes.
This is a long and hypnotic release that will thrill fans of minimalism while the others could be a little bored by a release more oriented toward the nuances of acoustic guitar sound rather that traditional language based on melodies. There's also a little bit of melody here and there, but it's only a hook for the listener's attention when it's too drowned in contemplation. Recommended.
New Music / Downtown / Avantgarde Jazz / New Classical / World
Edit (10536)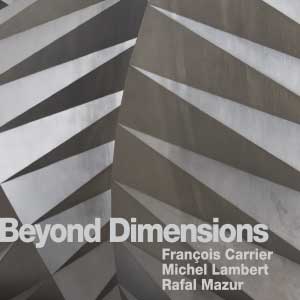 Artist:
François Carrier, Michel Lambert, Rafal Mazur
(@)
Title:
Beyond Dimensions
Format:
CD
Label:
FMR Records
(@)
Rated:
It's not the first time that François Carrier (alto saxophone), Michel Lambert (drums) and Rafal Mazur (acoustic bass guitar) play together as a trio, so they have an recognizable sense of interplay. As they usually improvise, this release was recorded live and collects four track played in Romania. Their music stands along the path of free jazz where the harmonic structure is reasonably thin to make all player has a lead role in certain sections of the tracks.
The first track, "Open Dream", opens this release with the saxophone in the foreground which is sustained by the bass which sometimes takes the lead of the improvisation with the remarkable work of the drums which underline the sections of the track being more sparse when the bass is in the foreground and more dynamic during the sax's sections. "Namagiri" is instead focused on sax but there's a constant dialectic between its lines and the rhythmic section which sustain them instead of simply accompany. "Unseen" is the shortest and perhaps more harmonically fragmented track of this release where all instruments have equal musical space. "Beyond Dimensions" closes this release with Carrier that creates a melodic framework where Lambert and Mazur sustain or contrast depending on the moment.
This is an enjoyable release where the idea of improvised music as a way to escape the constraints of a score, intended as a role imposed on the instrument whether soloist or supporting, is reclaimed in an equilibrium between all player. Recommended for fans of avant-garde and free jazz.
New Music / Downtown / Avantgarde Jazz / New Classical / World
Edit (10516)
Artist:
Frode Haltli
Title:
Avant Folk
Format:
CD & Vinyl
Label:
Hubro
Composed by Norwegian accordion player Frode Haltli, "Avant Folk" is a sombre 5-part, dectet ensemble performance that sets out to deliberately span genres- it's got the instrumental qualities of music that fits under the broad umbrella of folk, both familiar Western European aspects and some more Eastern and African tones in the rhythms and melodies. But in Venn diagram terms it also falls comfortably within the circle of jazz, particularly avantgarde and atmospheric, improvised-sounding and freeform.

"Hug" opens with a feelgood, almost Celtic-folk-dance-like arrangement that, over the course of seven minutes, dips into darker, more chin-stroking territory.

"Trio" and "Gratar'n" are both more sombre, properly melancholic affairs driven by plaintive, meandering violin work, inbetween which "Kingo" is a work in several parts that feels like it has an undisclosed story-telling element, soundtracking a relatively jovial journeyman fairy tale the details of which are undisclosed.

Final piece "Nied" gives things a more jovial twist thanks to the ambling accordion work and gentle guitar playing, and slow tempo variations that give proceedings an almost drunken flavour.

Save for the light touches at each end, it's a very sincere work, highbrow and in parts quite low energy, often frosty in a manner fitting to the artwork. As such it's a piece of avantgarde crossover that's more accomplished than it is accessible, and is more likely to be appreciated than it is to be liked.
Christopher Chaplin's second album is a truly curious beast, and probably the oddest setting of John Milton's poem that you'll have ever heard.

As the artwork suggests this is a properly theatrical work, merging sparse bits of English-language opera singing (Nathan Vale on the first and last tracks), beat poetry (Leslie Winer on the second track), sporadic and often very ominous-sounding string and woodwind orchestrations with some experimental percussive performance elements and an occasional smattering of modern electronica, drones and synth twiddling.

Sometimes meandering into abstract soundscaping, and at other times feeling more like an overtly staged performance piece, it seems to revel in the defiance of expectations on each level- including lyrically, being difficult to follow and inviting you to try and interpret that which may not actually be interpretable.

Personally I am more intrigued by the Nathan Vale-featuring "I Dread", which has a greater sense of dynamic, than the sultry, smoky squidginess of Leslie Winer's rambling lines on "Dave The Shoe", on the grounds that the latter feels less distinctive. The shorter final operatic piece "Of This New World" feels somehow more conventionally vocally, but the offset of plaintive melancholic tenor singing against glitchy electronics is still a winning combination.

Although this work feels like it ought to make more sense in a live performance setting than on an album, it's a properly unusual work that commands attention.