New Music / Downtown / Avantgarde Jazz / New Classical / World
Edit (10597)
There's a strong inventiveness in the concept of these collected live performance pieces. Trondheim Voices are a seven (or sometimes nine)-piece vocal-only group who wander around the performance space, singing a mixture of lyrics and more frequently lyricless tones, making vocal percussive clicks and noises, and working playfully with their voices and an undisclosed 'theatrical element'.

Importantly, they are kitted out with 'maccatrols'- wireless effects unit controls that they carry with them with which they can delay, reverb, pitch-shift and loop the sounds that they are making. These boxes are used extensively and form a fundamental part of the end result, which just as often sounds like inhuman digital electronica as it does like an experimental acapella group.

Much of the time, it's very plaintive and sometimes exceptionally quiet- pieces like "Rise" and the traditional Norwegian folk song at the heart of "Hymn" feel empty and funereal. More dramatic pieces, like the harsh opening rock screams, pulsing and exercise breathing of "Room #10", or the ever-so-slightly pop leanings of "Gleam" are the lesser part of the album, which is a shame as these works are arguably more interesting whenever there's a driving energy behind them.

Still a solo vocal collection, but with a audibly unique approach, there's enough detail in here to captivate and impress the focused listener.
New Music / Downtown / Avantgarde Jazz / New Classical / World
Edit (10577)
Long-standing collaborators Charles and Di Donato are both clarinetists, and their edgy, breathy staccato improvisations are the core of this 14-track work- calls-and-responses, actions-reactions, subtle stereo offsetting, rhythms and counter-rhythms mean that at its heart, this is a fairly regular (if that's not a contradiction in terms) avantgarde jazz clarinet duo.

But Charlies's instrumentation is credited as "clarinet, helicopter" and Di Donato's as "clarinet, lawn mower" and that's an indicator that sonically, it's just a little bit more broad than that. On tracks like "Acer", soft motorised purring cuts in and out under plucky percussive sounds. As well as getting unconventional sounds out of clarinet structures, there's delicate use of other noises, often more as additional decoration than as any alternate centrepiece.

"Acacia" imitates the pneumatic sound of light industry as an interesting exercise in sound design drawn from limited sonic sources, and longer pieces like "Multi-Tond" open up emptier, dronier spaces.

I'm a sucker for the beautiful sound of a clarinet played with purity and melancholy and this release satisfies in that regard too, with pieces like the title track allowing the instrument's natural tone to shine.

It's a very pleasant 51-minute set, relaxing on a superficial level and with enough detail and expression to withstand a more scrutinous listen as well. A prime example of its kind.
Artist:
Wolfgang Mitterer
Title:
Nine In One
Format:
CD
Label:
Col Legno
Taking all of Beethoven's nine symphonies (performed by the Haydn Orchestra of Bolzano and Trento) and compressing it into one 55-minute 'greatest hits' that's twisted with loops, cuts, backwards elements, electronic bends, sparse and sometimes raw-edged extra electronic noises and bold rearrangements- it's a supremely bold move, some would say very arrogant, especially when you spot the booklet tagline "you really can listen to Beethoven!". It feels like it ought not to be endorsed, or maybe not even listenable- yet for better or worse it works.

The most melodic themes- both the overplayed best-known ones and the less popular-culture-exhausted ones- are treated with a certain degree of reverence, but it's their dynamism, and the bridges between the peaks, that are driven further thanks to speed changes and more complex drops and builds. At times it feels truly complimentary- though Beethoven-academics are likely to disagree.

Large chunks are left intact, without electronic decoration- "Satz 2" being a strong example of where the editing is so subtle that only people who've memorised the original work will be conscious of the changes, while other pieces like "Intermezzo" are more explicit deconstructions, heavy speed-shifting and sharp glitching transforming some of the less dynamic source material into avantgarde electronica that at times borders on difficult digital jazz.

Despite it being rather deftly handled for the most part, traditionalists will still find this reworking of the so-called 'new testament of music' undoubtedly sacrilegious, but if you're looking for a piece of surprisingly fresh-sounding classical music that brings a little bit of electronic wizardry into play around established strong themes, and if you're not going to be too precious about it, this is surprisingly enjoyable.
New Music / Downtown / Avantgarde Jazz / New Classical / World
Edit (10548)
Artist:
Ernesto Diaz-Infante
(@)
Title:
For M.F.
Format:
CD
Label:
Pax Recordings
(@)
Rated:
The most obvious trait of Diaz-Infantes's music is its relentless moving as, from the strumming of his first works he's moving toward more rarified and spatial music. "For M.F." is a quiet work at the opposite of the mass of sound which was the first characteristic that overwhelmed the listener as it's immersed in silence as if contemplation of sound leads to silence.
The track begins with sparse notes reverberating in the space where he plays and this effect creates a sense of false notes and echoes which slowly cradles the listener; then he slowly speeds its playing so slow arpeggios became the focus of the second part of the track. The third part of the track is based on arpeggios articulated in brief phrases intertwined with pauses to let the resonances add color to the whole. At last he turns back to the the beginning of the trace disarticulating the phrases and returning to the contemplation of the notes.
This is a long and hypnotic release that will thrill fans of minimalism while the others could be a little bored by a release more oriented toward the nuances of acoustic guitar sound rather that traditional language based on melodies. There's also a little bit of melody here and there, but it's only a hook for the listener's attention when it's too drowned in contemplation. Recommended.
New Music / Downtown / Avantgarde Jazz / New Classical / World
Edit (10536)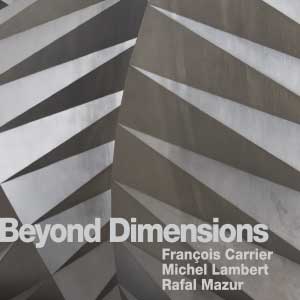 Artist:
François Carrier, Michel Lambert, Rafal Mazur
(@)
Title:
Beyond Dimensions
Format:
CD
Label:
FMR Records
(@)
Rated:
It's not the first time that François Carrier (alto saxophone), Michel Lambert (drums) and Rafal Mazur (acoustic bass guitar) play together as a trio, so they have an recognizable sense of interplay. As they usually improvise, this release was recorded live and collects four track played in Romania. Their music stands along the path of free jazz where the harmonic structure is reasonably thin to make all player has a lead role in certain sections of the tracks.
The first track, "Open Dream", opens this release with the saxophone in the foreground which is sustained by the bass which sometimes takes the lead of the improvisation with the remarkable work of the drums which underline the sections of the track being more sparse when the bass is in the foreground and more dynamic during the sax's sections. "Namagiri" is instead focused on sax but there's a constant dialectic between its lines and the rhythmic section which sustain them instead of simply accompany. "Unseen" is the shortest and perhaps more harmonically fragmented track of this release where all instruments have equal musical space. "Beyond Dimensions" closes this release with Carrier that creates a melodic framework where Lambert and Mazur sustain or contrast depending on the moment.
This is an enjoyable release where the idea of improvised music as a way to escape the constraints of a score, intended as a role imposed on the instrument whether soloist or supporting, is reclaimed in an equilibrium between all player. Recommended for fans of avant-garde and free jazz.