New Music / Downtown / Avantgarde Jazz / New Classical / World
Edit (9423)
Artist:
Mara
Title:
Sermata
Format:
Download Only (MP3 + Lossless)
Label:
Filigran
This 4-track EP is an unusual blend of languid, Americana-style country guitar, juxtaposed against more frenetic, Gene Krupa-ish jazz rhythms- all decorated with the slightest hint of electronic bells and whistles as the cherry on top. The result is an organic downtempo bit of atmospheric chill-out, even despite the relatively high BPMs on some tracks.

The longer tracks "Sermata" and "Acid Lee Hooker" are indulgent and quite engrossing, settling into grooves that are quite frankly rather lovely. "Sioux" and "Via dell'amore" are more akin to instrumental versions of country-pop songs, still richly produced but a little less atmospheric.

This would be ideal fodder for the soundtrack to a modern day road movie across the plains of the USA- but with its warm tones, you could happily settle down on a beach with it too.
New Music / Downtown / Avantgarde Jazz / New Classical / World
Edit (9420)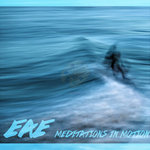 Artist:
Electro Acoustic Ensamble
Title:
Meditations in motion
Format:
CD
Label:
Manza Nera Label
(@)
Rated:
The Electro Acoustic Ensamble is the project of Fred Casadei (double bass), Bruno Romani (alto sax), Francesco Manfrè (cello) and Daniele Onori (guitar) which is born after a fistful a jam sessions. The result is something in the vein of certain experiment between composed and improvised music as perhaps it's not exactly free jazz but has its flavor so almost all tracks are called "meditation" as they were part of a single composition.
After the first whistles of the string instrument the phrasing of the flute opens "Meditation number one" as a melodic element above the fragmented lines of the other instruments while the dialogue of "Saxophone at the mirror" is more equilibrated. The guitar accompanied by the cello and the double bass is the focus of "Meditation number three" while the cello is the main element of "Meditation number four". While the structure is closer to jazz when the sax is the main element, the string instruments moves the balance towards contemporary music and a track as "Meditation number five" is paradigmatic of this framwork and when Bruno Romani uses the flute, as in "Meditation number six", with relatively long tones or with slower phrases shifts the musical equilibrium towards a more cohesive one. The unstable setting of "Meditation number seven" with all the instruments not in an accompaniment role is balanced by the short duration and "Meditation number eight" is a quiet interlude to "Meditation number nine", practically a flute solo spectrally balanced by the cello. "Ligeti" sounds like an homage with his suspended tones and "Meditation number eleven" continues under this path with his use of extended techniques and "Meditation number twelve" is a partial return to jazz form that is completed in "Meditation number thirteen" which features percussions as the form is more rhythmically structured. "Meditation number fourteen" and "Meditation number fifteen" are almost a single track in two part as they share similar elements as quiet moments based on a single instrument at play. "Scratch and loose" is developed upon a suspension generated by the cello while "Meditation number seventeen" tries even some noisy moments with some use of dissonances while "Meditation number eighteen" is a return to form and "School out musicians" closes this release as a sort of divertissement.
While apparently is a cohesive release based on a canonical approach, the tension between the subtle differences that is generated by the double bass and the sax, rooted in a relatively traditional jazz language, and the string instruments, reminiscent of a more unstructured form, sometimes generates something close to a personal language. It's really worth a listening.
New Music / Downtown / Avantgarde Jazz / New Classical / World
Edit (9408)
Artist:
Kaschade
Title:
Performance (2016)
Format:
Download Only (MP3 + Lossless)
Label:
self-released
There's an 'old school' feel to the experimentation throughout this work. "Performance" is an apt name for something that feels like it is being created live, a spontaneous collection of percussive and melodic stabs that involves taking jazz instruments like saxophones, prepared pianos and bluesy guitars and pulling them into an airy, empty, abstract space.

Whilst the pacing and the artistic tone is reminiscent of 1960's Radiophonic Workshop, the sonic layout is modern and polished. It's a subtle production, letting the instruments speak for themselves with only a few lashings of reverb and delay to make everything feel wider.

"Wax Cellulite" ends with one of the album's few less relaxing moments, with the pervading melancholia turning into anger and frustration as a sax and a synth sound like they're having a fight. In the first two-thirds of the album, more often and not though, this is plaintive, non-aggressive stuff- I wouldn't go as far as "chill out" music might sometimes it's not far off.

All of the above is solidly thrown out in the final third however, as the time we reach album closer "Golden Balls" that tone is thrown forcefully out of the window in favour of white noise and crescendo of agonised, frustrated wrangling. In a way it's a disappointingly obvious end to something that was otherwise well-stocked for originality.

Synthesized, purely digital releases with this kind of sonic aesthetic are fairly commonplace nowadays (although not unwelcome!), but to hear an album like this, made with such conviction using so-called "proper" instruments, is refreshing and different. A gentler and more imaginative final third would have cemented it as truly outstanding.

At the time of writing, this 53-minute album is a bargain on Bandcamp. Cryptically the promo version that was sent was labelled "Performance (2016-2017)", but given that it was released in October 2016, seemingly they dropped the '2017' idea.
New Music / Downtown / Avantgarde Jazz / New Classical / World
Edit (9393)
Artist:
Katie Kim
Title:
Salt
Format:
CD & Vinyl
Label:
self-released
This is forty minutes of deeply melancholic, downbeat misery ballads, mostly just a vocal and a piano with faint orchestral frills and a subtle and extremely restrained echo-chamber production. It's very evocative of the epic rocky, windswept Western coast of Ireland.

Unfortunately, it also feels rather self-indulgent. Vocally it's like a tuned series of regretful notes-to-self. Some lyrics are hard to distinguish and in parts it feels wilfully inaccessible, as though we're not welcome to hear these private memories.

Although described as 'dark', 'droning' and 'ambient', it's none of these things in any great measure- perhaps a little bit more of a journey into the experimental would've benefitted it. It is more like standard pop ballads, slowed down and spaced down to extremes.

"I Make Sparks" and "Life Or Living" are a little more driven and up-tempo by comparison, which considering "Life Or Living" runs at around 90 beats per minute, goes to show how measured and frankly slow the rest of the album is. "Thieves" is the track that most suggests there is innovative songwriting, maybe even pop music, underneath the heavily loaded surface, scratching to get out.

Despite Katie Kim being Irish, there's a Scandinavian vocal tone reminiscent of Karin Dreijer Andersson but sadly lacking the energy or quirkiness.

It's a very honest and consistent work, but, like dipping into a stranger's private diary, it would be wrong to recommend it.
Artist:
Ulrich Mitzlaff
(@)
Title:
X-RUN-4 Prismatique
Format:
Download Only (MP3 + Lossless)
Label:
Crónica
(@)
Rated:
Background noises get typically considered a disturbing element of live recordings, but I won't say the same for this output, capturing a solo improvisational session by German (even if he resides in Lisbon since a long time) cellist and composer Ulrich Mitzlaff in a spacey hall nearby the motorway close to Humberto Delgado Airport in Lisbon under commission of the Portuguese National Civil Engineering Laboratory over two different days (November 30th and December 21st 2014). Besides the typical reverb added by vast spaces, the hissing noise generated by traffic as well as more or less distinguishable sounds of departing and landing airplanes seem to have been fully integrated in the recording as they were (without any treatment), and I'd rather say you could have the feeling that Ulrich's beloved instrument, as well as the stylistic shaping he evokes by means of it, got sometimes synched to the aural manifestation of human transportation. Covering an almost indistinct range between polka to skronk of free jazz till occasional episodes that could vaguely remind the prodigious counterpoints of Bach's Cello Suite 1 or even Beethoven's final parts of some of his more dramatic scores (resurfacing in particular during the central piece, the 20-minutes lasting "4-one", featuring Beethoven's just mentioned phrasing between 13th and 14th minute) features occasional percussive elements (mostly found objects and materials), highlighting the feeling of an authentic real-time recorded improvisation together with the performative fits of madness resulting into sudden accelerations of chord tapping and squeaking scratches (almost rendering the image of Ulrich while using his nails on his cello till they begin bleeding) as well as unexpected sparks of harmony. The instrumental eruptions, as well as their bizarre clutching with surrounding noises, could let you imagine that the composer/performer is just putting on an act a sort of dramatic fight between a forgotten cello and the rest of the absent-minded/absent-minding world; they are akin to two aural inputs or attractive poles that could vividly stage a struggle between emotion and apathy in the somehow alienating society we often could experience.