New Music / Downtown / Avantgarde Jazz / New Classical / World
Edit (10605)
Moskus are a trio of piano, drums and bass, though they'll hop onto some other instruments- keyboards, organs, vibraphones or recorders- on a whim. But at its core it remains three skilled musicians performing, mostly improvising, around each other in a manner that's comfortable, almost cosy, and quite playful at times.

The clap-along "Irsk Setter" is one of the brightest tracks, with a poppy energy that's halfway to making it an odd crossover radio hit, but other tracks are more sanguine, exuding the slightly smoking-sounding jazz tones in pieces like "Sang til C". The vibes- literally- on "Min venns skaperverk" place us firmly in a quirky chamber jazz world. Particularly in the second half, many of the tracks are short- over half the tracks here are under three minutes long- giving us concise little patterns that are a touch under-baked at times, improvised melodic ideas being casually batted about and thrown away rather than really explored.

The track called "(_ ,)" is particularly sweet thanks to the judicious use of Hans Hulbækmo's musical saw, sounding decidedly theremin-like when given preferential solo treatment.

Overall, it feels quite unchallenging. Musically the root concept behind pieces like the odd-stepping-rhythmed "Eventyrdagene" are interesting exercises, but the rest is something that sounds like it was more complex to play than it was to listen to (well of course that's generally true but it feels even more the case here, if you see what I mean).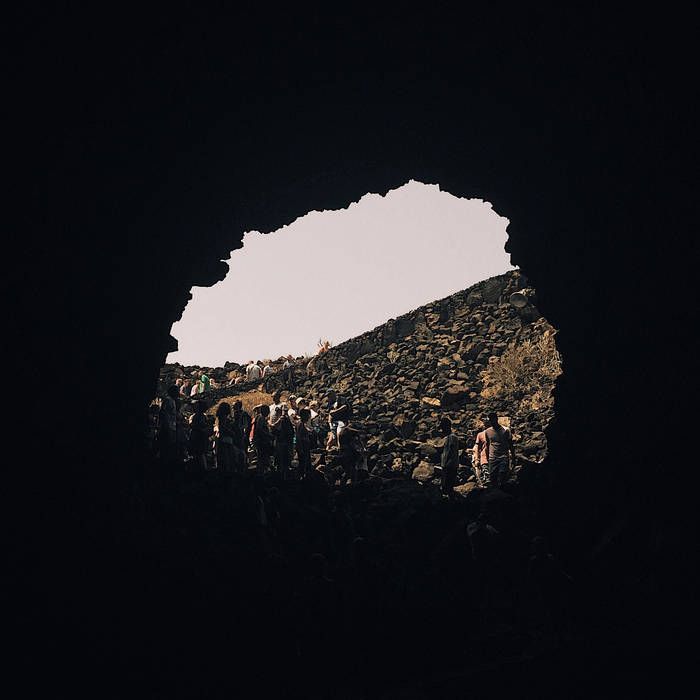 Artist:
Luton
(@)
Title:
Black Box Animals
Format:
CD
Label:
Lost Tribe Sound
(@)
Rated:
Luton is the Italian duo of Roberto P. Siguera and Attilio Novellino whose electroacoustic music is something at the edge between modern classical and ambient. As they use traditional instruments as strings, woodwinds, brass and percussion and they reportedly wrote their pieces in various venues, this release sounds as a sort of journey diary with his impressive diversity.
"Mount Kenya Imperial" opens this release with a field recordings which is juxtaposed to drones generated by strings used to add a subjective mood to an objective landscape. "Spectres of Mark" is a minimal and hypnotic track developed upon a drone and a simple synth line. "Södermalm Phantom Cab" is instead a sort of jazz tune introduced by a field recording followed by the entrance of the single musical lines. "Eternal Now" is a short interlude where all elements of Luton's music are compressed to the essential. "Black Concrete" alternates noisy moments to ethereal ones. "Archipelago" in an evocative catchy tune where the clear arpeggio of the guitar and the melancholic trumpet line capture the listener. "Night Avalanche" is a drone crescendo interrupted only for another one using instruments. "Elk Talk" is a dialogue between a piano and a violin while "Submergence" uses editing techniques to escape catchy melodies. The melodic elements of "Ice Museum" emerge from the drone background and "Silent Firework" closes this release bordering on the edge of modern classical.
The clever and rather romantic use of melody let this release depart the rather pop territories of modern classical as the electroacoustic element appears to add an element of noise which is functional to avoid the sense of déjà vu while retaining the catchy elements. Highly recommended.
New Music / Downtown / Avantgarde Jazz / New Classical / World
Edit (10598)
Artist:
VV.AA.
Title:
Zoom In 12: New Art Music from Lithuania
Format:
CD + Download
Label:
MIC Lithuania
In the latest in their sterling work promoting avant garde classical music from their country, the Music Information Centre Lithuania have gathered together seven beautiful pieces from different artists into a lovely curated and coherent 74-minute relaxing listening experience. While these are mostly live concert recordings from 2015 and 2016- some recorded in other European cities- the consistently high recording quality (and the audience's deferential silence!) give many of the pieces a studio quality. It's pristine, detailed and really rather charming.

Highlights include Just Janulyt's "Harp is a Chord" which plays baroque harpsichord sound against soft accordion drone to give a magical flavour, and the grumblier and more sinister tones of Marius Baranauskas' "Delta Cephei" which showcases some deep tone-bending cello work.

Julius Aglinska's "..." and Dominykas Digimas's "no sense" are, despite their more out-there titles, two of the more traditionally structured pieces, both spacious and relaxed in their own ways.

The final piece, ibuokl Martinaityt's 18 minute work "Chairoscuoro Trilogy", is a self-contained mini-epic driven by extremely expressive piano work that steps through a variety of mood interactions with the Lithuanian Chamber Orchestra, sometimes tense, sometimes argumentative, sometimes resolved.

Everything I've heard recently from MIC Lithuania has been of a very high quality- classical, sure, and at times not imbued with truly unique character, but always an engrossing and premium listening experience, and this new compilation is no exception.
New Music / Downtown / Avantgarde Jazz / New Classical / World
Edit (10597)
There's a strong inventiveness in the concept of these collected live performance pieces. Trondheim Voices are a seven (or sometimes nine)-piece vocal-only group who wander around the performance space, singing a mixture of lyrics and more frequently lyricless tones, making vocal percussive clicks and noises, and working playfully with their voices and an undisclosed 'theatrical element'.

Importantly, they are kitted out with 'maccatrols'- wireless effects unit controls that they carry with them with which they can delay, reverb, pitch-shift and loop the sounds that they are making. These boxes are used extensively and form a fundamental part of the end result, which just as often sounds like inhuman digital electronica as it does like an experimental acapella group.

Much of the time, it's very plaintive and sometimes exceptionally quiet- pieces like "Rise" and the traditional Norwegian folk song at the heart of "Hymn" feel empty and funereal. More dramatic pieces, like the harsh opening rock screams, pulsing and exercise breathing of "Room #10", or the ever-so-slightly pop leanings of "Gleam" are the lesser part of the album, which is a shame as these works are arguably more interesting whenever there's a driving energy behind them.

Still a solo vocal collection, but with a audibly unique approach, there's enough detail in here to captivate and impress the focused listener.
New Music / Downtown / Avantgarde Jazz / New Classical / World
Edit (10577)
Long-standing collaborators Charles and Di Donato are both clarinetists, and their edgy, breathy staccato improvisations are the core of this 14-track work- calls-and-responses, actions-reactions, subtle stereo offsetting, rhythms and counter-rhythms mean that at its heart, this is a fairly regular (if that's not a contradiction in terms) avantgarde jazz clarinet duo.

But Charlies's instrumentation is credited as "clarinet, helicopter" and Di Donato's as "clarinet, lawn mower" and that's an indicator that sonically, it's just a little bit more broad than that. On tracks like "Acer", soft motorised purring cuts in and out under plucky percussive sounds. As well as getting unconventional sounds out of clarinet structures, there's delicate use of other noises, often more as additional decoration than as any alternate centrepiece.

"Acacia" imitates the pneumatic sound of light industry as an interesting exercise in sound design drawn from limited sonic sources, and longer pieces like "Multi-Tond" open up emptier, dronier spaces.

I'm a sucker for the beautiful sound of a clarinet played with purity and melancholy and this release satisfies in that regard too, with pieces like the title track allowing the instrument's natural tone to shine.

It's a very pleasant 51-minute set, relaxing on a superficial level and with enough detail and expression to withstand a more scrutinous listen as well. A prime example of its kind.