Artist: Clarice Jensen
Title: The Experience Of Repetition As Death
Format: CD & Vinyl
Label: 130701/Fatcat Records

Brooklyn-based cellist Clarice Jensen has recorded and performed with an impressive range of artists, notably Jóhann Jóhannsson, Max Richter, Björk, and many more. Her second album "The Experience Of Repetition As Death" was recorded in late 2018- not long after Jóhannsson's death- and whether deliberately or not, it feels very influenced by that composer's work, as well as drawing Philip Glass comparisons at times.

What's remarkable about this album is that it's entirely created on a cello, but through an impressive and deft use of effects and layering, it ends up sounding like an entire ensemble work of multiple instruments, both acoustic and synthetic. The 'proper' cello sound does not get preferential treatment, although it is certainly integral to pieces like the beautiful sign-off piece "Final". But if you weren't explicitly told it was all cello-sourced in the liner notes, there's a strong chance you might not realise.

"Day Tonight" exemplifies the overall sound neatly in a twelve-minute, self-contained form, with its rotating array of star elements ranging from choral-like hums at the beginning, through to short acoustic melodic loops towards the end, always accompanied by more familiar-sounding super-long plaintive string sounds.

The Philip Glass influence is most noticeable in "Holy Mother", with its relentless organ-like chord arpeggios sounding very much like the "Koyaanisqatsi" bonus track you never heard before.

It's certainly quite conventional, and doesn't push on experimentally in any way from some of the composers mentioned above, but overall it's a beautiful, velvet-like album of rich comforting sonics. It might be just the tonic people need in these troubled times.
I'll confess to being unfamiliar with Beatriz Ferreyra's work, but the pedigree is very strong, having been active in music concrète consistently since the 60's, and continuing to actively compose for everything from film to ballet to music therapy still. This Room40 release gathers together three disparate pieces from her back catalogue and serves as a form of introductory sampler.

The stuttering, glitchy cut-up vocal treatment on primary piece "Echos", built seemingly entirely from layers and loops of vocal noise and shattered, disassembled yoik-like melodies, feels quite familiar to a modern listener, thanks to the ease and availability of software for digital manipulation. So what's remarkable about this piece is that it's from 1978, and as such, was well, well ahead of its time- a ground-breaking piece of complex cut-up tape work, when given context. It's also notably playful too, and finishes with a laugh- an unusual twist in a normally super-sombre genre.

By 1987, the time of second piece "L'autre ... ou le chant des Marecages", the technique has stepped on somewhat and the process no longer prescribes the form. Again this is a work that toys with vocal sounds, twisting them and transforming them into various instruments. In its quieter and more sinister moments, there is a clear connection with Ferreyra's studies with György Ligeti- but it also has more spontaneous moments, a few more sudden waves and changes, and again, just a shade of playfulness that gives variety to the tone rather than undermining it.

We jump forward to 2007 for final piece "L'autre rive", which is accordingly much more ambitious in scope. The vocal sounds and theatricality is still there, providing a consistent thread that makes this album work as a beginning-to-end listening experience, but we are met with a new array of richer atmospherics and a rather grandiose hollow atmosphere that feels far less intimate and more sci-fi than the previous two pieces. The creaking and groaning puts you inside some form of giant, broken machinery in the first part, before a moderately abrupt shift in tone brings us into a sparkly, glittery, wet cavern of some kind- in my imagination, at least. It's one of those intriguing audio adventures that will invoke all kinds of subjective imagery.

It's a welcome and very well-balanced sampler introducing me to a composer whom, it's clear based on the quality of evidence presented, I and more people ought to have heard of.
New Music / Downtown / Avantgarde Jazz / New Classical / World
Edit (11269)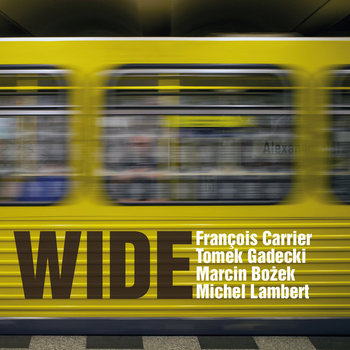 Artist:
François Carrier, Michel Lambert, Tomek Gadecki, Marcin Bozek
(@)
Title:
Wide
Format:
CD
Label:
ColyaKooMusic
(@)
Rated:
During the years François Carrier has released a number of release with whom has established himself as an interesting voice in Free Jazz. This new album documents a concert at MÓZG in Bydgoszcz, Poland, and features the canonical duo of François Carrier and Michel Lambert in a dialogue with Tomek Gadecki and Marcin Bozek which has the task to add a sense of novelty to the whole.
The concert is divided in three section: "Wide" revolves around the dialogue between alto and tenor saxophone with the rhythmic section as a support, at least for the first part, until a solo interlude by Carrier introduces the second half of the track where the use of the french horn by Bozek marks a section where there's a slight timbre research juxtaposed to a call and response. The third part is a return to the form of the first part. "Radiancy" is a movement from an almost lyrical first part based on slow melodic lines by the saxophones to a second part based of faster lines which give musical space to the rhythmic section to escape from the role of accompanyment. "Leeway" lasts just over half an hour and ebbs and flows between quiet and fast moments and shows, apart from the technical skills, the players sense of measure to give a moment for everyone.
Even without any particular novelty in its form, this release transmits the joy of playing together of the artist and this quirk, in times of inflexible individualism, get some fresh air to the listener. Recommended for fans of free jazz.
New Music / Downtown / Avantgarde Jazz / New Classical / World
Edit (11258)
Artist: Ben Bertrand
Title: Manes
Format: CD & Vinyl
Label: Stroom / Les Albums Claus

As documented in several previous ChainDLK reviews, I'm a sucker for the earthy and unique tones of a well-played clarinet. So when an album arrives on my desk pitched as an exploration of the various colours and textures of a bass clarinet, it generally goes to the top of the pile. This album doesn't disappoint, and while it's perhaps not as experimental or unique-sounding as I might have anticipated, it's still a rich and beautiful, velvety listen.

Opener "Morton and György in the Battista Mist" is presumably a reference to Feldman and Lygeti, drawing simple and fairly uptempo two-note patterns over supremely slow atmospheric pad chords, in a manner that's also quite Glass-and-"Koyaanisqatsi"-like. "Those Behind Us That We Follow" follows and offers a platter that's more romantic and melancholy, the expressive melody floating loosely in some windy atmospherics.

The second side brings the pulsing and electronic aspects slightly more into play. "Incantation 3" sits in a kind of emotional middle ground or holding pattern, before "Delayed Monologue" gets more playful with long delays on notes and more extensive layering-up, resulting in some intriguing melodic contrasts- as well as some oddly didgeridoo-like low sounds. Final piece "The Manmaipo" also makes extensive use of delays but with a more sparing set of source notes, giving a sort of sad bounce, akin to being musically past caring.

It's barely over half an hour long, which is perhaps justified through the relatively low amount of sonic variation, but what a luxuriant and satisfying half hour it is.
Artist:
Divus
Title:
Divus 2
Format:
12" vinyl + Download
Label:
Boring Machines
Divus is the combined work of Luciano Lamanna (of LSWHR), providing the electronics and techno elements, and Luca T. Mai (of ZU) providing the saxophone across 7 tracks, given ID's like "C2" and "D3" rather than names.

More often than not the saxophone sits relatively centre-stage, generally given free reign and treated with respect, gently effected and distorted but not heavily deconstructed. The expressiveness and melancholy can shine through in pieces like "C4". At times it certainly feels like the sax came first and has been sampled rather than cross-composed, particularly on "D1" or on the opener "C1" which, despite being an entirely different genre, somehow brings up strong memories of Deadly Avenger's "We Took Pelham".

Around the sax are placed a range of electronica elements, textured drones and pads, all of which is generally on the harsher and more sandpaper-like side, pulling the traditionally super-smooth sound of a sax deliberately away from its velvet natural environment. This ranges from some more familiar-sounding techno-industrial noises, such as those in "D2", to more experimental, atmosphere-laden and ambient works like the album's only really expansive piece "D3".

There are exceptions. "C3" is much more aggressive, twisting the acoustic sounds into a hard noise wall that sits very curiously over an industrial kick drum that sounds techno yet beats out a form of tango. It's very inventive and feels interesting as a form of anti-dance music aligned to anti-pop. On the whole the pieces are too slow to qualify as dance music in the conventional sense.

It's an unexpected blend that offers up more variety than you might imagine in a relatively small (27 minute) package, and a well above average example of how to bring two musical backgrounds together and mix it up into something original.