Artist:
DJ? ACUCRACK
Title:
Humanoids From The Deep
Format:
CD
Label:
Cracknation
(@)
Rated:
After having regained completly their independent status caused through the end of a long-year distro deal with the well-known Underground Inc., here comes a full-scale release assault for the Cracknation-label. Besides this new DJ? ACUCRACK-release also the main project ACUMEN NATION releases a new full-length album. It was about time for new recordings after a long tour with both projects together with FRONT LINE ASSEMBLY and KMFDM. So the first result of DJ? ACUCRACK in form of this full-length album is out now, just one day after the last gig of the own booked "Psychotranshumanoid"-tour with CYANOTIC. That's for sure an ominous chosen title for this new DJ? ACUCRACK-release and it shall indeed offer some influences out of some horror/splatter movies featuring a zombie-related theme. Globally the musically signature remains the same of this ACUMEN NATION side-project (I name it so, because AN-band leader Jason Novak stands also behind this project...) by offering a hectic rhythm construction taking inspiration out of D'n'B and Breakbeat-styles, some IDM and Trance-related textures, a huge amount of starnge sample manipulations and at times Jason's insane and mostly distorted vocals. It's positive that it doesn't sound at all like an ACUMEN NATION-twin. "Reptilian Race" satisfies with some slower arrangements and quite different moods, while "Destroy All Robots" should be able to storm the dancefloors. But best work to me is "Ice Aces" featuring some melodic Ambient-like layers and a cool female background vocal performance. Although the main project ACUMEN NATION allows only a little change of the musically direction, this project of Jason Novak seems to be a kind of experimental field with which he likes to test different moods, rhythms and arrangements on his audience. Yep – experiment accomplished – keep it on!
Industrial Music / Industrial Metal / Aggro Industrial / Electro Metal
Edit (3987)
Artist:
ACUMEN NATION
Title:
Psycho The Rapist
Format:
CD
Label:
Cracknation
(@)
Rated:
Since the last ACUMEN NATION full-length album "Anticore" was a reflection of a regime-critical onslaught, this new release by Jason Novak drifts in a different mood. As the title may gives a hint, "Psycho The Rapist" discovers a lot of dark and horrific themes man can think of. While the predecessor also musically was rather a full-scale Metal-album, this new one draws and includes some darker-minded sampling works and breaks some raging and fast-forward moving tracks to include those ominous sequences and textures ("No Imagination" is a perfect example...). The more Electronica-minded listeners will serviced extremely well with "Elective Surgical Strike", especially with its additional distorted effects on some percussion patterns, while club-goers will have a rather relaxing track in "Idle Lysergic Corpse". Also a must-to-mention track is the more than 10 minutes long epic Metal piece "Acumen Trepanation" with its diverse tempos. But don't expect that the ACUMEN NATION would offer you a glimpse of weakness – by far NO, and those fast-paced speedy-Metal tunes like "Hatchet Harry", "200 Bodies Per Minute" or "Remedial Math", the latter with interrupted and attacking song structures, still don't take any prisoners and invite you heavily for some head-banging action. This ACUMEN NATION-release shows different ways to present the formula Industrial-Metal compared to the last albums of this band. This experiment hasn't failed although some macabre content has find its entrance in lyrics and art. Maybe a matter of taste, but I like to encourage Jason to continue in this style.
image not
available
anymore
Artist:
TENHORNEDBEAST
Title:
The Sacred Truth
Format:
CD
Label:
Cold Spring
(@)
Distributor:
Audioglobe
Rated:
From the depth of the most nightmarish Old and New Testament vision (the Ten Horned Beast is named before "Revelation"17:3/13:1 and "Daniel" 7:7) comes the inspiration for the TenHornedBeast, project of Christopher Walton of Endura fame. THE SACRED TRUTH is the first proper CD album of the project (Christopher released previously a couple of CDr privately and through NOTHingness REcords) and contains five magmatic drones suites. If you were used to the electronic/ambient/experimental sound of the Endura, try to put it aside as TenHornedBeast is based on a different sound/approach. At first I was surprised to read a review of this CD by Julian Cope where he compared this album to the kraut rock sound he loves so much but if you think about records like Amon Duul II's "Yeti" and to its long improvisations (the last three tracks of the CD reissued recently) TenHornedBeast sounds like a dark version of it, where classic rock instruments are treated and sound like reaped cellos or like reverbs on death corridors. Christopher on the second panel of the cover talked about a process of destruction of the standards imposed to men by modern age and his great truth is witnessing this process (I hope we'll be able to get more in depth on the forthcoming interview) and tracks like "Our lady of the lightning bolt" and "In the teeth of the woolf" seem to be its soundtrack.
Industrial Music / Industrial Metal / Aggro Industrial / Electro Metal
Edit (3980)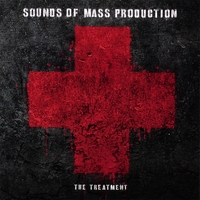 Artist:
SMP (Sounds Of Mass Production)
(@)
Title:
The Treatment
Format:
CD
Label:
Music Ration Entertainment
(@)
Distributor:
CD Baby
Rated:
Already the 6th full-length album for this veteran act, Jason Bazinet a.k.a. SMP has always worked hard to stay on top of the US-Coldwave-scene. SMP has to be counted to be a part of the long defunct North-East-Coalition (NEC), a united collective of Industrial acts which has been created more than 12 years ago by acts out of and around Seattle. Among others acts like AND CHRIST WEPT, KILL SWITCH...KLICK or NOXIOUS EMOTION have been prominent members of this movement which has had the intention to help each other out by organizing gigs or with promotion or production efforts. While most of these bands have stopped all activities, Jason is still right on target and offers 11 new tracks with a typically Coldwave-like content. Gritty guitar riffs, mighty drums, some Electronica-elements, angry lyrics provided by a mostly energetic vocal performance – well, and at times also the jump to test the audience with some Industrial-Rap-tunes. "Metropolis" is one of these rather Rap-like tunes which describes lyrically the crime and drug situations in a ghetto-like city, available here besides the original in a remix interpretation by BOUNTE. More stuff to entertain some masses with a huge club-compatibility can be named with "I Waste You" or "Corporate Freak", a track which doesn't act sparse with social criticism. It seems generally that several themes out of the American Way of Life' get targeted by Jason, "Tombstone", already released in advance on the "A Murderous Mix"-compilation, is just another example for this. With the track "Who Is Who" Jason also created a Rockabilly-like cover version which got originally composed by the CA-based Punk-act THE ADOLESCENTS – this one should work extremely well at gigs. Recorded and produced by Wade Alin of CHRIST ANALOGUE (...by the way: how long do we have to wait for a new CA-recording???), "The Treatment" is an entertaining album from track 1 to 11. Although heavily following all facets of the typically Coldwave-mood created already more than 10 years before, diversity is in here and Jason can prove once again his talent. Good stuff!!!


image not
available
anymore
Artist:
GUSTO EXTERMINATION FLUID
Title:
The Cleaner
Format:
CD
Label:
MOMT
(@)
Rated:
Formed by PT, a guy who in the 90's was playing with Sonic Violence, Gusto Extermination Fluid is his outfit for his soundtrack to a decaying world. Mixing industrial, dub and dark ambient, PT composed the ten tracks you can find into his first album (available on CD and download mp3 files). The tracks are ten nice instrumental soundtracks which mix elements of the above genres trying to creating a new blend. For example, if "Scurvysh" is based on obsessive industrial percussions, "Bee tick" (one of the best ones of the lot), is dealing with slow dub/dark ambient atmospheres succeeding into creating a thick atmosphere. On other tracks, like "Below" or "Horselip", PT tries to find a personal way of dealing with the sounds and he made two particular orchestral/ambient/industrial tracks. The only weak point I found about his compositions is that in the process, sometimes, he lose the power and the ambience peculiar to the genres he took inspiration from. This isn't a great loss if these elements are substituted by creativity. This is the main point, some tracks don't seem to develop the initial idea, so they sound like good intuitions that need something more. His work is to be appreciated anyway, because he tries to deal with known sounds in a personal way. Sometimes he succeeds and sometimes he don't but the album does for sure sounds interesting.