Industrial Music / Industrial Metal / Aggro Industrial / Electro Metal
Edit (9102)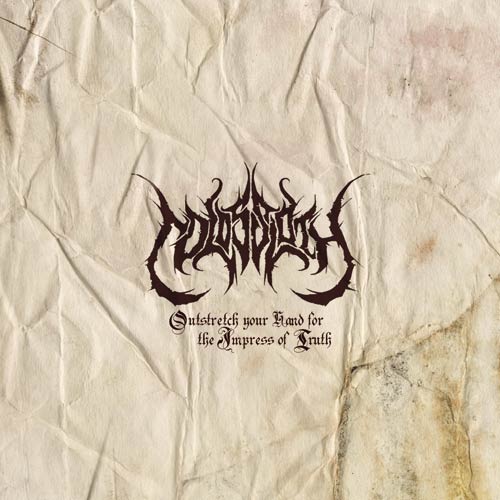 Artist:
Colossloth
(@)
Title:
Outstretch Your Hand For The Impress Of Truth
Format:
CD
Label:
Cold Spring
(@)
Rated:
This new Cold Spring's release is from an english project that could be roughly classified as post-industrial; the main structural element is the drone, however the short duration of the track and the other main element, noise, shifts the result from a static form to a moving one.
The drone of "The Flavour Of The Weak" opens this release as a background for a fistful of sample and noises which slowly became the center of the track. "Your Flag Stands For Nothing" is based on a loop that is the base of the first and the third part of the track while the second is a interlude for samples of string instruments. "Cave In We Are Complete" lies in the threshold between drone and noise music. "Outstretch Your Hand For The Impress Of Truth" starts and ends with a slow guitar while his development is based on noisy samples. "The World Keeps Turning (On Me)" uses noises as a underlining of the drones rather than in a dialectic. "Of Talons And Teeth" is as an almost metal track masked as an industrial track. "Paint Her Face To Simulate The Bloom" uses a gentle piano to escape the harshness of the noises. "The Nameless Saint" is a piano track masked as an industrial track. "Black Deeds From Dead Seeds" closes this release with a drone colored by meditative samples.
While the result is often out of focus and the tracks are based upon a couple of structures, the result reveals the search from a personal sound that needs only further refinement to produce something important. Nice.
Industrial Music / Industrial Metal / Aggro Industrial / Electro Metal
Edit (9079)
Artist:
Doomsday Virus
(@)
Title:
Mutually Abusive
Format:
CD
Label:
self-released
Rated:
Unless you're a follower of the Upstate New York Goth-Industrial scene you may never have heard or heard of Doomsday Virus, but that's about to change. The project was first conceived in the basement of a rat-infested Buffalo, New York apartment building during the spring of 1998 by leader N. Dru Virus, but it wasn't until he relocated to Albany in the winter of 2001 that the incubation period really began. The earliest releases go back to 2005 - 'Cries of All Things Left Unsaid" and 'Catastrophic Error,' with a followup, 'Drink the Kool-Aid' in 2008. Now they're back eight years later with 'Mutually Abusive' with the lineup of N. Dru Virus - vocals, synth & drum programming and shitty guitars (his adjective, not mine); RaHb Eleven - synth & drum programming, legit guitars; and Matt Vellocet - live synths, recording engineer and whip cracking. Doomsday Virus is an industrial metal band in the vein of Ministry and KMFDM, with a touch of aggrotech, ala Combichrist.

The band has grown considerably since their previous releases, and 'Mutually Abusive' is an album on steroids compared what went before. From the thunderous opening of "Cracks in the Facade" all kinds of hell is unleashed on the unsuspecting listener. It's a tumultuous rage-fueled juggernaut that lets you know in no uncertain terms where these guys stand. It gets no less malovlent on "Die Alone" as the band hits its stride. You can dance to this, you can headbang to this, and it has a decent hook too! R.E.'s industrial guitar holds up with the best of them. I thought maybe that Doomsday Virus didn't have much of a sense of humor until I heard "Save Our Souls," the likely hit of the album. Synths are a little more prominent on this one, and the vocals quite intelligible. N. Dru rhymes more "shun" words in this song than Bill Leeb ever did - combination, tribulation, frustration, temptation, etc., etc. His vocals are remarkably similar to Andy LaPlegua's in many places, but this is no Combichrist clone. "Cold, Colder" could only have been written by someone who survived last winter here in Upstate NY. DV bring plenty of nastiness to the table on "Fool Me," a caustic warning of sorts. Imagine if Marilyn Manson fronted Front Line Assembly for a day...the result might just be "Flatline". All the stops get pulled out on "Life Deleted," a track that proves Doomsday Virus can go toe-to-toe with the heavyweights on the industrial music scene. Technically the album ends with "I Hope You Expected to Be Let Down," and for me, there was just a little too much chaos on this one. But wait...there's more, but only if you buy the CD as opposed to the download. "Waiting" is the tenth track, not named on the CD. It's much slower than anything else on the album, but perhaps more virulent. They go out with one big, heavy bang and no whimper.

'Mutually Abusive' should get these guys further than any of their previous efforts, and for fans of the genre, will likely provoke a positive response. When it comes to this kind of music, touring is essential, and if they can convey it live, Doomsday Virus should spread like a plague.
Artist:
iVardensphere
(@)
Title:
Stygian
Format:
Download Only (MP3 + Lossless)
Label:
Metropolis
(@)
Rated:
"Stygian" is another interesting appendix from "Fable", the last album by iVardensphere. Besides the title track - included in the album as well -, a massively rhythmic tune in between ebm dance sonorities and industrial techno, which could perfectly fits a dancehall featuring Charon at mixing desks, it includes other stuff, which justifies my interest: the more experimental track "Infinite Beauty", featuring a sort of dialogue between a girl speaking of her ecstatic "illumination" with a male friend (her confessor or maybe her shrink...), an intimate confession that iVardensphere enveloped in angelic choirs and risingly oppressive distortions, three remixes of "Stygian" - the one by Iszloscope (another quite known project by iVardensphere's keyboard player Yann Faussurier) features awesome cinematic sounds, but when these Canadian guys ignite their engines could sound quite banal, while :Wumpscut:'s electro-industrial nightmarish rhythmical webs and Cyanotic's cyberesque remix sound a little better than the first one I mentioned - and, last but not least, an amazing cover of Sepultura's "Roots Bloody Roots", a dive into the good old days of (good) metal.
Industrial Music / Industrial Metal / Aggro Industrial / Electro Metal
Edit (8992)
One year and half after the previous EP "Kids' World", released on Belaten, Blitzkrieg Baby are releasing, always on Belaten, their new tape EP titled "Cannibal Commando". Containing five new songs repeated also on side B, the EP sees Kim Solve's project reaching a perfect mix of industrial, electronic and a special "vision" of pop. Focusing the lyrics on a crude vision of reality made of cannibalism, war crimes, pre-pubescent murderers, world domination, and the end of civilization, the tracks sound balanced and powerful. The intelligible clean vocals are working as a counterpart to the drums and all the distorted blasting which are giving the rhythm. So... where's the pop stuff? Well, the pop element could be found into the small melodic parts which are able to work as a hook for the listener. A great comeback which you can check at this page! https://belaten.bandcamp.com/album/cannibal-commando
Industrial Music / Industrial Metal / Aggro Industrial / Electro Metal
Edit (8986)
Artist:
Black December
Title:
Vol 1
Format:
CD
Label:
Metropolis
(@)
Rated:
Opening a debut album by a song title "With this Ending", whose drum session is closer to the one of Unkle's "Burn My Shadow" and singing style of Eric "16Volt" Powell could vaguely surmise a crossbreed between the "rhythmical" style by System of a Down's Daron Malakian and the hoarse voice by Metallica's James Hetfield (particularly on songs like "The Slag", the visceral hammering of "The Division Of Hate" or the catchy "I Don't Even Know You", where Eric gets closer to the poisoned suadence of Reznor's abrasive style), could be meaningful and well-wishing after the appeal for active listening, implcitly inserted at the end of the rabidly spiteful song ("oh I'm never gonna be shit/I'm gonna never make shit/listen to me listen to me", the final strophe of "With this Ending"). So I accept the appeal and go over a really incendiary album, which got well amalgamated around a series of more or less conventional weaponry of heavy industrial rock supposedly occult sciences, that often becomes hardening glue of armored compounds. I don't really enjoyed the softened ones ("This Is Not The New" - a title which could let you think that it's in all their interest to be aware of it... - or the following "It Just Feels Right"), while the pointed stick that jettisoned on other moments of the album, particularly those ones when the synth inoculation are clearer, are more interesting. Take this first ring of three announced acts as it is. They will hopefully play more original and similarly sinewy stuff than the one they've shot on this first act.