Industrial Music / Industrial Metal / Aggro Industrial / Electro Metal
Edit (9260)
Artist:
War Anyway
(@)
Title:
War For Peace
Format:
CD EP
Label:
self-released
Rated:
As far as I can tell, War Anyway is a French Martial/Industrial duo and I think 'War For Peace' is their debut release. According to their press release, War Anyway says "Loudness and war songs are the way to bring the necessary war for peace." To me that's kind of like saying "the sounds of sniper fire and songs about shooting cops is the best way to end gun violence." Okay, I get it. Industrial music has a long history of war-themed songs, both real and imagined. But here, we have a rather artless attempt to make a name for a clichéd-sounding industrial act with their scorched-earth policy of all out war themed
tracks. Beginning with "Crossing the Rubicon," the band starts out with a kind of percussive apocalyptic ambience before crunchy guitar and abrasive growl-shout vocals take over. I guess you're supposed to be imagining Caesar's soldiers marching into glory, but it sounds more like an army of Blutos in search of a Popeye to pound. "We Are the Army" takes a Front 242 beat with more Bluto vocals (occasionally morhping into screamo) but injects this light tinkertoy melody over the top. WTF? Maybe they were striving for irony, but the incrongruity is just overwhelming. "Actions Have Consequences" samples about half of Obama's March 2011 speech on the Libya intervention (let's face it, it was a fucking invasion) over an martial-industrial music background. Does anyone really want to hear that crap again? I think not. And that's the entire song, lock stock and barrel. "The Rise of a Tyrant" has plenty of staccato industrial guitar stabs with more agressive growly vocals. Final track, "The System is Down" is the only track that shows a hint of promise with its cyber-techy ambience, until those Blutoid vocals come in and and render the whole thing into some parody of an industrial band. You know, I really like industrial music, good industrial music that has been done by many class acts over the years, and even some new lights on the horizon, but this, this is just sub-par. Unless these guys can come up with something a whole lot better for their next release, they better not quit their day jobs.
Industrial Music / Industrial Metal / Aggro Industrial / Electro Metal
Edit (9142)
Artist:
Daniele Brusaschetto
(@)
Title:
Radio Stridentia
Format:
CD
Label:
Bosco records
Rated:
Daniele Brusaschetto has been a staple in Italy's sad and ever-more-shrinking industrial/rock scene for at least 20 years now, and honestly I lost count of how many records he's made... he just keeps putting them out, as he should!
The latest one is called "Radio Stridentia" (full disclosure: I did master this CD) and is a collection of 6 songs, some in Italian and some in English, featuring guest drummer Bruno Dorella on two tracks, guest e-bow guitarist and synth-player Francesco Lurgo and guest synth player Marco Milanesio (of DsorDNE fame) on two tracks. This CD even has a Leonard Cohen cover, which I hadn't initially recognize.
Musically I would say Daniele revisited his darker and moodier songwriting and orchestration chops... the guitar is ever present, being his main instrument, and so is his peculiar vocal style, of course, but the surrounding instrumentation and arrangments are a bit less abrasive than in some of the previous releases, so the focus is back on the lyrics and the ambiance... The opening tune sounds like it is came straight out of one of the quieter Einsturzende Neubauten releases (think "Haus Der Luge" but with Daniele's languid, smooth and less atonal voice) but then turns into a mixture of that and a more nordic, almost Autechre/Boards of Canada sound. Right after that the fuzzy guitar comes at you strong to keep you on your toes and remind you what you just signed up for. This is maybe one of the hardest and harshest songs with a four on the floor almost techno-industrial beat that is subdued by the industrial fierceness and distortion. Then the strident radio tunes back into something initially more approachable, and by track 4 you even get a glimpse of a nylon string guitar (if not a first, definitely a rare sight in the Brusaschetto world). This is also the first track in English and it eventually turns into a drum'n'bass opus with a reverberated distorted synth line that kinda hovers over the interesting chord changes that evolve and devolve around the initial chord progression. Very interesting track. The punk roots of this artist sometimes shine through but never really make themselves known in a clear or obvious way or just hide under the noise-rock umbrella. When he goes from his low register to his falsetto singing and throws in clean arpeggios of electric guitar there are almost some echoes of Radiohead, or even The Cure (on track 7), but Brusaschetto always retains his harsher nature and his bedrock of industrial activity and art-rockerism, and he likes to remind you of that with a great closing track that has a bunch of guitar overdubs over some kind of repurposed and highly treated drum beat that carries one of his more melodic vocal performances.
If you are tired of the usual industrial rock or of the usual rock or of the usual industrial, and definitely if you are tired of the usual Italian music, you must check this guy out!
image not
available
anymore
Artist:
Antichildleague
Title:
Holy Ghost
Format:
CD
Label:
Hagshadow
Rated:
Antichildleague is the brainchild of Gaya Donadio, also boss of the Hagshadow label/distribution and formerly promoter under the Hinoeuma the Malediction monicker. Born in Italy, Gaya moved to England in the 80s and started to be active in the punk movement organising concerts and playing. Basically, she's still doing that and even if the industrial power electronic sound of ACL wouldn't suggest that, she's still following the d.i.y. philosophy and somehow she's still punk at heart as she's struggling to living by following her own path and not by someone else's rules. Born almost two decades ago but releasing the first CD album only eigth years ago, the project has just a new album out, titled "Holy Ghost". This album is the last part of a trilogy ("The Father" and "The Son" were the first two) and as you may suppose, its theme is focusing on the disasters caused by the catholic education/morale. The rules imposed by a family which is not fed with love but only with rules and guilt can create monsters and Gaya is picturing that crude reality. Starting from the disturbing cover of a rotten dick painted by Jukka Siikala. "Holy Ghost" contains thirteen tracks in balance from industrial to power electronic, as I already pointed out earlier, where Gaya blends digital and analogic noises adding to the mix filtered vocals. So, how it sounds? If on "I Hate You" and "Ice Heart" we have metal clanging noises with raging distorted vocal cries and distorted synth waves, on "Weak Seed" the atmosphere is always tense and we have an upbeat rhythm with background noises coming and go. Listening to the tracks I imagine Gaya balancing the intensity of her sound as well as she tries to deal with her rage. I'd like to point out that even if we have titles like "Penis Dead", "Dick Funeral" or "Guilty Women", don't think that ACL is sounding like the old classic Whitehouse. Here we have a different approach: if in Whitehouse sex and violence was showed to provoke, here the main theme is sex and violence perpetrated by people dealing with religion. Think that here in Italy, lately, we have priests accused of pedophilia more than rainy days in a year: this is the real horror! ACL is bringing you her vision of all this and it isn't meant to be nice...
Industrial Music / Industrial Metal / Aggro Industrial / Electro Metal
Edit (9102)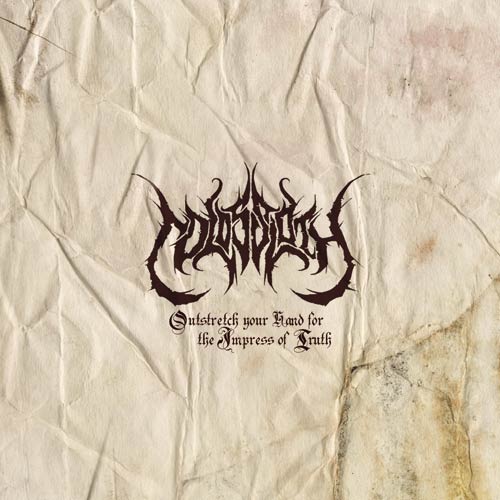 Artist:
Colossloth
(@)
Title:
Outstretch Your Hand For The Impress Of Truth
Format:
CD
Label:
Cold Spring
(@)
Rated:
This new Cold Spring's release is from an english project that could be roughly classified as post-industrial; the main structural element is the drone, however the short duration of the track and the other main element, noise, shifts the result from a static form to a moving one.
The drone of "The Flavour Of The Weak" opens this release as a background for a fistful of sample and noises which slowly became the center of the track. "Your Flag Stands For Nothing" is based on a loop that is the base of the first and the third part of the track while the second is a interlude for samples of string instruments. "Cave In We Are Complete" lies in the threshold between drone and noise music. "Outstretch Your Hand For The Impress Of Truth" starts and ends with a slow guitar while his development is based on noisy samples. "The World Keeps Turning (On Me)" uses noises as a underlining of the drones rather than in a dialectic. "Of Talons And Teeth" is as an almost metal track masked as an industrial track. "Paint Her Face To Simulate The Bloom" uses a gentle piano to escape the harshness of the noises. "The Nameless Saint" is a piano track masked as an industrial track. "Black Deeds From Dead Seeds" closes this release with a drone colored by meditative samples.
While the result is often out of focus and the tracks are based upon a couple of structures, the result reveals the search from a personal sound that needs only further refinement to produce something important. Nice.
Industrial Music / Industrial Metal / Aggro Industrial / Electro Metal
Edit (9079)
Artist:
Doomsday Virus
(@)
Title:
Mutually Abusive
Format:
CD
Label:
self-released
Rated:
Unless you're a follower of the Upstate New York Goth-Industrial scene you may never have heard or heard of Doomsday Virus, but that's about to change. The project was first conceived in the basement of a rat-infested Buffalo, New York apartment building during the spring of 1998 by leader N. Dru Virus, but it wasn't until he relocated to Albany in the winter of 2001 that the incubation period really began. The earliest releases go back to 2005 - 'Cries of All Things Left Unsaid" and 'Catastrophic Error,' with a followup, 'Drink the Kool-Aid' in 2008. Now they're back eight years later with 'Mutually Abusive' with the lineup of N. Dru Virus - vocals, synth & drum programming and shitty guitars (his adjective, not mine); RaHb Eleven - synth & drum programming, legit guitars; and Matt Vellocet - live synths, recording engineer and whip cracking. Doomsday Virus is an industrial metal band in the vein of Ministry and KMFDM, with a touch of aggrotech, ala Combichrist.

The band has grown considerably since their previous releases, and 'Mutually Abusive' is an album on steroids compared what went before. From the thunderous opening of "Cracks in the Facade" all kinds of hell is unleashed on the unsuspecting listener. It's a tumultuous rage-fueled juggernaut that lets you know in no uncertain terms where these guys stand. It gets no less malovlent on "Die Alone" as the band hits its stride. You can dance to this, you can headbang to this, and it has a decent hook too! R.E.'s industrial guitar holds up with the best of them. I thought maybe that Doomsday Virus didn't have much of a sense of humor until I heard "Save Our Souls," the likely hit of the album. Synths are a little more prominent on this one, and the vocals quite intelligible. N. Dru rhymes more "shun" words in this song than Bill Leeb ever did - combination, tribulation, frustration, temptation, etc., etc. His vocals are remarkably similar to Andy LaPlegua's in many places, but this is no Combichrist clone. "Cold, Colder" could only have been written by someone who survived last winter here in Upstate NY. DV bring plenty of nastiness to the table on "Fool Me," a caustic warning of sorts. Imagine if Marilyn Manson fronted Front Line Assembly for a day...the result might just be "Flatline". All the stops get pulled out on "Life Deleted," a track that proves Doomsday Virus can go toe-to-toe with the heavyweights on the industrial music scene. Technically the album ends with "I Hope You Expected to Be Let Down," and for me, there was just a little too much chaos on this one. But wait...there's more, but only if you buy the CD as opposed to the download. "Waiting" is the tenth track, not named on the CD. It's much slower than anything else on the album, but perhaps more virulent. They go out with one big, heavy bang and no whimper.

'Mutually Abusive' should get these guys further than any of their previous efforts, and for fans of the genre, will likely provoke a positive response. When it comes to this kind of music, touring is essential, and if they can convey it live, Doomsday Virus should spread like a plague.