Industrial Music / Industrial Metal / Aggro Industrial / Electro Metal
Edit (5681)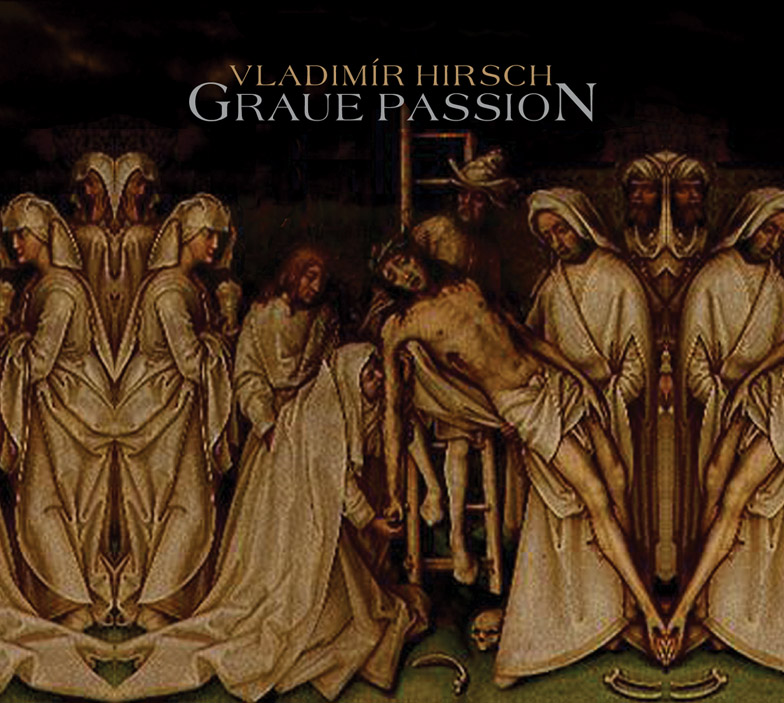 Artist:
VLADIMIR HIRSCH
Title:
Graue Passion
Format:
CD
Label:
Ars Benevola Mater
(@)
Rated:
GRAUE PASSION, op.67B is the newest Vladimir Hirsch album and it is a re-visitation of "Symphony No.4 - Descent From The Cross", op.67". Dedicated to the memory of his father, GRAUE PASSION is a live recording with subsequent studio work and mastering. Vladimir took the original material of "Symphony No.4" and, if possible, made it sounding more obsessive and obscure. Using orchestral and industrial sounds he creates an alternation of atmospheres where the evocative vocals of Martina Sanollová sound like a desperate prayer. Strings and horns shake the listener while samples, piano and noises form a thick web of sounds ready to explode. GRAUE PASSION explores the human agony and make it sound like an eternal condemnation as it sounds like there's no way out...
Industrial Music / Industrial Metal / Aggro Industrial / Electro Metal
Edit (5680)
image not
available
anymore
Artist:
SANTAAGOSTINO
Title:
Operazione Paura
Format:
CD
Label:
Greytone
(@)
Rated:
Named after the Mario Bava movie titled OPERAZIONE PAURA, the second album by santAAgostino takes inspiration from horror movies of the 60s/70s (mostly Italian ones) referring to actors (Barbara Steele the English actress, star of 60s movies such like "La maschera del demonio" a.k.a. "Black Sunday", "I lunghi capelli della morte" a.k.a. "The Long Hair of Death" or "Amanti d'oltretomba" a.k.a. "Nightmare Castle") or films (George Romero's "La citta' verra' distrutta all'alba", "The Abominable Dr. Phibes" or Ken Wiederhorn's "Shock waves") but without making of it a sort of quiz game where you have to guess titles or else. The three members of santAAgostino from their own words intended this: "OPERAZIONE PAURA speaks of the filmic and horrorific fear, mind trap 'to kill' atavistic thoughts and all those mental factors that trapped the man into a self-made cage in his own mind, through the mind itself". They applied to music what many filmmakers did with their own movies using fear sublimation as a catalyst. The seven tracks of the album use ambient electronic sounds with industrial influences here and there to bring the listener to an unconscious state where nothing exists no more and where everything dies and born... Also this fine release is brought to you by Greytone.
Industrial Music / Industrial Metal / Aggro Industrial / Electro Metal
Edit (5676)
image not
available
anymore
Artist:
TRAMA AFONA
Title:
Trama Afona
Format:
CD
Label:
Greytone
Rated:
Trama Afona is the musical project of Lorenzo Scacchia and the self title album released by Greytone is his first official full length release. Composed by fourteen tracks, the album since its first minutes, offer a blend of semi classical strucures, chants, orchestral dramatic themes and cinematic atmospheres. Focusing the efforts on the sound sculpture, Lorenzo is ideally building a bridge between the soundtrack approach of Atrium Carceri and the bombastic sound of the latest Karjalan Sissit (even if this element is less evident). Melodically influenced by classical music of late 19th and early 20th centuries, Trama Afona, create soundtracks for tragic events succeeding into giving form to every day's nightmares. The tracks, composed between 2005 and 2008, offer a sight on how Trama Afona's sound changed during the years: the last tracks are the oldest ones and are based on dark ambient atmospheres with the predominance of synth sounds and industrial rhythms while the newest tunes are a bit more orchestral oriented with a major attention on the sound palette as the overall atmosphere is less saturated gaining a sort of brilliance. Good release for this new Italian label which since the first releases is proposing itself as one of the most interesting ones in the dark sounds field.
image not
available
anymore
Artist:
VV.AA.
Title:
Il Circolo Della Vela Vol.6
Format:
CD
Label:
Il Circolo Della Vela
Rated:
Used as a card of a mysterious club called Il Circolo Della Vela, the sixth volume of the compilation with the same name offers twelve bands/tracks of the Italian industrial/wave/experimental scenes. The major change from the old volumes is that this time participated also bands that have already released different albums or who are kinda historical (see Rinf, MGZ and Maurizio Bianchi). The compilations opens with a new Rinf track: "Panic trotter". Their sound is always tense and nervous and someway it recalled me a bit the late Einsturzende Neubauten. Next we have a great electro ambient track by Keith, a dark e.b.m. tune by Klonavenus and an experimental feedback/guitar based track by Carlomargot. Ius Primae Noctis with "Change forever" give their version of electro aggro grind. Condanna is next with "Cranio loop", a track based on a noisy loop with variations. Next we have Spargle In Grey & Maurizio Bianchi with a live track recorded in Graz titled "The sky gets grey" which is based on violins, samples and guitars. Sandro Codazzi with "Aftermath" proposes a nice retro electro tune titled "Aftermath". Teatrino Elettrico with "Senza titolo" pass from experimental acoustic noises to semi power electronics sounds. DJ Pellegrino Ernetti with "Fuori day musei" gives his idea of sampleism as musical art creating a sort of reverse sounding 80's electro tune which didn't impressed me that much. Sinclair is next with "The routine song (London dub factory mix)", a nice pop electronic tune with dub intuitions. MGZ closes the compilation with a remix of his "Non basta mai" coming from "Ho visto tempi migliori" album.
Artist:
Zeromancer
Title:
The Death Of Romance
Format:
CD
Label:
Trisol
(@)
Distributor:
Soulfood
Rated:
I don't think this talented Norwegian band needs any particular introduction as some colleague already interviewed them after getting surprised by their superb workout entitled Sinners International and after the enthusiastic feedbacks they received by reviewers and audiences related to their issues, but we surely like to imagine them playing with sophisticated machinery in order to grab influences from American bands and European ones as they stylistically are a sort of bridge between the gorgeous and glorious years of the American goth-rock and "European" EBM and industrial rock without being too obsessively apocalyptic or becoming sclerotized on tips & tricks! I'll run the risk to be repetitive by highlighting their remarkable compositional skills (even in those parts they looks like to imitate some famous bands, but reviewers need to make quotations to help readers understand!) and their perfect balance between electronic slopes and a robust drumming reminding the one by Rev.Manson and Rev.Reznor - probably the most influential music neuromancers ideally fostering this zeromancer...- and the candid coarseness of greenhorn-like sensual voice by Alex Møklebust, whose silver-tonguing intonation is going to drive every cutie suicide little girl crazier, and even if maybe they needed more time to refine some lyrics (tracks such as Murder Sound or Revengefunk slightly suffer from this genetical defect, but it could be considered just as an aesthetical neo on a sweet oval face... and even attempts of being original could be avoided... word trickeries in The Hate Alphabet seems to be too close to the cogent dialetics by a group of majorettes..gimme an H, gimme an A, gimme a T, gimme an E!) as it seems less wordy than their previous album and some sporadic lack of originality (A Plynth could be easily skipped), it will surely delight their fans and all those who still don't know their musical melting of mystery, semantic beams, anguished melancholy, rancorous sadness and powerful rhythmical pills propelling that kind of desperation, able to add a tragic grip to the whole climax! But it's like looking for a needle in a haystack as tracks such as the floor-filler Industry People, the tingling ambientish The Pygmalion Effect or the brightest V – the best song of the album in my modest opinion! – and even the more vintagesque and classy tunes such as the tilte-track will annihilate any doubts about Zeromancer's skills so as you could argue that romance is dead just in order to resurrect! Really brilliant piece of music!