Industrial Music / Industrial Metal / Aggro Industrial / Electro Metal
Edit (9455)
Artist:
Fractional
(@)
Title:
Tepes
Format:
CD
Label:
Raumklang
(@)
Rated:
Belgian electronic music artist Fractional, aka Pierre Remy, aka Eugenie has been putting out albums since 2004 and 'Tepes' is Fractional's 5th album (not counting the 'Blood Remixes'). Much of Fractional's previous output has been atmospheric electronica with excursions into breakbeat and jungle, some dark, some light, some tracks better than others, but always interesting, and definitely experimental. Fractional's 'Tepes' is more focused on the industrial with a harder edge and razor keen incisiveness. Gone are the breakbeats (for the most part) and noodly synth lines that sometimes appeared in previous compositions. In their place is a pervasive heaviness and doom that shrouds the entire album. I'm not saying this is a bad thing; quite the contrary. The stately staccato, near classical chord progression that open the album on "Tess" give way to an industrial trudge with squalls of synth noise that just steamrolls over you. "Lahle" begins almost as a dark ambient piece which builds into a crushing industrial rhythm with occasional atmospheric breaks. Music for Godzilla to be sure. Title track "Tepes" gives me the impression of what Bill Leeb's Noise Unit could have been if he was more focused on the industrial and less on the ephemeral. Fractional has a way of taking tired old progressions and breathing new life into them on this album; simple in concept but utterly awesome in execution. Another thing Fractional seems to excel at is incorporating weird sample loops such as native chanting and Tarzan yell mixed with hard rhythmic industrial beats as on "Thirsty". Synth sounds are more industrial than Fractional has ever used before, often with plenty of overdrive and distortion. Not to say there is no let up- brutal passages are often juxtaposed with quiet ones for good contrast. My favorite track on the album though has to be "Vampyr" with its old world flavor combined with potent pounding beats and virulent feral rhythm. It is the incorporation of melodramatic antique piano and violin along with odd dialogue snippets that really makes this track crackle. It captures the essence of the vampyr as bestial predator, as opposed to the latter day sparkly romantic Twilight creatures. Immediately following "Vampyr" is an over 9 minute excursion into sub-bass dark ambient, infrequently interrupted by some brief electronic sonic effluvia. No rhythm here and the unwary listener is likely to be lulled into a state of narcolepsy. This is just the uneasy calm before the storm that erupts on "Cestje" pummeling you senseless with all the industrial prowess Fractional can muster. If you thought THAT was heavy, just get a load of "Lod," a track with total overkill in brutal beats and noise. "Vine" continues the electro-industrial assault, and maybe by this time you've had enough. Maybe not. Final track "Field" comes across like hard industrial dubstep with a heavy hand on the mod-wheel, and a little dirgy. It's probably the weakest track on the album. I would have preferred it going out in a blaze of glory. Be that as it may, Fractional gives industrial music fans a lot to chew on with 'Tepes' and all without the support of vocals and lyrics, remaining engaging throughout.
Industrial Music / Industrial Metal / Aggro Industrial / Electro Metal
Edit (9434)
Artist:
Out Out
Title:
Swan/Dive?
Format:
CD & Vinyl
Label:
Artoffact
"Wake up America, think for yourself; don't leave the fact-checking to nobody else" is the main vocal refrain in opening track "Shut Up!". On an album release four days before Donald Trump was voted President of the USA, it could hardly seem like a more timely warning.

This is an aggressive but still fundamentally quite poppy EBM release, laden with distortion on the guitars and vocals but not steering completely away from its industrial synthpop core. There are a few modern production touches sprinkled over a musical format that otherwise can still hark back to Cabaret Voltaire and co.

The music itself feels like it's acting as a tonal underlay for the aggressive lyrical fury which is really the centrepiece that Out Out wants everyone to pay attention to. It's often political but sometimes personal (and sometimes it's hard to tell), it's mostly either angry or frustrated. Mark Alan Miller is clearly a man who feels rage against the machine. It's a heartfelt vocal performance, albeit not all that challenging, but the production leaves a lot of his vocal just a decibel or two lower in the mix than seems appropriate. There are moments, such as on "Like William Tell", where the off-beat poetic delivery and repetition of short phrases is extremely reminiscent of Karl Hyde.

This isn't a one-trick-pony album though by any means. There are a few notable exceptions on the tracklist though, and plenty of variation between tracks like a 'proper' pop album ought to have. "I Think You Know" leaves wide gaps between the vocals and ups the ante with the lo-fi and glitchy production. "Bleak And Hollow" is practically nu-metal, with moshing-friendly beats, while final track "The Overload" is a more extended, introverted, and atmospheric affair.


However there are also some weaker points, but not many. "S.Y.O. Version 2" has a half-hearted, slightly by-the-numbers feel to it, while "Falsified" sounds a little like an underbaked demo rather than a totally finished track.


It's a little bit light in the 'catchy hook' department and some of the production is a touch muddy, but otherwise if you're in the mood for nearly an hour of angry, attitude-laden industrial pop-beats, this is pretty satisfying.
Industrial Music / Industrial Metal / Aggro Industrial / Electro Metal
Edit (9373)
Artist:
Controlled Bleeding
Title:
Distress Signals & Distress Signals II
Format:
CD & Vinyl
Label:
Artoffact
Revelling in the sonic assault, bathing in the distortions, gratifying themselves with the quest for difficult sound, Controlled Bleeding knew in 1984 that "Distress Signals" was a wilfully challenging thing to listen to.

Styling their artwork and press photos towards death metal, the work is actually a lot more insular and avantgarde and less crowd-pleasing. While the vocals, such as they are, get the heavy peaking treatment, what's going on underneath is more complex. Experimental echoes and found sound pervade throughout. Rhythms threaten then vanish. Flashes of melody and purity arrive at irregular intervals, such as the mesmeric Philip Glass-esque arpeggios that suddenly moderate proceedings halfway through "The Heretic And The Christs Of Violence". Opener "The Spitting Cell" even ends with solo operatic ad-libs.

Seemingly there was a major mix-up when "Distress Signals" was released on cassette in 1984 on the revered Broken Flag label, with, supposedly, the wrong version of the album getting released. Here, the wrong is righted and the Artoffact label are putting out a double set, with "Distress Signals I" what was actually released on tape, released digitally for the first time, and "Distress Signals II" the version that ought to have been released in the first place. They're a 2CD box set, or available on vinyl as separate products. The 1984 mistake is quite surprising when you hear the difference between the two- very differently separated tracks, different elements, and several other variations. As albums, the two versions are certainly siblings on the same wavelength, but they're definitely not twins. The second, previously unreleased version has fewer interludes of calm and space, and consists of shorter but more relentless bursts of awkward passion and electronic angst.

Ahead of its time for 1984 and certainly worthy of deluxe treatment and re-appraisal.
Industrial Music / Industrial Metal / Aggro Industrial / Electro Metal
Edit (9267)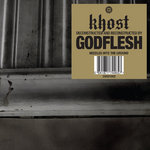 Artist:
Khost [Deconstructed And Reconstructed By] Godflesh
Title:
Needles Into The Ground
Format:
CD
Label:
Cold Spring
(@)
Rated:
This release is a reworking of Khost's material by Justin K. Bradrick of Godflesh, one of the key figure of modern music. The first three tracks are the result of the application of the formal structure at the core of Godflesh output while the fourth one is a new track by Khost, a duo made up of Andy Swanc and Damian Bennett, which left almost unchanged my opinion about them.
The first track of this EP, "Inversion", shows the main element of Godflesh music: a square and hypnotic rhythmic cage where all sounds are united in a thick mass. The noise element is, instead, the element which at the base of the relatively shelled form of "A Shadow On The Wound" that acts as an introduction to "Revelations Vultures Jackals Wolves" where the rhythmic articulation is applied to noise, so creating something distant from typical noise music that is close to the stream of consciousness. The Khost's track, "Deathsset", sounds as an homage to Godflesh being so close to the sound of this band to let the impression to be an outtake from one of their classic album.
These four track is a statement of a form which isn't aged in all those years perhaps because it was too personal to generate a scene and become popular. Another sure pick for Godflesh's fans.
Artist:
Ultraphallus
Title:
The Art of Spectres
Format:
CD
Label:
Sub Rosa
(@)
Rated:
After a couple of self-produced albums - "Lungville" (2005) and "The Clever" (2008), being the latter the one which included most interesting ideas, even if partially listened in the 90ies in the stuff of bands like Starfish Enterprises - and an album - "Sowberry Hagan" (2010) - on the English label Riot Season, the Liege-based Belgian band Ultraphallus -made up of Phil Maggi (vocals, samples, electronics, trumpet, percussion...maybe some Chain DLK readers met his name as he signed some outputs on Idiosyncratic, a label I keep on following, wisely managed by Phil himself), Julien Bockiau (bass, drums), Xavier Dubois (guitar, bass), Ivan Del Castillo (bass) - moves towards intriguing and definitively more experimental stylistic rough terrains. Even if there are many common factors with so-called sludge metal bands (mainly some political and sociological issues, developed as if they got filtered through a cynical lens and a visionary distorting one, abrasive guitars close to stone rock and shouts that featured former outputs of the band), I won't label - thank goodness! I would have already skipped all tracks... - them as a proper sludge band. On this album, whose output was initially announced for the beginning of 2015, they wisely melt death core, doom metal, noise, art-rock, dark ritual ambient, music of western movies, deviant declensions of blues (check the second part of "Let Him Be Alistair") and electronic movie music and replaced avalanches of riffs that featured some of their previous outputs by pernickety jobs on guitar-driven spindles. I could vaguely describe them as a strange hybrid between an abstract interpretation of Ramesses' music and some stuff coming from Gent-based label Delboy (Blutch, Black Cobra and so on). The hyper-amplified convulsive guitar-driven opening "The Blood Sequence", where the really spectral voice by Phil Maggi seems to give voice to a personal manifesto, sounds like the appetizer of the piercing sound by which they drill the almost tribal mantra of "Madrigal Lane", the hyper-cynical debunking hymn of the above-mentioned "Let Him Be Alistair". The track in the middle of the album, "The Death of Mark Frechette", evokes some stuff by The Residents, but the choice of the reference - Mark Frechette was the American actor that became notorious after interpreting the leading role in Antonioni's "Zabriskie Point", who died in prison after having been suffocated by a barber that fell on his neck... - sounds like a merciless grin on the jokes of fate. The spleen of "Whitewasher" precede the likewise cynical sad portray on "Eva Ionesco" (the well-known baby model), and the ghostly feast of the final "Sinister Exaggerator" are some of the highlights of an assay of spectral art.