Artist:
PIG
Title:
Prey & Obey EP
Format:
Download Only (MP3 + Lossless)
Label:
Metropolis
(@)
Rated:
The creativity of Raymond Watts, the man behind the PIG moniker and the mixing desks as a sound engineer of many well-known names of the scenes (Einsturzende Neubauten and Psychic TV) and also known to be one leg of KMFDM, is experiencing a real state of grace: he released a brand new album - "The Gospel" -, a collection of remixes - "Swine & Punishment" and a couple EPs. "Prey & Obey" is one of them and maybe the most interesting for a set of reasons: the eye (and the ear) could be immediately caught by the inclusion of the remix of the title track by another big name of electronic industrial and synth-rock scene as Leather Strip (...and certainly the remix by Claus Larsen - LS's birth name - is amazing, and IMHO I think he noticed - as I did - that the way of singing sometimes could resemble - it sounds unbelievable - the one of Pete Burns in "You Spin Me Round"), but the track could be a very interesting starting point for forthcoming musical blossoms, as it comes from the collaboration between Raymond and an important portion of industrial-techno band Cubanate (Marc Heal and Phil Barry). This is not the only collaborative track of the EP. Actually, the other two tracks came out of collaborations as well: the more atmospheric "The Cult Of Chaos" got handled by former Combichrist member Z.Marr (he also dropped an electronic remix of "The Revelation"), while the cheekily rockish "The Revelation" (many would be tempted to misspell the title as "The Revolution", as Raymond managed to pour the word 'revelation' into a set of common lyrical constructs where the word 'revolution' gets typically matched..) got forged together with Ben Christo (Ghost, S.O.M.). Furthermore, the Berlin-based producer En Esch pushed an interesting remix of the title track by pushing it towards the boundaries of easily chewable adaptation of electronic dance to soundtracks for those series full of murderers, vampiresque entities or zombie killers.
Industrial Music / Industrial Metal / Aggro Industrial / Electro Metal
Edit (9989)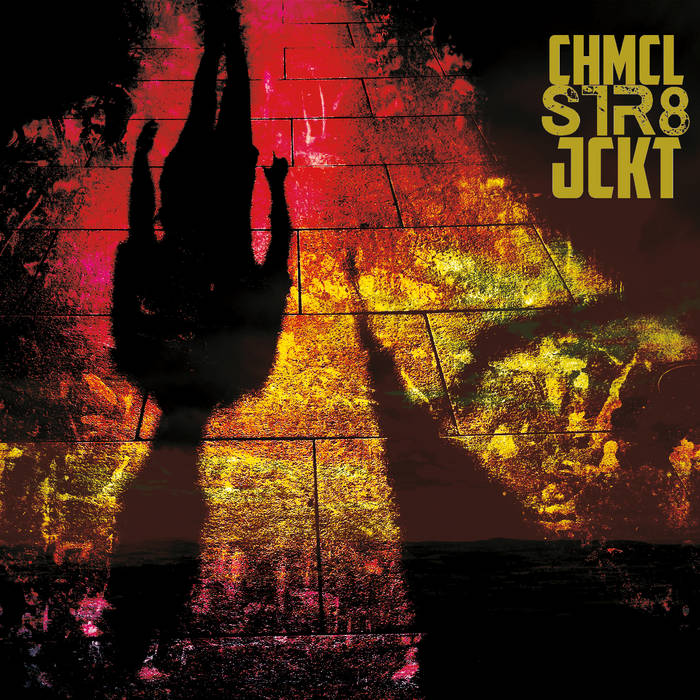 Artist:
CHMCL STR8JCKT
(@)
Title:
s/t
Format:
CD + Download
Label:
self-released
Distributor:
Bandcamp
Rated:
That is a fine-chosen and very Industrial-minded band-name for a newcomer-project out of Hawthorne, NJ.
CHMCL STR8JCKT is a duo consisting of Kevin Snell (programming / vocals) and Mike Cairoli (guitars) and they present us with this self-titled 8-tracker their debut. You'll get a varied produced onslaught of Electronic/Industrial music pretty much inspired by some prominent top-acts of the Coldwave-scene like Imperative Reaction, Mindless Faith, SMP, or Idiot Stare.
Always with a Metal-oriented background in mind, this release offers multiple dark and sinister moods along all known paths of Industrial music and themes. What can be positively noted is their tendency to balance their Electronic-minded side to a same level to their gritty guitar-oriented side. There are several good ideas in their compositions included to keep the blood boiling although it definitely needs a bit development. Some of their used electronic bass-lines or lead sounds haven't been cooked with the freshest water available. "Dressed to Kill" with its stuttering old-school synth-bass-lines is a promising warm-up, while "One Last Salute" with its grinding guitars should set fire under the roof. Here hides the next point I tend to criticize, because especially "One Last Salute" could be much more efficient if it gets a tougher and more punching outfit. "House Upon the Hill" would be a fine tune to play a bit with the Harsh-Electro junkies out of the Terrorbanana-camp but unfortunately it still misses the needed drive. Overall a good and recommended debut and I really enjoy the sinister and hauting expression while it isn't at all flawless.
Some refreshments have to be made, maybe a foreign and experienced producer / sound-engineer could be helpful too with hints for further development. But fairly enough produced for a debut.

Industrial Music / Industrial Metal / Aggro Industrial / Electro Metal
Edit (9876)
Artist:
And Then You Die
(@)
Title:
Lord of the Flies
Format:
CD + Download
Label:
Skithund Records
(@)
Rated:
And Then You Die has been touted as Finland's best kept music secret, so it comes as no surprise that I (and most likely you too) have never heard of them before now. Since 2003 they've released five albums 'Lord of the Flies' being their fifth) and just as many, if not more singles, and I understand they've been around since 1990 or so. To me, this is remarkable since I found the music on 'LOTF' quite compelling. They call their music Finnish underground depressive experimental post-industrial psychedelic rock, and that is pretty close to the truth. The album is only 7 tracks and weighs it at slightly over 33 minutes, so it's brief and doesn't wear out its welcome. Beginning with the fast-paced straight-ahead beat driven "Idiot," drawn out vocals glide over the rampant and unwavering rhythm like a surfer over Hawaiian waves. There's a bit of a synth break in the middle before things pick up again. The guitar plucks out a monotonous but remarkably effective riff, and in its punkish splendor with a similar pacing to Eno's "Third Uncle". Things take a stranger turn on "Damp Idea" where buzzy bass hits are juxtaposed by twinkling synth. The vocals are a bit more defined on this one, and when the rhythm gets going, it's like Nine Inch Nails meets David Bowie in some psychedelic arena. Still, the vocals are somewhat understated, almost like a singer turning his back to the audience. I don't know if the drums are played or programmed but whichever, they're marvelous in a big beat sort of way. The aforementioned similarity to Bowie really comes to fore in "Formant" where the vocalist seems to have similar vocal characteristics as latter-day Bowie in the warble and vibratro. The enigmatic lyrics also support this. "The Box" is similarly inclined, albeit with a different groove. Speaking of grooves, I've noticed that once a song gets into a groove, it pretty much stays there without variation. The tone is definitely dark, and the melodicism makes it pop, but deep underground psych-pop. There's something primal about it that cuts to the bone, and manages to avoid many (although not all) of the cliches found in industrial rock these days. Interestingly as the album progresses, the more intense yet more ambiguous it seems to get. If one had to choose a single from 'LOTF' it would likely be "The Tide" oozing sinister psychedelia. Final track, "Turn" only deepens the mystery in its psychedelic sludge. Something about 'Lord of the Flies' really resonated with me from start to finish the first time, and every other time I listened to it. Seldom does that happen these days. I urge you to check it out and see if does with you too.
Industrial Music / Industrial Metal / Aggro Industrial / Electro Metal
Edit (9850)
Artist:
An Erotic End of Times
(@)
Title:
Chapter One
Format:
CD
Label:
Echozone
(@)
Rated:
Well, this looked interesting, at least by the CD cover and the band name - An Erotic End of Times. 'Chapter One' is the debut release by this French duo of Philippe Deschemin and Erwan Frugier. Deschemin had an on-again off-again industrial band called PORN between 1999 - 2012, and it may even be on-again still. Never heard them though. Don't know much about Frugier except that he was involved with PORN 2005-06. Okay, so to quote the one-sheet: "The first album of An Erotic End of Times is a gothic industrial rock and metal celebration of life and death. With 'Chapter One' the duo lay down the cornerstone of a musical work in the wake of dark and esoteric bands like Fields of the Nephelim, Type O Negative or Katatonia." Well, the comparison to the aforementioned bands is a stretch at best, and in reality, totally inaccurate. In fact, this outfit is only marginally goth-industrial and mostly alt-metal. A smattering of keyboard and synths doesn't entitle you to call yourself goth-industrial. On the other hand, there are plenty of grinding guitars and heavy-duty drum programming. I'd call this more akin to bands like Deftones, Disturbed, Godsmack, and White Zombie. If that's your thing, you might like these guys. Most of the time Deschemin sings with a gravelly growl which works well for the metal aspect. I'm not getting anything erotic out of this material, except for some lyrical allusions to sex.

The album opens with "I am become death," a tribute to the Robert Oppenheimer quote, the sample also to be found on this track, with a sludgey metal stew. "Love is the End" picks up the pace offering some headbanging opportunity, but the best thing about it is the chorus hook; otherwise it's the kind of metal you've heard time and time again. "No Rights" has a gothy synth/keyboard intro and backing but little else to offer in its self-wallowing dreariness. I swear I've heard the guitar riff(s) used on "Freaky World" by other bands. The clean chorus vocals make this track probably the best on the album. "One Second" attempts set a Nine Inch Nails-ish mood, but non-memorable metal breaks drag it back into the sludge. Similarly, "Writing on the Wall" utilizes the "Man on the Moon" dialogue sample for way too long sabotaging the mission. "The Hangman" is the first song that sounded really different, with maybe a ghostly nod to Nephelim Fields, but the JFK dialogue sample concerning secret societies just killed the mood for me. After that we're back to metallic pastures again. Finally ending with "The Origin of All Coming Evil," a crawling instrumental number with spooky synth lead followed by lengthy dialogue sample (Einstein?) hammers the nail into this coffin at last.

While I wasn't wowed by this work, some might be. I just don't think it's industrial. Moody alt metal at best. I didn't care much for Deschemin's overblown vocals, and way too much grinding metal guitar for my taste. As (he is also) a novelist, lecturer and political philosopher, I expected more from Philippe Deschemin here, but I didn't get it. (At least the songs were in English.) Maybe next time.
Artist:
Drew McDowall
Title:
Unnatural Channel
Format:
LP
Label:
Dais Records
Rated:
Drew started his musical career in Glasgow with his post punk band The Poems, where there was also his then wife, Rose. After few years they moved to London and he joined Psychic TV and began collaborating live with Coil, becoming an official member of the band in 1994. He played in classic albums such as: "Astral Disaster", "Musick To Play In The Dark", "Worship The Glitch", "Black Light District" and "Time Machines". He moved to New York in 2000, so decided to part ways with Coil. He collaborated with Kara Bohnenstiel in the group Captain Sons And Daughters (CSD) and with Tres Warren (of Psychic Ills) in Compound Eye. In 2015 Dais Records released his first solo album "Collaps". The album contains five tracks of experimental electronic where idm, ambient and industrial intuitions meet. On May 26th 2017, always on Dais Records, Drew will release his second album, titled "Unnatural Channel". This new album expand a bit more the sounds of its predecessor by adding more rhythms and by experimenting some more with his modular synths. The album opens with "Tell Me The Name", a track which sounds like ocean waves made of throbbing sounds which suddenly blast off and when the apparent calm makes its way, buzzing sounds, and treated vocal samples soon after are joined by distorted industrial rhythmic patterns. After that, we have "Habitat", a track suspended between clanging sounds and synth strings and leads which sounds like coming from hell. "This Is What It's Like" plays even more with this dark atmospheres mixing mid tempo industrial rhythms filtered through an eco with whispered vocals. The main track is divided into two parts and if most of the first one creates a dark ambient atmosphere with some rhythms toward its end, the second one is sounding more industrial and rhythmic just to sound a bit like early Chris & Cosey at the end. "Recognition" sounds like a kraken fighting for his life while the short "Unshielded", with its synths rhythmic noises and the vocals sounding like a tribal chant, is like the recording of a ritual. I found this second album rich of ideas and sounds and more focused compared to the first one. I'm sure you'd gladly check it out if you already appreciated Drew's past collaborations. If you are totally new, well, if you like Autechre and industrial music, I'm sure that you'll be amazed listening to "Unnatural Channel".