Artist:
Terrolokaust
(@)
Title:
Spit Out The Poison
Format:
CD
Label:
Vendetta Music
(@)
Rated:
Thanks to a license deal arranged by Vendetta Music with the label Death Watch Asia, this all new album by this uprising Spanish Electro/Industrial project is now easily available to all North-American listeners. 'Spit The Poison Out' is already the third album of this project, which has started its career signed to the Spanish underground force Mutant-E Records in 2006 and the raw sounding debut 'Gas'. After their surprising success with their follow-up album 'God Loves The Violence', as well as several intense and highly recognized live performances, this duo now returns with the teaser single-release 'The Way It Must Be' and this album. Musically they play a sort of Crossover between harsh Electro with a Rock music impact. This album generally picks up the path, which 'God Loves The Violence' has left and which brought this band into the prominent hall of fame. Nowadays they get mentioned side by side with the big global players of the scene, so this all new album is sentenced to have success. The ingredients for this are fitting and are surely servicing the needs of their audience: The compositions and arrangements are thrilling as expected, while the vocalist with his charismatic performance needs to be pointed out. You don't get another cookie-monster talking about horrific scenarios into a microphone, but a raw, powerful, and almost natural sounding, crystal-clear vocalist with emotion in his voice providing both English and Spanish lyrics- surely one of the winning points behind Terrolokaust. As they are entitled to balance between Electro and Rock music, it must be said, that their foundation definitely seems to be more based into the Electro sector. Grinding guitar inserts got rather limited included. This album acts a bit according to the comfortable slogan: 'Never change a winning team.' Bigger musically surprises have been left out; it continues their path taken with their predecessor. That means nevertheless you'll get a top-notch produced Industrial album (mastering by Kolja 'Soman' Trelle), which additional has received for the North-American edition three unreleased remix contributions by Sin DNA, Incubite, and Technolorgy. An album representing the state of art.
Artist:
Soncesvit
(@)
Title:
Tenebrae
Format:
CD EP
Label:
Artificial Sun
(@)
Rated:
The fifth release by the uprising Russian Artificial Sun label surprises with this debut release by the Ukrainian one-man project Soncesvit. Consisting of Ivan Luza, this debut EP consists of only two tracks, 'Tenebrae' and its b-side 'Magma'. At least 10 tracks, you'll get 8 foreign remix contributions on the title-track, plus the two original versions of both tracks. 'Tenebrae' itself surprises with lyrics completely in German taken from a biblical poem after the Austrian poet Paul Celan, who was originally born in the Ukraine. The raw and attacking guitar assaults and the powerful rhythm programming, as well as the 'rolling-R-letter-like' vocals let this track become to one of the best tribute-to-Ramstein tunes ever! Till Lindemann would have a smile if he'd have a chance to listen to this limited CDR (101 exemplars only available). As for the remixes on 'Tenebrae', first and again to name are the Kaliningrad-based marauders of Type V Blood providing an excellent, raw and powerful assault. Distorted World, also an often discovered name on a remix list by the Artificial Sun label, are proving their sense to provide more calm tones and more silent moments to this powerful original track. Also the interpretations of T-U.bus as well as the Project E.V.A. & Heart Hunter remix have to be rated as being well-done by providing some new and interesting Electronica elements to the mix. The b-side 'Magma' is a rather Folk-Metal-oriented outfit, hardly comparable to 'Tenebrae', and it needs some usage by the listener to grow on it. The rating after this review rather counts for this release only, since it is an entertaining one. The artist and his abilities can be hardly rated after only two tracks, but as far as we know the release politic of Artificial Sun during the last months, a full-length album should follow soon.
Industrial Music / Industrial Metal / Aggro Industrial / Electro Metal
Edit (7670)
image not
available
anymore
Artist:
Absenth
(@)
Title:
Erotica 69
Format:
CD
Label:
Artificial Sun
(@)
Rated:
Another Cyber-Metal / Crossover project, which has already earned several praise in their home country Russia, while their international recognition still needs to get animated. Absenth is a quintet hailing out of the city of Voronezh, about 460 km away from Moscow. According to their given information, they are active for more than 11 years in the Russian Metal/Underground scene. After having had their musically roots based on Doom / Goth Metal, they nowadays are trying to conquer into the Industrial-driven Cyber-Metal field, but somehow I doubt, that they are able to earn more than a small success. It is not, that I need to question their talent, but some parts in their production process annoying me more than they can entertain. First off, the quite unusual vocal performance of band leader Oleg Govorov one needs to get used to. They also manage hard to tarnish a bit their musically past but unfortunately with a minimal amount of success. The Electronica elements are rather installed as a cheap fx element to pretend a relation to that Cyber Metal genre. Actually I doubt, that Absenth have already reached their defining style, because the Electronica elements do generally need a bit more dedication and a better worked-out outfit. The title track comes out as being one of the most appealing and energetic tunes and I don't rate the female voice sighs in the back of this track. But generally this album fails to reach higher recognition. Too much mediocrity placed in an almost boring, repetitive Metal outfit.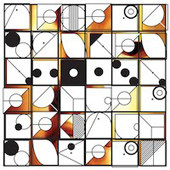 Buke and Gase are an upstate NY-based duo who make unconventional music with unconventional instruments. Together they come up with some of the most original and interesting music I've heard in a while, both on the record and on stage, and as is always the case in these rare circumstances, describing their sound is really challenging. If you can, imagine some sort of experimental post-industrial avantgarde indie rock... Odd meters, doubled melody lines, angular beats, intricate harmonizations and skilled used of distortion, pitch shifters, harmonizers and delays elevate the whole Buke & Gase experience to the level of something you've never heard of and that will keep you glued to them. Incredibly they achieve all of this with just the two of them and I've seen them doing it live. They are a power house and they don't even have a drummer or use any loops or pre-recorded material. Arone Dyer (woman) sings and plays a heavily effected Buke (baritone ukulele) and Aron Sanchez (man) plays the even more heavily processed Gase (guitarbase - a self built guitar looking instrument that has some bass strings and some guitar strings) as well as a modified kick drum with some tambourine jingles on the front of it.
Do yourself a favor and check them out yourself because describing them doesn't really do them much justice! They kick ass and you won't really know that until you hear what they do.
Industrial Music / Industrial Metal / Aggro Industrial / Electro Metal
Edit (7624)
image not
available
anymore
Artist:
Bog ~ Morok
Title:
The Inevitability
Format:
CD
Label:
Artificial Sun
(@)
Rated:
Prominent in their home-based Metal scene since longer than 15 years by having played various styles (Black Metal, Death Metal, Nu Metal), now this Russian 4-men outfit hailing out of Rybinsk tries to transform this fame to an international audience. It surely won't fail if it comes to count the promotional efforts and activities of their new label Artificial Sun, but what finally counts is their music and here it gets a bit problematic. Quite too often I get the impression that they are definitely more inspired by Metal-styles than that there could be figured out a real Industrial- or Electro-vibe behind them. Compared to their Kaliningrad-based countrymen of Type V Blood I miss a bit that raw and uncontrollable drive provided by their Punk elements. A good example for this is the title track. Raw and energetic in its original version and the clear male vocals of band-leader Ilya 'Morok' Corzo celebrating the Moshpit pretty much, but the remix contributions of the already mentioned Type V Blood and moreover Reactor are able to kick the original out of the field. It looks pretty much that their new 'Industrial' identity got later added to get a bit more compatible to the label roster ' and this works only so and so. I like those tracks which tend to vary a bit with the drum programming, those Break-Beat inspired works ('T.M.O. (Burning Toxins Mix)', 'Take Me Away (Burning All Mix)'). Also worth to mention is their cover on Michael Jackson's 'Scream': I couldn't recognize the original. All in all not a bad effort, but if they seriously intent to storm the violent Industrial playground, it still needs a bit more blood and sweat by programming better synths- / fx-efforts in their studio rooms.