Industrial Music / Industrial Metal / Aggro Industrial / Electro Metal
Edit (3653)
Artist:
DROIN
Title:
Time To Reconsider
Format:
CD
Label:
Beast Of Prey
(@)
Rated:
Droin is a Polish project and TIME TO RECONSIDER is its latest release. Printed by Beast Of Prey on a limited edition of 200 copies the CD is based on war iconography and the dark industrial sound of the project is a commentary of its horrors. The images used on the three panel booklet are concerning WWII because it's the war that most of your parents lived on their own skin and that is the one you know best also because that was different from the false clean and polite nowadays' wars that hardly seems to make victims while, instead, they are the same perpetrated horror. Musically the ten tracks span from minimal dark ambient to industrial grinding loops or digital hisses blend with some basic rhythm section and drones. Most tracks present alternation of ambience without embracing the "in your face" policy and this helps giving to the sound (which is extreme in any case) a certain multifaceted aspect.
Industrial Music / Industrial Metal / Aggro Industrial / Electro Metal
Edit (3645)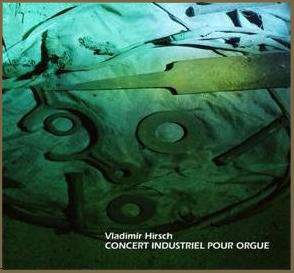 Artist:
VLADIMIR HIRSCH
(@)
Title:
Concert Industriel Pour Orgue, Op.49
Format:
CD
Label:
Ars Benevola Mater
(@)
Distributor:
Masterpiece Distribution
Rated:
Originally recorded in 1998 at St. Wenceslas catholic church in Prague and released as CDR for Catch Arrow Recordings, CONCERT INDUSTRIEL POUR ORGUE is an astonishing work by Vladimir Hirsch. The four tracks/suites are played by the Czech Integrated Ensemble conducted by Hirsch, who took care of the organ and of all the electronic instruments. First of all I must underline that the organ is an important part of the score but it isn't the only instrument which has an important role, because the rhythmic layers and all the "noisy" parts are built using percussions (crash cymbals and floor tom) and industrial sounds and the Czech Integrated Ensemble has also a woodwind section. For the whole length of the CD (44 minutes) the tension is always at the top and there's alternation of "calm" parts with vibrant and throbbing sounds and of blasting moments where the organ cries its dissonant keys while the cymbals duet with the percussions. Melody is present but it isn't the main thing to notice, because the ambience created is much more relevant. This edition is the revised 2001 version and it's the first part of the CD series which will include "Symphony No. 2" and "Symphony No.3". P.s. This release will be also available into the forthcoming 7 CD box set "The Assent To Paradoxon" which will include "Sense Geometry", "Concert industriel", "Symphony no.4", "Nonterra", "Exorcisms", "Les scenes ardentes" and "Contemplatio per nexus".
Industrial Music / Industrial Metal / Aggro Industrial / Electro Metal
Edit (3633)
Artist:
The Future Process
(@)
Title:
Change
Format:
CD
Label:
self-released
Rated:
Atmosphere is one of those things that often get forgotten in industrial music, but one only needs to listen to some old Skinny Puppy to see how much better the music is because of it. The Future Process is not really like Skinny Puppy, but they do a good job of trying to have some nice synth-based atmosphere. They list as influences NIN, Manson, Depeche Mode, MSI, KMFDM. I can see the influences, but they don't really sound like any of them - they aren't really as harsh as KMFDM, NIN, etc. I'm trying to come up with comparisons, but I'm having a hard time doing it and that is a good thing in my book. Maybe a bit like Deathline International meets Gravity Kills? Some of the tracks toward the end didn't quite work. For example, "Ridin" was a bit too slow – almost lethargic - and not as interesting as some of the other tracks. It was almost as if the band was tired by the end of the album. However, Fractures was a good noisy finish to the album. For the hardcore rivetheads out there, this may not be heavy enough, but this is a good crossover album. The Future Process never seems to really let loose, but it's a pleasant listen and I'd be willing to bet that they put on a good show. Certainly worth checking out their myspace page (http://www.myspace.com/thefutureprocess) to hear some tracks.

Industrial Music / Industrial Metal / Aggro Industrial / Electro Metal
Edit (3632)
The website describes this EP as "not recommended for the faint of heart, with in-your-face punchy industrial percussion, sharp guitar riffs, dark ominous synthwork and surprisingly aggressive vocals." Maybe I have different definitions of "industrial percussion" (Einsturzende Neubauten, Test Dept., Throbbing Gristle) and "ominous synthwork (Skinny Puppy, Das Ich). For the most part, the synthwork gets buried by the guitars, with the exception of "Mistakes," which is the least aggressive track on the EP. In other words, this sounds more like a harsh metal album to me. Perhaps it is the screaming vocals that do it for me but this doesn't even seem like industrial metal a la old Sielwolf, Ministry, or Acumen. For the most part, the lyrics are a bit difficult to understand (with the exception of "Time Out of Mind" with its refrain of "I fucking hate you"). Crunchy guitars and overdriven screamed vocals figure prominently here. If you are looking for angry, aggressive music, this will suit you well.
"Don't Be Afraid" is the very personal experiment of what I assume might be NYC-based frustrated classical tuba player who decided to breath new air into his instrument (literally and figuratively speaking!). As you can figure out if you read the review of Wolff's live show at Piano's (cmp concert reviews section), Brian Wolff basically creates all sounds through the tuba. Anything you hear, be it a kick drum thump, a sharp hi hat type swoosh, a distorted vocal, a metallic percussive sound or most anything else, comes from or is blown through the tuba. Most sounds Brian creates with his mouth but occasionally he will hammer on his tuba with metallic parts or with his hands. The tunes are minimalistic but have a defined structure and arrangement (it is not just purely improvised avantgarde stuff). Hell Brian even has lyrics for his songs (which he dutifully enclosed in this beautifully packaged recycled cardboard folding CD enclosure jacket). Due to the marching military-type aura that brass instruments convey to the music you might find yourself (I did) thinking of Laibach or Cop Shoot Cop as influences but there is more to that and it is up to you to discover it. It certainly shines for originality!