Artist:
Skinny Puppy
(@)
Title:
Mythmaker (Deluxe) - remastered
Format:
12"
Label:
Metropolis
(@)
Rated:
Almost simultaneously to the remastered version of "Greater Wrong Of The Right", the first album that followed the reunion of cEvin Key and Nivek Ogre, the twin pillars of Skinny Puppy, Metropolis decided to re-release the second album astonishing album of that cycle. Fans of the anointed forerunners of industrial rock maybe knows the difficulties that Nivek experienced while working on it and the way they influenced the "simplified" sound of "Mythmaker", an epithet that Ogre himself described in order to highlight some changes of the archetypal Skinny Puppy sound by the integration of elements from modern electronic music and rock. Some critical voices in the press tried to resize the scale of these variations, but it seems that this matter didn't really concern their fierce fanbase as some occasional blinking to more cinematic stuff - some tracks of this album got included in the soundtrack of the fourth chapter of "Saw" - didn't really put dents in their creative energy and I'm pretty sure that some fans will acknowledge that tracks like "Jaher", "Politikil", "Ambiantz", "Lestiduz" or "Ugli" are some of the best songs that Skinny Puppy had ever made. Anyway here it is a window of opportunity to rooll this album up again...and again!
Industrial Music / Industrial Metal / Aggro Industrial / Electro Metal
Edit (8511)
problems
with image
availability
Artist:
3Teeth
Title:
s/t
Format:
Download Only (MP3 only)
Label:
Artoffact Records
Rated:
3teeth is a strange band from L.A. At first, they seem to play an interesting mixture of both industrial metal a la Rammstein and some more classic sounds like Skinny Puppy or Front242. But this attitude towards classic industrial acts is mixed and integrated with mystic arrangements, samples, atmospheres and vocals. This mystical part of the album reminds me Aesthetic Meat Front. The result is amazing. The vocals should be mentioned first: the guy is pretty good in providing modulations, reverb and the like, but he is also pretty good in changing the style of singing according to the effect. Spoken worlds, screaming and similar stuff. Paradigmatic of vocalist's skills are 'Master of Decay' and 'Chasm'. 3teeth usually structure their songs around a quite martial drum and a nice line of bass. Next some essential metal-like guitars are added and, within this slow march, vocals play their role. Best example of this type of march is 'Pearls 2 swine'. Toward the end of the album songs become faster, like 'Eradicate' or 'X-day'. The final song ('Too far gone') closes the album with some strange dreamy atmosphere. Overall the album is awesome, also because it is the debut album as far as I understood. Therefore there is ample room for improvement. Highly recommended.
Industrial Music / Industrial Metal / Aggro Industrial / Electro Metal
Edit (8504)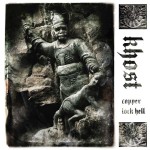 Artist:
Khost
Title:
Copper Lock Hell
Format:
CD
Label:
Cold Spring
(@)
Rated:
This new release from Cold Spring is debut from a duo that is presented as band presenting 'an intense wall of sound' and is touring with Godflesh. So the noisy soundscape of 'Copper Lock Hell' opens this release as an introduction to '14 Daggers' whose cello introduces the listener to a slowly developing juxtaposition of heavy guitar upon a distant voice. The oriental flute of 'Hypocrisy Banality Possession' acts as a chill out moment before returning to the heavy mass of guitar lines. 'Amoral Apathy Suppression' is even heavier in his searching for a deep guitar drone made out from a drop guitar tuning. The first part of 'In The Nest Of The Red Throat' is interesting as it drops the low frequencies guitar drone that reappears after three minutes hiding the drum part. 'Drain' features the most experimental moments of this release while 'Pacify' closes this release with his slowly guitar lines as '14 Daggers (Kevin Laska Remix)' is a remix trying to enlighten the moments buried in the mix.
This release seems too close to his models (Sunn O))) and Godflesh) as the mixing is perhaps too focused on the guitar and takes all other elements in the background but it seems as has some ideas how to evolve this model. Waiting for the next release.
Industrial Music / Industrial Metal / Aggro Industrial / Electro Metal
Edit (8501)
Artist:
KMFDM
(@)
Title:
Our Time Will Come
Format:
CD
Label:
Metropolis
(@)
Rated:
I have lost the count of the number of studio albums by evergreen German industrial rock band KMFDM whose energetic enamel doesn't seem to know erosion even if they have been active for more than thirty years. A solid fan-base as well as the pervasively nefarious political dynamics of our age which fed their angritude could certainly be the most relevant factors for their inflexible creative force so that a title like "Our Time Will Come" sounds like athe definitive self-mockery about their longevity, even if the cover artwork that got traditionally designed by Aidan "Brute!" Hughes (another key factor of KMFDM logevity!) could let you surmise a possible paraphrase of the well-known slogan "Our day will come". In spite of the electronic nuances and the occasional dashing of funkier riffs on tracks like "Get The Tongue Wet" and "Shake The Cage!" (not a cover of Morning Parade' sond for PES2015...) they inoculated in many moments of this release, they kept the sonic distinguishing marks of KMFDM sound almost intact and I might even say that "Our Time Will Come" is maybe the album which includes more similarities and consonances to their first steps on Wax Trax! that particularly resurfaces on the lines of songs like "Brainwashed", "Playing God", "Blood vs Money" - a track where Sascha Konietzko sounds like singing over the same hoarseness of Killing Joke's Jaz Coleman on "Democracy" - or "Respekt" (ft.Tom "Tritoxin" Stanzel). Someone could surmise it's a clue of a vague lack of originality, but I honestly can not imagine that KMFDM could throw something different from what they're actually forging. They would be something else and I'm pretty sure they would not have lasted so long...
Artist:
Borghesia
Title:
And Man Created God
Format:
CD
Label:
Metropolis
(@)
Rated:
Look who the cat dragged in! In a decade, just some live gigs and a "best of" came from Slovenian band Borghesia, but it seems that they have still to say something and they choose an appreciable mixture of electronic rock, EBM sprays and many stylistical unpredictable influences, which are quite different from the dance-oriented EBM stuff they used to spread to reach some visibility in the 90ies, which permeates some tracks of "And Man Created God" such as "My Life Is My Message", "Too Much IS Not Enough" and "C'est La Guerre", a song which quotes Bertold Brecht and recaps the spirit of this band ("Love in my heart/Peace in my mind/Gun in my hand/War in my blood"). As you can easily guess while inspecting the cover artwork - a greenback of 100 YES, a currency whose name comes from the symbols of yen, euro and US dollar -, they keep on emphasize political statements in a provocative, straightforward and meaningful way: the opening "We Don't Believe You", where they wisely inserted a banjo which reminds Americana folk sonorities, could be the hymn of awaken mankind from the regime of flexibility, mass mental manipulation and other centerpieces of our political money-driven systems; Arabian nuances cannot but feature "194", a wise song whose meaningful words got written by an anonymous group of students from Gaza; the intelligent exotic scents of "Kaufen Macht Frei (Buy Baby Buy)" perfectly renders the plastic illusions and the ephemeral peace of mind that got inoculated by consumerism as well as the Mexican nuances of "Para Todos Todo", whose lyrics have been taken from Subcomandante Marcos' words, and the quote of Marcuse on the final "Shoot The Clock!", which echoes some philosophical and sociological essays which explains that the control of time is the real foundation of contemporary oppression, are likewise guessed hooks. Paraphrasing the lyrics on "C'est La Guerre", this record could be a possible tool of revolution inside a world which seems to trust in money and nothing else...