Artist:
VV.AA.
Title:
SCHLAGSTROM "Krrrbrrrtztzkrrr 02"
Format:
2 x CD (double CD)
Label:
Rusblade
(@)
Distributor:
Masterpiece Distribution
Rated:
Second chapter of the SCHLAGSTROM saga and released for the fourth edition of the festival, this new double compilation shows all the highs and lows of nowadays industrial noise scene. If most of the tracks are good at creating a rhythmic web of sound where your senses are tested by torrents of distorted noises and are able to change the atmosphere in a moment being able to catch your attention (the best of the lot are Empusae, Sonar, Insekt, P.A.L., Muckrackers, Hybrids, "Bahntier and Desdemona), most of the remaining ones tend to stuck their sound into a pure "Sturm und Drang" style where the nihilistic approach wins on the creativity. This approach brings you tracks based on the repetition of few sounds distorted as much as possible which personally don't convince me that much. Fortunately the highs are many and most of the tracks are exclusive to this release, so if you are a lover of the genre there are many interesting points to check...
Artist:
SIGILLUM S
(@)
Title:
23120
Format:
CD
Label:
Verba Corrige
Rated:
After seven years from their latest release, Sigillum S (Eraldo Bernocchi, Paolo Bandera and Luca Digiorgio) are back to celebrate their twenty years of activity. The new album 23120 has been issued as CD and limited double vinyl and they differ because they have seven exclusive tracks each, for a total of 23 new tracks. At the moment I received only the CD edition, so I'm going to talk about that one. I know Sigillum S since day one and I must say that I appreciated a lot their early stuff and a bit less the "Malattia" saga, musically talking. With 23120 they are back with a sound that sum twenty years of musical experiences that the trio had with Sigillum S and also with many other projects (Eraldo collaborated with many dub/experimental music gods as well as Paolo gathered many recordings under the Sshe Retina Stimulants moniker where we can see him as noise manipulator or under the Komplet one). As far as I understood Paolo gathered tons of sound sources (noises, electronics, samples, etc.) and Eraldo recorded and engineered everything. Many other people helped them with audio contributions (Andrea Marutti, Zu, Xabier Iriondo, Mark Solotroff to name few) and some tracks see also guests on vocals, guitars, etc. The sixteen tracks of the CD edition amaze first of all because the sound production and because the "thick" ambience they are able to create. If you want me to be more specific, I can talk about 23120 as a great obscure ambient dub album with many industrial and experimental inserts. You can find tension on each track and if on the dub/industrial crossover of "Soil-Borne Bacterium Root To Insect Pets & Safe To Higher" it explodes (thanks to the distorted vocals of Della Volpe), on tracks like "Legacy Of Identity Politics (Kill, Kill, Kill)" (which reminds the sound of one of their old tapes "Bardo Thos-Ghrol) or "Adventurous Contemporary Tune" is something more subtle, more like a crawling sensation. Great sounds and great atmospheres are making of this album a really good come back for Sigillum S. Do yourself a favor and check it!
image not
available
anymore
Artist:
Terror Punk Syndicate
(@)
Title:
Extendet Playtime
Format:
CD
Label:
Progress Productions
(@)
Distributor:
Border Music
Rated:
After having discovered John David Karlgren's project available on some well-achieved compilation like "Interbreeding VII" or the last "Burn/Evolve/Progress" compilation I was expecting a very near to FLA-like output of this debut release. But TERROR PUNK SYNDICATE's musically horizon goes further and a simplification on only the FLA-formula is invalid. TPS combines some of the Leeb-esques structures like already offered with "Dysmorphia (Epicentre Version)" on the mentioned compilations with a rather classic Coldwave/Industrial-sound – the rich given info in the art names among others MINISTRY, KMFDM, NIN or PUPPY to be quells of inspiration. This somehow fits very well, and it has to be mentioned that John uses his art to inform the listener about his dedication. I find it quite funny that he explains, that the band name TERROR PUNK SYNDICATE was suggested by a band name generator and has no significant meaning – I would use this name to baptize a notorious forum :-D...
Well, back on topic, this TERROR PUNK SYNDICATE debut therefore doesn't follow the Trance/Techno-driven ultimate Hellektro-power, though the band name may suggests this. It is classic structured and composed with angry lyrics and an enraged male vocal performance reminding me in the clear and natural sounding moments ("Dark Is The Psyche Of Man") a bit on BLUE EYED CHRIST (...and I refer ONLY on the EBM-related releases a long time out of print on KK Records...). Straight and linear produced ripping synth bass lines unite well with guitar riffs, also some rhythmic D'n'B-loops are featured as well, this album offers several highlights like "Horizon (Version)" (conspicuous melodic with harsher effected vocals), "Respect" (moves forward and should cause action on the dancefloors...), "I Wish I Was Retarded" (excellent ironic lyrics causing a smile), "Transhuman Dream" (kind of a Pop-song, maybe? Catchy as hell and excellent vocoder effects on the vocals...) and "Animal Love" (a "hot" theme with some sheep-samples, funny and sarcastic interpreted...).
And although that the EBM-purists maybe a bit frightened by the included guitar riffs and the generally American-sounding outfit, this album acts well like a long missed friend. Isn't it funny how some newcomer acts seriously think about to escape the currently happened musically stagnancy by integrating the ideas of some veteran acts? Maybe the times 10 – 15 years before were better – musically I have to agree and would undersign this claim – this fine debut is an excellent proof.
Industrial Music / Industrial Metal / Aggro Industrial / Electro Metal
Edit (3932)
Artist:
Promonium Jesters
(@)
Title:
Your Face
Format:
CD
Label:
P in a Circle
(@)
Rated:
Promonium Jesters were formed in April 1994 by school friends Greg Cox and Ethan Moseley in Uxbridge Ontario, Canada. The info included with the release lists five members playing guitar, guitar and synths, and sampling accompanied by drum programming (no live drummer for the recording session). This has all the marks of a mix between heavy metal and NIN industrial with an experimental twist. Sonically dense with lots of fast beats. A lot of the vocals (with the de rigeur distortion) seem to be samples lifted from TV and movies, along with vocals by one Ethan Moseley. The overall tone of the release is the usual "life is horrible" theme blaming the usual suspects. The first half of the disk is dominated by the guitar-based metal/industrial din, but the second half is where I think they make their mark. This is where they let themselves be a bit freer in the sound department and let up on the spls. More room is given to melodic development and experimentation producing some quite interesting results. Not bad at all. There was only one weak track (#9) which I thought could have been edited or even left out completely. This is a touring band from Canada so I give them props for getting out of the bedroom or garage and doing this live.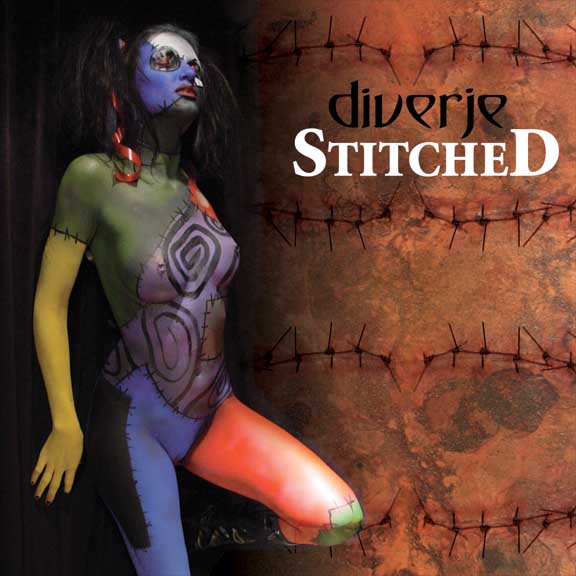 Artist:
Diverje
(@)
Title:
Stitched
Format:
CD
Label:
DSBP
(@)
Distributor:
Indietective
Rated:
Thanks to multiple gigs at all thinkable venues in AZ, NM and TX, the electronic-musician-collective DIVERJE, leaded by Tommy T. Rapisardi, has grown to a constant, if not the biggest and best-selling act of the DSBP label. Tommy has built a nice live line-up with 4 other band members which seem to stand dedicated to their "chief" – Tommy himself provides an energetic and extravagant vocal performance. So it was about time to return with a new full-length album two years after the predecessor "The Distortion Chamber", since the audience wants to hear new tracks. And somehow the uncountable live performances seem to have left impression especially on Tommy. Is it me, or does his voice sound this time much more aggressive and raging than ever recorded before? Musically I tend to say that the new DIVERJE-sound hasn't changed that much in comparison to "The Distortion Chamber". The reasons for this can be recognized thanks to the fact that Tommy's stable of integrated "guest" musicians especially for the main tracks hasn't changed. And why changing a fine working music collective?
At first there's to name Vince Pujol of the French Electro/Industrial act E.S.R.. He has contributed and helped out Tommy over the last 4 years with compositions, sounds, remix works, mixing and production – it is obviously that a lot of DIVERJE tracks offer Vince's authentic sci-fi-infiltrated textures. For this album he has provided his marvelous programming abilities on "Smell The Blood", which has to be seen as one out of two main tracks here, because this piece has received 2 additional remix works by the Infacted-recording artist PRE-EMPTIVE STRIKE 0.1 and the fine DSBP-recording act NOISE PROCESS. Vince has also provided the music for the track "Evil One" and "Run Like Hell", plus he shares the production with Tommy on "Help Me" and "Wrapped Around".
Next one to name is Josh Wood of the New Zealand-based artist THE MERCY CAGE. Josh also stands faithful at Tommy's side if it comes to integrate some guitar works to provide a rather Crossover/Cold-Wave-driven sound to DIVERJE. Besides the track "Tear It Down" he has contributed the music of the cover version available on "Stitched", "Come Back", originally offered by the J. Geils Band – can somebody imagine how it sounds with the tiger-like vocals of Tommy T.?
Ever faithful to Tommy through the years, this counts also for Xon of BOUNDLESS. Although he has slowed down his musically activities a bit through the past years thanks to his private family situation, he has always proven his abilities when the call of Tommy came in.
So asides this regulars, some new forces are joining in to offer their abilities too. That NOISE PROCESS would join the DIVERJE collective, isn't that surprising, also regarding the fact, that Michael Renfield's solo project R010R is in consideration to be one of the next releases. That they could provide besides the E.S.R.-track "Run Like Hell" one of the best tracks at all here, "Unleashed", featuring some fine catchy synth layer sounds, well, that's surprising. NOISE PROCESS develops to a constant and important trademark for the DSBP label, they also provide a remix work on "Smell The Blood".
But I tend to say that the appearance of the Argentinean project ALIEN PRODUKT to compose the title track is the biggest surprise at all. It proves that Tommy T. is able to watch over his own plate, because ALIEN PRODUKT is signed to BLC Productions. Also a second version, a remix of "Stitched" got created by this South-American act. Emileigh Rohn of the US-Coldwave artist CHIASM provides her well-tuned vocals and the lyrics on "Help Me", and the Synth-/Futurepop-act DIVIDER did the composition on the instrumental track "Ho For Sho" (sampling work by Tommy T.). Last but not least, another remix work provided by the Brazilian act DEAD JUMP accomplishes this album.
As usual for a DIVERJE album, you'll get a convincing and diverse sounding Electro/Industrial release, which should be able to appeal fans of the harder-minded EBM/Electro music. It doesn't fall into the flaw – and this has to be said – to explore already known paths of the Hellektro camp, but it is at least thanks to Tommy's vocal performance aggressive as hell.