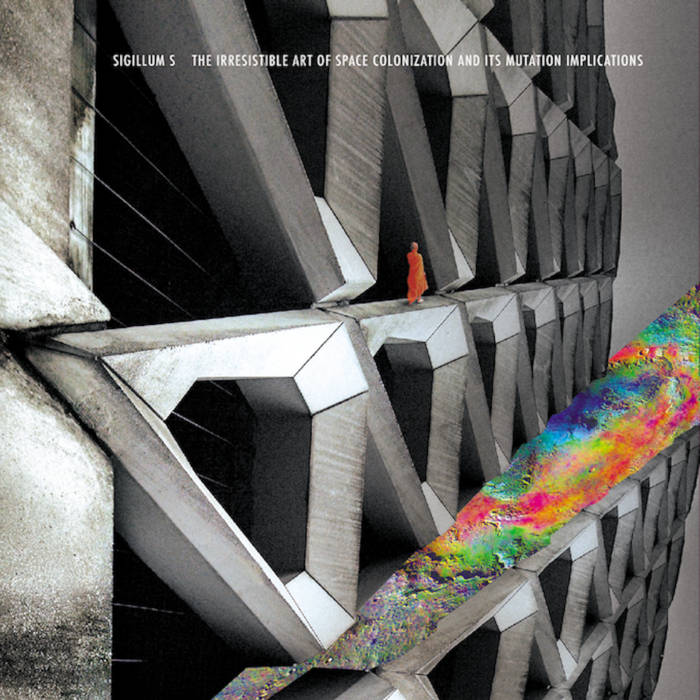 Artist:
Sigillum S
Title:
The Irresistible Art Of Space Colonization And Its Mutation Implications
Format:
CD
Label:
Transmutation LTD
Rated:
Sigillum S two years ago celebrated their 30th anniversary (one year later, because they started in 1985) by releasing three albums printed on CD, LP and tape. That moment was important for them not only because they raised the glasses to salute three decades of sonic terrorism and sound research, they also celebrated a new band member: Bruno Dorella. Bruno, owner of the label Bar La Muerte, is also member of the following bands: Bachi Da Pietra, Lava, OVO, Ronin and Wolfango. He started to play live with them but with the new album "The Irresistible Art Of Space Colonization and Its Mutation Implications", it's the first time that we have the chance to check how he helped Eraldo Bernocchi and Paolo Bandera to redefine their sound. As usual, the titles of the new album are recalling to me the works of people who had an impact on visual arts or culture in general: I mean people like Ballard, Burroughs, Cronenberg, etc. We have titles like "Occult Storage For Pan-Dronic Glossolalia", "Wrong Proto - Matter Gravitation", "Genetically-Engineered Insects", "When Comets Become Organic Households", "Through The Endless Streams Of Satellite Euphoria", etc. Musically Sigillum S always evolved and if on their beginning their music could have been defined as ritualistic and industrial, since early 00's they started to include into their music also elements of the sound that they had on their side projects. Eraldo played and collaborated with many people such as Mick Harris, Bill Laswell, Tony Wakeford, to name few and explored different genres from dub to guitar drone (as on his album under the Blackwood moniker). Paolo with Sshe Retina Stimulants, NG5361, Komplet his other projects and collaborations always explored the folders of noise electronic sounds. In my opinion, the album where they started to redefine their sound has been "23/20". It was featuring sound contributions from long time Sigillum S collaborators as well from artists they estimate. People like: Bill Laswell, Toshinori Kondo, Professor Shebab, SH Fernando and WordSound, Martino Nicoletti, Lorenzo Esposito Fornasari, ZU, Xabier Iriondo, Ephel Duath, various members of Crisis , Mark Solotroff, Thomas Fehlmann, Gudrun Gut, Andrea Marutti, Claudio Agostoni and many others. Anyway, let's start to talk about the new album. On this one, we have a sort of orchestral sound effect as we have several kind of sound layers, as well as several influences and I hazard to say that we have also a sort of melodic structure that wasn't really used before. All these layers are dosed in the mix, creating the effect of a whole orchestra using unconventional sounds. The kind of rhythms, ambient sounds, noises, vocals may sound familiar, but they have been used in a different way. Take "Through The Endless Streams Of Satellite Euphoria", for example: we have a dub bass, synth treated bleeps, a semi dub drum (I might be wrong but this is one of the few times that Sigillum S are using a real drum) and then a trumpet like sound. The first time I listened to this track I immediately thought about 23 Skidoo and I don't remember I ever thought about them while listening to Sigillum S. Sigillum S have been ritualistic but they never been "funk" and this has been a great surprise. We have the tracks mostly based on drones and noise and we have the ones where rhythm has an important part and it could be a normal drum, a treated one mixed with synthetic beats, it doesn't matter, because the tracks evolve and change one from the other. This is another thing that I liked a lot: the variety of atmospheres and sounds. A perfect example of what I mean could be the closing track "Celestial Heliocentric Cultures", which is the one that I felt connected to the cover made by Petulia Mattioli, because it gives me the impression of being influenced by Tibetan music but played by a mutant which filtered it with industrial soundscapes. It's like the cover: a Tibetan monk walking on a metallic landscapes made by an unknown species. The album will be out on the 14th of September on CD, LP and tape. https://sigillum-s.bandcamp.com/album/the-irresistible-art-of-space-colonization-and-its-mutation-implications
Industrial Music / Industrial Metal / Aggro Industrial / Electro Metal
Edit (10451)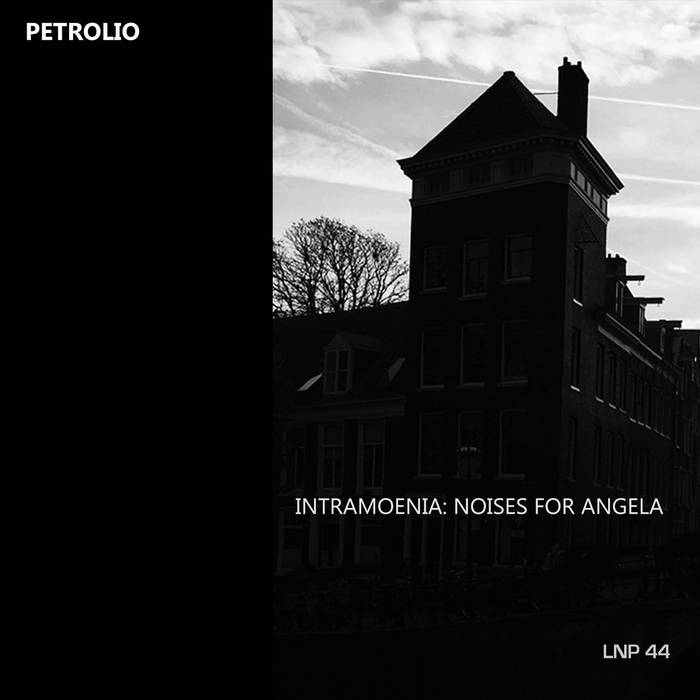 Artist:
Petrolio
(@)
Title:
Intramoenia: Noises for Angela
Format:
Tape
Label:
Low Noise Productions
Rated:
Petrolio is a project started by Enrico Cerrato, already involved in metal and industrial project, as a sort of crossover between the two genres. His music is noisy and exploratory as industrial but has a clear and relatively slow structure as metal.
The first track, "work no. 1", starts with spoken works about madness and evolves in a delicate balance between drone and noise to end in an rhythmic way using loops. The second track, "work no. 2", starts with sustained notes on synth introducing a mirroring part on guitar which disappears in the ending part leaving a pulsation and the drum alone. The rhythmic framework of "work no. 3" closes this release with a crescendo that creates a impressive sonic wall.
It's a short but remarkably varied release that could be well received by listeners as it's not too weird and let a certain curiosity to hear a full length release. Recommended.
Industrial Music / Industrial Metal / Aggro Industrial / Electro Metal
Edit (10436)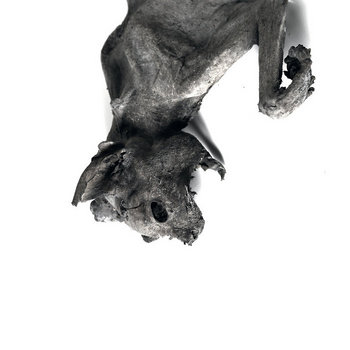 Artist:
Nordvargr
(@)
Title:
Metempsychosis
Format:
CD
Label:
Cyclic Law
(@)
Rated:
This new release by this artist known primary for his role in MZ.412 is inspired, according to the liner notes, from the the transmigration of the soul intended as a choice rather than a judgement. This marks a movement from his now canonical form of industrial ambient to a more song oriented form with the result of being one of his most accessible release yet.
After the atmospheric introduction of "Into The Cycle Of All And Nothing", the vocals of "Metempsychosis" set immediately the framework of this release that is the song form as, even in the pseudo growl mode, the lyrics are almost discernible; while this track is grave and based on a drone, "First East" is martial and aggressive with his rhythmic cage. "At The Crossroads Of Immortality" is a remind of his well known ability to create dark soundscapes while "Invocation For A Malicious Spirit" is a sonic depiction of a ritual. "Salve Teragmon" is dancey and close to certain EBM, even in his noisy aggressiveness, while "Manifestation" is evocative with its sound immersed in silence. While "Sweet Death Triumphant" is based on menacing declarative lyrics upon a noisy background based on loops, "Consolamentum" is quiet and cinematic. "Livet Tar Slut" closes this release with a pseudo crescendo based on vocals and power electronics.
It's probably unfair to expect something new from someone who has forged one of the most recognizable sound of the '90s and has influenced an entire scene. It could be considered a fan service but it's so well crafted...
Artist:
Controlled Bleeding
Title:
Headcrack - remastered
Format:
LP
Label:
Artoffact
(@)
Rated:
One of the positive aspect/consequence of the launch of some new album by historical (but pretty unknown to younger generations) bands are the related reissue of some old entries. It's what happened on the occasion of the return of the legendary band Controlled Bleeding, whose recent album "Larva Lumps and Baby Bumps", followed by the remix collection of "Carving Song", was followed by the reissue by Artoffact of "Headcrack", the oddest (but maybe the best) release of Paul Lemos' brainchild, the album which was one of the turning point of their long history, when the band left the cacophonic style of their earlier outputs aside in order to develop a more original mixture of dark ambient and industrial. As I told, this turning point coincides with the alternation of remarkably bleak and creepy moments with paradoxically hopeful ones, to the point that you can't sometimes establish the exact separation of such a bipolarity. For instance, you can't really say the vocal chants they occasionally used belong to a hellish or a heavenly dimension, or if the ecstatic minimalism spread over the album are closer to the representation of deceitful illusions or, more likely, of a sort vividly blissful detachment. Under a more etheric point view (let's say so), it seems they translated into a necessarily bipolar sound the consequences of that fossilized rose (or the fossilization of love), portrayed on the cover artwork...damnation, blissful oblivion or maybe both. Cacophony sprouts again on the final tracks (the ones that have been left untitled in this remastered versions as well as on the head-banging and over-distorted noises of the last one, a remix introduced as "the missing Headcrack piece"), but such a resurface makes sense... Whatever you interpret this monumental industrial-ambient output, it's an essential building block of higher levels of modern music.
Industrial Music / Industrial Metal / Aggro Industrial / Electro Metal
Edit (10162)
Artist:
Nervenbeisser
Title:
Zeitenwandel
Format:
CD
Label:
Echozone
(@)
Rated:
Nervenbeisser (Nerve Biter) is an NDH band from Germany (where else would you find NDH bands?) and 'Zeitenwandel' ('Change of Time') is their sophomore album after their 2005 debut ('Geschlechterschlacht'). Nervenbeisser aren't your typical NDH band though as there are definite goth-electro-industrial elements incorporated throughout. Also, the metal doesn't surface as much as you'd expect. Still, they are balls-to-the wall HARD...most of the time. The album begins with a recitation in Deutsche (of course) over dark industrial ambient background...setting the mood I guess. First real song - "Verkehrte Welt" has a bouncy/loping martial beat similar to Marilyn Manson's "The Beautiful People," but that's where the similarity ends. There's a catchy crowd-rousing chorus ("HEY DU!"...and lines in German that follow) and that's the first clue that this album seems primarily made for live play, fist-pumping, and short attention spans. Although there is some diversity in form, there's not much in style, and that's what works against Nervenbeisser throughout most of 'Zeitenwandel.' Take the title track for example; it starts out with some nice atmospherics leading into a catchy bass and synth line combo but all too soon falls into cliched aspects of NDH that only get deeper as it chugs along, in spite of its electro elements. Live, I'm sure it's what the crowd will eat up, but listening to it at home gets wearisome. Olaf Seider's vocal style ranges from guttural growl to raspy scream (most notably on the chorus of Glucklich Allein") and the latter is really difficult (for me) to take. The one thing this band does manage to do effectively is come up with catchy hooks, be they vocal or instrumental, for this type of music anyway. Take for example "Goldener Kafig" where there is really nothing memorable in the vocal department, but this dumb little repetitious airy synth riff will stick in your brain. To a large extent these songs seem crafted more with a bludgeon than a scalpel, and maybe that's a hallmark of Neue Deutsche HÄrte. On one hand, I think these guys are somewhat enamoured of Rammstein, but on the other may have aspirations of Skinny Puppy, Front Line Assembly or even KMFDM. It's hard to tell whether or not this merging works. I think only the band's fans can be the real judge, and from what I'm seeing, their following is growing. Final track on the album ("Alles Steht Still") is a mostly acoustic ballad where the band shows its sensitive side. Actually not bad, and a nice break from being pummeled. It will be interesting to see where the band goes from here. Will Nervenbeisser play more to their NDH roots, or will they explore and expand into something quite different?