"Nodding Terms" is an energetic attempt to bridge a gap between percussive experimental modern classical music and electronica / club / dance / pop / house / whatever. The result has the sonic qualities of avant garde classical thanks to four-piece Ensemble Adapter, but musical structures that are a bit more accessible and more inclined towards the growing familiarity and accessibility of repeating patterns. However, the bottom line is that it's still on the former side of the fence- you won't be hearing this in your local nightclub any time soon.

Some tracks are purely the Ensemble, dominated by cello, bass clarinet and organic live percussion, but others, like "Modul 5", introduce more prominent electronic lines into the mix.

Bhatti himself has an established history working on music for theatre and dance, and that's self-evident here- there are some short, off-kilter-tempo'ed and dramatic pieces like "Funkstoff" here that seem absolutely tailor made for contemporary dance and audition pieces. The suspense inherent in "Hast Hussle" and "Kords" feel more aimed at unusual film soundtracks.

Odd time signatures, the use of flute and slightly folkier elements in pieces like "Umziehaktion" make it sound like a sort of modern day instrumental prog rock, in the nicest possible way. As it proceeds, later pieces like "Modul 4" see the theatricality of it return to the fore.

Remixes from two thirds of Brandt Brauer Frick are woven into the core of the album, with the mesmerising original version of "Ferntendez" immediately followed by a Paul Frick remix that delves a little deeper with long pads and staccato cutting. This really works, creating in effect a 'part one' and 'part two' to that particular work. Other tracks, such as "Laughter Leading", are also reminiscent of Brandt Brauer Frick productions, and fans of BBF looking for something with a chin-stroking perspective are pretty much guaranteed to appreciate this.

Generally it's bright, fresh and full of energy that ends up being quite infectious- whether it's meant to be a feel-good piece thematically is a little unclear, but like it or not, the end result does feel like it was manufactured with a sense of fun attached. But that's not to take anything away from it- it's a truly enjoyable listen but also has a lot of merit, and potentially a very useful gateway album for electronica fans peering into the world of avant garde classical.
Artist:
VV.AA.
Title:
Family Horror X
Format:
12" vinyl + Download
Label:
KANN
To celebrate their tenth birthday, the KANN label have put together fifteen original unmixed tracks into a bundle of the best part of two hours' worth of mostly-mellow house and electronica.

Unusually, the promo for this release doesn't include a tracklist- perhaps not to draw too much attention to the relatively small roster of artists who've contributed multiple tracks each, I'm honestly not sure- so I'm not sure who to attribute some of the tracks to. But I do know there are contributions from Innere Tueren and Eau Thermale, Art Alfie & Axel Boman, Underspreche and Perm, Mary Yalex and Philipp Matalla.

Sometimes it's on the soft side, with gentle kicks and long drawn-out chord pads. "Malekula", with its combination of 90's-style breakbeat with more tribal patterning all laid out as a soft pad to some very expansive chord waves, is a prime sampler. "Thank U Again" is a lovely bright melodic number.

Sometimes though things get a little bit beefier, with "Against (Dub)"'s edgier kick and scream noises used as fills providing a warm embracing thump, and "Clean Bus" quite a Leftfield-esque arrangement of slow kick and swaggering bass. "Sequence" is quite a joyous dancefloor-friendly rumble.

"HEDGL" has a truly old-school trance flavour which, when followed by the decidedly Future Sound Of London-like "Island Jam", makes you wonder whether these tracks have been unearthed from the halcyon days of the 90's rather than made for this 2018 compilation.

As a back-to-back listen it shows how dedicated the KANN label is to a relatively narrow range of music- these tracks may be different recipes but they're all the same style of cooking- so for home listening you might find yourself wishing for a bit more variation as you lose interest through "Cany", or just dipping in rather than sitting down to the whole pack. As a DJ pack though this is a great bundle of dancefloor tools- in fact for some it might be a whole set's worth if you're feeling very cheeky- and for that environment this is a very strong birthday bundle.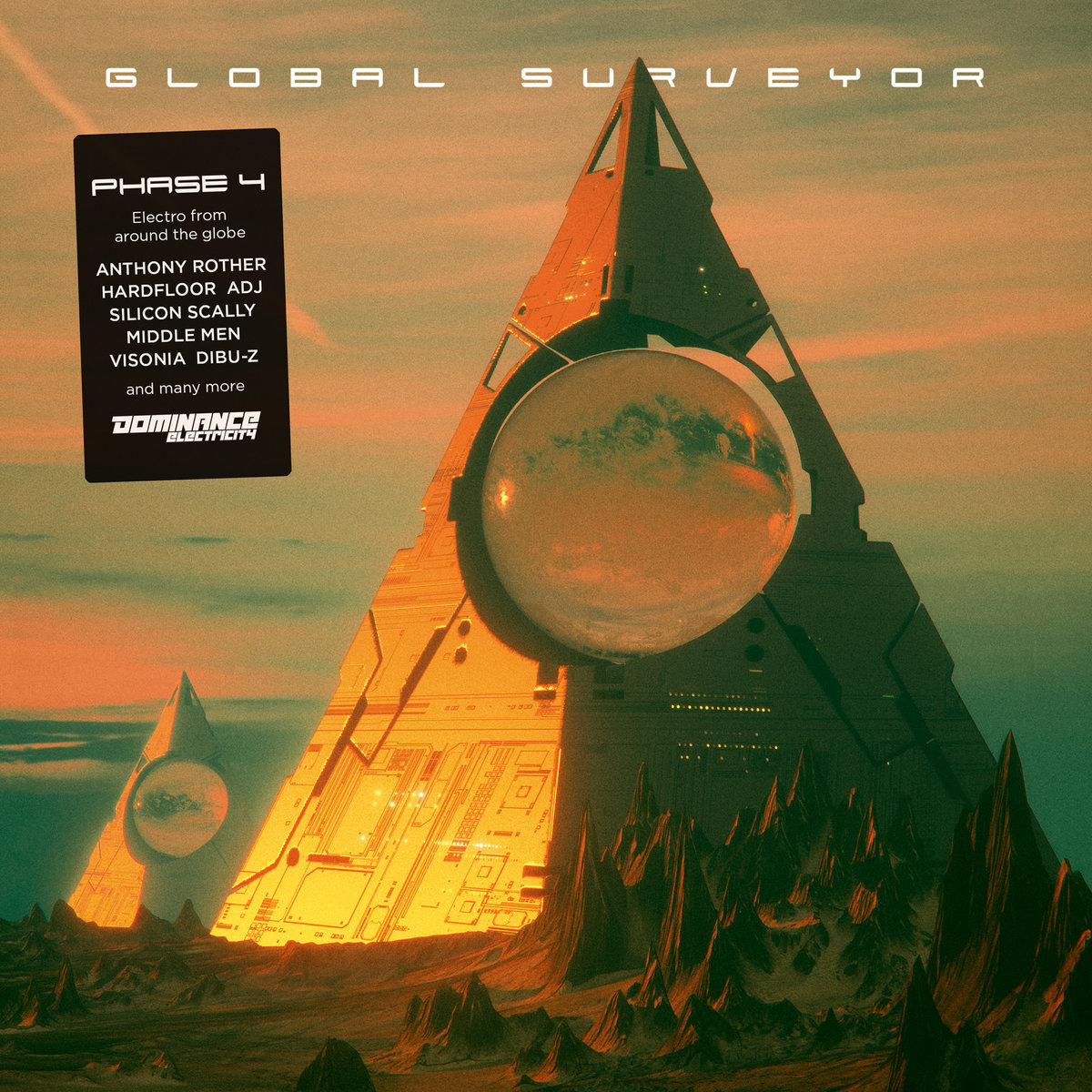 Artist:
VV.AA.
Title:
Global Surveyor Phase 4
Format:
2 x CD (double CD)
Label:
Dominance Electricity
Rated:
Nine years after the third volume, "Global Surveyor", the compilation issued by Dominance Electricity is out with the fourth volume/phase and this time is huge! Available as four vinyl records (clear vinyl with poster or black), double CD digipack or digital download, "Global Surveyor Phase 4" contains twentyfour tracks/projects for a total of almost two hours and twenty minutes! It would be impossible to talk about all the tracks but I'd like to start telling that in the last twenty years electro music has been in continuous evolution and the various projects started to mix influences in a new stimulating way and also this compilation isn't focused only on electro funk, but it sums up pretty well what is going on with electro right now. You'll find influences of: i.d.m. (Keen K), detroit electro (Heliopause, Middle Men, Obsolete Robotics), minimal techno (Tekkazula, Wilx, Blake Casimir, Low Orbit Satellite), Kraftwerkish electro (Anthony Rother, Patronen), acid (Hardfloor) just to name some. Also, among the well known names of the genre as Anthony Rother, Visonia, Heliopause (they did only a MLP but they are formed by Aux 88's Keith Tucker and Tommy Hamilton plus Dynamik Bass System's Thomas Werner), Silicon Scally or Hardfloor, we find totally new comers as Rauschenmaschine, Wilx, Tyraell and C*NT. The quality is guaranteed by Matthias M. Weise, the main man behind Dominance Electricity and too bad there isn't a new track by his own project Sbassship included here. There are many tracks that stand out already at the first listening: isn't a case if Heliopause, Middle Men, Kalson, Anthony Rother and Keen K open the compilation, because they already offer a wide example of what we're going to listen to: spacey pads, some menacious vocals, Detroit electro bleeps, complex rhythm patterns, robotic atmospheres and much more. This compilation is a must have and it grows with the listenings. Try it for yourself by checking all the tracks at the label's SoundCloud https://soundcloud.com/dominance-electricity/gs4
Artist:
Mick Sussman
Title:
The Rosenberg Algorithmic Music Generator: Selected Works, Vol. 1
Format:
CD + Download
Label:
The Sublunar Society
As a music-loving programmer I love scientific artwork concepts like this- the idea that music can be auto-generated out of rules and patterns ad infinitum and without intervention. Thankfully devoid of the "who needs composers now?" hyperbole that might sometimes be attached, here we get 19 curated outputs from Sussman's new music generator. Every track seems to have been named by pulling two random words from the dictionary and sticking them together.

All of them are strictly between 3:36 and 3:57, and all of them sound like frantic 1980's 8-bit arpeggiators set on random settings with short drum machine percussive sounds underneath. Were it not for the polyphony of more than 3 tracks, I'd wonder whether a BBC Micro could have created this.

Does it work? At times yes. Patterns, rather than genuine randomness, is clearly an important part of this generator, and when the patterns align into something that feels comfortable- as it does in "Spherical Sameness"- it's strangely enticing. "Italicize Mellow" has a curious baroqueness to it.

At other times, not so much. Some of it, like the ironically named "Finitely Kindhearted", is too frantic and too relentless. Perhaps factoring in more of a sense of peak and dip, of adding and subtracting layers throughout the course of each piece rather than just embarking on nearly-four-minutes of relentless bleeping, might have yielded something more palatable than the barely listenable "Abstention Prance". "Burble Exponent" has the component parts you might find in some Venetian Snares or Aphex Twin tracks, but help to explain in sonic terms how you really can tell the difference between their work and something truly randomised.

And for a 2018 work, the decidedly lo-fi nature of the musical output (and the accompanying artwork) seems an unnecessary move. A processor as cheap as a Raspberry Pi is capable of generating CD-quality sound through things like VST synthesis, so there's no technical reason why this couldn't have all been constructed with the same concept but a more modern sound.

For 365 days up to the release of this album, the label were releasing a single track from the project every day, and one disposable three-minute-work each day is arguably a more fitting use of this output than a 'proper' album. Ultimately, it's one of those releases you might cherry-pick for a couple of the more successful tracks, and while it's a concept you might enjoy, it's not a release you're going to frequently sit down and listen to as a complete 63-minute work.
Artist:
Noisebrigade
Title:
Selected Resistors
Format:
Download Only (MP3 + Lossless)
Label:
Der Klang
A compilation of tracks from Maurizio Pustianaz's Noisebrigade project from 2008 through to 2017, selected resistors is a thorough 76-minute pack of instrumental synthwave and synthpop sounds full of warm analogue synth sounds, pads and bleeps bent into making dark, cinematic and brooding music.

There's a broad range of grooves spanning electro and a few different shades of techno, from the heavier Warp Records-esque breakbeat thumps of "I Robot" to the dystopian sci-fi drama of "Chemical Experiment". There's a consistency in how the pure, almost lullaby-like melodic tones play against

Text-to-speech vocals appear sparingly, such as on "Inside Trader" which has a decidedly Kraftwerk proto-electro flavour. The retro flavours are also prominent on "Hierophant's Nebula", which, perhaps due to my own nostalgic make-up, reminds me quite strongly of Keff McCulloch's incidental Doctor Who music of the late 80's- a perky and steady underscore at times.

There's a generous helping of 7 tracks from the "Cathodic Dreams" album, and four completely unreleased tracks, with the rest picked from EP's and various artist compilation exclusives. Despite the decidedly retro-facing general sonic make-up of it, it's interesting to hear how the production values definitely evolve over time, with the later tracks sounding richer and pushing things a little further.

A very pleasant pack that will appeal to anyone with a fondness for analogue electro and synthwave.