Artist:
Loraine James
Title:
For You And I
Format:
CD & Vinyl
Label:
Hyperdub
"For You And I" is an intricate and complex glitch-electronica work that credits the multicultural character and musical diversity of London as its starting point. Rhythms ranging from relatively steady grime beats to thoroughly mashed-up, Aphex Twin-level distorted craziness are the core, a steady mix of gutpunching subbass and crisp distortion that always keeps you on your toes. On top sits a variety of decorative elements, odd melodic items, synth notes, short vocal noises and the like, but they always feel somewhat secondary- it's the beats that are the real meat here.

On tracks like "So Scared", it's almost purely a rhythm track for nearly two minutes before breaking into a truly twisted, Venetian Snares-esque broken-jungle affair, while "Sick 9" is a sort of glitchy techno, looping number vocalisations over bubbly bass oddness. "Vowel Consonant" opens as downtempo, almost electro-lounge, but builds up in steps over six minutes, gradually adding more frantic elements until by the time the screaming starts five minutes in, it makes total sense.

There are some mellower moments; the album is quite personal, according to the accompanying press release, but that isn't a vibe that cuts through all that strongly overall. The exercise in contrasts with which the looped grime-like vocal snippet demanding "step it up bitch" plays against the warm mellow synth chords in opener "Glitch Bitch" is becoming a bit of an old trick in electronica terms, but it's still powerful. "Sensual", adding near-kitsch jazzy organ sounds and a tripped-out vocal from Theo about drifting through space, is a really pleasant bit of post-triphop, if post-triphop is a thing; if it wasn't a thing before, it's a thing now.

Le3 Black contributes to two tracks and leaves you wanting more; "Dark As Fuck" is (predictably) the album's darkest point, a true delve into sinister grime, while on "My Future" he only arrives halfway through the track, rolling a more incredulous, weary lyric on power and having seen it all before.

If you like your beats heavy and seriously broken up, expressive and devoid of the usual posturing and over-masculine attitudes, and if you're looking for something fresh, you should definitely check this out.
In his "Skeekit Doss" EP, Proc Fiskal pays homage to the Edinburgh club night he ran until last year. He describes the club as having an "ethos of genre-defiance", and being "ecstatic and transcendent", but also for balance, "fun and stupid". This is chinstroking yet danceable electronica, generally padding along at a fair tilt with crisp, light, complex beats, rubbery synth bass, and rapid micro-edit vocal and melodic sounds. It's instrumental, save for the odd sample, some of which are thoroughly Scottish. It's an upbeat distant cousin of various genres, with shades of grime, dub, old skool rave, drum-and-bass and others creeping in but never dominating.

"Pico" is a highlight, a unique take on micro-house with old jungle breakbeats that would somehow fit, yet sound out of place, in all sorts of genre DJ sets. "4 Minutes" is a form of grime-lite with interesting percussive sounds that feels like it's calling out for a skilled enough MC to pair up with it. Final track "Prop O Deed" ups the ethnic elements and brings the strongest melody of the set, again perhaps calling out for a vocalist.

It's a very Hyperdub 24-minute EP- intelligent, knowing and self-aware complex electronica that somehow manages to maintain dancefloor credentials. It's intriguing how it still works, but it does.
Artist: Guzz
Title: 􁩳􀓧􀚊􁌱􀻼􀤹 Walking in a Boundless Dream
Format: Download Only (MP3 + Lossless)
Label: self-released

The second album from Guzz is a fusion album, in the original sense, making new Asian music that combines traditional sounds and musical forms from Myanmar and India with cutting-edge synth-electronica and glitch. Fittingly every song's title is in two languages, but please forgive me that I have only used the English version here.

It's quite flowery and times, with tracks like "An Epic Poem Dissipates Over The Coast" and "Amber" sounding positive, breezy and a little indulgent. "Rain Man" is modern day world music for tourist incense shops, but not (honestly) in a bad way, while "Half-awake" can't seem to make up its mind whether it's glitch-lite or Asian-sounding chillout music.

By contrast, there's an edginess to tracks like "Countless Flying Birds" that keeps it sharply contemporary, with more than a shade of a modern grimey undertone. "Star Sea" is also noticeably sharp-hewn, in an enjoyable way.

There are more thoughtful moments on show as well. The title track mixes the melodic quality of dream-pop with a gentle bass swagger; it's also quite sparse, one of several tracks which is more stripped-back and less chaotic than the cover art may imply. "No-mind" is gently reflective and uses atmospheric sound- possibly the sound of a marketplace- to strong effect, while "Sky Tree" has a touch of the cinematic synthwave about it.

As a proper bit of fusion, this works well. It perhaps dips too close to novelty- or maybe just accessibility- for some tastes, but if you like your traditional Asian music gently powered by electronics, you'll certainly appreciate chunks of this.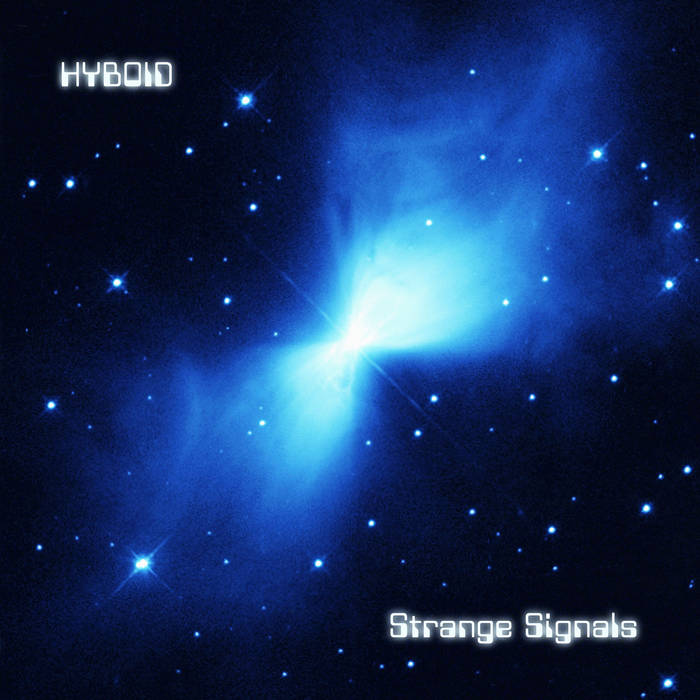 Artist:
Hyboid
Title:
Strange Signals
Format:
2 x 12" vinyl
Label:
Astro Chicken
Rated:
In ten years of activity Sebastian Hübert has been able, like a science-fiction writer, to create his own narrative with his own musical project Hyboid as well with his label Astro Chicken Records. With his music made with vintage synthesizers and drum machines, Sebastian created audio stories that lead the listener through space voyages and musically back to the late 70's/early 80's, when funk and disco music melted and muted into electro funk or the first hip-hop experiments. Hyboid is mostly linked to those sounds than to Kraftwerk and this is evident also into the new album "Strange Signals". On tracks as "Restless On Risa", "Cosmic Funk", "Walking The Milky Way" or "Future Fever", within upbeat rhythms and bouncing bass lines you can often find a lead synth line which, like a guide, is there for the listener to follow. Like the other albums, also "Strange Signals" has a theme and this time it's the tale of an interstellar romance gone wrong. Musically on the album you'll find more vocals (effected with the vocoder or not) and also a little bit more electro influences like on "Martian Dreams", "Unobtainium" and "Synthetic Band" or a bit of synthpop like on "Broken-Hearted Universe". Released on black or limited clear vinyl and on digital format, "Strange Signal" is the new Hyboid album that you won't miss! Check it out here https://hyboid.bandcamp.com/album/strange-signals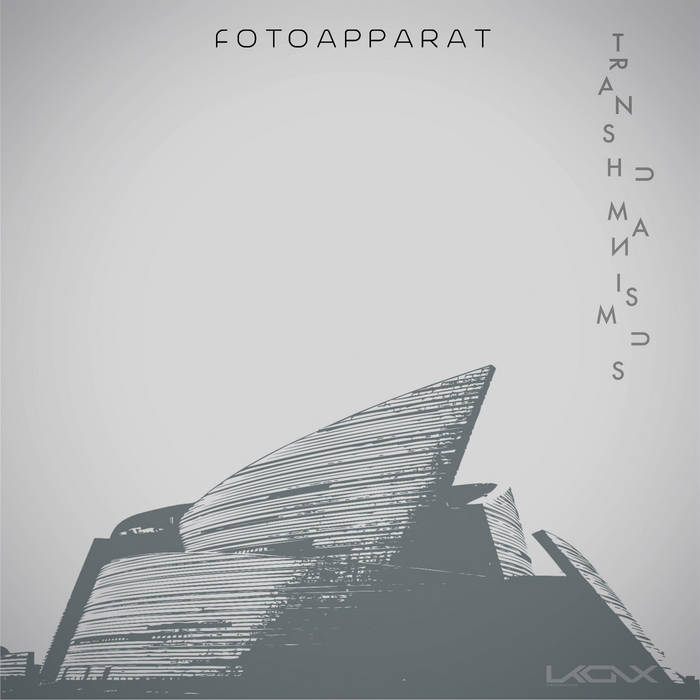 Artist:
Fotoapparat
Title:
Transhumanismus EP
Format:
Download Only (MP3 + Lossless)
Label:
Ukonx Recordings
Rated:
Formed few years ago into an unknown place in Europe (from some photos posted I think he/she is coming from Berlin), Fotoapparat, after releasing two EPs for the Mexican label Dostonos Records ("Fundamentale Wechselwirkung" and "Doppelmord"), just released a new EP titled "Transhumanismus" for the Fremch label Ukonx Recordings. It's available as digital download on the label's bandcamp page and on streaming on the usual platforms. "Transhumanismus" contains six tracks that put Fotoapparat into the focus of the Dopplereffekt lovers thanks to the cold atmospheres and rich robotic sound palette. The EP has a strong concept. The first three tracks explore our relation with machines. Humanity in its limitless ambition ultimately pushes its researches further and further, until it reaches a turning point: the end of its supremacy. The last three tracks takes inspiration from cinema, literature, science, mythology and philosophy, just to rise a question: what if artificial intelligence emancipates itself and become as powerful as a god ? Can we expect a machine to show compassion and mercy? ...and, would they punish us for our destructive behavior by recreating our consciousnesses into a personal artificial hell? Musically, Fotoapparat succeeded into creating a tense atmosphere with a deep cinematic attitude, which coupled with the robotic rhythms create really good tracks. You have cool tracks, a theme which somehow involve all of us, so you can't ignore this release! Check it in full on the Ukonx's Bandcamp page.