Joan Cambon and Sylvian Chauveau's long-standing collaboration has reached its fifth album. An intimate and at times quite minimalist collection of small synth sounds, complex rhythm programming, melodic pads and atmospherics, this is rich cultured electronica with a heartfelt tone.

There are some perkier tracks, like "Paul Favre-Miville" and the very well-formed "Bayan Hout" that have an almost playful energy that at times slightly undermines the album's very earnest themes of conflict and displacement. These are muddled in with more atmospheric and earnest pieces like "Ossama Mohammed".

"Anonymous Nigerian Refugee" is a rare vocal track, sampling the titular figure talking under clear duress about his predicament in the album's only overtly political moment, which ends up also being a highlight.

It's a pleasant and well-cooked sonic meal with some lovely textures in it, and while I don't expect it to top too many people's 'best of the year' lists on account of a fairly muted and modest character, it is an example of balanced and premium electronica done very well.
I was a big appreciator of Kirn's "Bellona USA" album from November last year, so was happy to hear that another album was available already. "Pink Cloud Syndrome" doesn't disappoint, continuing in a relatively similar vein with tracks that manage to combine Jean-Michel Jarre or Tangerine Dream-esque long synth soundscapes and a retro synthwave-ish aesthetic with some newer and poppier, sometimes Ricardo Autobahn-esque melodic moments.

Dropping the fictional city concept of the previous album, this time we get four tracks that are longer and more immersive, with a hint of the epic prog rock instrumental storytelling about them, most notably in the first part.

Part 2, with its heavier kick, perky synth stabs, plaintive vocal ahhh noises and claps, has shades of Propaganda in parts and is decidedly more 80's-esque, while part 3's more paired-back approach has more in common with current thoughtful home-listening atmospheric techno. Part 4 begins punchily before settling a little, but maintaining a tense and quite sci-fi pulsing attitude which only disappoints with its slightly lacklustre ending.

It perhaps never reaches any truly euphoric heights and at times could arguably be described as wallpapery, but nevertheless it's a rich, confident and boldly produced synth-music vision that's absolutely worth exploring.
'Electricity' is the broad theme here, with the layering up of different electric and electronic sound sources into eleven rather miscellaneous but generally dark works of noise and experimentation which seems to take on a variety of influences ranging from 60's radiophonics to 80's industrial proto-techno to 90's-era more 'mainstream' ambient approaches.

Many of the pieces are little more than sonic vignettes, like the endearingly quirky "V", but there are some slightly longer works to get your teeth into. "II" has an acid-techno-ish pulse that runs around it and grounds it. "IV" is particularly unusual, initially throwback-minded piece that evokes strong memories of black-and-white sci-fi but which then throws in some freeform electric guitar strumming and then some odd spoken-word poetry to muddle things up somewhat. "VI" is a broader journey into where feedback and distortion meet ambience, and is the track most fitting of the album's title.

Generally it's got quite a raw sound that's quite playful and somehow feels quite authentic, as though faithfully retreating the steps of pioneers half a century ago exploring electric weird sounds for the very first time. Not just a nostalgia piece, it does work in its own right, albeit in a slightly incoherent fashion, and fans of early electric oddness will appreciate this as more than a homage and a worthwhile listen in its own right.
Artist:
Jlin
Title:
Autobiography (Music from Wayne McGregor's Autobiography)
Format:
CD & Vinyl
Label:
Planet Mu
Despite the theatrical artwork and literary title, fans of Planet Mu needn't worry- this is a reliable package of glitchy chinstroking electronica and complex instrumental grime-lite that the label has been outputting with a relentlessly high quality threshold for years. Highlight tracks like "Carbon 12" and "Annotation" are familiar and deeply listenable toe-tappers.

There are certainly some more theatrical or soundtracky moments, like the balletic "Anamnesis". The two "Interlude" tracks are interesting pieces of fragile-toned sound design, sometimes arhythmic, and slightly misleadingly named as they are just as long as the other tracks around them.

There are also some more attitude-laden moments like the urgent and scream-percussion-punctuated "The Abyss Of Doubt" and the razor-edged "Permutation".

I enthused about Jlin's previous release "Black Origami" last year and this release is a natural next step- not a major evolution, but a solid next move from another Planet Mu artist using electronica as a proper artform in its own right, without losing its essence.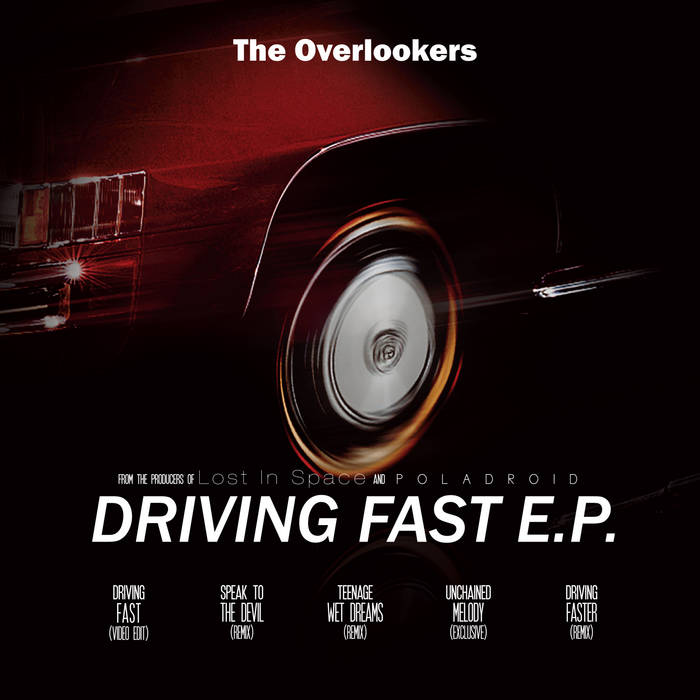 Artist:
The Overlookers
Title:
Driving Fast EP
Format:
CD EP
Label:
Boredom Product
Rated:
Initially I was thinking that The Overlookers were a mysterious band coming from France but they have recently posted a photo on their Facebook profile and it seems to me that one of them is JB, of Dekad. Anyway... Their first EP "Driving Fast" has just been released by Boredom Product and it contains three tracks which will be released on their first album "Teenage Wet Dreams", which you can find here remixed (only "Driving Fast" is here also with the video edit version), plus a cover of the Righteous Brothers' "Unchained Melody". The band, has been helped by Member U-0176, of Celluloide fame and boss of the Boredom Product label, for the "special effects" and post-production. The songs, find their roots in the 80s/90s synthpop but with a twist and in this case we have a bit of 90s e.b.m. influences helping to spice up the rhythm section, thanks to bumping bass arpeggios. The three original tracks "Driving Fast", "Speak To The Devil" and "Teenage Wet Dreams" are really nice and make you feel curious about the forthcoming album, because they are sounding quite different: the first is a uptempo killer (probably it's the one which is more e.b.m. sounding), the second is a mid tempo dark tune and the third one is a slow tempo which is recalling me the old Depeche Mode ballads of the likes of "Waiting For The Night" or "Question Of Lust", because of the overall atmosphere and also because of the the arpeggios progression, which melodically remembered me the Basildon boys. The "Driving Fast" remix, renamed "Driving Faster", is a good electro track which is focusing on the rhythmic parts of the song (bass lines, drums and synth percussions are the main elements) and the leads are added here and there to enrich the melodic parts. Check it here! https://boredomproduct.bandcamp.com/album/driving-fast-ep