Artist:
Raime
Title:
Tooth
Format:
CD
Label:
Blackest Ever Black
Rated:
Four years after their debut "Quarter Turns Over A Living Line", Joe Andrews and Tom Halstead are ready to release, always on Blackest Ever Black, their new album "Tooth". The duo isn't keen on long length albums and if their first one contained seven tracks for 37', this second one has eight new tracks for the same length. With "Quarter Turns Over A Living Line" the audience got acquainted with Raime's sound appreciating their way of using rarefied hypnotic atmospheres, where rhythms and electronic sounds where placed in a way just to create a feeling of uneasiness and a constant tension. If you remember tracks like "Exist In the Repeat of Practice", you know what I mean. On "Tooth", I have the feeling that the duo wanted to extremise the effect created on the first album creating tracks that are even more minimal than the old ones. Another thing they focused on, is on the use bass frequencies: the eight tracks give me the feeling of a dub record where the rhythm has been reduced to the bone. This new formula is working well on the opening "Coax" but in my opinion, after a while, there's something missing. Is like I'm waiting for a sound that will never come. Also the second tracks "Dead Heat" is beginning in a cool way, being really menacing and all but after a minute, that's it. The tune is not progressing. There are only a couple of samples that come and go. Almost all the tracks gave to me that impression and at the end I have the feeling that they reduced the tracks to the essential but they didn't stop when it was too much. I think that their debut was a little more varied and "Tooth" is far from being a boring one, even if the ideas are a little repeated (check the use of guitar/rhythms and sampled vocals on "Hold Your Line" and the closing "Stammer", but as I told before, something is missing and that's a pity.
Artist:
Jean-Michel Jarre
Title:
Electronica 1: The Time Machine & Electronica 2: The Heart of Noise
Format:
CD
Label:
Columbia
Rated:
BUY from
or BUY from
I've been listening to electronic music for 25 years and have been running this very electronic music magazine for 22 years, so when a pioneer of electronic music like Jean-Michel Jarre makes a series of albums called "Electronica" featuring dozens of guests from the early stages of electronic music to the new comers of the genre, it sure does certainly not go unnoticed in my book! Quiet the contrary!

"Electronica 1: The Time Machine" and "Electronica 2: The Heart of Noise" came out in late 2015 and early 2016 respectively and truly celebrate the entire span of growth and evolution of the elctronic music genre throughout the last 4 decades by bringing together the leading voices of the genre as well as some interesting artists that have differing degrees of connection to it.

Volume 1 features some true early visionaries of the genre like the amazing Laurie Anderson and Tangerine Dream, as well as mainstream names such as Moby, Massive Attack, Armin Van Buuren and possibly unexpected names such as John Carpenter, Lang Lang, Pete Townshend and various other really interesting artists (Boys Noize, M83, Air, Vince Clarke, Littel Boots, Fuck Buttons, Gesaffelstein).

Volume 2 re-invites some of the names from Volume 1 and then takes it to the next level with an equally stunning array of names, including Pet Shop Boys, Gary Numan, Yello, Jeff Mills, The Orb as well as potentially unexpected ones such as Primal Scream, Cyndi Lauper, Hans Zimmer and then so many others worthy of attention (Rone, Julia Holter, Peaches, Sébastien Tellier, Siriusmo, Chrisphe) as well as some truly unexpected ones like Edward Snowden himself (more on that later!).

The album pretty much is a who's who of electronic music history and stylistically ranges from dance-tracks to more EDM/EBM inspired tracks with a good balance of instrumental tracks and tracks that feature vocalists. Some of the vocal cuts flirt with pop in a way that is even chart-suitable. If you know the artists JMJ is collaborating with the listening experience will be some much more fun because you can truly recognize the character and style, or sometimes simply the unique voice, of the collaborator.

I recently went to a talk event that Jean-Michel held in NYC and found out some very interesting details about these albums. One thing that truly impressed me is that JMJ insisted on making it a truly collaborative effort, so this is not one of those albums made by sending files around the globe, but rather JMJ travelled to meet with all the artists involved to be in the same room with them and actually co-write/compose/arrange everything together. Needless to say it took years and many miles of travel to finish this record, all the more reason you should check out the fruits of his labour!!!

I spent about two weeks listening to these two albums at least 4-5 times each and I've come to the realization (something JMJ also touched upon in his talk event) that electronic music is truly timeless. Some of the guests on these album are in their 20es others are in their 60es and it's hard to "age" these collaborations if you don't know who's on the track you are listening to. You go ahead and try!

One of the guests that intrigued me the most was Edward Snowden, partially because he is the only non-musical guest of the album, but also because I am a huge supporter, fan and sympathiser of Snowden, of what he's done and what he stands for (being somebody who truly believes in freedom, transparency and justice and who put his life on the line for it). Snowden met JMJ in Moscow (a meeting that JMJ explained was facilitated by the Guardian and Snowden's lawyers) and JMJ interviewed him and used bits of that recording in a track, Jarre also mentioned (in the talk) that one of his close relatives was a political activist in France and that he closely identifies with Snowden's cause. He also commented on how this collaboration was very newsworthy in Europe but seems to have been largely ignored in the US... Such a pity!

I've asked JMJ what he thinks of the future of music creation and distribution and he theorized that one of the things we might see in the future is a collaboration with machines, a sort of music-ex-machina scenario, and he even mentioned that it might be the subject of an "Electronica 3" or "Electronica 4" album, so while I hope he will get to another "Electronica" volume before machines are fully capable of making music without human intervention, at least there is hope for more volumes to come...

Stay tuned!
The series of anthologies, which followed the seven volumes of "An Anthology of Noise and Electronic Music" (released between 2000 and 2012) and the subsequent "Early Electronic" collection (focusing on tracks composed between the 50ies and the 80ies), keeps on expanding over the geographical ones. Following the surprising Anthology of Chinese Experimental Music, the title of this new one about Turkish electronic and experimental scene could be a little bit confusing as the only aged track is the opening one of the first cd, but the importance of its author go beyond Turkish boundaries. Such a temporal gap could be mainly explained by the fact that the interest in electronic music arrived relatively late in Turkey, thanks to the academic teachings by composers, who got in touch with electronic devices out of their native country and Bülent Arel, the composer of the above-mentioned "Postlude From Music For A Sacred Service" (1961), was one of those eminent expats. In reality, he just received many mouthwatering proposals from foreign countries, including the one by the Rockefeller Foundation, which invited him to join the Columbia-Princeton Electronic Music Center, and Yale University, where he projected and installed its electronic music laboratory and taught from 1961 to 1970, before being recognized as one of the most brilliant innovators of looping techniques. Another key figure of this almost unknown 'exotic' scene, lhan Mimarolu, the son of the notorious architect Mimar Kemaleddin Bey (a famous face on 20 Turkish lira banknote), moved to the USA after a Rockefeller Scholarship and studied at the Columbia-Princeton Electronic Music Center as well, under Vladimir Ussachevsky; his contribution to music, in general, is also related to his record label, Finnadar Records, his precious contribution to the OST of Fellini's "Satyricon" and his role in the release of "Changes One" and "Changes Two" by Charles Mingus and its experience in the field of soundtrack and contemporary classical music is evident on the evocative track that got included in this compilation "Prelude No.17 [Istanbul Fog]". The boom of electronic music occurred later both within academies and universities (Cenk Ergün, Koray Tahiroglu, Mehmet Can Özer) and the noise-oriented avantgarde (Mete Sezgin, Nilüfer Ormanl, Utku Tavil), but the Turkish experimental scene is more complex and opulent than many could imagine. This anthology, compiled by Batur Sönmez and Erdem Helvacioglu and split into two CDs, tries to embrace such a complexity and multifaceted scene. CD1 includes more 'academic' stuff that often get close to serialism and concrete musique, while the second covers a wide range of ambient music, samplers, and even stuff with references to political issues such as the impressive "Democracy Lessons" by Asaf Zeki Yuksel, the gorgeous abstract glitch ambient of "The Monopoly Of Victim Status" and the traditional folk-spotted "I Want To Be A Suicide Bomber" by Sifir, but I'm pretty sure that many listeners will get impressed by the broad stylistic range of this selection and the quality of these mostly unknown (to the masses) Turkish forward-looking musicians.
Artist:
Aidan Casserly
Title:
Amityville Legacy OST
Format:
Download Only (MP3 + Lossless)
Label:
House Of Analogue
Rated:
The saga of the Amityville movies started back in 1977 and is based on the book "The Amityville Horror" by Jay Anson, which was published in 1977. As stated by Wikipedia, the story of The Amityville Horror can be traced back to a real life murder case in Amityville in November 1974, when Ronald DeFeo, Jr. shot all six members of his family at 112 Ocean Avenue. In December 1975 George and Kathy Lutz and Kathy's three children moved into the house, but left after twenty-eight days, claiming to have been terrorized by paranormal phenomena produced by the house. Jay Anson's novel is said to be based on these events but has been the subject of much controversy. The latest chapter of the saga is titled "Amityville Legacy" and its directed by Dustin Ferguson. Its soundtrack has been composed and played by a guy well know for you CHAIN D.L.K. readers, because I'm talking about Aidan Casserly, already singer with Empire State Human, Kubo, Figaro, Garland Cult, etc. Available on digital format for House Of Analogue, Aidan's soundtrack brings in fiftween original tracks deeply influenced by dark electronic film scores of the 70's and 80's, and especially for films such as "Phantasm", "The Terminator" and "Halloween". We have a main tune which returns different times under many forms, as well as dark pop moments like "Who's there", where the atmosphere is apparently quiet but underneath there's a certain twisted tension going on. Aidan is able to mix really well tense atmopsheres and catchy melodies as well as using sounds that are fitting the aim of recreating the classic 70's, 80's atmospheres giving to them a modern feeling. I enjoyed that, even without watching the movie! Check it in the major digital retail stores.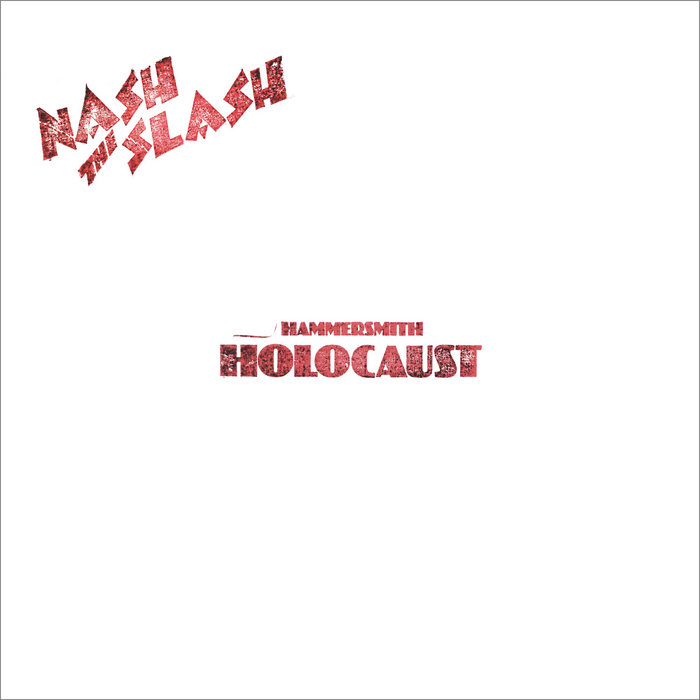 Artist:
Nash The Slash
Title:
Hammersmith Holocaust
Format:
12"
Label:
Artoffact Records
Rated:
Introduced by the GOD of wave GARY NUMAN this artist is something not possible to be missed. A lonely genius facing the audience like an elegant mummy or better to say like the invisible man in a public space. He was from Toronto and his guitar is hard to forget deepened in weird reverberation, it's possible to listen echos of the Jew Music coming from another eon. It's a real once in a lifetime listening. The cover of Smoke of the Water is a pure sublime trauma where sound processing and a sick voice scream in the name of the rock and roll but both are caged into a psychedelic hell. Nash the Slash is a milestone in the musical raping, nothing is sacred for him and everything is ironically sublime. Nash seems born from David Lynch's mind in a state of grace.