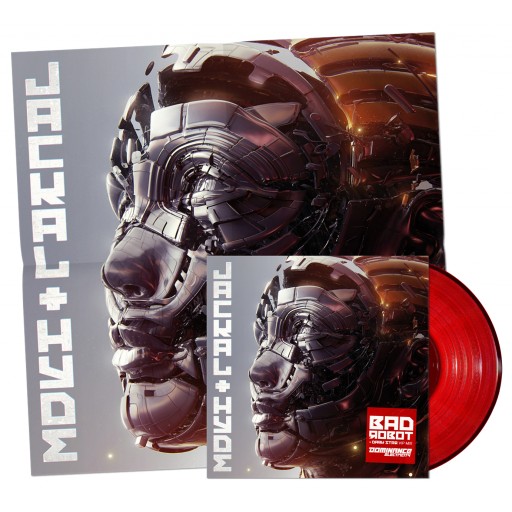 Artist:
Jackal & Hyde
Title:
Bad Robot
Format:
12"
Label:
Dominance Electricity
Rated:
"I'm the bad robot, the one that will destroy, I'm the bad robot, the future humanoid, my design is perfection, that becomes divinity, I'm the bad robot, I'll change the galaxy". This is the message of the newest Jackal & Hyde 12" and sounds like a promise! Active since early early '00s, the duo is formed by the electro veterans
Scott Weiser and Todd Walker of Dynamix II and Bass Junkies fame, respectively. Dynamix II is a legend of Miami electro and is existing since mid 80s, while Bass Junkies were active in the 90s. Both bands had releases out on Dynamix II Records. With a couple of albums and many 12"s on their back, Jackal & Hyde are bringing to the electro lovers a new upbeat tune which is a blast. "Bad Robot" gathers all the catchy things of electro: powerful rich rhythms, catchy melodies, synth stabs and glitches. All this packed into a sharp sounding mix. Also the B side is great one, even if it isn't a new tune: "Dark Star" is a new version of a track included into 12" released in 2004 which was shared with Dynamix II and Volsoc. While writing this review I listened to this single at least three times and I'm not tired yet. The 12" will be available on red vinyl with poster as well as on black vinyl, for Dominance Electricity. Give to it a virtual spin here https://soundcloud.com/dominance-electricity/badrobot
Artist:
Psy'Aviah
(@)
Title:
Seven Sorrows, Seven Stars
Format:
2 x CD (double CD)
Label:
Alfa-Matrix
(@)
Rated:
The more I review here on Chain D.L.K. the less I find myself aware of many worthy music projects I've never heard (or heard of) before even though some have been around for years and years. Not a bad thing though; I find myself in a constant state of "new discovery". Such is the case with Psy'Aviah. I had my doubts when I received the package- a
hand-colored and lettered envelope containing a USB drive attached to a joker playing card. My fear was that this was going to be "art school amateur". That was defintely not the case though. On the drive was everything I needed- all of the contact, photo and audio files, and more. Unfortunately some of the audio files were corrupted, but after emailing Yves he was kind enough to provide an alternate method so I could do this review.

Yves Schlepe, from Belgium is the mastermind behind Psy'Aviah, and 'Seven Sorrows, Seven Stars' is the 7th album by Psy'Aviah, and sort of a "magic number" in its ouevre. Faithful readers of Chain D.L.K. may even know a good deal more than I do about Psy'Aviah (previous releases have been reviewed here), but a condensed background is that the project started in 1999, released the first album ('Creationism') in 2007, also EPs, mini-albums, compilation contributions and remixes along the way, as well as being very active live on the Euro club and festival scene. Over a number of albums Psy'Aviah has a proclivity of
employing guest vocalists, and very good ones at that. On this outing you will find Kyoko Baertsoen (ex-Hooverphonic, Lunascape); Roeland van der Velde (Model Depose); David Chamberlin (Entrzelle); Mari Kattman; Bernard Feron (Med, Combat Voice); Ellia Bisker (Sweet Soubrette); Pieter Van Vaerenbergh (Metafuzz, Zelon); Andrew Galucki; Alvin River;
Fallon Nieves; Addie Nicole (Halocine); Miss FD, and Diana S. The songs are as varied and eclectic an assortment as the vocalists within the genre, which is a veritable smogasbord of electronica.

Beginning with the intro, title track "Seven Sorrows, Seven Stars", a female voice-over gives the impression of Enigma in space. "Alcubierre Drive" which follows (with Kyoko on vocals) is a slinky, sultry bit of electronica steeped in trip hop rhythms and EBM basslines wrapped in spacey synth gauze. "Face to Face" could be an instant club hit with
Roeland's superb vocals and a killer hook. Dialing it back a notch, David's soulful voice on "Looking Back" expresses a bit of regret on this introspective number, yet still with a beat. What we learn from "Lessons of the Past" is that Mari Kattman is a vocalist to be reckoned with. No surprise that Yves chose to work with her again. The song is a good moody one too. 'From Another World' (Bernard on vocals) is a neat, medium-paced future pop classic. The anthesis of "Looking Back" is "Never Look Back" and Ellia's vocals are just right for this cool bit of pop electronica, and the music video for it is pretty cool too, in a still-life kind of way. "Opia" is a ballad (sans beat) that tugs at the heartstrings with Pieter on vocals. Well done, but not my kind of thing really. Nothing frozen about "Frozen" with hot vocals by Andrew on this nifty, catchy electropop number. Promising singer/songwriter Alvin River (from Italy) takes the lead on "Liberosis", stepping out of his acoustic element for this heavy dance track guaranteed to get 'em moving in the clubs. The singers take a break in the instrumental "Peace Paradox" but Yves can't resist filling in the gap with some appropriate dialogue samples. Another good club-friendly track. The next number is "Not What I Expected," literally. It's a sardonic electro stomper spoke-sung by Fallon sure to become a fave in dark music dance clubs. (Sort of goes back to Psy'Aviah's roots.) Addie's stellar vocals push "Stronger" over the top to be another potential dance club megahit. Are you ready to take a little "Wild Ride" with Miss FD? It's like Nine Inch Nail remixing Curve. Way cool! It all winds down ethereally with spoken word courtesy of Diana (who likley was the voice on the title track). A beautiful ending to a stellar album. But wait, we're not done yet.

The deluxe package also contains a second CD, the remix album! Remixers include Etasonic, Alex Dalliance, Skyshifter, People Theatre, Liquid Divine, Cutoff:Divine, VV303, rool, KONER, Cyborgdrive, Girlflesh, Implant and Amarta Project. If you're a regular reader of my
reviews, then you know I'm not big on remixes, but there are some interesting ones here over fourteen tracks of eight of the original album's songs. Don't know why "Wild Ride" got three remixes and "Liberosis" didn't get any, but...whatever. "Opia" gets a nice boost from Liquid Divine, and with the rhythmic backing, Pieter voice reminds me a bit of the Cruxshadow's Rogue. I especially enjoyed Implant's quirky industrial synth-heavy remix of "Not What I Expected", but not Girlflesh's clunky minimalist remix of "Wild Ride". The one outstanding remix of that track goes to Amarta Project. A bit old school in a pop-happy way, but welcome.

'Seven Sorrows, Seven Stars' is a real contender for album of the year. Yves' synthwork and production is stellar, and the album flows very well through its peaks and valleys. With such an array of talented vocalists and great writing, there is never a dull moment. The total package isn't cheap - 18 Euros or $20.00 U.S., but worth it for those that want the full experience. If want to skip the remixes, it will only set you back $13.50. Right now it's in pre-order as the release date isn't until April 15, plenty of time to set aside the cash, unless that's your doom-date for the I.R.S.
Artist:
Starving Insect
(@)
Title:
The Great Nothing
Format:
CD
Label:
Dark. Descent.
(@)
Rated:
You can guess a certain skill in approaching somehow old-fashioned sonorities of Stockholm-based producer Alexander Kassberg, the guy behind Starving Insect's torn curtains, since the opening "Overhead Without Any Fuss, The Stars Were Going Out", whose fuss lies on a typically thumping bass tone that was extensively used by gabber-techno makers in the glorious age of pink elephants, which rises together after getting down the shaft of claustrophobic industrial sonic entities in the first part of the track, where a menacing voice states that "all life is a waste of time" sets the slightly disquieting emotional ground. The knocking dry beats got intersected by the rubberlike "gabberesque" ones, squeaking chains, weak claps and morbid blowbacks on the following "Breeding The Threnodies", the first collaborative track with Robin "Omnicide" Alander as well as one of the most recently recorded by the insect, which keeps on digging mazes into previously fertile grounds on the more dark/EBM oriented "Sleep Is Death", over the agonizing roars of distorted bass of "There Are No Doors", the slaughtered bass-pumped procession of "IDDQD" - "something different" or "nothing at all" according to the sampled voices that Alexender inserted in the track -, the quasi-epic sinisterly fetid breezes of "Dormant Storm" - the atmosphere of a forthcoming tragedy got nicely emphasized by an alerting shout, warning of a coming storm - and the snarling hits of "Visions of the Blind Dead", which features an ill gothic dulcimer melody over the same old mincing of sharp hammers. The second collaborative track with Omnicide, which ends this release, titled "Allt Dor", is maybe the one where the above-described pre-apocalyptical poisonous fumes got their better shape, whose combination of dark nuances and wisely decelerated hardcore techno steps could let you imagine a rave-party for zombies (or maybe for a growing part of our plagued societies, which seems to be haunted by starving insects...?). The author suggests to play it loud...consider his suggestion!
Artist:
Ivan Iusco
Title:
Transients
Format:
CD
Label:
Minus Habens
(@)
Distributor:
Family Affair Distributions srl
Rated:
I've been familiar with Iusco's name since the early '90es as the founder of Minus Habens, one of Italy's most prominent electronic music labels (which released things by Angelo Badalamenti, Brian Eno, Depeche Mode and a number of Italian artists). I was less familiar with Iusco as a composer, but it turns out he's moved operations to Los Angeles and has been working hard as a film composer scoring mostly Italian movies for the better part of the last 15 years.

"Transients" is his second album and showcases his evolution from electronic music tinkerer to full blown orchestral composer. The cover art work of the digi pack looks like a blurred version of a dutch masters painting or a Rembrant portrait but it's actually by the internationally-acclaimed artists Miaz Brothers.

The album starts off with tracks that are very cinematic (as is most of the record, really) and more orchestral. Layers of more than 20 real world wind, brass, string instruments and atmospheres that range from mysterious and melancholic to grand and majestic... When there is a real violin (like on track "Mobilis in Mobili", played by Pantaleo Gadaleta, who also played with the great Morricone and Antony and the Johnsons) you can really hear how the track is lifted to a whole other level, proof of what true musicianship can contribute to any computer generate music project! Then from the fifth track on Iusco pulls out his nails and teeth out and sinks them into the largely unprepared listener with some great mean-ass IDM/industrial/electronic sounds... Two tracks later the album takes another sudden turn and becomes a more vintage sounding, dare I say, almost nostalgic old-school electronica record (echoes of Clock DVA, maybe even Tangerine Dream...). On the eight track ("Circuitless") a female vocalist is introduced (it's Tying Tiffany, who's been featured on CSI, The Hunger Games)... Then Ivan dips back into ethereal ambient soundscapism that almost leaves you with a sense of uneasiness and peace at the same time. But obviously, he prefers to pick things up again and go out in a blaze of glory because the closing "Unconquered" track is what you'd expect from the end scene of some epic battle movie or even a spaceship battle sci-fi film: it's as victorious, dazzling and magnum opus-like as you'd imagine it, the perfect end credit music for this album, even though it almost ends too soon and abruptly...

If you are into soundtracks and epic movie music that is a mixture of electronica and classical music, or any of those genres taken on their own for that matter, I'd recommend you give this a spin, or at least preview it on iTunes. There's some really good stuff in there!
From Bordeaux, France comes this cryptic project, ".-" in Morse code, or 'eaux saines' in French, which means "safe waters". I'm not sure these waters are so safe after listening to this debut album, but I'm jumping in anyway without a life preserver. Colin, the man behind this solo project has a background playing in noise/punk/hardcore bands, but this is something different. eaux saines is much more in the industrial/electro/darkwave/coldwave vein relying primarily on synthesizers and programmed drums and percusssion, and some (quite distorted) guitar as well as vocals. First track, "les eaux saines" is quite industrial and reminds me of John Bergin's C17H19NO3 industrial project. Lots of distortion, submerged ghostly vocals, basic heavy industrial beat, and a guitar wail. A simple melody line follows the progression, all pretty cool actually. Nice introduction, and the noise is a key component. Second track, "almost" is nearly in the vein of Signal Aout 42, an old school Belgian Electro/EBM band often compared to Depeche Mode. Here the somewhat monotone vocals (sung in English) are more intelligable and the synth sounds are dirty and gritty giving a fresh perspective to dark synthpop. There is a shoegazer quality to "drunk in your bed," channeling some of the noisier aspects of My Bloody Valentine in an electronica setting. The squinky electronics in the brief break and elsewhere lift this song well beyond the norm. "des mots," sung in French, is some fine Coldwave, and by this time I'm realizing that this melding of noise-electronica and synthpop is really paying off. When Brian Eno broke new ground on his first couple of studio albums utilizing some of these techniques it was considered revolutionary. This project goes even further into the noise aspect, but still retains a dark pop sensibility.

"one day, ten years" is an introspective yet harrowing piece that envelops you with the gloom of futility. The doom metalish "le chant des sirens" crushes all hope with walls of distoted guitar over submerged vocals. Yet again though things readically change on "lost sailplanes" moving squarely into synthpop territory. Gary Numan-esque synths and a great melody/hook make this an amazing standout track. The vocals (in English) are the clearest and cleanest on the album. The synthwork is stellar, the sound is modern, yet recalls some of the best things I've ever heard in the genre. Back to underground electronica on "unfalling", like Depeche Mode falling off the deep end into the dark abyss. It all ends with "this smile," an apocalyptic synth-heavy number that really crushes it. WOW!

For a debut, this is astounding. It is something you just have to hear. Unfortunately, the ones who need to hear it the most probably never will. Being released on cassette, and not until March 2016 (it's in pre-order now) may all but guarantee its anonimity. If there ever was something well worth seeking out, .-, or 'eaux saines' is it.